Paul McCartney Guitars
By the time The Beatles returned to Hamburg to play an engagement at the Top Ten Club in April 1961, McCartney had reluctantly assumed bass duty. His instrument of choice being a Hofner 500/1 3/4 scale "violin" bass, which became Paul's 'signiture' guitar.
McCartney has stated that at the time, he couldn't afford a Fender, (Fenders even then were selling for about £100), his budget was £30 which is what he paid for the Hofner.
Epiphone Texan FT-79 acoustic which Paul first used on Help!, and notably on "Yesterday," as well as other early Beatles songs. McCartney still has this instrument.
Epiphone Casino: Taking advice from British bluesman John Mayall, Paul bought this hollow-body electric guitar and used it to play leads on several Beatles recordings, including "Ticket to Ride," "Drive My Car" and "Taxman." This early-version Casino featured a Gibson-style headstock and Bigsby vibrato tailpiece. McCartney still plays and records with this guitar.
Rickenbacker 4001S-LH bass. When George Harrison was presented with a new 360-12 Rickenbacker in 1964, the head of Rickenbacker, also brought along a new 4001 bass to show McCartney which he liked and ordered a left-hand model. By 1966, the Rickenbacker had become McCartney's bass of choice. He used it for the Revolver sessions and, as well as "Penny Lane" and "Strawberry Fields Forever," and for the Sgt. Pepper sessions.
C.F. Martin D-28 acoustic: This sweet-sounding dreadnaught surfaced during the "White Album" sessions (it's the one used on "Blackbird"), and can be seen in the "Two of Us" scene in the "Let It Be" film. Its serial number, 223757, identifies it as a 1967 model.
Gibson Les Paul 1960 Custom, only three of these left handed models were made in this year. This guitar has been used by Paul and many recordings and live appearances.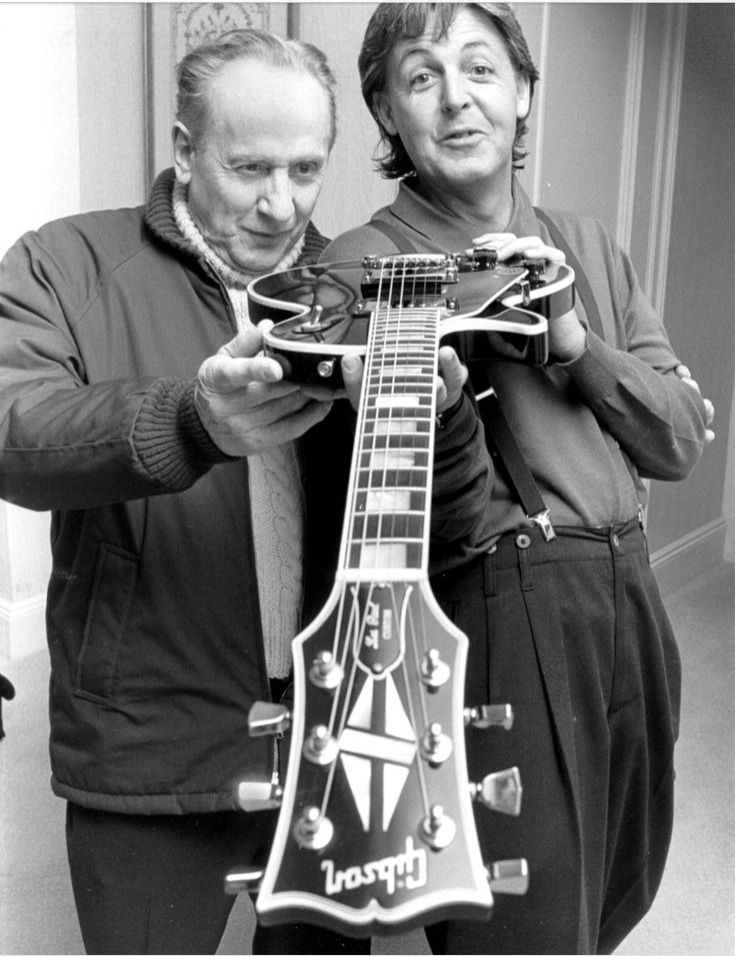 More on Paul McCartney