Bruce Springsteen: The Day I Was There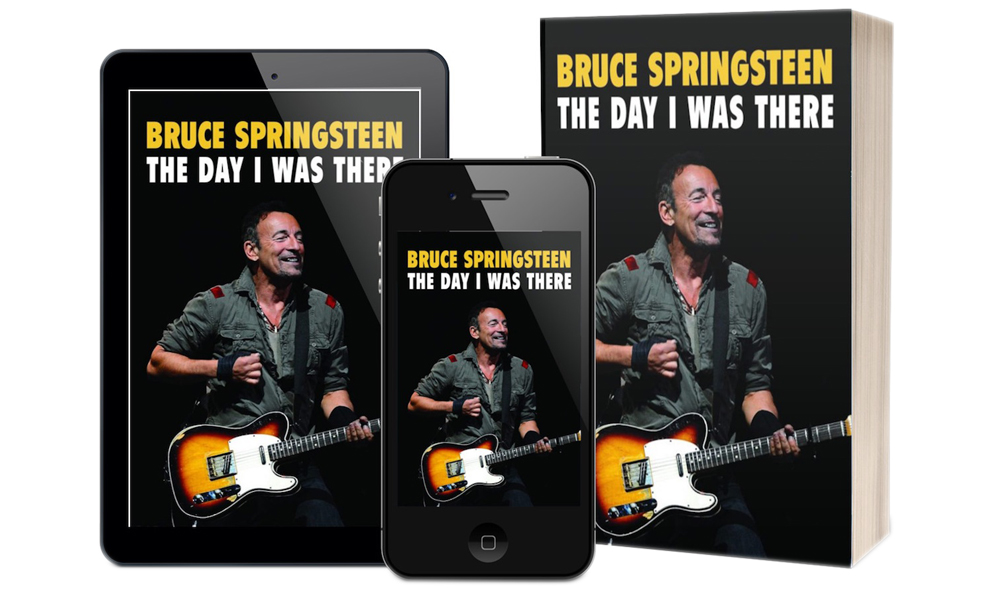 This book features over 250 accounts from fans who have witnessed a Bruce Springsteen live show. From late 60s concerts in New Jersey right through to his marathon three hour plus shows from recent times.
Fans from the USA, UK, Australia and Europe share fascinating anecdotes, stories, photographs and memorabilia that have never been published before and tell us about their experience of one of the worlds greatest live acts.
"Bruce Springsteen had his say in his Born To Run autobiography. Now it's his fans' turn in this lavishly illustrated, memorabilia-festooned treasure trove of chronological reminiscences of encounters and concerts from Child (aka Steel Mill) shows to this year's Broadway residency… there are some draw-dropping tales. Surely this is the very book Springsteen might wish to read about himself." Classic Rock Magazine
Available in print and as an eBook on Amazon, iTunes and Google Play.
In the excerpt from the book, we travel back to 16 August 1975 as Andy Murray shares his story of seeing Springsteen at The Bottom Line, New York City.
A couple of years ago I happened to be on a boat outing down the Thames organised by David Hepworth and Mark Ellen, for their 'Word In Your Ear' event series. As someone who knew them slightly, I was hauled up on stage, to talk about my favourite show of all time. I gave it a small amount of thought and decided it was Bruce Springsteen at the Bottom Line Club, New York, August '75.
I'd been aware of Bruce's first album in 1973, because I had been in the US when Columbia Records had been touting him as 'the New Dylan', and doing what big record labels do, i.e. over-hyping new talent. Since I wasn't particularly in the market for a new Dylan, I didn't give it very much more attention. But later that year, back studying at Leeds Polytechnic, I went into Leeds University's record shop and casually asked the bloke behind the counter: 'What's new?' He said, 'You have to listen to this', and proceeded to play the entire second side of The Wild, The Innocent, and The East Street Shuffle. Bruce's second album had got a particularly good review in the Sheffield University students' newspaper, but albums were expensive in those days – about four times the price of a gig ticket, or a day's worth of student grant (kids, ask your parents) – so I wasn't about to rush out and get it on the basis of one good review.
Anyway, he dropped the needle on 'Incident On 57th Street', which segued into 'Rosalita', followed by the triple lock of 'New York City Serenade', by which time I was grabbing the disc out of the guy's hands. I thought it was the most fantastic album side I had heard in a long time, so bought it straightaway and I loved it so much that for about six months I never played side one; it took me a while before I discovered 'The E Street Shuffle', 'Kitty's Back' and 'Wild Billy's Circus Story.'
The summer of 1975 saw me staying with my then-girlfriend's family in New Jersey, and they of course were Bruce fans already, since his fame as a live act had spread all up The East Coast out of the Jersey Shore in the south, across to Philly and all the way up to Cambridge, Massachusetts, where Jon Landau gave Bruce his prescient thumbs up review in the Real Paper.
By early 1975, a version of Born to Run had been leaked to some East Coast radio stations, and there was a short string of dates ending in March, at which some new material was aired, but the Born to Run dates, as a precursor to the third album release, started properly in July.
The Born to Run album was due to be released at the end of August and to preview it Bruce embarked on his now-legendary 10-show (two shows a night for five nights) stint at the Bottom Line, a small venue on West 4th Street in Greenwich Village, Manhattan. The Bottom Line was absolutely the place to go for up-and-coming artists – it held about 400 people, with long tables and chairs filling up the entire space in front of a wide but distinctly shallow stage, the principle being, I assume, that the promoters stood to make as much money from the food and drinks that they sold to the hungry patrons as they did from the entrance fee. We're not talking big production values, either – I can't recall any special lighting at all, though there must have been some. But there was distinct shortage of smoke, lasers or LEDs. It couldn't have made Bruce very much money, the E Street Band then being a seven-piece line-up. But it was an amazing space in which to see any performer close-up.
A bit of context: on 3rd November 1974, long-time supportive radio station WMMR in Philadelphia had a surprise for listeners: the radio premiere of Born to Run. With an astonishing nine months to go before the album saw the light of day, and with no confirmed album release date, various radio stations in the US began to play Born to Run. Their early endorsement had two effects: when the official single was finally universally available, radio programmers jumped on it and it became an instant smash; and Columbia Records became convinced that their signing had the capability of creating hits, becoming much more supportive of Bruce and the band.
Come July, Bruce had finally finished the album, 14 months in the making, and it was scheduled for a late August release. Columbia obviously figured that their chance of hitting the big time with Bruce had arrived, because they bought some hundreds of show tickets for media and retail folk, as well as plastering 60 x 40 posters around the streets of New York advertising the dates and the forthcoming album, with a picture from the Born to Run sessions – a back view of Bruce, 'Wild & Innocent' superimposed on his leather jacket, and sneakers dangling from the headstock of his Fender Esquire.
New York FM radio station WNEW had been initially put off by Columbia's hype, but had finally come around, with the realisation that Bruce was sincere, and, as importantly, was popular with their gig-going listeners. Furthermore, he was plainly headed in an upward trajectory, with or without their support. WNEW accordingly had committed to broadcasting one of the shows, settling on the early show from Friday night, which would have been Bruce's fifth show since Wednesday, by which time one could assume that he would have worked out any technical glitches as well as having a reasonable reserve of energy. The show went out live as it happened, over the airwaves down the Eastern seaboard and, as widely bootlegged, gives a pretty accurate picture of what the shows were like – exciting, dynamic, humorous, heartfelt, long.
As soon as the shows were announced, I knew there would be no chance of getting any advance tickets, so my only hope was to queue up for one of the 50 standing tickets available each night. As I listened to Friday night's show live on the radio, I became increasingly worried that anyone who hadn't previously been a Bruce fan would be so converted by the broadcast that there would be riots in the street outside the venue for the last few remaining tickets per day. So with some trepidation I got the train into Manhattan on Saturday morning, August 16, and positioned myself across the street from the Bottom Line at the corner of Mercer Street, where the standing room-only queue started. There were only two others at the spot, so I ended up third in the queue by 10.15am.
The building itself, although with a Dylanesque address on West 4th Street, was the corner part of a good solid Manhattan stone building rather akin to a bank. 1975 would have been one of the last years that you could see a really popular artist in a club, since the tiny Bleecker Street venues had long ceased to be economically viable, and it would take the rise of punk and new wave, courtesy of CBGB in The Bowery, some blocks away downtown, to stimulate a club culture again.
The style of the Bottom Line is something that could probably never be repeated nowadays – patrons were entirely seated at tables, with six chairs or so to each table and no space at the front for dancing. There was definitely no mosh pit, but it did mean that the keenest fans were seated right in front of the artist, so there certainly was a connection between performer and audience that helped induce a cohesive performance. The 50 or so last-minute attendees, who had queued to get tickets on the day, were allowed to stand 10 deep between the furthest tables and the bar, but the whole place was so small it was reminiscent of the old Marquee Club in London's Wardour Street, a rocking sweatbox from top to bottom.
Its intimacy would have been very suitable for the singer-songwriters the venue was showcasing at the time and in some ways might have suited Columbia's initial view of Bruce as an acoustic troubadour, except of course that by mid '75 the E Street Band had really honed their craft live by nationwide touring. Bruce and ensemble had been emboldened by his decision never to open a show for anyone again, after they suffered in large venues as the opener for Chicago, where the size of the places acted as a dampener on the energy that Bruce and the band were putting out.
Back out on the corner, it was an entertaining eight hours with no drink, no food, but a certain amount of chat, because by lunchtime the queue was halfway round the block and by show time it was all the way round. I have no idea how many of those queuing got in, but it can't have been more than maybe 100, because there just wasn't the room to fit more than that number in the club, jammed up against the bar.
The other overriding aspect to seeing Bruce on his home turf was that it was hot – a hot, sticky, humid, August such that Britain rarely sees, but which was the perfect complement to the urban poetry of much of Bruce's material at the time. The E Street Band had of course, since the E Street Shuffle album, lost keyboard genius David Sancious and slightly quixotic drummer Vini 'Mad Dog' Lopez, whose sense of timing wasn't quite in sync with the grooves laid down by the other original members. Ernest 'Boom' Carter helped out for six months, laid down the drums on Born to Run's title track, then left to hook up with the already-departed Sancious. The other songs featured replacements 'Professor' Roy Bittan on piano and 'Mighty' Max Weinberg on drums, but in terms of live gigs, August '75 was still a relatively early outing for the new incarnation of the band.
The radio broadcast the previous night had introduced new guitarist Miami Steve Van Zandt, who we now know as Bruce's guitar buddy from way back, but at the time was just an additional member of the band. A very welcome addition, since his staccato and slide-riff additions to the slow version of 'The E Street Shuffle' made it into an entirely different song; the rendition from the Bottom Line is to me still the most effective and engaging version of that song.
To put in context what Bruce was up against at the time, the No.1 album in Britain in August 1975 was Horizon by The Carpenters. Number One singles included 'Give A Little Love' by The Bay City Rollers, followed by 'Barbados' by Typically Tropical. Big albums early that summer in the US were slightly more rocking: Captain Fantastic by Elton John, followed by Venus and Mars by Wings, One of these Nights by The Eagles and Red Octopus by Jefferson Starship, but even so, No.1 singles in the US charts included 'Love Will Keep Us Together' by the Captain and Tennille, 'Listen To What The Man Said' by Wings and 'The Hustle' by Van McCoy.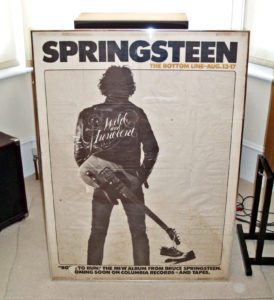 Even before the E Street Band struck up a note, the theatricality of the front line's appearance was pure attitude. Each member had a persona, partly related to their semi-jocular nicknames, as invented by Bruce: Clarence Clemons (the 'Big Man', the 'Big Kahuna', 'Master of the Universe') was a majestically imposing figure in a sharp suit, echoed, in a slightly more Damon Runyon-esque way by Miami Steve, complete with fedora. Bruce himself, (bear in mind that this was at least a year before the Ramones album hit the streets), was in the prototypical New York street punk outfit of T-shirt, leather jacket, skinny jeans with turn ups, sneakers and, on some nights, grey peaked cap. Organist Danny Federici was a little more understated, while Roy Bittan and Max Weinberg sported neatly-trimmed beards. Beards! This was not the done thing, except of course Bruce himself was also bearded at the time – he only shaved it off the following year, never to return to that look.
The full impact of the live band experience is quite hard to explain, partly because Bruce has since become so successful that people have got some idea for themselves of how his particular influences show through in his mixture of Elvis, British Invasion, Motown and Tin Pan Alley. Perhaps you just have to take my word that such an exuberant show was a heady tonic in the oh so cool world of Rock, mid-Seventies.
And, it was a great, great show. To see a band at the top of its game at close proximity, blasting through exciting songs in the company of 400 enthusiastic devotees was a really exhilarating experience. It started with the band version of 'Tenth Avenue Freeze-out', followed by 'Spirit In The Night', then and now, one of the Bruce anthems. In contrast to the way shows seem to go these days in large halls, there was an amazing amount of dynamics in the performance. For instance, 'Spirit In The Night' started as a full-tilt swinging ensemble piece, heavy on Clarence Clemons' saxophone riff, with the audience, unbidden, chiming in on 'all night' in the choruses. In the middle breakdown section, though, as Bruce laid out his tale of drunken frolics by a midnight Jersey lake, he muted the band and intoned the lyrics, dropping to a whisper – yes, a whisper – before the band roared back in.
That then turned in to an homage to pop/R&B's finest songwriters, as Bruce tips them a hat in one of his renditions of various classics. On the radio the previous night it had a been a suitably Spector-esque 'And Then (S)he Kissed Me', repeated in the Saturday early show, with others to come throughout the set.
Two more live favourites from the debut album followed: 'Growin' Up', and 'It's Hard to Be a Saint in the City', after which Bruce started telling one of his stories. One of the things that endured Bruce to his followers at the time was his humorous, highly fanciful, but supposedly autobiographical stories, which mostly featured characters from the Jersey Shore or incidents illustrating the scuffling nature of his career thus far.
Bruce doesn't do, or didn't do, routine introductions – he did actual stories, some of which were thematically the same, though changed from night to night, but still illustrated his desire to fully engage with the audience, without the distancing superstar mystique that seems to be de rigeur these days.
In that sense I suppose he was rather Dylan-esque, since Bob had a reputation for spinning the odd yarn before he gave up talking to his audiences all together. But it wasn't showmanship for the sake of it: when, in the middle of one of his songs, for dramatic effect Bruce crawled out into the audience across the tables, scattering bottles of beer and wine in his wake, apart from the laughs it was a moment of intimacy that really bonded the performer and audience in a way that most shows don't even attempt. That one good-natured gesture showed a fearless bond with his fans that will doubtless be as permanent a memory to all the others present that night as it is to me.
Then, when the up-tempo rock 'n' roll numbers saw Bruce, without any kind of sense of shame, jumping on the grand piano and belting out the song, it transmitted a strong sense of humanity and joie de to the audience, who lapped it up. As importantly, it drew the audience into an enveloping mutual live experience that ended up being more than the sum of the parts, something transcendental that can only exist, dare I say, when all present really believe. Which, I suppose, explains the undoubted power of gospel choirs.
Woven between the live classics that early Bruce adopters had come to hear, were his exemplary choice of covers, different every night and drawn equally from the Brill Building's original versions and the British Invasion covers: 'And Then He Kissed Me' by The Crystals, 'Sha La La' by the Shirelles, 'When You Walk In The Room' by Jackie de Shannon (probably learned from The Searchers' version), 'Up On The Roof', 'It's Gonna Work Out Fine' and 'Pretty Flamingo'.
In the middle of the set you got what would now be a well-known story but was new to us then – how Bruce and Miami Steve first met Clarence Clemons (not a strictly true tale but highly entertaining). Evoking perfectly that sense of menace that can envelop seaside towns out of season, Bruce described how he and Steve first encountered a strange and threatening form materialising out of a swirling rainy mist late at night on the Asbury Park boardwalk, which turned out to be Clarence.
The story culminated in Clarence allegedly putting out his hand, which, when it touched Bruce's, provoked the sparks that 'fly on E Street.' Cue the slow version of 'The E Street Shuffle', totally different from the album version, with Miami Steve playing sympathetic and adroit slide guitar. In 1975, Bruce was already 26, and he'd been a working musician for about nine years, so as well as the feeling that he was on the verge of his big break, there was an indefinable sense of nostalgia, a longing for times that were just a bit more simple, fused with the realisation that you can't go home anymore.
It was the intimacy of those slow songs at the Bottom Line that was to suffer the most with the subsequent huge success of Born to Run. Bruce is an entertainer, and once he started playing 3,000+ size halls, the spaces weren't intimate enough to carry the familiar troubadour / raconteur role. Having said that, I did see him in 1981 at Wembley Arena (11,000 capacity) and he was still fantastic, but to me there's nothing like seeing a performance where the audience is close enough to feel and see every nuance of The Entertainer's mood.
It meant that Bruce could get away with occasionally performing a song in an entirely different style from that on album. Though we didn't know it yet, 'Thunder Road' is a balls-out 'two against the world' anthem on the Born to Run album, and somewhat of a Springsteen staple, but in the much more stripped-down Bottom Line version, performed entirely solo by Bruce accompanying himself on piano, it was far more revealing and vulnerable: less bombastic and ultimately more moving.
At the centre of the Springsteen '75 live set was perhaps not 'Born to Run', but 'Kitty's Back', which is in itself a song constructed around light and shade, dynamics and theatrics, prefaced by an archetypal Bruce shaggy dog story, ending with an alleged third party uttering 'Kitty's back' – and into the song.
Already an audience favourite, 'Kitty's Back' showcased rare band keyboard solos over a swinging groove, with guitar/sax set pieces, followed by individual solos: Clarence, Bruce, Steve, followed by more weaving in and out of the album arrangement, a call and response section, and a final wailing finale. Then straight into the classic 'Rosalita' – cue standing ovation, from those not already on their feet, and a more muted encore of the Gary US Bonds classic 'Quarter To Three.'
As we staggered out into the hot Manhattan night, it would have been around 11 o'clock, and, notwithstanding the fact that I'd been queuing since 10 in the morning I was elated, excited and energised. I can't imagine what state Bruce was in after a full two-hour-plus set, having done it six times in the preceding three days, but, however he felt, he had the stamina to promptly go out and do a further 2-hour set straight away to the late show crowd.
Three years later I was back at the Bottom Line for another great series of shows with the Be Stiff tour – but that's another story.
Available in print and as an eBook on Amazon, iTunes and Google Play.