Deacon Blue: To Be Here Someday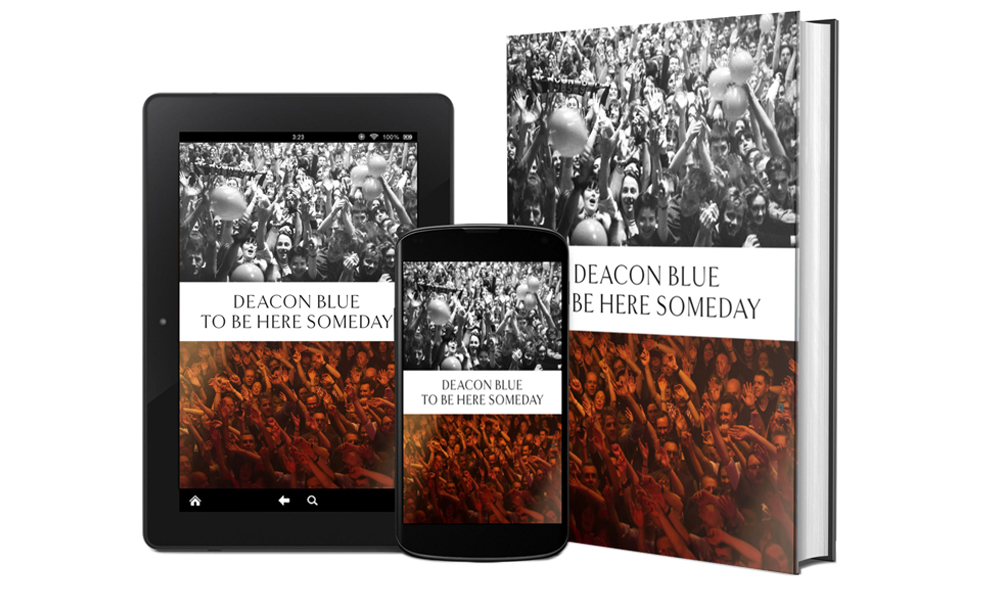 Deacon Blue To Be Here Someday is Deacon Blue's first official book feature's extensive interviews with Deacon Blue as well as key members of their crew over the past 35 years along with fans' memories of gigs, singles and albums.

The highly-collectable limited edition comes with a specially-curated hoard of previously-unreleased vinyl, with artwork, posters, replica tickets, a signed set list and a VIP laminate all selected by the band. It includes a new vinyl 7" single, featuring two live versions of 'Raintown', recorded at two very different stages in the band's career – 27 years apart – both given a physical release for the first time.
Both the special edition box and hardback are now sold out. This book is now available as a softback edition.
To Be Here Someday book review by Deacon Blue fan Jim Boyle:
If you haven't done so already I would really urge you to treat yourself or a loved one to Paul English's absolutely stunning book this Christmas, charting the 35 year career of Deacon Blue.
Whilst I'm maybe a tiny bit biased because some of my scribbles, pics, press cuttings and ticket stubs feature in the final cut it's been the most enjoyable non-fiction book I've read in years.
I was a little bit curious about how it would turn out when I first heard the ambitious aim of trying to tell the band's story both from the perspective of the band as well as their fans but Paul English has absolutely nailed it. I loved the format of the book, perfectly set out in two complementary parts.
The first part follows the chronology and the back story of the band told by the band and some of their crew from the very early days through to the cancellation of the original Cities of Love dates last year. Each member often brings a different take or recollection and it features a lot of tales I had read before but also so many fascinating new anecdotes and insights. So many brilliant and amusing little stories and rare facts are shared for the first time. No spoilers here though.
I found myself going onto autopilot playing each of the band's albums in the background as I read the relevant section of the book, often seeing an album track or its meaning in a slightly new light. Their back catalogue really is outstanding and it was fascinating hearing how they tried to evolve their approach and sound at different times in their career, whether it was the pressure from the record company to write a hit single, their brief flirtation with the Oakenfold stable and dance remixes or the impact on some of the band members (Jim especially) depending on whether piano or electric guitar was at the forefront of the band's sound at different times.
Paul's writing is so natural and heartfelt and it's clear he also has a passion for the band and gets that across. I loved the little extras with a number of clever chapter titles and a handful of subtle lyrical references throughout. I noticed all your tiny touches Paul. The images scattered through the book also did a great job of bringing the different chapters of the band's career to life.
The memories of the late great Graeme Kelling were shared in such a sensitive and tender manner and it was really moving to hear how the band still often think of him when on stage. It was really lovely to hear Julie Kelling's perspective too.
Any band that can both count on the likes of Nicola Sturgeon, Elaine C Smith, Ian Rankin, Val McDermid, Craig Ferguson, Alan Cumming and Matt Forde amongst its audience and also get them to share their own perspectives on the band in their book must be doing something right and it's a bit of an honour for my own words to feature alongside theirs.
The second part of the book, sharing the memories and reflections of the fans, has been painstakingly and lovingly curated by Paul English. Again whilst I was delighted to submit my own scribbles I wasn't quite sure how a story told by dozens of different voices would translate into a memoir and wondered whether it would flow or become a bit disjointed or repetitive, more like a scrapbook. Any fears were quickly allayed. The second part is a wonderful read and it flows just perfectly.
Every voice offers something slightly different. Whether people have never seen them live or have seen them dozens of times it's clear that the band means a lot to so many but also means something different to so many too. It was equally fascinating to hear how the same song can mean something so different to different people. The band has a special connection with its audience and that's clearly much more than just entertaining them.
My own recollections pale into insignificance alongside some of the other stories shared where the band and its music have provided comfort, solace and support to many through periods of separation, difficulty or loss whilst others have had their childhood, their own child's arrival and upbringing or even their wedding day soundtracked by the band's music. Some of the stories shared really are quite humbling.
All in all this was a real treat. It's a brilliant read and it has really whetted my appetite for the forthcoming shows. The quality of the finished product is impeccable too. A purchase to be treasured. I am delighted I bought the special edition to make it a really special keepsake.
468 pages
Full colour
Publication date: 14 October 2021
Softback £26.99