April 13th: The Biggest Music Headlines
Scroll down the page to see all the music headlines, stories and events for April 13 throughout music history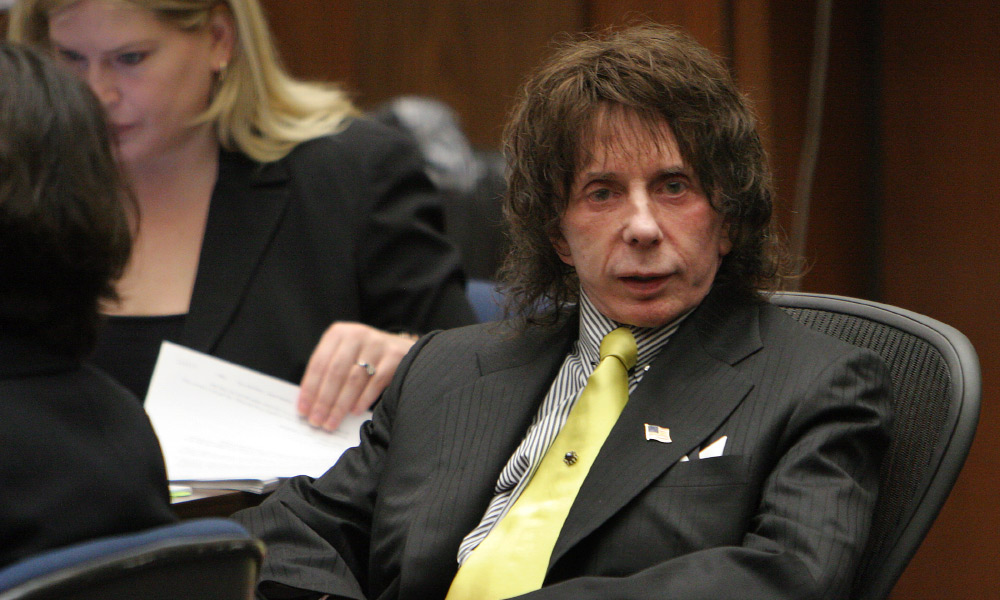 Phil Spector Convicted Of Murder
On this day in music, April 13, 2009, record producer Phil Spector was convicted of murdering actress Lana Clarkson in his home four years earlier. The verdict came in the wake of a five-month retrial that followed the original 2007 court case against him, which had resulted in a mistrial decision after the jury failed to reach a unanimous ruling. Spector, who was 68 at the time, was sentenced to 19 years to life. The producer, who created the innovative "wall of sound" in the 60s and worked with the likes of The Beatles, the Righteous Brothers, and the Ronnettes, died in prison in 2021.
In 1973, Bob Marley and the Wailers released one of reggae's most significant albums with the influential Catch A Fire. Marley's fifth studio album and debut for Island Records, Catch A Fire not only marked the watershed moment when reggae infiltrated mainstream music, but also launched the artist's career internationally.
In 1967, Frank and Nancy Sinatra became the first father-daughter duo to score a No.1 single on the UK charts with their duet, "Somethin' Stupid." Ozzy and Kelly Osbourne repeated the feat in 2003 with a rendition of Black Sabbath's "Changes."
In 1974, Paul McCartney and Wings topped the US album charts with Band On The Run. The album, which would go on to sell six million copies worldwide, hit the summit of the Billboard 200 on three separate occasions during the year. It remains McCartney's most commercially successful album.
In 1985, USA For Africa – a US equivalent to the UK's Band Aid – topped the US and UK pop charts with the Quincy Jones-helmed charity single, "We Are The World." Among the star-studded participants were Ray Charles, Bruce Springsteen, Stevie Wonder, Bob Dylan, Michael Jackson, and Paul Simon.
In 2003, Madonna attempted to combat music piracy and illegal downloads just prior to the release of her ninth studio album, American Life. She swamped file-sharing networks with false album-length MP3s that contained just a short message from the singer, which said "What the f*** do you think you're doing?" The hackers immediately hit back, putting download links to all of her album's songs on her website, which she was eventually forced to shut down.
Looking for more things that happened on this day in music?
Keep scrolling for all of the headlines for April 13.
BORN ON APRIL 13:
1944: Jack Casady (Jefferson Airplane/Hot Tuna)
1945: Lowell George (Little Feat)
1946: Al Green
1951: Max Weinberg
1951: Peabo Bryson
1954: Jimmy Destri (Blondie)
1962: Hillel Slovak (Red Hot Chili Peppers)
1966: Marc Ford (The Black Crowes)
1972: Aaron Lewis (Staind)
1975: Lou Bega
Looking for more artists born on this day?
Keep scrolling for all of our April 13 birthdays.
---
What to find another day?
---
April 13th
13 Apr 2019
English keyboardist and guitarist Paul Raymond died age 73. He joined Plastic Penny in the early 60s as their keyboardist, vocalist, and replaced Christine McVie in British blues band Chicken Shack. He first joined UFO in 1976 and played with the band during four different stints, he was a regular in the UFO lineup since 2003. Raymond had also worked with Michael Schenker in MSG.
13 Apr 2015
The UK's first weekly vinyl chart was launched by the Official Charts Company as sales of vinyl albums and singles continued to soar. The first official vinyl albums chart was topped by All Time Low's Future Hearts.
13 Apr 2013
Sir
Paul McCartney
topped the Sunday Times Rich List of musicians with the £680m fortune he shares with his wife Nancy Shevell. Sir Paul, whose American heiress wife is said to be worth £150m, has topped each list since 1989 when he was worth an estimated £80m. Andrew Lloyd Webber was second, with £620m, while
U2
were third, with £520m.
Adele
topped the list for young music millionaires in Britain and Ireland with an estimated fortune of £30m.
13 Apr 2012
Five of
Tom Petty
's guitars were stolen from a soundstage in Culver City, California, where Petty and his band, the Heartbreakers, were rehearsing for their upcoming worldwide tour.The stolen gear included a 1967 Blonde Rickenbacker, a 1967 Epiphone Sheridan, a 1965 Gibson SG TV Jr., a Fender Broadcaster and a Dusenberg Mike Campbell Model, which belonged to Campbell himself. Petty was offering a "no questions asked" reward bounty of $7,500 to anyone with information leading to the guitars' recovery.
13 Apr 2011
A portrait of
Pink Floyd
founder
Syd Barrett
was returned to the London art gallery it had been stolen from the previous week. The late singer's former girlfriend, Libby Gausden, pleaded for its safe return and offered a reward of £2,000, and following an appeal, the image was returned undamaged and intact to the gallery by post.
13 Apr 2010
Brian May launched a major new campaign to try to prevent the return of legalised blood sports to the British Countryside. The 'SAVE-ME' campaign - named after May's song, called on the British public to consider how their vote will affect the welfare of animals; and in particular fox-hunting, stag hunting and hare-coursing. The first 'SAVE-ME campaign poster was unveiled by Brian at a prime advertising site on London's West Cromwell Road.
13 Apr 2009
68-year-old US music producer Phil Spector was convicted of murdering actress Lana Clarkson, after a five-month retrial. He had pleaded not guilty to the second degree murder of 40-year-old Ms Clarkson, who was shot in the mouth at Spector's home in Los Angeles. During the five-month retrial, five female acquaintances testified that Spector had threatened them at gunpoint in incidents dating back to the 1970s. An earlier trial was abandoned in 2007 after a jury failed to reach a unanimous decision. Spector was remanded in custody until sentencing on 29 May 09.
13 Apr 2009
Procol Harum's
'A Whiter Shade Of Pale'
was the most played song in public places in the past 75 years, according to a chart compiled for BBC Radio 2.
Queen
's
Bohemian Rhapsody
was at number two followed by 'All I Have To Do Is Dream' by the Everly Brothers. Wet Wet Wet's 1994 hit, 'Love Is All Around', was at number four followed by
Bryan Adams
's 1991 hit '(Everything I Do), I Do It For You.'
13 Apr 2008
The body of producer and drummer Clifford Davies, who took his own life, was found in his home in Atlanta. The 59-year-old artist had worked with Ted Nugent from 1979-1982. It was reported that Davies was "extremely distraught" over outstanding medical bills.
13 Apr 2007
Julian Lennon sold a 'significant' stake of his share in the songs his father John wrote for
The Beatles
to US music publishing company Primary Wave. The firm would now receive payments when any Lennon compositions were sold on CD, performed live or played on the radio. The company, who were about to market Julian Lennon's new music project, declined to reveal how much the deal was worth.
13 Apr 2003
The Beatles
Apple Corp company was listed as Britain's fastest profit-growth firm with an annual profit growth of 194%.
13 Apr 2003
Madonna
struck back at web sites who were offering illegal downloads of her new album, 'American Life' by flooding file-sharing networks with decoy files. When the files were opened they were greeted by the voice of
Madonna
asking, 'What the fuck do you think you're doing?' The latest
Madonna
album has been kept under tight wraps to avoid piracy, with promotional copies being held back from journalists until just before the official release.
13 Apr 2002
Thieves broke in to a house in Bexhill, Sussex and stole a hi-fi system and several CD's. They left albums by
Madonna
, Robbie Williams and
Oasis
but took the owners entire Showaddywaddy collection.
13 Apr 1996
Rage Against The Machine appeared on NBC's Saturday Night Live. Their two-song performance was cut to one song when the band attempted to hang inverted American flags from their amplifiers.
13 Apr 1993
The first
Aerosmith
Day was observed in the Commonwealth of Massachusetts after the band were given their very own holiday.
13 Apr 1982
David Crosby was arrested when police found him preparing cocaine backstage in his dressing room before a show in Dallas.
13 Apr 1979
Thin Lizzy
released their ninth studio album Black Rose: A Rock Legend. The album, which featured guitarist Gary Moore, contained the hits 'Do Anything You Want To', 'Waiting For An Alibi' and 'Sarah', which was written with Moore about Lynott's newborn daughter.
13 Apr 1974
Elton John
went to No.1 on the US singles chart with 'Bennie And The Jets', his second US No.1. John was set against releasing it as a single, believing it would fail. CKLW in Windsor, Ontario, began heavy airplay of the song and it became the No.1 song in the Detroit market with other radio stations adding it to playlists.
13 Apr 1974
Paul McCartney
and Wings'
Band On The Run
went to No.1 on the US album charts. McCartney's third US No.1, went on to sell over 6 million copies world-wide. It's commercial performance was aided by two hit singles 'Jet' and 'Band on the Run'.
13 Apr 1973
Bob Marley
and the Wailers released Catch a Fire their first album on Island Records and which is now regarded as one of the greatest reggae albums of all time. The album was also groundbreaking as its singles were released as long-playing records as against to the early reggae songs coupled with two sides.
13 Apr 1973
David Bowie
released his sixth studio album Aladdin Sane, the name of the album is a pun on 'A Lad Insane"' Two hit singles included on the album preceded its release, 'The Jean Genie' and 'Drive-In Saturday'.
13 Apr 1971
13 Apr 1967
Nancy and
Frank Sinatra
were at No.1 on the UK singles chart with 'Somethin' Stupid', (making them the only father and daughter to have a UK No.1 single as a team). The song was written by folk singer C. Carson Parks and originally recorded in 1966 by Parks and his wife Gaile Foote, as "Carson and Gaile". Robbie Williams recorded the song as a duet in 2001 with actress Nicole Kidman which went on to top the UK charts.
13 Apr 1965
The Beatles
record the song
'Help!'
during an evening recording session at Abbey Road in London. During an interview with Playboy Magazine in 1980,
John Lennon
recounted: "The whole Beatles thing was just beyond comprehension. I was subconsciously crying out for help".
13 Apr 1962
The Beatles
made their third trip to Germany for a 48-night residency at The Star Club, Hamburg. During the seven week run
The Beatles
had only one day off.
Born on this day in music
13 Apr 1975
German mambo musician Lou Bega who is most famous for 'Mambo No. 5', his 1999 UK No.1 hit which was a remake of the Pérez Prado instrumental from 1949.
13 Apr 1972
American musician and songwriter Aaron Lewis with American rock band Staind who had the 2001 US No.1 album, Break The Cycle.
13 Apr 1966
Marc Ford, American blues-rock guitarist with The Black Crowes who had the 1991 hit single 'Hard To Handle' and the 1992 US No.1 & UK No.2 album The Southern Harmony And Musical Companion. The band have sold more than 30 million albums.
13 Apr 1962
Hillel Slovak, guitar,
Red Hot Chili Peppers
. Slovak recorded two albums with the band, Freaky Styley (1985) and The Uplift Mofo Party Plan (1987). He died from a heroin overdose 27th June 1988.
13 Apr 1961
Butch Taylor, keyboardist and long time guest musician with Dave Matthews Band. Dave Matthews Band are the first group to have six consecutive studio albums debut at the top of the US charts.
13 Apr 1957
Wayne Lewis, from American band Atlantic Starr who had the 1987 US No.1 & UK No.3 single 'Always'.
13 Apr 1955
Mark Kamins the American record producer and disc jockey famous for his role on the New York club scene. He is best known for helping launch the career of one-time girlfriend
Madonna
by presenting a demo to Seymour Stein of Sire Records. He also produced her first single 'Everybody' in 1982. Kamins died on 14 February 2013.
13 Apr 1955
Louis Johnson from Brothers Johnson who had the 1980 US No.4 & UK No.6 single 'Stomp'. Johnson played on the
Michael Jackson
albums Off the Wall,
Thriller
and Dangerous, and hit songs 'Billie Jean' and 'Don't Stop 'Til You Get Enough'. Johnson died on May 21 2015.
13 Apr 1954
American musician Jimmy Destri, keyboardist with
Blondie
They scored five UK No.1 singles including the 1979 UK & US No.1 single 'Heart Of Glass' and the 1978 world-wide No.1 album Parallel Lines. He was one of the principal songwriters for the band along with Chris Stein and Deborah Harry.
13 Apr 1951
American drummer and television personality Max Weinberg with
Bruce Springsteen
's E Street Band. Weinberg won an audition to become the drummer for Springsteen in 1974. He played on the 1975 single
Born To Run
.) He is also the leader of the Max Weinberg Seven on US TV Late Night with Conan O'Brien. And also the author of 1991 The Big Beat: Conversations with Rock's Greatest Drummers.
13 Apr 1951
American R&B and soul singer-songwriter Peabo Bryson who scored the 1983 UK No.2 single with Roberta Flack 'Tonight I Celebrate My Love' and the 1984 US No.10 single 'If Ever You're In My Arms Again'. Bryson is winner of two Grammy Awards.
13 Apr 1946
Roy Loney from American rock bandThe Flamin Groovies who had the 1976 album 'Shake Some Action. In addition to the band's role in the advancement of power pop, the Flamin' Groovies have also been called one of the forerunners of punk rock. He died on 13 December 2019 age 73.
13 Apr 1946
American singer, songwriter Al Green (often known as The Reverend Al Green), who had the 1971 UK No.4 single 'Tired Of Being Alone' and the 1972 US No.1 single 'Let's Stay Together' plus over 10 other Top 40 hits.
13 Apr 1945
American songwriter, multi-instrumentalist, and record producer, Lowell George from Little Feat who had two Top 40 albums during the 70s. Their best-known songs are 'Dixie Chicken' and 'Sailin Shoes'. George was once a member of
Frank Zappa
's Mothers Of Invention. Lowell died from a heart attack on 29th June 1979.
13 Apr 1944
Brian Pendleton, rhythm guitar, backing vocals, bass (1963–1966) with Pretty Things who had the 1964 UK No.10 single 'Don't Bring Me Down'. He died of cancer on 15th May 2001 aged 57.
13 Apr 1944
Jack Casady, American bass guitarist, best known as a member of Jefferson Airplane and Hot Tuna. Jefferson Airplane became the first successful exponent of the San Francisco Sound. Their singles, including 'Somebody to Love' and 'White Rabbit'.
13 Apr 1942
American composer and conductor Bill Conti who had the 1977 US No.1 single 'Gonna Fly Now' (Theme from Rocky).
13 Apr 1936
Tim Feild from the British pop-folk vocal trio The Springfields who had the 1962 US No. 20 single 'Silver Threads And Golden Needles', and the 1963 UK No.5 single 'Island Of Dreams'. The Springfields included singer Dusty Springfield and her brother, record producer Tom Springfield.
13 Apr 1934
Horace Kay, from the American vocal group The Tams who had the 1964 US hit 'What Kind of Fool (Do You Think I Am)' and the 1971 UK No.1 single 'Hey Girl Don't Bother Me'. The group took their name from the Tam o'shanter hats they wore on stage.