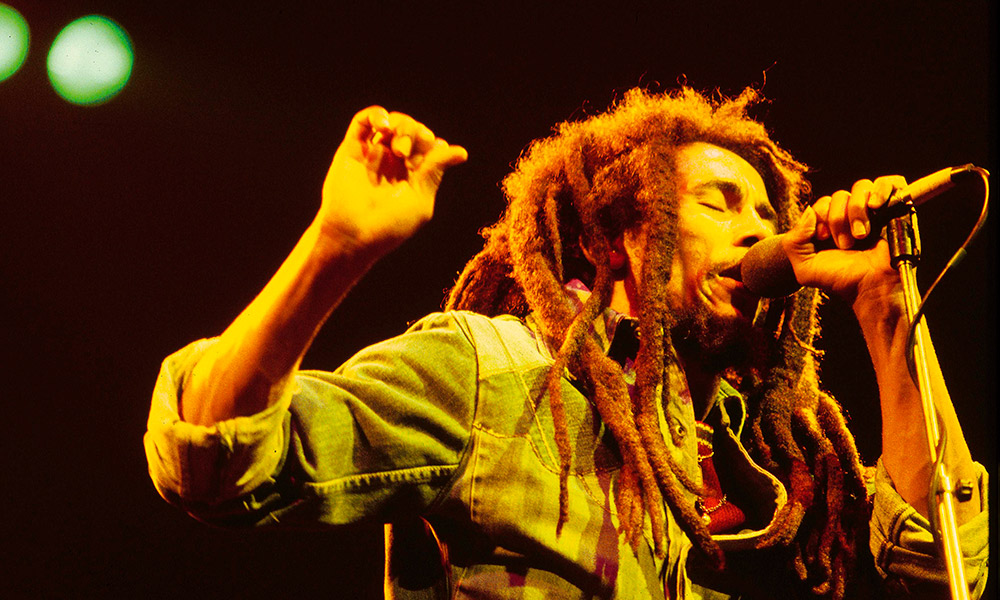 Bob Marley was born on 6th February 1945, the singer/songwriter and guitarist had the 1981 UK No.8 single with "No Woman No Cry", plus over ten other UK Top 40 singles and the 1976 US No.8 & UK No.15 album Rastaman Vibration. The 1984 Best Of album spent 330 weeks on the UK chart.
Marley's influence is unparalleled, irrespective of race, colour or creed, he is credited with helping spread both Jamaican music and the Rastafari movement to a worldwide audience.
Bob Marley was born Robert Nesta Marley on February 6, 1945, to 50-year old white quartermaster Captain Norval Marley of the British West Indian Regiment and an eighteen-year-old black Jamaican woman, Cedella Malcolm, (the last time Marley saw his father was when he was five years old). He grew up in Trench Town in squatter-settlements that housed a minimum of four families, the teenage Marley quickly learned to defend himself against Trench Town's rude boys and bad men. Bob's street-fighting skills earned him the respectful nickname Tuff Gong.
Trench Town was also a culturally rich community where Bob Marley's abundant musical talents were nurtured. A lifelong source of inspiration, Bob immortalized Trench Town in his songs "No Woman No Cry", "Trench Town Rock", and "Trench Town".
By the early 1960s, the island's music industry was beginning to take shape, and its development gave birth to an indigenous popular Jamaican music form called ska. A local interpretation of American soul and R&B, with an irresistible accent on the offbeat, ska exerted a widespread influence on poor Jamaican youth while offering a welcomed escape from their otherwise harsh realities. Within the burgeoning Jamaican music industry, the elusive lure of stardom was now a tangible goal for many ghetto youths.
Marley became friends with Neville "Bunny" Livingston (later known as Bunny Wailer), and later at 16 years old Bob Marley met another aspiring singer Desmond Dekker who introduced Marley to another young singer, Jimmy Cliff, future star of the Jamaican film The Harder They Come, who, at age 14, had already recorded a few hit songs. In 1962 Cliff introduced Marley to producer Leslie Kong; Marley cut his first singles for Kong: "Judge Not", "Terror" and "One More Cup of Coffee", a cover of the million-selling country hit by Claude Gray. All these failed to sell but Marley was now a full-time musician.
In 1963, Marley, Bunny Wailer, Peter Tosh, Junior Braithwaite, Beverley Kelso, and Cherry Smith formed a ska and rocksteady group, calling themselves "The Teenagers". They later changed their name to "The Wailing Rudeboys", then to "The Wailing Wailers", at which point they were discovered by record producer Coxsone Dodd, and finally to "The Wailers".
The Wailers recorded demos, toured the UK and signed a deal with CBS records, which was short lived. It was Island Records founder and producer Chris Blackwell who eventually paid for studio time for the musicians who delivered the album Catch A Fire which was released in 1973 and immediately earned worldwide acclaim.
The hits followed "Jamming," "Waiting in Vain," "One Love/People Get Ready", "I Shot the Sheriff", "No Woman No Cry".
In July 1977, Marley was found to have a type of malignant melanoma under the nail of one of his toes. Marley turned down doctors' advice to have his toe amputated, citing his religious beliefs. The final concert of Bob Marley's career was held September 23, 1980, at the Stanley Theatre in Pittsburgh, Pennsylvania. Shortly after, Marley's health deteriorated and he became very ill; cancer had spread throughout his body.
He died at Cedars of Lebanon Hospital in Miami on the morning of May 11, 1981, at the age of 36.
In December 1999, his 1977 album Exodus was named Album of the Century by Time Magazine and his song "One Love" was designated Song of the Millennium by the BBC. Since its release in 1984, Marley's Legend compilation has annually sold over 250,000 copies according to Nielsen Sound Scan and has now sold over 10 million copies worldwide. In 1990, February 6th was proclaimed a national holiday in Jamaica to commemorate his birth.
As a musician and spokesperson for his generation, Bob Marley had the political drive of John Lennon, the poetic side of Bob Dylan and a groove coupled with hypnotic melodies that were unmistakably Bob Marley.
Important Dates In The Life Of Bob Marley:
27 Dec 2022
Jamaican reggae artist Jo Mersa Marley died in Miami-Dade County, Florida aged 31. He was the son of Stephen Marley and grandson of reggae musician Bob Marley.
4 Aug 2022
American soul singer Sam Gooden died from a heart attack at the age of 87. He was a member of The Impressions (along with Curtis Mayfield) who had the 1965 US No.7 hit 'Lilies Of The Field'. The Impressions were a notable influence on Bob Marley and the Wailers. Marley sampled the lyrics of the Impressions song 'People, Get Ready' for his song 'One Love/People Get Ready'.
9 Dec 2021
Jamaican musician Garth Dennis died from complications of pneumonia age 72. He was a founder member of Black Uhuru, later a member of The Wailing Souls for ten years. He grew up in Trenchtown and became friends with
Bob Marley
, Peter Tosh, and Bunny Wailer.
29 Aug 2021
Jamaican record producer and singer Lee 'Scratch' Perry died from an unspecified illness, aged 85. He was noted for his innovative studio techniques and production style and was a pioneer in the 1970s development of dub music with his early adoption of remixing and studio effects to create new instrumental or vocal versions of existing reggae tracks. He worked with and produced for a wide variety of artists, including
Bob Marley
and the Wailers, Junior Murvin, Beastie Boys, Ari Up,
The Clash
, The Orb, and many others.
8 Jun 2021
American singer Dean Parrish died at the age of 78. Best known for the song, 'I'm on My Way', which became noted for being the penultimate record that was played at the last Northern soul all-nighter at the Wigan Casino, he also worked as a session musician with
Jimi Hendrix
and
Santana
in 1970, and played guitar with
Bob Marley
in 1972.
6 May 2013
Lauryn Hill was sentenced in the US state of New Jersey to three months in jail for tax evasion. The 37 year-old Grammy-winning singer had failed to pay taxes on about $1.8m (£1.2m) of earnings between 2005-07. In a statement to the judge, Hill said she had intended to pay the taxes but could not after withdrawing from public life and ending her music career to raise her children. Hill has six children, five of whom she had with Rohan Marley, the son of
Bob Marley
.
25 Oct 2012
Forbes magazine reported that
Michael Jackson
topped their list of highest-earning dead musical celebrities by earning $145 million in the past year.
Elvis Presley
ranked No.2 with $55 million in earnings, and
Bob Marley
No.3 with $17 million.
5 Dec 2006
Beatles lyrics handwritten by Sir
Paul McCartney
to an early version of Maxwell's Silver Hammer sold for $192,000 (£97,000) at an auction in New York. A guitar owned by
Jimi Hendrix
fetched $168,000 (£85,000), a notebook containing lyrics written by
Bob Marley
sold for $72,000 (£36,445) and a poem penned by Doors frontman
Jim Morrison
made $49,000 (£25,500) at the Christie's sale.
5 Oct 2006
Reggae legend
Bob Marley
was honoured with a heritage plaque at his former north London home at 34 Ridgmount Gardens in Camden. The event was part of Black History Month, a season of events promoting the contribution of African-Caribbean communities in London.
26 Oct 2004
4 May 2004
Producer Clement Seymour Dodd died aged 72. He was a major force in the development of ska and reggae, and made the first recordings of
Bob Marley
.
29 Jan 2001
A New York based data company issued a chart listing sales of posthumous albums. The idea came about after radio stations wanted to distinguish between proper recordings when the artists were alive and CD's released after they died. Mike Shalett founder of SoundScan said there was only one problem. What to call the chart. The Top 5 chart had
The Doors
at No.5, Eva Cassidy at 4,
Jimi Hendrix
at 3,
Bob Marley
at 2 and 2Pac at No.1.
1 Jul 1999
Jamaican reggae singer Dennis Brown died aged 42, the official cause of his death was a collapsed lung. During his career, he recorded more than 75 albums and had the 1979 UK No.14 single 'Money In My Pocket.'
Bob Marley
cited Brown as his favourite singer, naming him 'The Crown Prince of Reggae."
2 Jun 1999
Junior Braithwaite from
Bob Marley
and the Wailers was shot dead aged 46. Braithwaite was one of the founders of, and the first lead singer of The Wailers.
6 Oct 1998
17 Apr 1987
Reggae drummer and percussion player Carlton Barrett of The Wailers was shot dead outside his house in Kingston, Jamaica. Joined
Bob Marley
and The Wailers in 1970, wrote the Marley song 'War'. Barrett was the originator of the one-drop rhythm, a percussive drumming style.
19 May 1984
Bob Marley
and the Wailers started a 12-week run at No.1 on the UK album chart with the compilation album 'Legend', released to commemorate the third anniversary of Marley's death.
11 May 1981
Jamaican singer-songwriter
Bob Marley
died aged 36. In July 1977, Marley was found to have a type of malignant melanoma under the nail of a toe, Marley's health deteriorated as the cancer had spread throughout his body. Marley had the 1981 single 'No Woman No Cry', plus over ten other UK Top 40 singles. In 1990, the 6th February was proclaimed a national holiday in Jamaica to commemorate his birth. The compilation album, Legend, released in 1984, is the best-selling reggae album ever with sales of more than 20 million copies. Time magazine chose
Bob Marley
& The Wailers' Exodus as the greatest album of the 20th century.
4 Nov 1980
Bob Marley
was baptised at the Ethiopian Orthodox Church, Kingston, converting to a Christian Rastafarian and taking on the new name Berhane Selassie.
23 Sep 1980
Bob Marley
collapsed on stage during a concert at the Stanley Theater in Pittsburgh, Pennsylvania. Marley had collapsed in New York's Central Park while jogging, two days before and was told to immediately cancel the US leg, but flew to Pittsburgh to perform one final performance. This was the last time Marley ever appeared on stage performing, Marley died of cancer on in May 1981.
21 Sep 1980
During a North American tour,
Bob Marley
collapsed while jogging in New York's Central Park. After hospital tests he was diagnosed as having cancer. Marley played his last ever concert two nights later at the Stanley Theater in Pittsburgh, Pennsylvania.
22 Apr 1978
Bob Marley
and the Wailers performed at the 'One Love Peace Concert' in Jamaica. It was Marley's first public appearance in Jamaica since being wounded in an assassination attempt a year and a half earlier.
3 Jun 1977
Bob Marley
& the Wailers released Exodus. The album featured the hits, 'Jamming', 'Waiting In Vain', 'Three Little Birds' and 'One Love'. In 1999, Time magazine named Exodus the best album of the 20th century.
1 Jun 1977
Bob Marley
and The Wailers played the first of four nights at the Rainbow Theatre in London. There were six nights booked at the Rainbow, but the last two shows were cancelled due to a serious toe injury Marley received, (in a friendly football game with French journalists just before the tour's start in Paris). Subsequently the tour's second leg in the United States was postponed and then cancelled.
3 Dec 1976
An attempt was made on
Bob Marley
's life when seven gunmen burst into his Kingston home injuring Marley his wife Rita and manager Don Taylor, the attack was believed to be politically motivated.
5 Oct 1975
Stevie Wonder
appeared at the Wonder Dream Concert in Kingston, Jamaica, a Jamaican Institute for the Blind benefit concert. Along with
Bob Marley
, Peter Tosh and Bunny Wailer, the three original Wailers, performing together for the last time.
19 Jul 1975
On his Natty Dread tour,
Bob Marley
& the Wailers appeared at the Lyceum Theatre in London. The show was recorded and the live single 'No Woman, No Cry' was later released.
17 Jul 1975
Bob Marley
and the Wailers played the first of two nights at The Lyceum, London, and both nights were recorded for the November released 'live' album, featuring the single 'No Woman No Cry.'
14 Sep 1974
Eric Clapton
scored a US No.1 with his version of the
Bob Marley
song 'I Shot The Sheriff' which was first released in 1973 on The Wailers' album Burnin'. Clapton's version was included on his 1974 album 461 Ocean Boulevard.
18 Jul 1973
Bruce Springsteen
played the first of four nights at Max's Kansas City in New York City, New York, supported by
Bob Marley
and The Wailers who were on their first ever North American tour.
13 Apr 1973
Bob Marley
and the Wailers released Catch a Fire their first album on Island Records and which is now regarded as one of the greatest reggae albums of all time. The album was also groundbreaking as its singles were released as long-playing records as against to the early reggae songs coupled with two sides.
2 Jun 1962
Owen Gray's 'Twist Baby' became the first single released on UK based Island Records. The label became home to
Free
, Traffic, Jethro Tull,
Bob Marley
and
U2
.