Subterranean Homesick Blues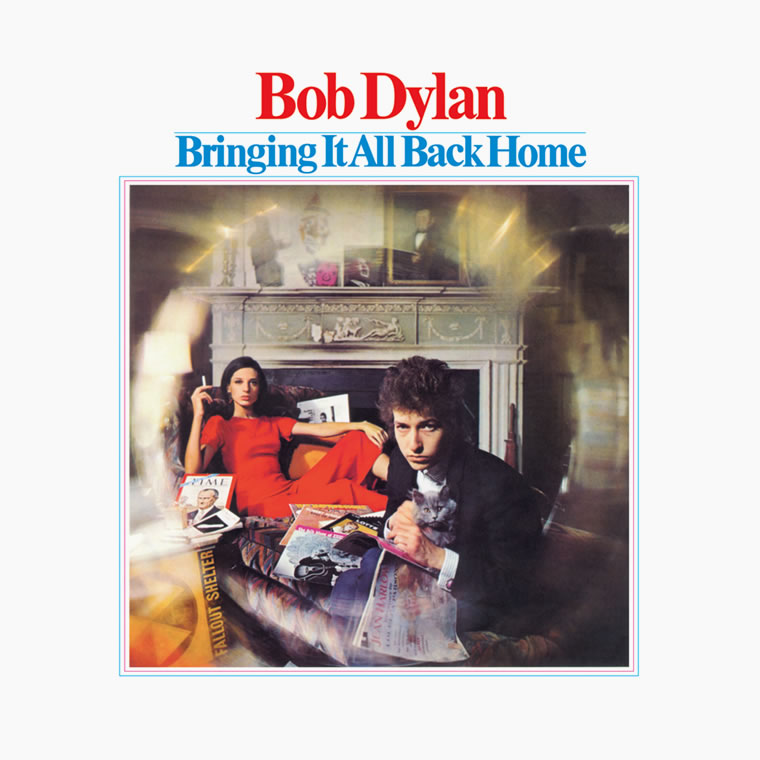 On 13th January 1965, the first day of recording sessions for Bob Dylan's Bringing It All Back Home album was held at Studio A, Columbia Recording Studios in New York City. Dylan recorded what became two classic tracks — "Subterranean Homesick Blues", and "It's All Over Now, Baby Blue."
"Subterranean Homesick Blues" became Dylan's first US Top 40 hit, peaking at No.39 on the Billboard Hot 100. It also entered the Top 10 on the singles chart in the UK. But the track is probably best known for its innovative film clip (which first appeared in D. A. Pennebaker's documentary, Dont Look Back).
Dylan came up with the idea of holding up cue cards, with selected words and phrases from the lyrics, and the clip was shot in an alley behind the Savoy Hotel in London. The cue cards, which were written by Donovan, Allen Ginsberg, Bob Neuwirth, and Dylan himself, have intentional misspellings and puns throughout the clip: for instance, when the song's lyrics say "eleven dollar bills" the poster says "20 dollar bills."
The clip is one of the first "modern" promotional films, a forerunner of what later became known as the music video.
Dylan became a huge influence on The Beatles, especially John Lennon and later Bob and George Harrison became very close friends. Other acts acknowledged having felt Dylan's influence include Pete Townshend, Neil Young, Bruce Springsteen, David Bowie, Bryan Ferry, Nick Cave, Patti Smith, Syd Barrett, Cat Stevens, Joni Mitchell and Tom Waits. More than 3,000 artists have covered Dylan songs, and his influence can still be heard today in modern music — just listen to Mumford & Sons.
Dylan's influence wasn't just for budding pop stars. Steve Jobs and Steve Wozniak initially bonded over their mutual obsession with Bob Dylan, the former an obsessive collector of Dylan concert bootlegs from the early electric period of 1965 and 1966.
Just think, no Bob Dylan — no Apple!
Jobs' biographer has stated that Dylan's words "struck chords of creative thinking" in Jobs, who finally met Dylan when the singer was playing near Palo Alto in October of 2004. "We sat on the patio outside his room and talked for two hours," said Jobs. "I was really nervous, because he was one of my heroes, and I was also afraid that he wouldn't be really smart any more, but I was delighted. He was everything I'd hoped." Dylan's own thoughts on Jobs have not been recorded.
They met up the next time that Dylan came through town, and Jobs told him that his favourite song was "One Too Many Mornings," only for Dylan to play it that night. "He's one of my all-time heroes," said Jobs. "My love for him has grown over the years, it's ripened. I can't figure out how he did it when he was so young."
Dylan has played over 3,000 concerts, covering all corners of the globe, and has released over 40 albums. Finally, if you are in any doubt as to Dylan's continuing relevance, bear in mind that a recent song is Adele's version of "Make You Feel My Love," a great song, but not written by her, as many assume. Yes, it's another one of Bob's — from his Time Out Of Mind album. Rediscover Bob now…
The following fans' accounts of seeing Bob Dylan live are taken from the This Day in Music book Bob Dylan – The Day I Was There.
GERDES FOLK CITY
MAY 1961, NEW YORK CITY, NEW YORK
I WAS THERE: BONNIE BEECHER
He came to my apartment and said, 'It's an emergency! I need your help! I gotta go home an' see my mother!' He was talking in the strangest Woody Guthrie-Oklahoma accent. I don't know if she was sick, but it was an unexpected trip he had to make up to Hibbing and he wanted me to cut his hair. He kept saying, 'Shorter! Shorter! Get rid of the sideburns!' So I did my very best to do what he wanted and then in the door came Dave Morton, Johnny Koerner, and Harvey Abrams. They looked at him and said, 'Oh my God, you look terrible! What did you do?' And Dylan immediately said, 'She did it! I told her just to trim it up a little bit but she cut it all off. I wasn't looking in a mirror!' And then he went and wrote that song 'Bonnie, why'd you cut my hair? Now I can't go nowhere!' He played it that night in a coffeehouse and somebody told me recently that they had been to Minnesota and somebody was still playing that song, 'Bonnie, Why'd You Cut My Hair?' It's like a Minnesota classic! And so I've gone down in history!
JONES STREET
FEBRUARY 1963, NEW YORK CITY, NEW YORK
I WAS THERE: DEEANNE HUNSTEIN
The reason my husband Don was taking pictures at that time was because Columbia Records had already issued Bob Dylan's very first album and they knew he was on the road to being a popular artist and they had no pictures. So, they said to Don, who was on the staff there, go down and take some pictures of him.
Don went over to Dylan's apartment, where the singer was living with his then girlfriend Suze Rotolo. They were young, I think she was 18. They had a little apartment in a brownstone, up on the fifth floor walk-up. So, he took a bunch of pictures, then they went outside and it was a very cold and nasty day with a lot of snow in the street.
As they walked toward him, Don started shooting o pictures and because it was so cold out there they didn't want to do it for very long. So he did one roll of black and white and one roll of colour. He just did it in a very short time as it was a very cold day. It just so happened when he turned over what he thought were some of the best pictures with the art department, they really loved that picture of the two of them walking down the street. It became the cover for The Freewheelin' Bob Dylan.
An awful lot of people know that picture and didn't connect it with Don's name. I think that the album cover does give him credit but people never paid much attention to album cover photos or the photographers. That still remains one of the most popular pictures and a lot of people want it. A lot of people write the story, what that picture means to them. They say, yes, it brings back part of their youth. Even young people today, they look back, it says to them here are these young people walking in the middle of a harsh environment. It has become a kind of symbol of youth starting o in a harsh environment, but with hope for the future.
MONTEREY FOLK FESTIVAL
18 MAY, 1963, MONTEREY, CALIFORNIA
I WAS THERE: BARBARA DANE
He went down very badly. He didn't play for very long, and it felt like he was on for an hour. I think people were laughing. Even though he did three of his hardest-hitting protest songs, 'Talkin' John Birch Paranoid Blues,' 'A Hard Rain's a-Gonna Fall' and 'Masters of War,' the response was so bad it prompted Joan Baez to walk out unannounced and admonish the audience. She wanted everyone to know that this young man had something to say. He was singing about important issues, and he was speaking for her and everyone who wanted a better world. They should listen, she said – she ordered them. Listen! They performed Dylan's 'With God on Our Side' together, their voices an odd match, the tension between their styles made their presence together all the more compelling. They left the stage with people cheering.
CIVIC CENTER
12 DECEMBER, 1965, SAN JOSE, CALIFORNIA
I WAS THERE: GHRAYDON WALLICK, AGE 19
In 1965 I saw Bob Dylan once more. Earlier in the day I had run away from an angry Marine Sergeant who was lying and trying to shanghai me into the Vietnam War. So it was a day of contrasts for sure.
I arrived at the Civic a couple of hours early because I had painted a portrait of Dylan (from a photo on one of his early album covers) and I wanted to give it to him. In those innocent times, crowd security had a softer face and this one was attached to a kindly old man. Without so much as a metal detector wand or weapons pat down, he said, 'follow me', then dutifully led me from the ticket window, through the front doors, down the centre isle of the auditorium, up the steps to the stage, across the stage, down the steps to the back stage, to a back stage door. He pointed with his thumb and said, 'I think he's in there'. Then he walked away leaving me, a 19-year old kid on the opposite side of the door from my hero. I was kind of confused but thought, 'What the Hell'. I knocked on the door. A very nervous (paranoid actually) voice said, 'Who's there? What do you want?' I replied 'My name is Grady and I have something for Bob Dylan.' He shot back, 'Slide it under the door man'. 'It's a painting in a frame. It won't go under the door,' I informed him. 'OK, OK, hold on a minute man,' sounds of many anxious feet shuffling away at speed. In those times even a stray marijuana seed in your pocket could land in you in prison.
A few moments later, the door opens a crack and a paranoid young man grabs the painting from my outstretched hand and quickly slams the door shut. His 'thank you' was nearly clipped in two between the door's edge and frame. My, 'You're welcome' hit the door and bounced back at me sticking to the fresh barbs of my burr cut hairdo.
I was alone back stage so… I walked back across the stage and took a seat in the front row and centre and waited for the show to start. A few minutes later Dylan and the Band walked on stage and did sound checks and rehearsals. I was the only person in the huge auditorium and they were playing just for me. They did this for about ten minutes, then walked back off stage leaving me along with my grin aching from strain.
As the theatre eventually filled up I took my assigned seat further back from the stage. A young girl eventually came and sat down in her seat next to me. I couldn't help myself, I had to tell somebody. I told her what had just happened. She said, 'That's Amazing!' Then she informed me that it was her job to get the band sodas at the break and deliver them backstage for the band. Then she asked me if I wanted to help her. Out of the thousands of people who filled that auditorium that night I was sitting next to the one!
Of course I helped her and backstage I saw the same paranoid dude that took my painting. He looked at me and said, 'Who
are you?' I said, 'My name is Grady, I brought the painting for Dylan'. He said, 'Oh, the painting, he loves it man! He's in his dressing room looking at it right now!'
I didn't ever get to meet him but I saw my painting on top of the grand piano waiting for the roadies to pack it up. I left on a high. It's lasted for many decades.
Bob Dylan – The Day I Was There contains over 400 eyewitness accounts from fans who saw Dylan live in concert and worked with the great man. Available in print and all digital formats.