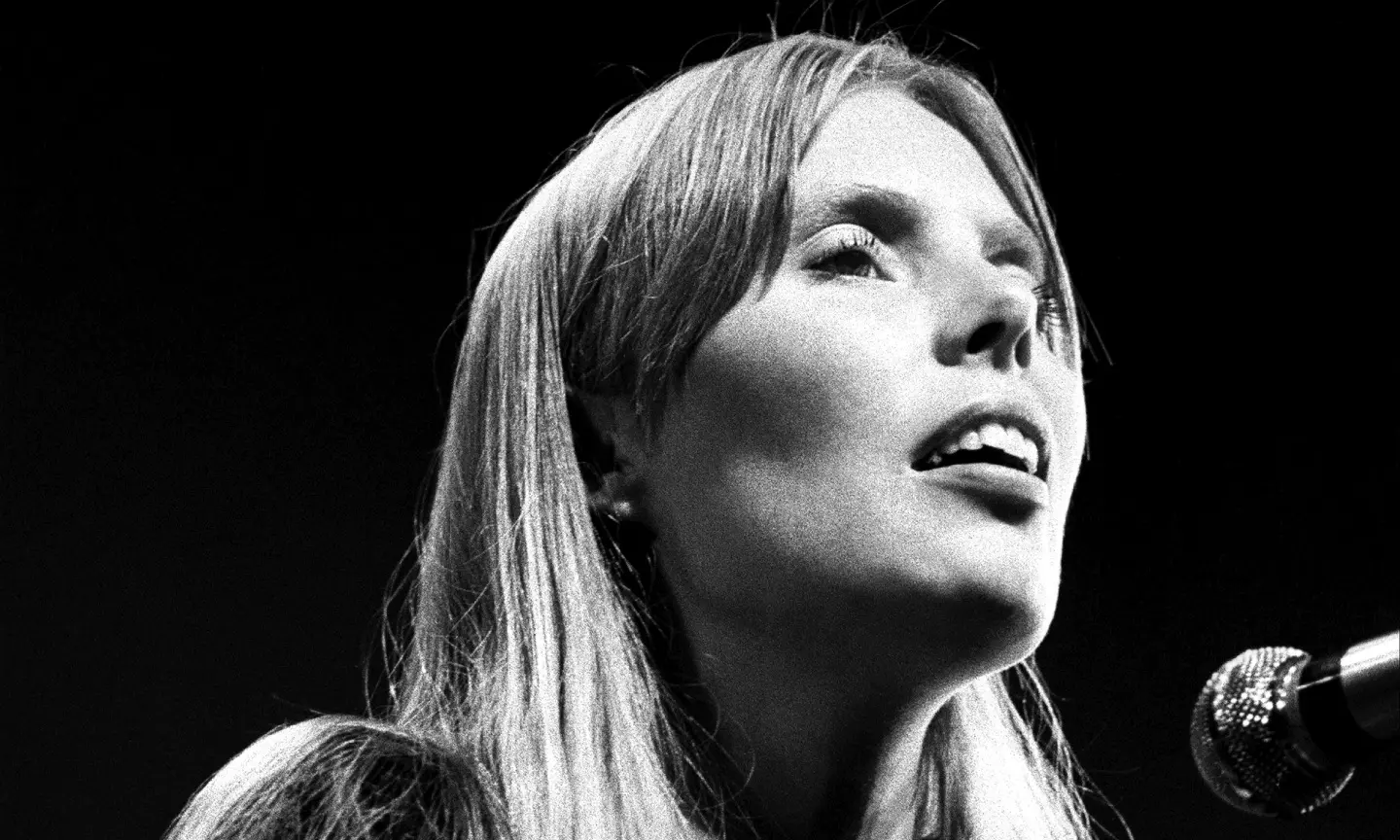 Joni Mitchell, (Roberta Anderson), was born on 7th Nov, 1943. Mitchell is one of the most important and influential female recording artists of the late 20th century. Ask any female singer from Tori Amos, to Sheryl Crow and newbies like Adel who their favorite female singer songwriter is and all will say Joni. Led Zeppelin sang about her in "Going To California" so did Prince in "The Ballad Of Dorothy Parker". Even Madonna cited Mitchell as the first female artist that really spoke to her as a teenager.
Plenty have covered her songs, some better than others, and here's why so many fail – she plays the guitar and sings like no other artist, so to 'cover' a Joni song and do it justice is a difficult task. Judy Collins's 1967 recording of "Both Sides Now" became a top 10 hit, Matthews Southern Comfort did a great job with their version of "Woodstock", Counting Crows succeeded with their version of "Big Yellow Taxi", but many have failed.
Joni Mitchell is Neil Young playing folk music on weird guitar tunings who got drunk at a jazz club. And like her fellow countryman Young, Joni has played it her way, never looking for hit records (she's only ever had one US top 10 hit). Her early albums have become timeless classics; just listen to Ladies Of The Canyon, Blue and Court And Spark.
So, what do we know about Joni? She was stricken with polio at the age of eight and while recovering in a children's hospital, she began her performing career by singing to the other patients. She later taught herself to play guitar with the aid of a Pete Seeger instruction book, she went off to art college, and became a fixture on the folk music scene around Alberta, Canada. After relocating to Toronto, she married folksinger Chuck Mitchell in 1965, and began performing under the name Joni Mitchell.
After performing in Coffee Houses and clubs in Ontario, Joni spread her wings and ventured south. One night when she was performing at a club in Coconut Grove, Florida, David Crosby walked in and was immediately struck by her ability and her appeal as an artist. He took her back to Los Angeles, where he set about introducing her and her music to his friends. Crosby convinced a record company to agree to let Mitchell record a solo acoustic album without all the folk-rock overdubs that were in vogue at the time, and his clout earned him a producer's credit in March 1968, when Reprise Records released her debut album, alternately known as Joni Mitchell or Song To A Seagull.
Mitchell announced in October 2002 that she had made her last ever record; she'd grown tired of the industry. She told W magazine that she intended to retire. She also claimed she would never sign another corporate label deal and in Rolling Stone magazine blasted the recording industry for being "a cesspool."
She has received eight Grammy Awards during her career, with the first coming in 1969 and the most recent in 2008. She received a Grammy Lifetime Achievement Award in 2002, with the citation describing her as "one of the most important female recording artists of the rock era" and "a powerful influence on all artists who embrace diversity, imagination and integrity."
On March 31, 2015, Joni Mitchell was found unconscious in her Los Angeles home. She regained consciousness in an ambulance on her way to hospital, but was taken to intensive care for tests. On May 29, 2015, it was confirmed that Mitchell had suffered a brain aneurysm and that while speech was difficult, Mitchell had been communicating with others.
Since 2015 Mitchell has made several recent public appearances as she recovers, according to some reports she is still learning to walk again, and she has not spoken in public. She appeared on stage on 7 November 2018 at the conclusion of Joni 75, a benefit performance in honor of her birthday at LA's flagship performing arts destination, the Music Center.
Important Dates In The Life Of Joni Mitchell:
10 Jan 2023
American jazz and rock guitarist Dennis Budimir died at the age of 84. He was a member of The Wrecking Crew and worked with many artists including Joni Mitchell, The Carpenters, Brian Wilson, Barbra Streisand, Frank Zappa, Linda Ronstadt an Dusty Springfield. He also played on more than 900 movie soundtracks from the early 1960s until the 2000s.
29 Jan 2021
Grammy-winning English pianist, orchestrator, music producer and songwriter Jeremy Lubbock died aged 89. He moved to Los Angeles with his family in 1977, and worked on
Joni Mitchell
's album Mingus, and Minnie Riperton's final album Minnie. In following years, he worked with David Foster, Quincy Jones, Chicago, and many others. He won Grammy Awards for his arrangements on Chicago's 'Hard Habit to Break' in 1984, and for
Celine Dion
's 'When I Fall in Love'.
21 Jun 2019
American music manager and record executive Elliot Roberts died aged 76. He is best known for helping to start and develop the careers of singer-songwriters from the late 1960s and 1970s, including those of
Neil Young
– whom he managed for over fifty years – and
Joni Mitchell
.
31 Mar 2015
Joni Mitchell
was rushed to hospital after being found unconscious at her Los Angeles home. The singer songwriter was admitted to intensive care where she underwent tests. Los Angeles fire officials said paramedics had answered a 911 call in Bel Air, where Mitchell lives, and had taken a patient whom they did not identify to hospital.
6 Jan 2007
US country-rock steel guitar player 'Sneaky' Pete Kleinow, died aged 72. He was one of the original members of the Flying Burrito Brothers with the Byrds' Chris Hillman and
Gram Parsons
. Also worked with
John Lennon
and
Joni Mitchell
.
7 Jan 2004
Drummer John Guerin died of pneumonia aged 64. Worked with
Joni Mitchell
,
Frank Zappa
, Linda Rondstadt,
Gram Parsons
, Todd Rundgren. He also played on the original title tune for the television series Hawaii Five-O.
6 Apr 2000
An all-star tribute to
Joni Mitchell
was held at the Hammerstein Ballroom in New York City featuring performances by
Elton John
,
Bryan Adams
, Shawn Colvin, James Taylor, Cyndi Lauper, Richard Thompson, k.d. Lang, and Mary Chapin Carpenter.
18 Oct 1996
Joni Mitchell
was interviewed by Morrissey for the promotional CD 'Words and Music' by Reprise Records to promote her new releases Hits and Misses.
27 Mar 1996
American drummer Howard Wyeth died of cardiac arrest at St. Vincent's Hospital in Manhattan aged 51. He worked with
Bob Dylan
, Don McLean, Joan Baez and
Joni Mitchell
.
21 Jul 1990
Roger Waters'
The Wall
took place at the Berlin Wall in Potzdamer Platz, Berlin to commemorate the fall of the Berlin Wall eight months earlier. Over 350,000 people attended and the event was broadcast live throughout the world, Van Morrison,
Bryan Adams
,
Joni Mitchell
, The Scorpions, Cyndi Lauper,
Sinead O'Connor
and others took part.
21 Sep 1987
American jazz bassist Jaco Pastorius died from injuries sustained in a fight. Pastorius was trying to enter the Midnight Bottle Club in Wilton Manors, Florida, (where he'd been banned), and became involved in a fight with a bouncer, Pastorius fell into a coma and was put on life support. In 2006, Pastorius was voted "The Greatest Bass Player Who Has Ever Lived" by readers in Bass Guitar magazine. Was a member of Weather Report and worked with various acts including
Joni Mitchell
and Herbie Hancock.
5 Jan 1979
American jazz double bassist, pianist, composer and bandleader Charles Mingus died aged 56. His compositions retained the hot and soulful feel of hard bop, drawing heavily from black gospel music and blues. His final project was 'Mingus' a collaboration with
Joni Mitchell
.
4 Nov 1977
25 Nov 1976
The Band made their final performance; 'The Last Waltz' held on American Thanksgiving Day, at Winterland Ballroom in San Francisco. The show also featured
Joni Mitchell
, Dr John,
Neil Young
, Van Morrison,
Neil Diamond
,
Eric Clapton
and others. The event was filmed by director Martin Scorsese and made into a documentary of the same name, released in 1978.
20 Sep 1975
Winners in this year's Melody Makers Readers poll included, Robert Plant who won Best singer,
Joni Mitchell
, Best female singer, Yes won Best band,
Genesis
won Best live act, Best single, 'I'm Not In Love, by 10cc, Best album
Led Zeppelin
, and Brightest hope went to Camel.
8 Sep 1974
12 Aug 1973
22 Jun 1971
Joni Mitchell
released her fourth studio album Blue. The album is now generally regarded by music critics as one of the greatest albums of all time. In July 2017, Blue was chosen by NPR as the greatest album of all time made by a woman.
1 Nov 1970
Matthews Southern Comfort were at No.1 on the UK singles chart with their version of the
Joni Mitchell
song '
Woodstock
'. The group's only UK No.1 hit.
26 Aug 1970
Joan Baez,
Joni Mitchell
,
Jimi Hendrix
, (his last ever UK appearance), Donovan, Jethro Tull, Miles Davis, Arrival, Cactus, Family, Taste, Mungo Jerry, ELP,
The Doors
,
The Who
, Spirit, The Moody Blues, Chicago,
Procol Harum
, Sly and the Family Stone and
Free
all appeared over three days at the third  Isle Of Wight Festival. Weekend tickets, £3.
19 Aug 1969
Joni Mitchell
, David Crosby, Stephen Stills and Jefferson Airplane all appeared on the ABC TV Dick Cavett Show from Television Center in New York City.
16 Aug 1969
Crosby, Stills, Nash & Young supported by
Joni Mitchell
appeared at the Auditorium Theater in Chicago, Illinois.
1 Aug 1969
The three day US Atlantic City Pop Festival took place at the Atlantic City race track with B.B. King,
Janis Joplin
,
Santana
, Three Dog Night, Dr John,
Procol Harum
, Arthur Brown,
Iron Butterfly
,
Creedence Clearwater Revival
,
Little Richard
, Tim Buckley, The Byrds, Jefferson Airplane, The Mothers Of Invention and Canned Heat.
Joni Mitchell
started to cry and ran off stage in the middle of her third song because the crowd was not paying attention to her performance.
19 Jul 1969
Special guests on this week's
Johnny Cash
ABC television music variety show included, Ed Ames, Roy Clark, The Monkees and Joni Mitchell. Cash introduced The Monkees by playing the first verse of their hit 'Last Train To Clarksville' with
The Monkees
on backing vocals, The Monkees then performed a version of the Johnny Cash song 'Everybody Loves a Nut', with Cash.
7 Jun 1969
Bob Dylan
and
Joni Mitchell
both appeared on the first ABC TV
Johnny Cash
Show from Ryman Auditorium in Nashville. Dylan sang I Threw It All Away and Living The Blues and duetted with
Johnny Cash
on Girl From The North Country.
28 Dec 1968
The three day Miami Pop festival took place, the first major rock festival held on the East Coast of the US, with The
Jimi Hendrix Experience
,
Chuck Berry
, The McCoys,
Joni Mitchell
,
Fleetwood Mac
,
Marvin Gaye
, The Turtles, The Box Tops, Steppenwolf, Three Dog Night, Pacific Gas and Electric,
Procol Harum
, Canned Heat,
Iron Butterfly
and
Grateful Dead
.
3 Jul 1968
At an impromptu gathering at
Joni Mitchell
's house in Lookout Mountain, Laurel Canyon, Los Angeles, David Crosby, Stephen Stills and Graham Nash played together for the very first time. The trio went on to form
Crosby, Stills and Nash
.
21 Jul 1967
The
Jimi Hendrix Experience
played the first of three nights at the Cafe-a-Go-Go in New York City. The club featured many well known acts including:
Grateful Dead
, Tim Buckley,
Joni Mitchell
,Howlin' Wolf, Muddy Waters, John Lee Hooker, The Paul Butterfield Blues Band, Jefferson Airplane, and
Cream
who all appeared at the club.
16 Jul 1967
Joni Mitchell
, Leonard Cohen, Judy Collins, Janis Ian, David Blue, Mike Settle, Tom Paxton and Eric Andersen all appeared at the Newport Folk Festival in Newport, Rhode Island.
13 Feb 1960
Frank Sinatra
launched his own record label, Reprise Records, in order to allow more artistic freedom for his own recordings. Hence, he garnered the nickname "The Chairman of the Board."One of the label's founding principles under Sinatra's leadership was that each artist would have full creative freedom, and at some point complete ownership of their work. Reprise later became the home of many influential US acts such as
Neil Young
,
Jimi Hendrix
,
Joni Mitchell
, Randy Newman and
The Beach Boys
.