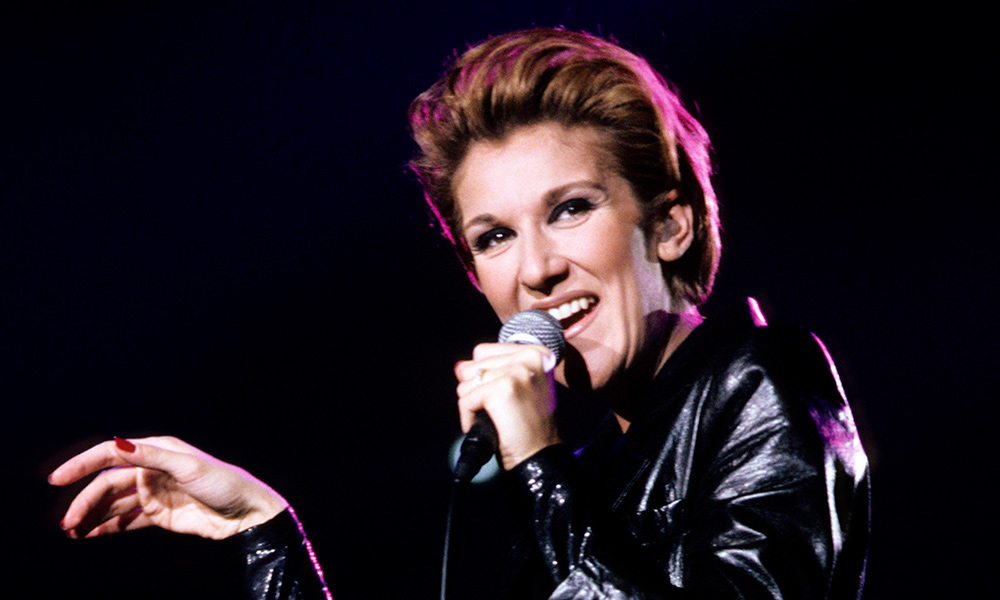 1. Céline Dion was born on 30 March 1968, in Charlemagne, Quebec, 15 miles (24 km) northeast of Montreal, and is the youngest of 14 children. She was named after the French singer-songwriter
Hugues Aufray song Celine, which was released two years before she was born.
2. On 13 August 1973, at the age of five, the young Céline made her first public appearance at her brother Michel's wedding, where she performed Christine Charbonneau's song "Du fil des aiguilles et du coton."
3. At the age of 12, Céline recorded a demo tape of a song she had written with her mother. They sent the tape to the manager and producer Rene Angelil, who handled the career of popular French singer Ginette Reno. After hearing the tape and inviting Dion to perform for him in person, Angelil signed her immediately under the condition that he would have complete control over her career.
4. The first album Céline ever bought was Stevie Wonder's 1972 album Talking Book.
5. At age 16, Céline sang "Une colombe" (a well known French song) for Pope John Paul II at the Montreal Olympic Stadium in front of 65,000 people.
6. By the time she was 18; Céline had recorded nine French albums and won many different awards, paving her way to a lifetime of international stardom.
7. In 1988, she won the Eurovision Song Contest in Dublin, Ireland, representing Switzerland with her performance of the song "Ne Partez Pas Sans Moi, (Don't Leave Without Me)", which was broadcast live in countries throughout Europe, the Middle East, Australia and Japan.
8. "My Heart Will Go On" (written by James Horner and Will Jennings), serves as the main theme song to James Cameron's blockbuster film Titanic, is one of the best-selling singles of all time, with worldwide sales estimated at 18 million copies. It became the second best-selling single by a female artist in history.
9. The main theme of "My Heart Will Go On" was inspired by "Flying Dutchman" a 1979 song by English prog rock group Jethro Tull. The Flying Dutchman is a legendary ghost ship that can never make port and is doomed to sail the oceans forever.
10. Tommy Mottola claimed that Dion recorded "My Heart Will Go On" in one take, and that demo is the version that was released.
11. For her 1997 Let's Talk About Love album she collaborated with Barbra Streisand, the Bee Gees, Luciano Pavarotti, Carole King, George Martin, Diana King, Brownstone, Corey Hart. It became one of the best-selling albums in history, with sales of over 31 million copies worldwide.
12. In 2000, the National Enquirer published a false story about the singer. Brandishing a picture of Dion and her husband, the magazine misquoted her, printing the headline, "Celine — 'I'm Pregnant With Twins!" She later sued the magazine for more than $20 million. The editors of the Enquirer printed an apology and a full retraction to her in the next issue, and donated money to the American Cancer Society in honour of her and her husband.
13. In 2008 Total Guitar magazine voted Dion's rendition of the AC/DC track "You Shook Me All Night Long" from the their album Back in Black as the world's worst cover version ever.
14. During the 2000s, she built her reputation as a highly successful live performer with "A New Day…" in Las Vegas Strip, which made Dion the "most profitable music act in Las Vegas" since Elvis Presley. According to Pollstar end of year data (2011–13), the residency had grossed $116.5 million, playing to 726,346 fans.
15. She has won five Grammy Awards, including Album of the Year and Record of the Year.
16. Billboard named her the "Queen of Adult Contemporary" for having the most number-ones on the radio format for a female artist.
17. On 26 July 2013, she was awarded the highest rank of the Order of Canada; the Companion of the Order of Canada, by the Governor General of Canada and the investiture ceremony was held at the Citadelle of Quebec, the same year she was inducted into the Gaming Hall of Fame.
18. She has been nominated more times than any other act at the Canadian Juno Awards, with 66 nominations and 20 wins.
19. In 2003, Dion signed a deal with Coty, Inc. to release Céline Dion Parfums. Her fragrance, "Signature", was released in September 2011 and since its inception, Céline Dion Parfums has grossed over $850 million in sales.
20. She helped raise $1 million for the victims of the 2004 Asian tsunami and she later donated $1 million to help the victims of Hurricane Katrina.
21. Céline has hit the UK Albums Chart top spot 5 times over the course of her career, gracing the Top 10 on 11 occasions. All of her collections have altogether spent 513 weeks on the chart – that's over 9 years in total.
Important Dates In The Life Of Celine Dion:
29 Jan 2021
Grammy-winning English pianist, orchestrator, music producer and songwriter Jeremy Lubbock died aged 89. He moved to Los Angeles with his family in 1977, and worked on
Joni Mitchell
's album Mingus, and Minnie Riperton's final album Minnie. In following years, he worked with David Foster, Quincy Jones, Chicago, and many others. He won Grammy Awards for his arrangements on Chicago's 'Hard Habit to Break' in 1984, and for
Celine Dion
's 'When I Fall in Love'.
5 Jun 2019
Forbes magazine announced that
Rihanna
was the richest female musician in the world. The singer had amassed a fortune of about $600 million (£472 million), largely through her music and makeup business. Her Fenty Beauty line launched in 2017 reportedly made $100 million (about £78 million) in its first 40 days. Rihanna's wealth put her ahead of
Madonna
, worth an estimated £448 million,
Celine Dion
(£350 million) and
Beyoncé
(£314 million).
8 Mar 2016
English record producer, arranger, composer, conductor, audio engineer and musician, Sir George Martin died aged 90. He worked as EMI records in-house record producer and became known as the so-called fifth Beatle. Martin produced all but one of
The Beatles
albums giving him 30 No.1 hit singles in the UK and 23 No.1 hits in the US. He also produced many other acts including: Matt Monro, Cilla Black, Gerry & The Pacemakers, Billy J. Kramer & the Dakotas, The Fourmost,
Jeff Beck
, Ultravox, Kenny Rogers, UFO, Cheap Trick,
Elton John
and
Celine Dion
. Martin received a Knighthood in 1996.
26 Jun 2008
Total Guitar magazine voted
Celine Dion
's rendition of the
AC/DC
track 'You Shook Me All Night Long' as the world's worst cover version ever. In the best cover versions list,
Jimi Hendrix
was voted into first place with his version of the
Bob Dylan
song 'All Along the Watchtower,'
The Beatles
rendition of 'Twist and Shout', (first recorded by the Top Notes), was in second place, followed by the Guns N' Roses version of the Wings song 'Live and Let Die'.
28 Jan 2008
Madonna
topped the list for the richest female musician, according to Forbes.com. Its first-ever list focusing on women in the music industry estimated the 49-year-old banked $72m (£36m) between June 2006 and June 2007.
Madonna
earned much of that from her Confessions tour - the highest-grossing tour for a female artist - earning $260m (£130m) worldwide. Barbra Streisand came second, with $60 million (£30 million) followed by
Celine Dion
with $45 million (£23.6), mainly from her recent concerts at Caesars Palace in Las Vegas.
14 Aug 2005
James Blunt topped both the UK singles chart (with 'You're Beautiful'), and album charts ('Back to Bedlam'), for a fifth week in a row, a feat last achieved by
Celine Dion
. Her single 'Think Twice' and album 'Colour Of My Love' topped both charts simultaneously for five weeks in 1995.
19 Sep 2004
Canadian singer
Celine Dion
extended her Las Vegas show for another year. Dion was reportedly being paid $100m (£66m) for the original three-year run of five 90-minute concerts a week.
9 Nov 2002
Viewers of the UK music channel VH1 voted 'I Will Always Love You' by
Whitney Houston
as the number 1 most romantic song ever. In second place
Elvis Presley
'You Were Always On My Mind' and third place went to 'My Heart Will Go On' by
Celine Dion
.
13 Oct 2002
UK rock band Muse took legal action against
Celine Dion
after she announced her forthcoming Las Vegas show would be called 'Muse'. Singer Matt Bellamy from the band said 'We don't want anyone to think we're
Celine Dion
's backing band.'
8 Aug 2002
The UK's biggest undertakers Co-Op funeral services reported that bereaved families preferred pop songs to hymns at funerals. Top of the list was 'Wind Beneath My Wings' by Bette Midler. Other songs included 'Angels' by Robbie Williams and 'My Heart Will Go On' by
Celine Dion
. They also reported some unusual choices including 'Another One Bites The Dust' by
Queen
and 'Wake Me Up Before You Go-Go' by Wham!
7 Apr 2002
UK Pop Idol runner-up Gareth Gates was at No.1 on the UK singles chart with his version of 'Unchained Melody.' Making Gates the seventh act to have a Top 40 hit with the song. Jennifer Lopez was at No.1 on the US singles chart with 'Ain't It Funny.' And
Celine Dion
had the UK & US No.1 album 'A New Day Has Come.'
21 Feb 1998
Celine Dion
went to No.1 on the UK singles chart with 'My Heart Will Go On'. The song was the theme from the movie Titanic. The world's best selling single of 1998.
23 Mar 1996
Celine Dion
went to No.1 on the US singles chart with 'Because You Loved Me', her second US No.1, a No.5 hit in UK. The Diane Warren song was taken from the film Up Close And Personal starring Robert Redford and Michelle Pfeiffer. And on the same day her album 'Falling Into You' went to No.1 on the UK album chart.
4 Feb 1995
Celine Dion
started a seven-week run at No.1 on the UK singles chart with 'Think Twice'. The song peaked at No.95 on the US chart. 'Think Twice' received an Ivor Novello Award for the Song of the Year in 1995.
12 Oct 1985
Jennifer Rush was at No.1 on the UK singles chart with 'The Power Of Love'. The song stayed at No.1 for five weeks and became the biggest selling single of the year and the biggest single ever for a woman in the UK.
Celine Dion
enjoyed a No.1 US hit with her version in 1993.
19 Feb 1977
Leo Sayer had his only UK No.1 single with the Albert Hammond and Carole Bayer Sager song 'When I Need You.' Both
Celine Dion
and Cliff Richard have scored hits with the song.