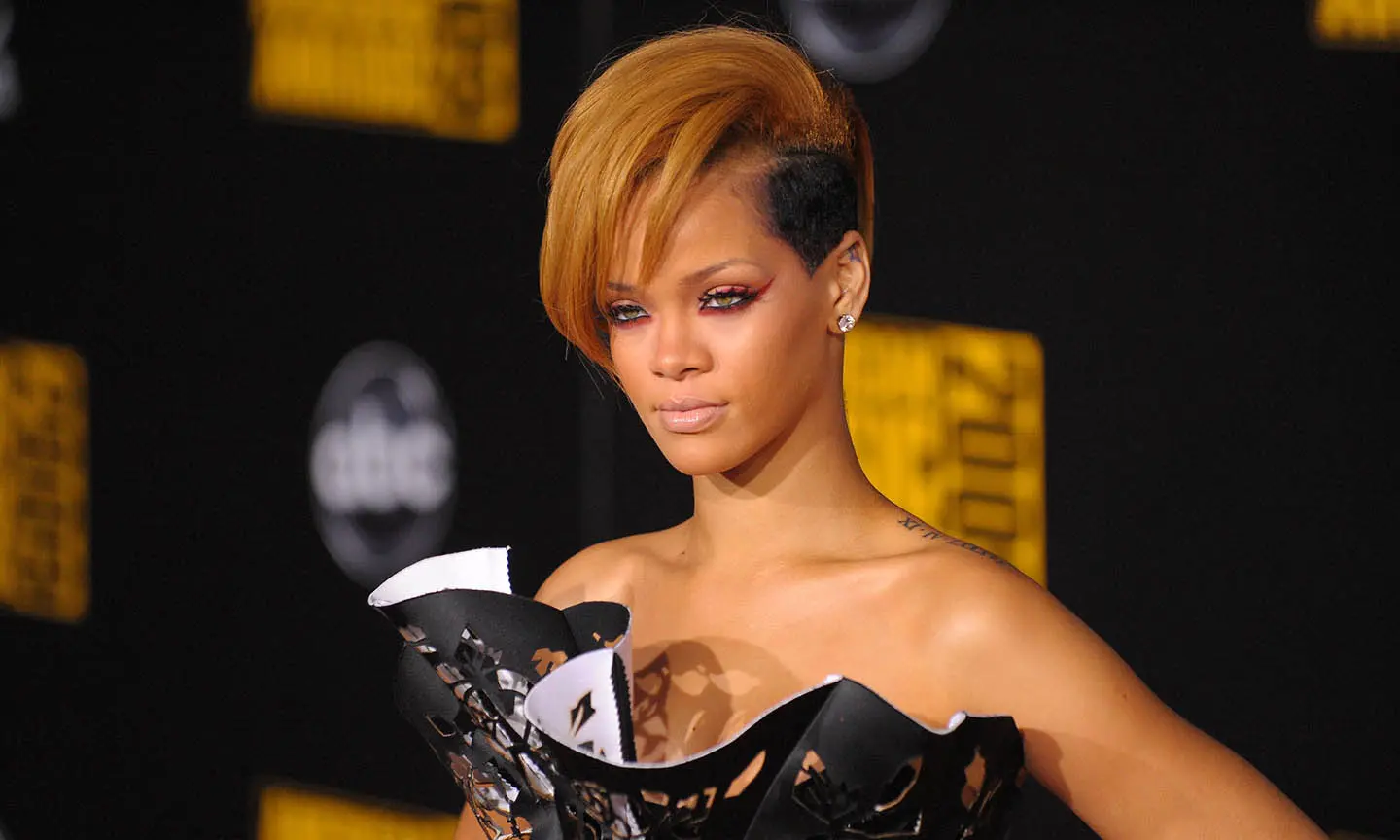 1. Rihanna was born on February 20, 1988 in St. Michael, Barbados, and was never called Rihanna until she became a big star. Rihanna is actually her middle name; her full name is Robyn Rihanna Fenty.
2. Rihanna's childhood was deeply affected by her father's addiction to crack cocaine, alcohol, and marijuana, and her parents' turbulent marriage ended when she was 14.
3. She grew up watching videos of reggae legend Bob Marley on television and built a shrine in her home dedicated to the reggae legend. Since then she has covered Marley's "Is This Love" and the Bob Marley & The Wailers' "Redemption Song" during her live shows.
3. After sending in her demo tapes to Def Jam Records, she was auditioned by their (then) president, Jay-Z, who signed her afterwards. Jay-Z was reportedly so impressed that he demanded Rihanna not leave the building until the contract was signed.
4. In 2008 former Prime Minister of Barbados, David Thompson, announced that there would be an annual Rihanna Day every year on 22nd February.
5. Rihanna was the first woman to win the 'Shoe of the Year' award when Footwear News awarded this to her after her collaboration with Puma.
6. During her 2013 Diamonds World Tour, her rider reportedly consisted of Corona, Vita Coco coconut water, Jack Daniels and Grey Goose, as well as snacks that ranged from gummy bears and Flamin' Hot Cheetos to garlic stuffed green olives. She also asked that the air conditioning was set to 23 degrees in her room.
7. She won her first Grammy for her song "Umbrella," a collaboration with Jay-Z.
8. In the year 2009, Rihanna missed her appearance at 51st Grammy Awards and later admitted it was because she was physically abused by her boyfriend Chris Brown. Brown was later found guilty of the felony assault.
9. Due to a leaked photograph from the Los Angeles Police Department obtained by TMZ — which revealed that Rihanna had sustained visible injuries, an organization known as STOParazzi proposed "Rihanna's Law," which, if enacted, would "deter employees of law enforcement agencies from releasing photos or information that exploits crime victims."
10. Rihanna is one of the world's best-selling music artists, with over 250 million records sold worldwide. Many of her songs rank among the world's best-selling singles of all time, including the singles "Umbrella", "We Found Love", "Stay" and "Work", as well as her collaboration "Love the Way You Lie" with Eminem.
11. "Umbrella" was a commercial success, topping the charts in Australia, Canada, Germany, Spain, the Republic of Ireland, Sweden, Switzerland, the UK, and the US. In the UK, the song's chart performance coincided with the excessive flooding and large amounts of rain.
12. Def Jam's marketing team collaborated with British umbrella manufacturer Totes. The company produced five types of Rihanna umbrellas, one of which was a two-tone satin umbrella.
13. Rihanna received the Fashion Icon lifetime achievement award from the Council of Fashion Designers of America in 2014.
14. She attended Charles F. Broome Memorial Primary School and Combermere High School, where she studied alongside future England cricketers Chris Jordan and Carlos Brathwaite.
15. She has stated that Mariah Carey's song "Vision of Love" was the song that made her want to work in music.
16. Rihanna banned fans from bringing umbrellas to her UK. concerts. She was afraid people would get injured if fans tried to copy her dance moves with the umbrellas when she performed "Umbrella."
17. Rihanna created her Believe Foundation in 2006 to help terminally ill children.
18. Her records include being the first female artist to have a UK Number one five years in a row (2007-2011), Best Selling Digital Artist (US), as well as being the most-liked person on Facebook in 2014.
19. In 2007, she was made the official face of tourism for Barbados and she now holds the honorary title of Ambassador for Culture and Youth.
20. Rihanna was named Harvard University's "Humanitarian of the Year" by the Harvard Foundation in early 2017.
Important Dates In The Life Of Rihanna:
4 Aug 2021
Forbes reported that
Rihanna
was now the wealthiest female musician in the world and second only to Oprah Winfrey as the richest female entertainer. Forbes estimated the singer was worth $1.7 billion with the bulk of her fortune coming from the value of Fenty Beauty, of which she owns 50%. Much of the rest was her stake in her lingerie company, Savage x Fenty, worth an estimated $270 million, and her earnings from her career as a chart-topping musician and actress.
5 Jun 2019
Forbes magazine announced that
Rihanna
was the richest female musician in the world. The singer had amassed a fortune of about $600 million (£472 million), largely through her music and makeup business. Her Fenty Beauty line launched in 2017 reportedly made $100 million (about £78 million) in its first 40 days. Rihanna's wealth put her ahead of
Madonna
, worth an estimated £448 million,
Celine Dion
(£350 million) and
Beyoncé
(£314 million).
6 Jul 2016
Drake
equalled
Michael Jackson
's 1983 US chart record after he had the No.1 album and song in the American charts for seven consecutive weeks. 'Views' and 'One Dance' remained unbeaten on the Billboard charts respectively. In the UK 'One Dance' scored its twelfth week atop the UK charts, overtaking the
Rihanna
song 'Umbrella' which was the millennium's previous longest-running No.1.
26 Oct 2015
Justin Bieber cleaned up at the
MTV
's EMAs - (European Music Awards), winning best male, best North American act, best collaboration for 'Where Are You Now?', with Skrillex and Diplo, biggest fans and best look. One Direction won the prize for best pop,
Taylor Swift
's 'Bad Blood' won best song and
Rihanna
was named best female.
22 Jan 2015
In the first successful celebrity case of its kind,
Rihanna
won a legal battle against UK high street store Topshop over a T-shirt bearing her image. The Court of Appeal in London upheld a ban on the store selling a sleeveless T-shirt featuring a photo of the star without obtaining her permission. The star had sued Topshop's parent company Arcadia for $5m (£3.3m) back in 2013 over the T-shirts, which featured a photo taken during a video shoot in 2011.
31 Jul 2014
Meceo McEaddy was sentenced to between five and 10 years in prison for stealing millions of dollars from concert promoters by posing as a booking agent. McEaddy who pretended to be in charge of Lady Gaga,
Rihanna
and several other celebrities, pleaded guilty to 21 counts of grand larceny and fraud, according to Manhattan district attorney's office.
4 Nov 2013
Rihanna
joined
The Beatles
and
Elvis Presley
as one of just three acts to top the UK singles chart seven times over seven years. The singer made the No.1 spot, as the featured artist on
Eminem
's new track 'The Monster'.
30 Nov 2012
Rihanna
was at No.1 on the UK album chart with her seventh studio album Unapologetic. The album produced seven singles including 'Diamonds', which became
Rihanna
's twelfth No.1 song, tying her with
Madonna
and The
Supremes
for fourth most No.1 songs in the history of the chart.
26 Jun 2012
Hundreds of fans were set to miss The Stone Roses' reunion concerts in Manchester this weekend, after websites took their money, but failed to deliver tickets. Two sites, Aossatickets.com and theticketwebsite.net, who had sold tickets had since disappeared. Several major tours had been targeted by ticket fraudsters in recent years, with fans of
Take That
,
Bruce Springsteen
,
Rihanna
and Michael Buble among those who found themselves out of pocket.
22 Sep 2011
Research conducted by car maker SEAT found that
Queen
's '
Bohemian Rhapsody
' was the song most likely to be found on British iPods, with more than 40% of owners having the hit on their players.
The Beatles
had four songs in the list, a feat also matched by
Coldplay
. Other favourites included
U2
, The Killers and
Rihanna
.
23 Jun 2009
Chris Brown pleaded guilty to one count of assault on his former girlfriend,
Rihanna
. The 19 year-old R&B singer was sentenced to five years probation and ordered to do six months community service. Brown had faced charges of assaulting Rihanna, 21, during a row in February. The last-minute plea deal came before a hearing at a Los Angeles court at which Rihanna was due to give evidence. The Los Angeles County Superior Court judge also ordered Brown and Rihanna to stay at least 50 yards from each other, except at entertainment industry events when the distance is reduced to 10 yards.
21 Feb 2009
Rihanna
issued a statement thanking fans for their support after an alleged assault by her R&B singer boyfriend Chris Brown, but the singer declined to comment on a leaked photograph which appeared to show her with facial injuries. The Los Angeles Police Department had launched an internal investigation and asked for the public's help in finding the person who leaked the photograph.
16 Feb 2009
Chris Brown talked about his recent arrest for the first time. The R&B singer was being investigated by police over claims he attacked a woman. In a statement Chris Brown said "I am seeking the counselling of my pastor, my mother and other loved ones and I am committed, with God's help, to emerging a better person." There had been speculation that his girlfriend
Rihanna
was the woman in the attack and had been seen with bruises on her face
8 Feb 2009
R&B singer Chris Brown was questioned by police in Los Angeles over a complaint of assault. The 19-year-old had pulled out of his performance at the Grammy Awards, as did his pop star girlfriend
Rihanna
. Police said Mr Brown argued with an unidentified woman while sitting in a car. Brown had walked into a police station and was later released on $50,000 (£34,000) bail. Los Angeles police did not identify the woman who had made the complaint against Brown.
1 Nov 2007
Winners at this year's
MTV
Europe Music Awards held in Munich, Germany included Avril Lavigne who was named best solo artist, and her song Girlfriend was voted most addictive track. Muse won two awards for best UK and Ireland act and best headline act,
Linkin Park
won the award for best band of 2007, and German band Tokio Hotel took the prize for best international act.
Amy Winehouse
won the Artist Choice prize, an award chosen by her fellow musicians and The ultimate urban prize went to R&B star
Rihanna
.
10 Jun 2007
Rihanna
went to No.1 on the UK album chart with her third album Good Girl Gone Bad, featuring the single 'Umbrella'. which spent 10 consecutive weeks at No.1 in the UK making it the longest running No.1 single since Wet Wet Wet's 'Love Is All Around'.
20 May 2007
Rihanna
featuring Jay-Z started a 10 week run at No.1 on the UK singles chart with 'Umbrella' which spent 10 consecutive weeks at No.1 in the UK making it the longest running No.1 single since Wet Wet Wet's 'Love Is All Around'.
Rihanna
and Jay-Z won a Grammy Award for Best Rap/Sung Collaboration for the track.
29 Mar 2007
'Umbrella', by
Rihanna
featuring Jay-Z was released in the US. The track went on to reach No.1 in various countries, including the US. A No.1 in the UK for 10 consecutive weeks making it the longest running No.1 single since Wet Wet Wet's 'Love Is All Around' in 1994, and the longest running No.1 by a female artist since
Whitney Houston
's 'I Will Always Love You.'