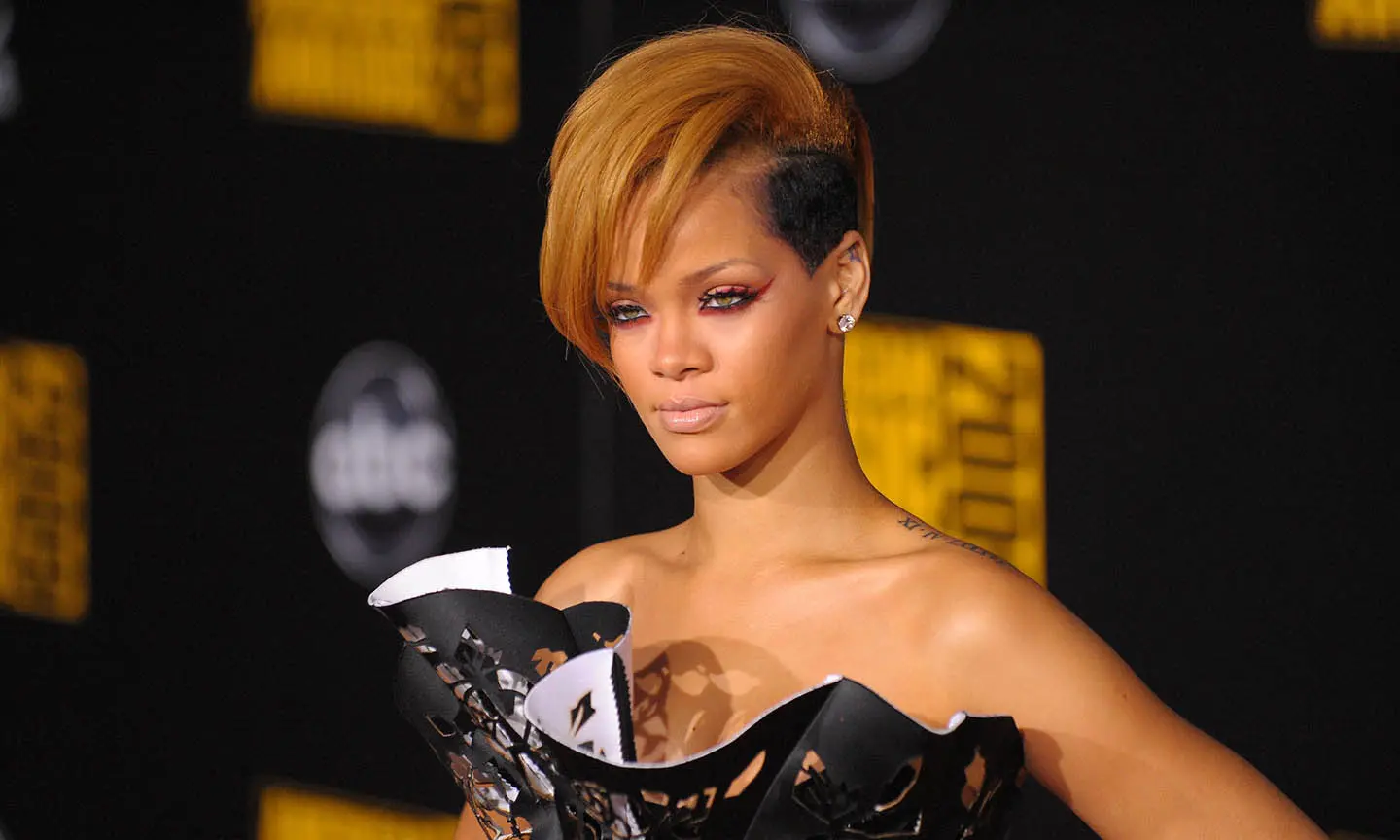 1. Rihanna was born on February 20, 1988 in St. Michael, Barbados, and was never called Rihanna until she became a big star. Rihanna is actually her middle name; her full name is Robyn Rihanna Fenty.
2. Rihanna's childhood was deeply affected by her father's addiction to crack cocaine, alcohol, and marijuana, and her parents' turbulent marriage ended when she was 14.
3. She grew up watching videos of reggae legend Bob Marley on television and built a shrine in her home dedicated to the reggae legend. Since then she has covered Marley's "Is This Love" and the Bob Marley & The Wailers' "Redemption Song" during her live shows.
3. After sending in her demo tapes to Def Jam Records, she was auditioned by their (then) president, Jay-Z, who signed her afterwards. Jay-Z was reportedly so impressed that he demanded Rihanna not leave the building until the contract was signed.
4. In 2008 former Prime Minister of Barbados, David Thompson, announced that there would be an annual Rihanna Day every year on 22nd February.
5. Rihanna was the first woman to win the 'Shoe of the Year' award when Footwear News awarded this to her after her collaboration with Puma.
6. During her 2013 Diamonds World Tour, her rider reportedly consisted of Corona, Vita Coco coconut water, Jack Daniels and Grey Goose, as well as snacks that ranged from gummy bears and Flamin' Hot Cheetos to garlic stuffed green olives. She also asked that the air conditioning was set to 23 degrees in her room.
7. She won her first Grammy for her song "Umbrella," a collaboration with Jay-Z.
8. In the year 2009, Rihanna missed her appearance at 51st Grammy Awards and later admitted it was because she was physically abused by her boyfriend Chris Brown. Brown was later found guilty of the felony assault.
9. Due to a leaked photograph from the Los Angeles Police Department obtained by TMZ — which revealed that Rihanna had sustained visible injuries, an organization known as STOParazzi proposed "Rihanna's Law," which, if enacted, would "deter employees of law enforcement agencies from releasing photos or information that exploits crime victims."
10. Rihanna is one of the world's best-selling music artists, with over 250 million records sold worldwide. Many of her songs rank among the world's best-selling singles of all time, including the singles "Umbrella", "We Found Love", "Stay" and "Work", as well as her collaboration "Love the Way You Lie" with Eminem.
11. "Umbrella" was a commercial success, topping the charts in Australia, Canada, Germany, Spain, the Republic of Ireland, Sweden, Switzerland, the UK, and the US. In the UK, the song's chart performance coincided with the excessive flooding and large amounts of rain.
12. Def Jam's marketing team collaborated with British umbrella manufacturer Totes. The company produced five types of Rihanna umbrellas, one of which was a two-tone satin umbrella.
13. Rihanna received the Fashion Icon lifetime achievement award from the Council of Fashion Designers of America in 2014.
14. She attended Charles F. Broome Memorial Primary School and Combermere High School, where she studied alongside future England cricketers Chris Jordan and Carlos Brathwaite.
15. She has stated that Mariah Carey's song "Vision of Love" was the song that made her want to work in music.
16. Rihanna banned fans from bringing umbrellas to her UK. concerts. She was afraid people would get injured if fans tried to copy her dance moves with the umbrellas when she performed "Umbrella."
17. Rihanna created her Believe Foundation in 2006 to help terminally ill children.
18. Her records include being the first female artist to have a UK Number one five years in a row (2007-2011), Best Selling Digital Artist (US), as well as being the most-liked person on Facebook in 2014.
19. In 2007, she was made the official face of tourism for Barbados and she now holds the honorary title of Ambassador for Culture and Youth.
20. Rihanna was named Harvard University's "Humanitarian of the Year" by the Harvard Foundation in early 2017.