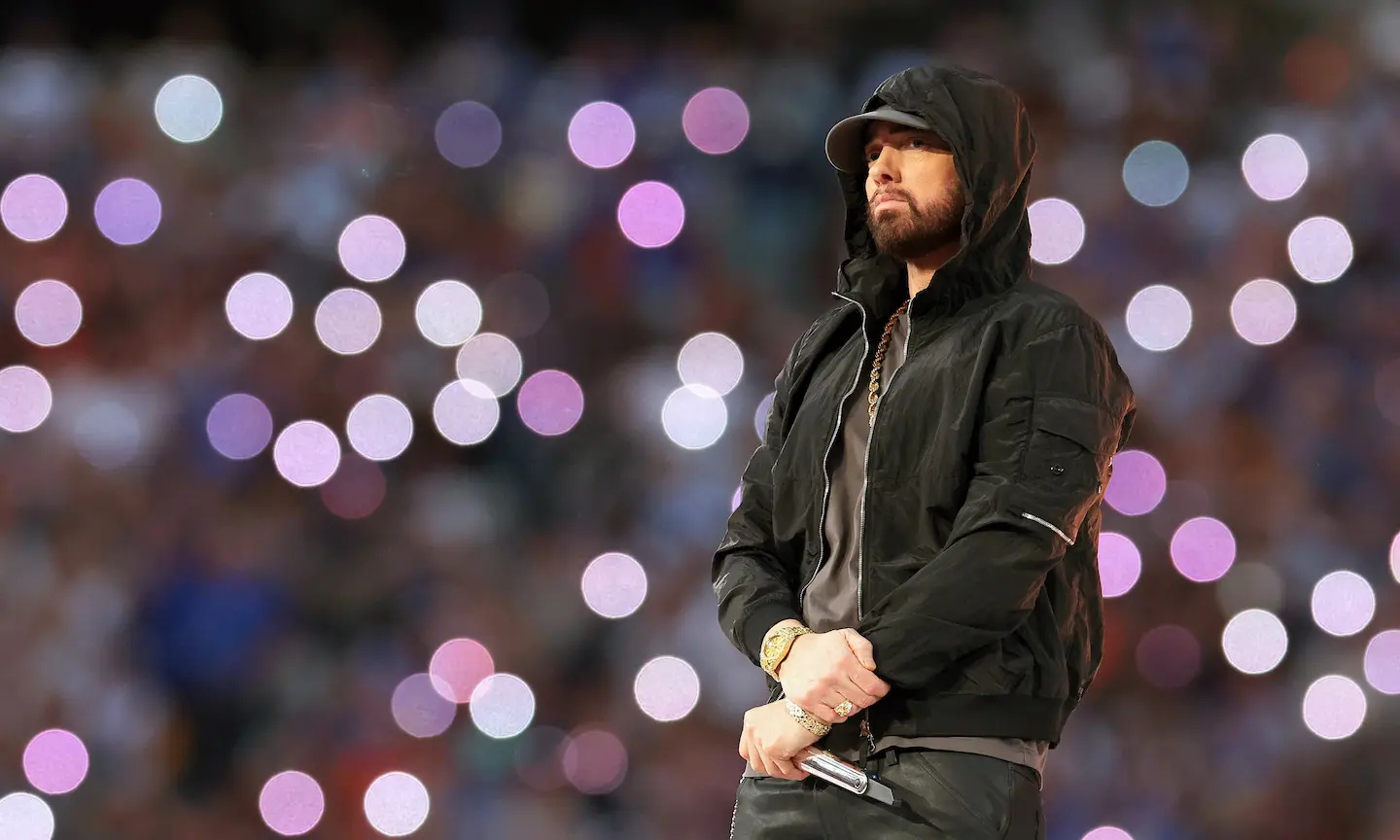 1. Eminem was born in St. Joseph, Missouri on 17 October 1972 and is of English, Scottish, German, Swiss, Polish and Luxembourgian ancestry.
2. He became inspired to rap when he discovered The Beastie Boys' 1986 classic album, Licensed to Ill, and competed in freestyle rap battles at a high school nearby.
3. He formed his first group New Jacks with DJ Butter Fingers in 1988.
4. Eminem made his first music video appearance in 1992 in a song titled, "Do-Da-Dippity", by Champtown.
5. Eminem had his first run-in with the law at age 20, when he was arrested for his involvement in a drive-by shooting with a paintball gun. The case was dismissed when the victim did not appear in court.
6. During 1996, Eminem cooked and washed dishes for minimum wage at Gilbert's Lodge, a family-style restaurant at St. Clair Shores. His former boss described him as becoming a model employee, as he worked 60 hours a week.
7. He recorded his debut EP, the Slim Shady EP in the spring of 1997, which was later released through the Detroit-based record label Web Entertainment.
8. Eminem went to Los Angeles to compete in the 1997 Rap Olympics, an annual, nationwide battle rap competition. He placed second, and Interscope Records staff in attendance sent a copy of the Slim Shady EP to company CEO Jimmy Lovine who in turn played the tape to record producer Dr. Dre who invited Eminem to work with him on demos.
9. Eminem released The Slim Shady LP in February 1999. The first official single, "My Name Is", peaked at number 36 on the US Billboard Hot 100, becoming his first entry on that chart.
10. In 1999, Eminem's mother sued him for about $10 million for slandering her on The Slim Shady LP, receiving about $1,600 in damages in 2001. "My mother does more dope than I do", was the line that earned Eminem the wrath of his mother.
11. The Marshall Mathers LP was released in May 2000. It sold 1.76 million copies in its first week, breaking US records held by Snoop Dogg's Doggystyle for fastest-selling hip hop album and Britney Spears' …Baby One More Time for fastest-selling solo album.
12. Eminem is in the Guinness Book of World Records for the most successive US number 1 albums by a solo artist. He also broke the Guinness Book of World Records for 'the most words in a hit song' when his 2013 single "Rap God" was released.
13. The Eminem Show was released in May 2002. It was another success, reaching number one on the charts and selling over 1.32 million copies during its first full week of release.
14. In 2001 Sanitation worker DeAngelo Bailey sued Eminem for $1 million, accusing him of invading his privacy by publicising information placing him in a false light in "Brain Damage", a song that portrays him as a violent school bully. Although Bailey admitted picking on Eminem in school, he said he merely "bumped" him and gave him a "little shove". The lawsuit was later dismissed.
15. Eminem appeared in two commercials, which were shown during Super Bowl XLV. In the first, a one-minute spot for Lipton's Brisk iced tea, he is a claymation figure. In the second, a two-minute ad – the longest in Super Bowl history at the time – for the Chrysler 200, Eminem drives through Detroit (with "Lose Yourself" as the soundtrack) to his show at the Fox Theatre.
16. His seventh studio album Recovery was the best selling album of 2010 worldwide. At the 2011 Grammys it was nominated for Album of the Year, Song of the Year and Record of the Year for the Album and the international chart topping single "Love the Way You Lie".
17. Eminem once refused to perform at the Oscars because they wanted him to sing the clean version of "Lose Yourself".
18. When Eminem wanted to get clean he called Elton John who then helped him for 18 months to kick his addiction to Vicodin, Ambien and other prescription drugs. He has previously taken up to 60 valium and 30 vicodin pills a day.
19. 'Amsterdam' was the original title for his third album The Marshal Mathers LP, because he wrote most of the album there. The Marshall Mathers LP has sold over 35 million copies worldwide, making it the best-selling album of the 21st century and one of the best-selling albums of all time.
20. Eminem has been falsely reported dead by a car crash four times and a drug overdose once.
21. Eminem wanted to be a comic book artist and has an extensive comic book collection and he was also in a comic called Eminem/Punisher: Kill You.