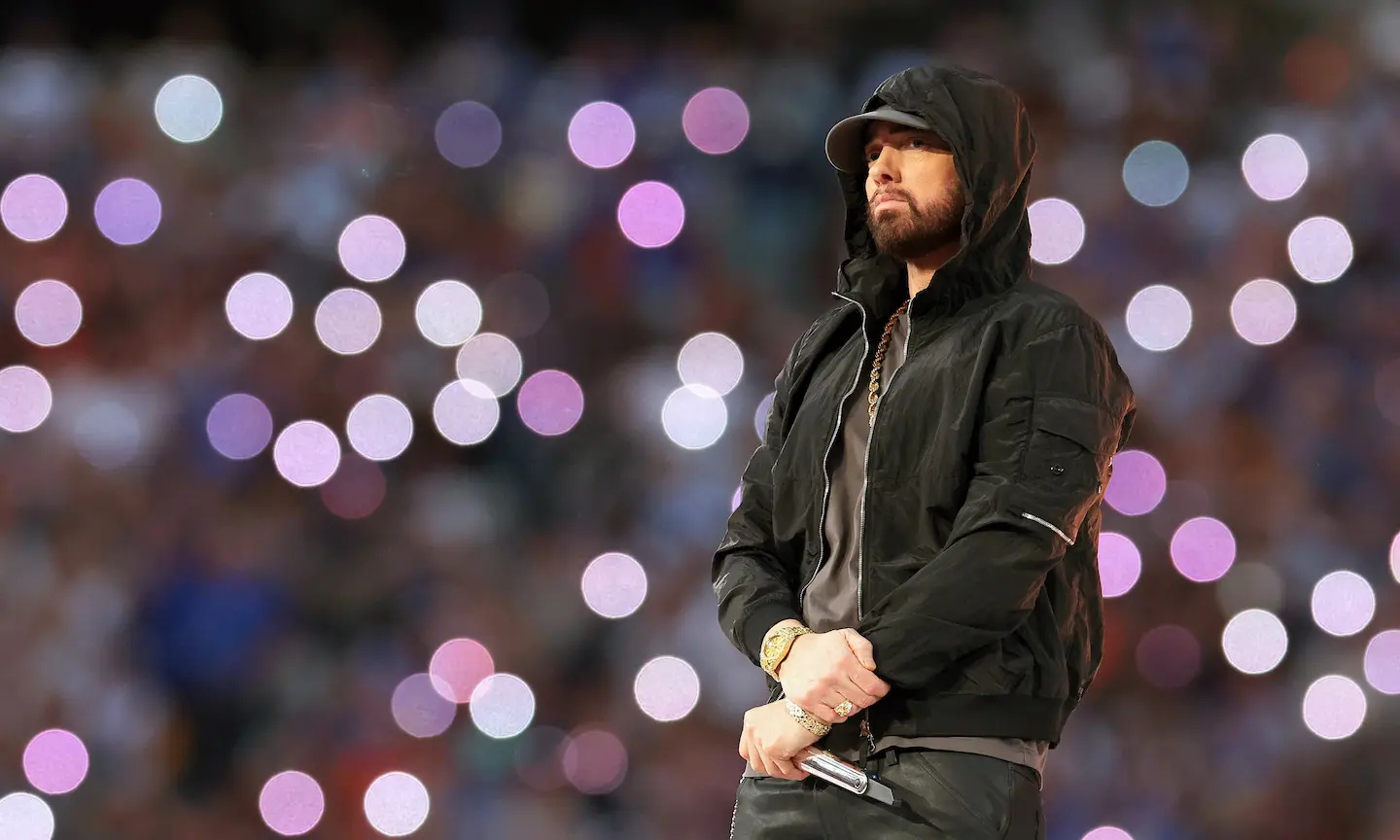 1. Eminem was born in St. Joseph, Missouri on 17 October 1972 and is of English, Scottish, German, Swiss, Polish and Luxembourgian ancestry.
2. He became inspired to rap when he discovered The Beastie Boys' 1986 classic album, Licensed to Ill, and competed in freestyle rap battles at a high school nearby.
3. He formed his first group New Jacks with DJ Butter Fingers in 1988.
4. Eminem made his first music video appearance in 1992 in a song titled, "Do-Da-Dippity", by Champtown.
5. Eminem had his first run-in with the law at age 20, when he was arrested for his involvement in a drive-by shooting with a paintball gun. The case was dismissed when the victim did not appear in court.
6. During 1996, Eminem cooked and washed dishes for minimum wage at Gilbert's Lodge, a family-style restaurant at St. Clair Shores. His former boss described him as becoming a model employee, as he worked 60 hours a week.
7. He recorded his debut EP, the Slim Shady EP in the spring of 1997, which was later released through the Detroit-based record label Web Entertainment.
8. Eminem went to Los Angeles to compete in the 1997 Rap Olympics, an annual, nationwide battle rap competition. He placed second, and Interscope Records staff in attendance sent a copy of the Slim Shady EP to company CEO Jimmy Lovine who in turn played the tape to record producer Dr. Dre who invited Eminem to work with him on demos.
9. Eminem released The Slim Shady LP in February 1999. The first official single, "My Name Is", peaked at number 36 on the US Billboard Hot 100, becoming his first entry on that chart.
10. In 1999, Eminem's mother sued him for about $10 million for slandering her on The Slim Shady LP, receiving about $1,600 in damages in 2001. "My mother does more dope than I do", was the line that earned Eminem the wrath of his mother.
11. The Marshall Mathers LP was released in May 2000. It sold 1.76 million copies in its first week, breaking US records held by Snoop Dogg's Doggystyle for fastest-selling hip hop album and Britney Spears' …Baby One More Time for fastest-selling solo album.
12. Eminem is in the Guinness Book of World Records for the most successive US number 1 albums by a solo artist. He also broke the Guinness Book of World Records for 'the most words in a hit song' when his 2013 single "Rap God" was released.
13. The Eminem Show was released in May 2002. It was another success, reaching number one on the charts and selling over 1.32 million copies during its first full week of release.
14. In 2001 Sanitation worker DeAngelo Bailey sued Eminem for $1 million, accusing him of invading his privacy by publicising information placing him in a false light in "Brain Damage", a song that portrays him as a violent school bully. Although Bailey admitted picking on Eminem in school, he said he merely "bumped" him and gave him a "little shove". The lawsuit was later dismissed.
15. Eminem appeared in two commercials, which were shown during Super Bowl XLV. In the first, a one-minute spot for Lipton's Brisk iced tea, he is a claymation figure. In the second, a two-minute ad – the longest in Super Bowl history at the time – for the Chrysler 200, Eminem drives through Detroit (with "Lose Yourself" as the soundtrack) to his show at the Fox Theatre.
16. His seventh studio album Recovery was the best selling album of 2010 worldwide. At the 2011 Grammys it was nominated for Album of the Year, Song of the Year and Record of the Year for the Album and the international chart topping single "Love the Way You Lie".
17. Eminem once refused to perform at the Oscars because they wanted him to sing the clean version of "Lose Yourself".
18. When Eminem wanted to get clean he called Elton John who then helped him for 18 months to kick his addiction to Vicodin, Ambien and other prescription drugs. He has previously taken up to 60 valium and 30 vicodin pills a day.
19. 'Amsterdam' was the original title for his third album The Marshal Mathers LP, because he wrote most of the album there. The Marshall Mathers LP has sold over 35 million copies worldwide, making it the best-selling album of the 21st century and one of the best-selling albums of all time.
20. Eminem has been falsely reported dead by a car crash four times and a drug overdose once.
21. Eminem wanted to be a comic book artist and has an extensive comic book collection and he was also in a comic called Eminem/Punisher: Kill You.
Important Dates In The Life Of Eminem:
9 Sep 2018
Eminem was at No.1 on the UK chart with his tenth studio album Kamikaze. The album also reached No.1 in 15 countries, becoming Eminem's tenth consecutive No.1 album in the United States, and later becoming the best-selling hip-hop album of 2018.
3 Dec 2014
Singer-songwriter
Ed Sheeran
was named the most-streamed artist in the world by Spotify. The 23-year-old had racked up more than 860 million streams on the service, beating
Eminem
and
Coldplay
who came second and third respectively. Katy Perry was the year's most streamed female artist, with Ariana Grande second and Lana Del Rey third.
4 Nov 2013
Rihanna
joined
The Beatles
and
Elvis Presley
as one of just three acts to top the UK singles chart seven times over seven years. The singer made the No.1 spot, as the featured artist on
Eminem
's new track 'The Monster'.
3 Nov 2013
The first ever YouTube awards were held in New York City. The event featured
Eminem
, Lady Gaga and M.I.A making live music videos directed by the awards' creator, Spike Jonze, and others. Eminem won Artist of the Year, while
Taylor Swift
's 'I Knew You Were Trouble' took the YouTube Phenomenon award.
10 Dec 2008
The Associated Press reported that the US military used loud music to "create fear, disorient and prolong capture shock" for prisoners at military detention centers at Guantanamo Bay, Cuba. Among the songs blasted 24 hours a day were 'Born In The USA' by
Bruce Springsteen
, 'Hell's Bells' by
AC/DC
, 'White America' by
Eminem
, 'The Theme From Sesame Street' and 'I Love You' from the Barney and Friends children's TV show.
29 Oct 2007
Walk the Line, the film about the life of singer
Johnny Cash
was voted the greatest music biopic in a poll. The film starred Joaquin Phoenix and Reese Witherspoon as Cash and his wife June Carter as the country stars and won the actress an Oscar in 2006. It was followed by rapper
Eminem
's 8 Mile, with Mozart's life story Amadeus next and Ray, starring Jamie Foxx as musician Ray Charles, at number four. The most recent film in the top 10 was
Joy Division
biopic Control.
1 Aug 2007
Eminem
's publishing company were seeking more than $75,000 (£36,900) for copyright infringement and unfair competition against computer firm Apple for allegedly selling his music on iTunes without permission. Apple were paying
Eminem
's record label for each download - but Eight Mile Style argued it had not approved the deal.
20 Dec 2006
Eminem
and his high school sweetheart divorced for a second time, less than a year after they remarried. The couple agreed to share custody of their 10-year-old daughter, Hailie. The pair told a judge in Michigan they understood this time the divorce was final. The couple remarried in January. But the rapper filed for divorce less than three months later, saying there had been "a breakdown in the marriage relationship".
24 Nov 2006
Winners at this year's American Music Awards included, Kelly Clarkson,
Red Hot Chili Peppers
, Shakira, Jamie Foxx, Nickelback, Sean Paul, Black Eyed Peas,
Eminem
, Faith Hill, Rascal Flatts, Tim McGraw and Mary J. Blige. Nelly Furtado, John Mayer and Fall Out Boy.
11 Apr 2006
A member of
Eminem
's rap collective D12 was killed in a nightclub shooting in Detroit after an argument broke out at the CCC nightclub. Proof, (real name Deshaun Holton), was shot at a club on Eight Mile Road, made famous in
Eminem
's autobiographical film 8 Mile. Holton was a longtime friend of
Eminem
and was the rappers best man at his wedding in January of this year.
6 Apr 2006
Eminem
filed for divorce from his wife Kim less than three months after the couple re-married.
Eminem
first married his high school sweetheart Kimberly Scott in 1999. He fantasised about her death in his 2000 hit 'Kim' and their first marriage ended the following year. The couple remarried on 14 January 2006.
Eminem
was seeking joint custody of their 10-year-old daughter Hailie Jade Scott.
31 Dec 2005
According to official figures singer-songwriter James Blunt's 'Back To Bedlam' was the biggest selling UK album of 2005. The former soldier, who was virtually unknown this time last year, outsold
Coldplay
's album 'X&Y' which finished second and Robbie Williams came in third place with 'Intensive Care' album. The rest of the Top 10: No.4. Kaiser Chiefs - 'Employment', 5. Gorillaz - 'Demon Days', 6. Westlife - 'Face To Face', 7. KT Tunstall - 'Eye To The Telescope', 8. Kelly Clarkson - 'Breakaway', 9. Faithless - 'Forever Faithless - The Greatest Hits' and No.10,
Eminem
- 'Curtain Call - The Hits'.
6 Feb 2005
Eminem
was at No.1 on the UK singles chart with 'Like Toy Soldiers', the rappers 6th No.1, taken from the album Encore. The track featured samples from 'Toy Soldiers' by Martika and '50 Ways to Leave Your Lover' by
Paul Simon
.
6 Jan 2005
US CD sales rose for the first time in four years. The CD format accounted for 98% of the 666 million albums sold, according to research company Nielsen Soundscan. A total of 140 million digital tracks were legally downloaded during 2004, equivalent to 14 million albums. R&B star Usher was the biggest-selling artist with his album 'Confessions' selling eight million copies. Other top sellers of the year were Norah Jones,
Eminem
and country stars Kenny Chesney and Gretchen Wilson. The UK recorded a record year for album sales in 2004, with 237 million sold The Scissor Sisters proved the most popular album of the year, followed by Keane and Maroon 5.
4 Jan 2005
The owner of a recording studio where
Eminem
recorded his 'Slim Shady' LP was found shot dead. AJ Abdallah, who was 36, was discovered by a business colleague at the Detroit studio, it was thought he had been dead for at least two days. Police suggested that a robbery may also have taken place. Mr Abdallah had lived in a apartment above the studio on Eight Mile Road, the Detroit street which inspired the title of
Eminem
's 2002 film '8 Mile.'
21 Nov 2004
Eminem
was at No.1 on the US album chart with 'Encore', his third US No.1 album. Girls Aloud started a two week run at No.1 on the UK singles chart with their version of the Pretenders 'I'll Stand By You.' This was 2004's single for the Children In Need appeal with its proceeds going towards the charity.
3 Sep 2004
Sir Cliff Richard stunned the music industry by ending his contract with EMI records and signing with
Eminem
's label Universal Music. Cliff had sold over 250 million records with EMI during his 46 year career.
21 Dec 2003
Eminem
's ex-wife Kimberley Mathers pleaded guilty to a drug and driving offences. Mathers had been pulled by traffic police in June and was charged with possession of cocaine, two other charges driving with a suspended license and maintaining a drug house in which police discovered marijuana and Ecstasy were dropped. The 28 year-old mother appeared in a Michigan court after turning herself in, having previously failed to attend a November 1 hearing and removed an electronic tagging device used to monitor her movements.
6 Nov 2003
Winners at this years
MTV
awards included Christina Aguilera for Best female,
Coldplay
won Best group, Justin Timberlake won Best album for 'Justified', The Panjabi MC won best dance act. Best R&B act went to Beyonce.
Eminem
won the best hip-hop act award for the fifth year running. Reggae artist Sean Paul took the best new act award and best video was won by Sigur Ros. An estimated one billion people in 28 countries watched the show, which was held in Edinburgh, Scotland for the first time.
21 May 2003
Mariah Carey
hit back at
Eminem
's threats to sample the slushy voicemail messages she left on his mobile. Carey described the rapper as "a little girl" saying it's "like dealing with a girlfriend in 7th grade, and he shouldn't do it because it'll get him in a bit of trouble with her lawyers."
23 Feb 2003
Norah Jones cleaned up at the 45th Grammy Awards, held at Madison Square Garden, New York. The singer, songwriter won, Album of the year and Record of the year, with 'Don't Know Why.' Song of the year, Best new artist and Best female pop vocal for 'Don't Know Why'. Other winners included Best male pop vocal, John Mayer, 'Our Body Is A Wonderland'. Best male rock vocal,
Bruce Springsteen
, 'The Rising', Best female rock vocal, Sheryl Crow, 'Steve Mc
Queen
', Best rock performance by group,
Coldplay
'In My Place', Best rap album,
Eminem
, 'The
Eminem
Show'.
20 Jan 2003
8 Mile, starring
Eminem
toppled The Lord of the Rings: The Two Towers from its four-week hold at the top of the UK box office. The story of a Detroit rapper took £4,440,334 at 423 cinemas in the UK and Ireland.
8 Nov 2001
Winners at the
MTV
Europe Awards included Robbie Williams who won Best male and Best song for 'Rock DJ', Craig David won Best R&B act and Best UK & Ireland act, Dido won Best new act and Anastacia won Best pop act. Gorillaz won Best song for 'Clint Eastwood' and Best Dance act and
Eminem
won the Best Hip Hop award.
7 Sep 2001
Michael Jackson
was reunited onstage with the Jackson Five at his 30th Anniversary Celebration in New York City's Madison Square Garden. It ended Jackson's 11-year hiatus from performing in the U.S. Jackson was joined by
Eminem
,
Whitney Houston
,
Gladys Knight
,
Britney Spears
and Destiny's Child to celebrate the 30th anniversary of his singing career.
10 Apr 2001
Eminem
was given 2 years probation and fined £1,800 and £3,600 costs after admitting carrying a concealed weapon. The charges followed an incident outside a club in Warren, Michigan last June when
Eminem
'pistol whipped' John Guerra after he saw him kissing his wife.
26 Mar 2001
The toy figure of
Eminem
was facing a ban from UK shops. Woolworth's and Hamleys were refusing to stock the dolls. Psychologists warned parents who buy the dolls for children will be inadvertently giving their approval to bad language.
21 Mar 2001
Eminem
was ordered to pay $476,000 (£280,000) as part of his divorce agreement with his ex-wife Kim. Also as part of the agreement Eminem would keep the US mansion and they would share custody of their five-year-old daughter, Hailie Jade.
8 Mar 2001
It was reported that US manufactures Art Asylum planned to send over 100,000
Eminem
dolls to shops in the UK. The lifelike figure had the rapper's tattoos recreated in detail including the words 'Cut Here' on his neck.
26 Feb 2001
Winners at the Brit Awards included
Coldplay
, Best British group and Best British album for 'Parachutes', Robbie Williams, Best British Male artist and Best single for 'Rock DJ', Sonique, Best British Female artist, Best Dance act went to Fat Boy Slim, A1 won Best British Newcomer, Westlife won Best Pop act,
Eminem
won Best International Male solo artist and
U2
won Outstanding contribution to music.
22 Feb 2001
Winners at the 43rd Grammy Awards included
U2
, record of the year and song of the year with 'Beautiful Day', Steely Dan won album of the year for 'Two Against Nature', Macy Gray won Female pop vocal for 'I Try', Sting won Male pop vocal for 'She Walks This Earth',
Eminem
won Best Rap album from 'The Marshall Mathers LP',
Johnny Cash
won Best Male country performance for 'Solitary Man', and Shelby Lynne won best new artist award.
10 Feb 2001
Police were investigating
Eminem
over suspected drugs offences after he appeared to consume Ecstasy pills and encouraged the audience at his Manchester show to take drugs. Over 100 gay rights protesters picketed the show.
9 Feb 2001
Eminem
beefed up security for his UK shows following the threat of gay rights protests. Campaigners said the rapper was a homophobe who fuelled prejudice with hate-filled lyrics.
23 Jan 2001
An English coroner criticised the rap singer
Eminem
's lyrics as depressing during an inquest into the death of a schoolboy who threw himself in front of a train. The 17-year old boy had printed out the lyrics to
Eminem
's track 'Rock Bottom' before his death.
10 Dec 2000
Eminem
went to No.1 on the UK singles chart with 'Stan' featuring British singer Dido. 'Stan' was No.1 in eleven countries. Dido's lyrics are actually a sample of the opening lines from her song 'Thank You'.
7 Jul 2000
Eminem
's wife, Kimberly Mathers, was hospitalised after she slit her wrists following her husband's show as part of the Up in Smoke Tour at Joe Louis Arena in Detroit. Also on this day,
Eminem
scored his first UK No. single with 'The Real Slim Shady', taken from his second album The Marshall Mathers LP the song was a No.4 hit in the US.
29 Jun 2000
Eminem
's mother went to court claiming defamation of character in a $10 million (£5.8 million) civil suit, after taking exception to the line "My mother smokes more dope than I do" from her son's single 'My Name Is'.
23 May 2000
Eminem
released his third studio album the Marshall Mathers LP. It debuted at No.1 on the Billboard 200, staying atop for eight consecutive weeks and went on to sell over 25 million copies worldwide. The album is one of the most groundbreaking and controversial albums in the history of American music. The Marshall Mathers LP has been named on several lists of the greatest albums of all time and is widely regarded as Eminem's best album.