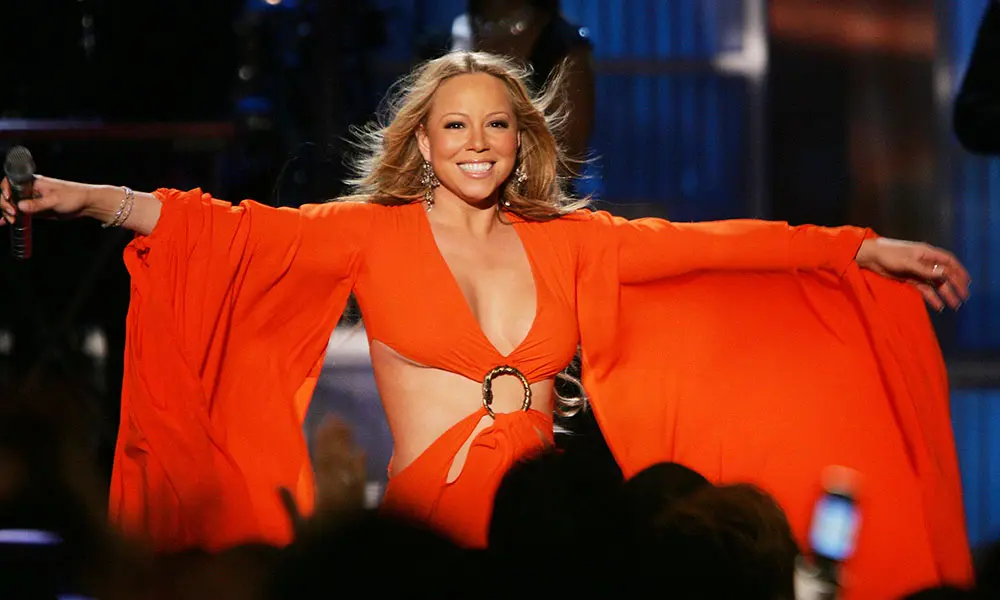 1. She was born in Huntington, New York, on March 27, 1970, to an Irish-American mother Patricia Hickey and an African American/Venezuelan father Alfred Roy Carey. Carey was named after "They Call The Wind Mariah," a song from the 1951 Broadway musical comedy Paint Your Wagon.
2. Her family became a target for their multiracial roots – people would burn crosses on their lawn, poison their dogs, their car was blown up, and a shot was once fired through the kitchen window while they were eating dinner.
3. Carey worked a number of odd jobs to support herself, including hat/coat-checker, hostess, hair sweeper in hairdressing salons, and as a waitress.
4. In 1988, Carey attend a record executives' gala, where she handed her demo tape to the head of Columbia Records, Tommy Mottola, which led to a contract and the release her self-titled debut album in 1990.
5. Her godmother is R&B icon Patti LaBelle known for the disco song "Lady Marmalade".
6. Columbia Records spent more than $1 million promoting her 1990 debut album. Five singles were released from the album, four of which became US number-one hits.
7. Her debut single "Vision of Love" has been credited with popularising the use of melisma in modern music, (the singing of a single syllable of text while moving between several different notes in succession), and has influenced countless female vocalists.
8. Carey began dating the president of Columbia Records Tommy Mottola while recording her album Music Box. They married in 1993 and divorced in 1998.
9. Her 1994, holiday album Merry Christmas has sold over 15 million copies worldwide, and is the best-selling Christmas album of all time. As of 2017, the single "All I Want for Christmas" was reported to have earned $60 million in royalties.
10. She has a five-octave range, which is two octaves higher than normal soprano.
11. Her 1995 song with Boys II Men, "One Sweet Day" holds the record for being the longest running number-one song in history after spending 16 weeks on the Billboard 100. It was written by Carey after her friend and past collaborator David Cole (of C&C Music Factory) died as homage to him.
12. In 1999 she bought Marilyn Monroe's white baby grand piano (which originally belonged to Monroe's mother) for $662,500.
13. Her 2001 movie "Glitter" earned her the Razzie Award for "Worst Actress" for her role. Carey herself later admitting that she regretted being part of the film.
14. Carey always labels her albums, videos, photographs, and clothing with butterflies.
15. Mariah has worked with a range of musicians, including Brian McKnight, Whitney Houston, Boyz II Men, Jay-Z, Snoop Dogg, Cam-ron, Carole King, Celine Dion, Michael Jackson, 98 Degrees, Joe, Da Brat, Missy Elliott, Aretha Franklin, Shania Twain, Miguel, Nicki Minaj and many more.
16. With 18 Billboard Hot 100 chart-toppers, she holds the record for the most number-ones by a female artist.
17. After eleven consecutive years charting a US number-one single, Carey parted ways with Columbia in 2000 and signed a $100 million recording contract with Virgin Records.
18. Carey appeared as a waitresses, in the 2002 film WiseGirls working at a restaurant run by mobsters. The film was released straight to video and did not receive a theatrical release.
19. Prior to her 1992 taping for MTV Unplugged, Carey and thought of adding a cover version of an older song, in order to provide something different. She chose "I'll Be There", by The Jackson 5 rehearsing it few times before the night of the show.
20. She signed a licensing deal with the cosmetics company Elizabeth Arden, and in 2007, she released her own fragrance, "M." The Elizabeth Arden deal has netted her over $150 million.
21. Carey has sold more than 200 million records worldwide, making her one of the best-selling music artists of all time and has won five Grammy Awards, nineteen World Music Awards, ten American Music Awards and fifteen Billboard Music Awards. In 2011, it was reported that Carey's net worth was valued at more than $500 million.
Important Dates In The Life Of Mariah Carey:
6 Mar 2022
'Heat Waves' by English indie pop band Glass Animals topped the US Hot 100 in its 59th week on the chart, breaking the record for the longest journey to No.1, surpassing the 35-week tally of Mariah Carey's 'All I Want for Christmas Is You' (1994).
23 Dec 2019
Mariah Carey
was being sued by a former nanny who was seeking compensation for "emotional distress" after working for the singer. Maria Burgues filed the lawsuit claiming that she was fired after complaining about her working conditions. Burgues alleged that she was paid $25 (£19) an hour to look after Carey's children and had to travel with them when the singer went on tour – but wasn't paid for the extra work. She also claimed that the bodyguard of Carey's children, Marcio Moto, used to make her feel threatened by shouting at her.
21 Dec 2019
Mariah Carey
topped the US Billboard Hot 100 with 'All I Want for Christmas Is You' for the first time, 25 years after its original release, thereby breaking several records, including the longest trip to number one. With estimated sales of over 16 million copies worldwide, 'All I Want for Christmas Is You' is the best-selling holiday song by a female artist, and one of the best-selling physical singles in music history. The following year, the song also topped the charts in the UK for the first time, spending a record 69 weeks in its top 40 prior to reaching number one.
29 Jul 2019
'Old Town Road', the viral rap song by Lil Nas X, became the longest-running No.1 in US chart history after it topped the Billboard Hot 100 for 17 weeks, overtaking Luis Fonsi's 'Despacito' and Mariah Carey's 'One Sweet Day', which both spent 16 weeks at No.1. The rapper, a college dropout from Atlanta, recorded the song in 2018, using a backing track he bought online for $30 (£24.70).
27 Apr 2013
A blue plaque was unveiled at Swansea railway station, Wales, honouring Peter Ham who co-wrote 'Without You', a hit for both Harry Nilsson and
Mariah Carey
. Ham who was a member of
Badfinger
were signed to
The Beatles
Apple Records label, (and enjoyed their biggest hit in 1970 with a
Paul McCartney
penned, 'Come And Get It'. Ham took his own life in 1975 at the age of 27.
17 Jun 2011
A computer hacker who stole songs from Lady Gaga, Justin Timberlake, Leona Lewis, Kesha and
Mariah Carey
during 2009 and 2010 was sentenced to 18 months detention in Germany. A court heard how the teenager, who called himself DJ Stolen, earned more than 15,000 euros (£13,260) by breaking copyright laws and hacking personal information from a number of singers. The 18-year-old used software to steal unpublished songs and then offer them for sale on the internet. Anti-piracy teams in the UK and Germany noticed a growing number of pre-release tracks being leaked much earlier than normal. The teen was also ordered to have therapy for an addiction to the internet.
7 Jul 2009
Michael Jackson
's family and fans said farewell to the pop superstar at an emotional memorial service. The singer's coffin was placed in front of the stage during the event at the Staples Center in Los Angeles after an earlier private funeral. Jackson's daughter Paris, 11, fought back tears to describe him as "the best father you could ever imagine".
Stevie Wonder
, Lionel Richie and
Mariah Carey
paid tribute before the family joined a sombre finale on stage.
Motown
boss
Berry Gordy
, who signed the Jackson Five, ended his tribute with the words: "Michael, thank you for the joy, thank you for the love. You will live in my heart forever."
1 Dec 2008
Wham's Last Christmas was the most played festive track of the last five years. The Performing Right Society put the 1984 hit at the top of their chart of seasonal songs, just ahead of Band Aid's Do They Know It's Christmas? The Pogues came third with Fairytale of New York, recorded with the late Kirsty MacColl and first released in 1987. Other featured artists include Slade,
Mariah Carey
and
Bruce Springsteen
.
2 Nov 2008
X-Factor Finalists started a three week run at No.1 on the UK singles chart with 'Hero', to raise money for Help for Heroes ' a charity that provides support for wounded servicemen and women, and the Poppy Appeal. The song was a Top 10 hit for
Mariah Carey
in 1993.
30 Apr 2008
Mariah Carey
married actor Nick Cannon in the Bahamas following a whirlwind two-month romance. The pop diva met Cannon, 27, while shooting the music video for her single 'Bye Bye.' It was the second marriage for Carey, who married Columbia Records executive Tommy Mottola in 1993, which ended in 1998.
25 Apr 2008
The Empire State Building in New York City was lit up in
Mariah Carey
's motif colours, lavender, pink, and white, in celebration of her achievements in the world of music. Carey was the first person in history to be honoured with this event.
3 Apr 2008
Mariah Carey
smashed
Elvis Presley
's US chart record by scoring the 18th number one of her career with 'Touch My Body', from her new album E=MC2. Carey had now surpassed
Elvis Presley
's 17 number ones,
The Beatles
still held the record with 20 US No.1 hit singles.
9 Dec 2006
Mariah Carey
threatened legal action against porn star Mary Carey in an attempt to stop her trademarking her similar-sounding stage name. The singer believed fans could get the two performers confused if the adult film actress Mary Carey's trademark application was successful.
18 Dec 2005
'Fairytale of New York' was voted the favourite Christmas song ever in a VH1 poll. The song by The Pogues and Kirsty MacColl took the top spot,
Mariah Carey
's 'All I Want for Christmas is You', was voted into 2nd place and Wham's 'Last Christmas' came third. Other songs voted into the Top 10 were, 'Mistletoe and Wine', Sir Cliff Richard at No.4, 'Merry Xmas Everybody' by Slade at No.5, 'I Wish it could be Christmas Everyday', Wizzard, No.6, 'Christmas Time', The Darkness, No.7, 'Saviour's Day', Sir Cliff Richard No.8, Do They Know It's Christmas? (1984), Band Aid at No.9 and 'Lonely This Christmas' by Mud at No.10.
2 Sep 2005
Mariah Carey
became only the fifth act ever to hold the top two positions in the US singles chart. The singer's 'We Belong Together' notched a 10th consecutive week at No.1 on the Billboard chart while 'Shake It Off' jumped two places to second place. The feat put Carey in a select group of acts to hold the top two with Nelly, OutKast, The
Bee Gees
and
The Beatles
. 'We Belong Together' was Carey's 16th number one, giving her the third highest number of chart-toppers in the US behind the Beatles and
Elvis Presley
.
10 Aug 2005
James Blunt was at No.1 on the UK singles chart with 'You're Beautiful',
Mariah Carey
had the US No.1 with 'We Belong Together' and Axel F was at No.1 on the Australian singles chart with 'Crazy Frog.'
7 Aug 2005
James Blunt was at No.1 on the UK singles chart with 'You're Beautiful',
Mariah Carey
was at No.1 on the US charts with 'We Belong Together' and Axel F had 'Crazy Frog' at No.1 on the Australian singles charts.
1 Jul 2005
American R&B and soul singer-songwriter, record producer Luther Vandross died at the age of 54 at the JFK Medical Centre in New Jersey, two years after suffering a major stroke. His 'Never Too Much', was a No.1 R&B hit, worked with Diana Ross, Carly Simon, Chaka Khan, Donna Summer, Barbra Streisand,
Mariah Carey
and
David Bowie
. Vandross had won four Grammys for his final album 'Dance With My Father.'
12 Apr 2005
Mariah Carey
released The Emancipation of Mimi, the album entered the US chart at number one, going six times platinum in less than a year, and subsequently became the most successful album of 2005.
21 Jan 2004
As the third season of American Idol was aired on US TV a memo was leaked showing a list of songs banned from being performed at this year's auditions that included,
Elton John
's 'Candle In The Wind' and 'Fallin' by Alicia Keys. Also all songs by
Bruce Springsteen
,
Mariah Carey
, No Doubt, R. Kelly,
Tom Petty
, Korn and
Linkin Park
were not allowed after concerns over the cost of securing rights for the song's use, (or the composers not wanting their song's to be performed on the show).
26 Sep 2003
A report published on requests by artists to venues of their backstage requirements revealed; Limp Bizkit insisted that all the lamps in their rooms be dimmable while
Mariah Carey
would only have 'bendy' straws as she will not use straight ones.
Van Halen
insisted that back-stage celery is trimmed and not peeled. The
Red Hot Chili Peppers
asked for a meditation room and a selection of aromatherapy candles. Barry Manilow requested that the air temperature in the auditorium be kept at a regular 65 degrees.
21 May 2003
Mariah Carey
hit back at
Eminem
's threats to sample the slushy voicemail messages she left on his mobile. Carey described the rapper as "a little girl" saying it's "like dealing with a girlfriend in 7th grade, and he shouldn't do it because it'll get him in a bit of trouble with her lawyers."
27 Jul 2002
Mariah Carey
checked herself into an undisclosed hospital suffering from "extreme exhaustion." The singer cancelled all public appearances, including her headlining appearance at
MTV
's 20th birthday party. Her record company denied tabloid reports that Carey tried to commit suicide, saying she did have cuts on her body, but the injuries were unintentional after breaking some dishes and glasses.
4 Aug 2001
The News Of The World reported that
Mariah Carey
had hired a private eye to spy on her ex husband, record boss Tommy Mottola. Investigator Jack Palladino told the paper that Mariah believed her ex husband was conducting a smear campaign against the singer.
2 Apr 2001
Mariah Carey
signed the richest recording deal in history. The 31-year old singer signed a deal with Virgin for three albums worth £60m. The singer had sold over 120 million records worldwide, scoring 14 US No.1 singles.
2 Dec 1995
Mariah Carey
went to No.1 on the US singles chart with her duet with Boyz II Men 'One Sweet Day'. It made Carey the first artist in history to have two consecutive single debut at No.1, 'Fantasy' being her first.
30 Sep 1995
Mariah Carey
made chart history when she started an eight week run at No.1 on the US singles chart with 'Fantasy', making her the first female act to enter the chart in pole position.
24 Jan 1995
American songwriter and record producer David Cole died from spinal meningitis brought on by AIDS aged 32. He was a member of C+C Music Factory who had the 1991 UK No.4 single 'Things That Make You Go Hmmm...', and the 1991 US No.1 single 'Gonna Make You Sweat'. Cole also produced various hits for other artists including
Mariah Carey
,
Whitney Houston
and
Aretha Franklin
.
19 Feb 1994
Mariah Carey
had her first UK No.1 with her version of the Peter Ham and
Tom Evans
song 'Without You'. Nilsson also took the song to No.1 in 1972. (Carey's version was released on January 24, 1994, just over a week after Nilsson had died following a heart attack). Both Ham and Evans committed suicide, (Ham in 1975 and Evans in 1983) after an ongoing battle to receive royalties from the song.
11 Sep 1993
Mariah Carey
started a eight week run at No.1 on the US singles chart with 'Dreamlover'. Also on the same day her fourth album 'Music Box' went to No.1 in the UK.
5 Jun 1993
7 Dec 1992
Mariah Carey
's
MTV
Unplugged EP became the first Sony Minidisc to be released in the US.
20 Jun 1992
Mariah Carey
scored her sixth US No.1 single with 'I'll Be There', a No.2 hit in the UK. The song was also a US No.1 for The Jackson Five in 1970.
4 Aug 1990
Mariah Carey
's started a four week run at No.1 on the US singles chart with 'Vision Of Love', her debut release. 'Vision Of Love' was nominated for three Grammy Awards at the 33rd annual ceremony, held on February 20, 1991: Record of the Year, Song of the Year and Best Female Pop Vocal Performance, winning the latter.
19 Nov 1983
English musician and songwriter
Tom Evans
from
Badfinger
, took his own life after a bitter argument with
Badfinger
guitarist Joey Molland about the royalties for 'Without You'. (Evans co-wrote 'Without You' a hit for both Harry Nilsson and
Mariah Carey
). Family members said the singer, songwriter was never able to get over his former bandmate's Pete Ham's suicide.
24 Apr 1975
Peter Ham, British singer, songwriter with
Badfinger
committed suicide by hanging himself in the garage of his Surrey home, aged 27. Ham co-wrote 'Without You', with band mate
Tom Evans
(who also later committed suicide). The song won an Ivor Novello award for Song Of The Year in 1973, and was a hit for Harry Nilsson and
Mariah Carey
. Ham was a founder member of The Iveys, who became
Badfinger
, were signed to the Beatles' Apple label, their first hit 'Come And Get It' was written by
Paul McCartney
.
11 Mar 1972
Harry Nilsson was at No.1 on the UK singles chart with his version of The Peter Ham and
Tom Evans
song 'Without You'. First recorded by
Badfinger
in 1970, the song was also a No.1 for
Mariah Carey
in 1994.