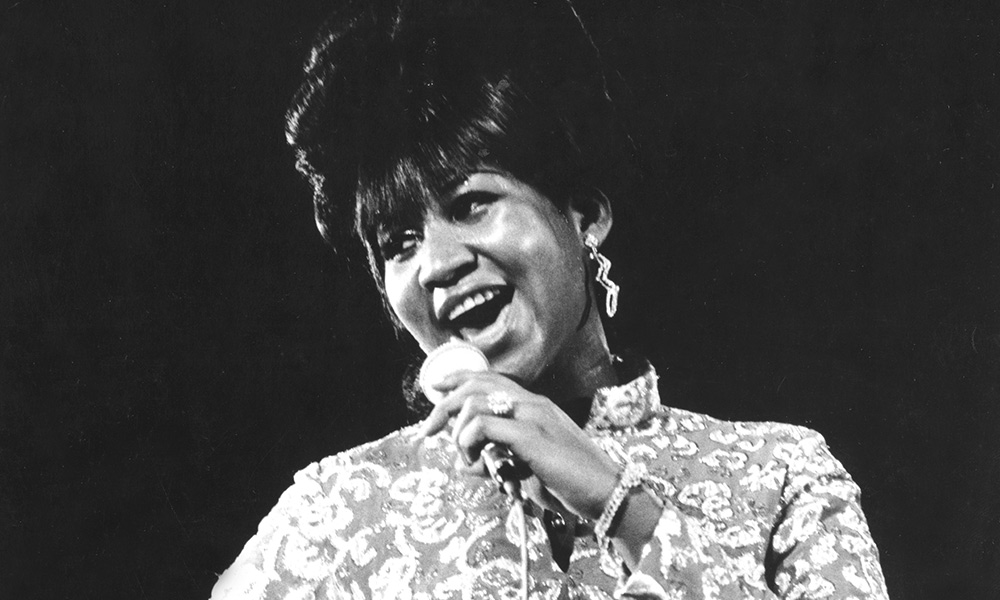 The undisputed 'Queen Of Soul' died at her home in Detroit of cancer on 16 August, 2018 age 76. Franklin created an amazing legacy that spans an incredible six decades, from her first recording as a teenage gospel star, to her final recordings in 2014.
When Franklin sang "Respect," the Otis Redding song that became her signature, it was a demand for equality and freedom and a harbinger of feminism, carried by a voice that would accept nothing less.
Franklin began her career as a child, singing gospel at New Bethel Baptist Church in Detroit, Michigan, where her father C. L. Franklin was minister. The Franklins had a troubled marriage due to Mr. Franklin's infidelities, and they separated in 1948. Aretha's mother died of a heart attack on March 7, 1952, before Aretha's tenth birthday.
When Franklin was 12, her father began managing her; he would bring her on the road with him during his so-called 'gospel caravan' tours for her to perform in various churches. He also helped her sign her first recording deal with J.V.B. Records.
Franklin was the mother of four sons. She first became pregnant at the age of 12. While Franklin was pursuing her career Franklin's grandmother Rachel and sister Erma took turns raising the children. Franklin was married twice, her first husband was Theodore 'Ted' White, whom she married in 1961 at age 19. Franklin then married her second husband, actor Glynn Turman, on April 11, 1978.
After turning 18, Franklin confided to her father that she aspired to follow Sam Cooke in recording pop music, and moved to New York. With the help from her father she produced a two-song demo that soon was brought to the attention of Columbia Records, who agreed to sign her in 1960. Her debut album Aretha: With The Ray Bryant Combo (produced by John H. Hammond) was released in February 1961, and showcased a young Aretha (only 18 nearly 19 years old, at the time of these recordings), covering a range of jazz and pop standards.
After nine albums and over 20 singles with Columbia she found acclaim and commercial success after signing with Atlantic Records. The 1967 single "I Never Loved a Man (The Way I Love You)" became the first big hit of her career. Other hits during the 60's followed: "Respect", "(You Make Me Feel Like) A Natural Woman", "Chain of Fools", and "I Say a Little Prayer".
In the mid 80's Aretha saw new found fame with "Freeway of Love", "Who's Zoomin' Who", "Sisters Are Doin' It for Themselves" (with Eurythmics) and "I Knew You Were Waiting (For Me)," her worldwide chart-topping duet with George Michael and her only UK number one single.
In total Franklin recorded 112 charted singles on Billboard, including 77 Hot 100 entries, 17 top-ten pop singles, 100 R&B entries, and 20 number one R&B singles, becoming the most charted female artist in history.
She received 18 competitive Grammy Awards, along with a lifetime achievement award in 1994. She was the first woman inducted into the Rock & Roll Hall of Fame, in 1987, its second year. She sang at the inauguration of Barack Obama in 2009, at pre-inauguration concerts for Jimmy Carter in 1977 and Bill Clinton in 1993, and at both the Democratic National Convention and a memorial service for the Rev. Dr. Martin Luther King Jr. in 1968.
Franklin had signed with Clive Davis's Arista Records in 1980. On hearing the news about her death Davis commented "She was singing so beautifully to the end. Her performance of "(You Make Me Feel Like) A Natural Woman" at the Carole King concert in 2016 was unforgettable – the curtains opening, and this woman full of life, in her long fur coat, then sitting down to play the piano".
Aretha Franklin's funeral service held in Detroit by all accounts was an extraordinary occasion. Over 100 pink Cadillac's (a reference to her song, "Freeway of Love," in which she sings: 'We goin' ridin' on the freeway of love in my pink Cadillac'), lined the road in front of the church as family, friends, civil rights activists, preachers, and a former president celebrated the Queen of Soul.
Important Dates In The Life Of Aretha Franklin:
9 Dec 2021
David Lasley American recording artist, singer and songwriter died age 74. He was known for his contributions as a background singer and songwriter for such artists as Bonnie Raitt, James Taylor, Luther Vandross, Chic,
Aretha Franklin
, Dionne Warwick, Dusty Springfield and Boz Scaggs.
20 May 2021
American drummer Roger Hawkins died age 75. He was best known for playing as part of the studio band known as the Muscle Shoals Rhythm Section. His drumming can be heard on dozens of hit singles, including tracks by Percy Sledge ('When a Man Loves a Woman'),
Aretha Franklin
('Respect'), Wilson Pickett ('Mustang Sally'. Hawkins also worked with
Duane Allman
, Joe Cocker,
Paul Simon
, Bob Seger, Bonnie Bramlett, Boz Scaggs, Albert King, Traffic,
Rod Stewart
,
Eric Clapton
and Willie Nelson.
16 Aug 2018
American singer and songwriter
Aretha Franklin
died in Detroit at the age of 76. Known as 'The Queen of Soul' and one of the best-selling musical artists of all time, having sold more than 75 million records worldwide was diagnosed with cancer in 2010. During her career she scored over 15 Top 40 hits and won 18 Grammy Awards. Hits include the 1967 US No.1 & UK No.10 single 'Respect', the 1968 UK No.4 single 'I Say A Little Prayer' and the 1987 UK No.1 single with
George Michael
, 'I Knew You Were Waiting'. In 2010 Rolling Stone magazine ranked her number one on their list of the '100 Greatest Singers of All Time'.
2 Jan 2018
American record producer, songwriter, music publisher, and musician Rick Hall best known as the owner of Fame Studios in Muscle Shoals, Alabama died aged 85. Hall almost single-handedly established the town of Muscle Shoals as a crucible of some of the greatest soul music to be produced in America in the Sixties and Seventies.
Aretha Franklin
, Wilson Pickett, Etta James and Clarence Carter were just a few of the rhythm and blues artists who recorded under Hall's supervision, using the superlative group of session musicians who formed the basis of what became known as the "Muscle Shoals sound".
21 Jun 2016
Trumpeter Wayne Jackson, who formed the Memphis Horns duo with saxophonist Andrew Love, died of congestive heart failure at the age of 74. Jackson and Love played together on 52 No.1 songs, supporting the likes of
Elvis Presley
,
Neil Diamond
,
Otis Redding
, Al Green,
Aretha Franklin
, Peter Gabriel and the Doobie Brothers.
31 Jan 2015
R&B rock and roll singer and songwriter Don Covay passed away at the age of 78. His most successful recordings include 'Mercy, Mercy' (1964), 'See-Saw' (1965), and 'It's Better to Have (and Don't Need)' (1974). He also wrote 'Pony Time', a US No.1 hit for Chubby Checker, and 'Chain of Fools', a Grammy-winning song for
Aretha Franklin
.
30 May 2014
Aretha Franklin
received an honorary degree from Harvard University. The Soul legend became an honorary doctor of arts at the Harvard ceremony, which came a year after she was forced to cancel a string of concerts due to ill health.
28 Mar 2013
American rock guitarist and session musician Hugh McCracken died of leukemia in New York City at the age of 70. He appeared on many recordings by Steely Dan, Donald Fagen,
Billy Joel
, Roland Kirk, Roberta Flack, B. B. King,
John Lennon
,
Paul McCartney
, The
Monkees
,
Paul Simon
,
Art Garfunkel
, James Taylor, Phoebe Snow,
Bob Dylan
, Carly Simon, Graham Parker, Eric Carmen, Loudon Wainwright III,
Aretha Franklin
, Van Morrison, The Four Seasons,
Hall and Oates
, Gary Wright and Andy Gibb. Because of such high demand for his work, McCracken declined
Paul McCartney
's invitation to help form his new band, Wings after appearing on his 1971 album Ram.
30 May 2010
American R&B singer, songwriter, Ali-Ollie Woodson died from cancer aged 58. Woodson was best known for singing with The
Temptations
from 1984 to 1996 and also worked with
Aretha Franklin
, Jean Carn, and Bill Pinkney.
15 Aug 2008
US record producer Jerry Wexler, who influenced the careers of singers including
Aretha Franklin
, Ray Charles and
Bob Dylan
died at his home in Sarasota, Florida aged 91. Wexler produced the
Aretha Franklin
hit 'Respect', the Wilson Pickett song, 'In the Midnight Hour' and helped
Bob Dylan
win his first Grammy award by producing the 1979 album, Slow Train Coming. He also coined the term 'rhythm and blues' while writing for Billboard magazine in the late 1940s.
28 May 2008
American guitarist Jerry Cole died aged 68. He first entered the pop music scene as one of The Champs along with
Glen Campbell
. Cole and Campbell later formed the Gee Cee's and released one single called 'Buzzsaw Twist'. He backed up
Elvis Presley
in 1974 and also worked with Jerry Lee Lewis,
Roy Orbison
,
Aretha Franklin
, The
Righteous Brothers
,
Little Richard
, Ray Charles, Tony Orlando & Dawn, Lou Rawls,
Gregg Allman
, Lee Hazlewood, Blood Sweat & Tears, Kenny Rogers,
Neil Diamond
, Steely Dan,
The Beach Boys
and Isaac Hayes.
14 Dec 2006
The co-founder of Atlantic Records Ahmet Ertegun died, aged 83. Ertegun who founded Atlantic Records with Herb Abramson in 1947 helped make Ray Charles and
Aretha Franklin
stars and signed The
Rolling Stones
and
Led Zeppelin
in the early 70s. He suffered a head injury when he fell at a
Rolling Stones
concert at New York's Beacon Theatre in October, and died after slipping into a coma.
25 Jun 2006
Turkish-American music producer and arranger Arif Mardin died aged 74 from pancreatic cancer. He worked at Atlantic Records for over 30 years, before moving to EMI. The winner of 11 Grammy Awards, he worked with
Aretha Franklin
, Bette Midler, Roberta Flack, Wilson Pickett, Average White Band, The
Bee Gees
, Barbra Streisand and Norah Jones.
3 Sep 2004
27 Oct 2002
American record producer Tom Dowd died of emphysema. He recorded albums by many artists including:
Eric Clapton
, Lynyrd Skynyrd, Derek and the Dominos,
Rod Stewart
,
Aretha Franklin
,
Cream
, Lulu, Chicago,
The Allman Brothers Band
, The J. Geils Band,
Meat Loaf
, Sonny & Cher, The Rascals, Willie Nelson, Diana Ross, Kenny Loggins, Dusty Springfield, The Drifters and
Otis Redding
.
29 Dec 2001
Aretha Franklin
was suing a US newspaper which alleged that the star had alcohol problems. The singer's lawyers filed a federal lawsuit against the Florida-based Star claiming she was defamed by an article in the paper in December 2000 and were seeking $50m (£35m) in damages.
2 Dec 2001
Singer Valerie Jones died aged 45. One-third of the sister group The Jones Girls, who sang back-up vocals with Lou Reed, Diana Ross,
Aretha Franklin
, Lou Rawls, Teddy Pendergrass and Betty Everett.
3 Feb 1999
American soul singer Gwen Guthrie died of cancer aged 48. She sang backing vocals for
Aretha Franklin
,
Billy Joel
,
Stevie Wonder
and
Madonna
and wrote songs for Sister Sledge and Roberta Flack. She scored the 1986 R&B No.1 'Ain't Nothin' Goin' on But the Rent'.
24 Jan 1995
American songwriter and record producer David Cole died from spinal meningitis brought on by AIDS aged 32. He was a member of C+C Music Factory who had the 1991 UK No.4 single 'Things That Make You Go Hmmm...', and the 1991 US No.1 single 'Gonna Make You Sweat'. Cole also produced various hits for other artists including
Mariah Carey
,
Whitney Houston
and
Aretha Franklin
.
19 Apr 1993
26 Jul 1992
American singer and
Motown
artist, Mary Wells, referred to as The First Lady of Motown and who had a 1964 US No. 1 and UK No. 5 single 'My Guy', died aged 49 of laryngeal cancer. Wells was forced to give up her career and with no health insurance, was forced to sell her home. Wells' old Motown friends including Diana Ross, Mary Wilson, The
Temptations
and Martha Reeves, along with Dionne Warwick,
Rod Stewart
,
Bruce Springsteen
,
Aretha Franklin
and Bonnie Raitt, personally pledged donations in support.
12 Feb 1989
Aretha Franklin
lost a court case against Broadway producer Ashton Springer, who sued for $1 million (£0.58 million) when Aretha failed to turn up for rehearsals for the stage show Sing Mahalia Sing, blaming her fear of flying on the non appearance.
16 Dec 1988
American soul and disco singer Sylvester James died of complications from AIDS in San Francisco aged 41. Scored the 1978 US No.36 & UK No.8 single 'You Make Me Feel, Mighty Real'. He sang back-up vocals for
Aretha Franklin
on her 1985 Who's Zoomin' Who' Album.
10 Jul 1987
18 Apr 1987
Aretha Franklin
and
George Michael
started a two week run at No.1 on the US singles chart with 'I Knew You Were Waiting' also a No.1 in the UK.
Aretha Franklin
set a record for the artist with the longest gap between US No.1 singles, it had been 19 years, 10 months from her last hit 'Respect' in June 1967.
7 Feb 1987
George Michael
and
Aretha Franklin
were at No.1 on the UK singles chart with 'I Knew You Were Waiting (For Me)'. Written by Simon Climie it gave Aretha her first UK No.1 almost 20 years after her first hit.
3 Jan 1987
Aretha Franklin
became the first woman inducted into the Rock and Roll Hall of Fame. Despite the enormity of the milestone, Franklin wasn't actually able to attend the ceremony herself, so instead, Rolling Stones' guitarist Keith Richards, Clive Davis and her brother Cecil inducted Franklin with her poignant speech, "To be the first woman inductee into the Rock and Roll Hall of Fame is a historical moment and indeed a milestone in my career..."
24 Jul 1984
The Rev. C.L. Franklin died, (father of soul singer
Aretha Franklin
). Franklin who was an American Baptist minister as well as a Civil Rights activist had been in a coma since 1979 after being shot by burglars at his home in Detroit.
6 Jul 1979
American singer, producer songwriter, Van McCoy died from a heart attack in Englewood, New Jersey. Van McCoy and the Soul City had the US No.1 single 'The Hustle'. Worked with
Gladys Knight
and the Pips, The Stylistics,
Aretha Franklin
and David Ruffin.
22 Aug 1970
Bread went to No.1 on the US singles chart with 'Make It With You', the group's only No.1 hit, which was a No.5 in the UK. Many artists have covered the song including: The
Supremes
,
Aretha Franklin
, Earth, Wind & Fire, Dusty Springfield, Andy Williams, and Marc Cohn.
28 Feb 1970
Simon and Garfunkel started a six week run at the top of the US singles chart with '
Bridge Over Troubled Water
', also No.1 in the UK in March the same year. It became one of the most performed songs of the twentieth century, with over 50 artists, among them
Elvis Presley
and
Aretha Franklin
, covering the song.
22 Jul 1969
Aretha Franklin
was arrested for causing a disturbance in a Detroit parking lot. After posting 50-dollars bail, she ran down a road sign while leaving the police station.
3 Jun 1967
Aretha Franklin
went to No.1 on the US singles chart with her version of the
Otis Redding
hit 'Respect'. A No.10 hit on the UK chart. Aretha scored her first UK No.1 20 years later with a duet with
George Michael
'I Knew You Were Waiting'.
14 Feb 1965
Otis Redding
recorded 'Respect' at Atlantic Studio, New York City. At first a ballad, 'Respect' was written by Redding for Speedo Sims, who intended to record it with his band, the Singing Demons. Redding rewrote the lyrics and sped up the rhythm. The song became a 1967 hit and signature song for soul singer
Aretha Franklin
.