Being unceremoniously outed as a gay man when he was caught indulging in "lewd conduct" in a Beverley Hills toilet gave George Michael's career a new lease of life and the singer a new phase in his life. George said of the incident which happened in 2002, "I was followed into the restroom and this cop – well, I didn't know he was a cop at the time obviously – started playing this game. I think it's called 'I'll show you mine, you show me yours, and then when you show me yours, I'm gonna nick you!"
His humorous video for "Outside" reconstructed the whole unfortunate toilet situation, mocking the police. It was later reported that George was being sued for $10m by the policeman who made the arrest. Marcelo Rodriguez claimed being mocked in the video left him in physical distress.
Then he hit the headlines again for all the wrong reasons.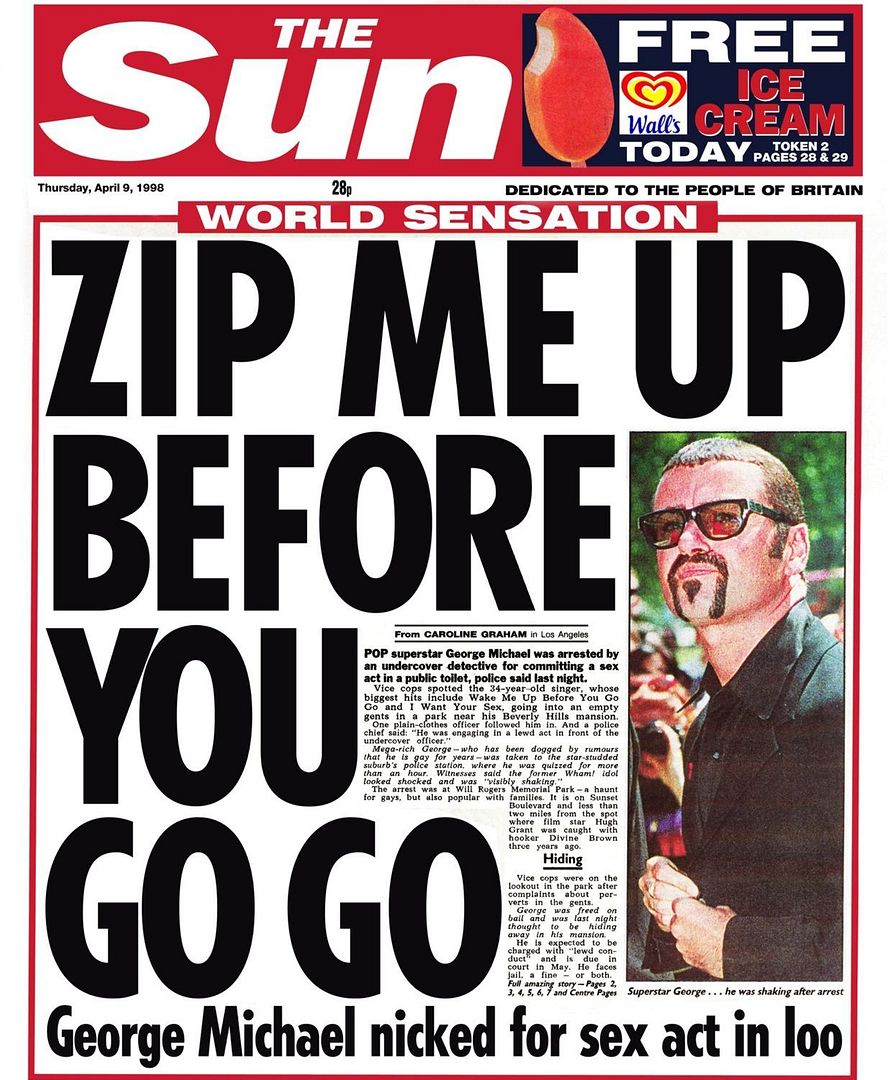 In 2006, George was accused of engaging in anonymous public sex, after being photographed in London's Hampstead Heath with a 58-year-old unemployed van driver. Despite stating that he intended to sue both the News of the World tabloid who photographed the incident and van driver Norman Kirtland for slander, Michael stated that he openly cruised for anonymous sex and that this was not an issue in his relationship with partner Kenny Goss.
Another couple of months passed until again we found George staring at us from the front pages of the Redtops – after being found slumped over his car in Hyde Park, London. A concerned person spotted the singer and called the police who after being checked by paramedics was arrested on suspicion of possessing drugs.
Then he was involved in his second minor car crash in a month after a tabloid photographer found Michael asleep in his parked car in central London. The singer crashed into a bollard after he woke up and was driving away.
In 2009, Michael was arrested and held on suspicion of driving under the influence of drink or drugs after his Land Rover was in collision with a lorry on the A34 in Berkshire. The singer was later released without charge.
When George was arrested after he crashed his car into the front of a Snappy Snaps store in Hampstead, North London when returning home from a Gay Pride parade the incident was spotted on CCTV. He was arrested on suspicion of being unfit to drive and charged with possession of cannabis and with driving while unfit.
Apparently, the following morning the shop owner placed a big sign in the window saying "George Michael Crashed Here".
In the same year in an interview with The Guardian, George said he had cut back on his cannabis intake and now only smoked 'seven or eight' spliffs per day instead of the 25 he used to smoke.
Michael nearly died of pneumonia in late 2011. After receiving treatment in a Vienna hospital, he made a tearful appearance outside his London home and said it had been "touch and go" whether he lived. Doctors had performed a tracheotomy to keep his airways open and he was unconscious for some of his spell in hospital.
In May 2013, Michael had to be airlifted to hospital with a head injury after falling from his vehicle on the M1.
Having been every girl's dream with Wham, then metamorphasising into the biggest UK solo artist of the 90's – Michael's conduct has confirmed him as a star not afraid of courting controversy. He also wrote some amazing songs, was a brilliant performer and gave away millions of his fortune to people who are far less fortunate than him.
On Christmas day 2016, George Michael died at his home from a heart attack. Thames Valley Police said South Central Ambulance Service attended a property in Goring in Oxfordshire at 13:42 GMT. The singer who launched his career with Wham in the 1980s and later continued his success as a solo performer was said to have "passed away peacefully at home".
His 1987 debut solo album, Faith, sold more than 20 million copies worldwide. Michael garnered seven number one singles in the UK and eight number one hits on the Billboard Hot 100 in the US. Michael sold more than 100 million records worldwide.
Michael's death prompted an outpouring of emotional tributes with musicians, celebrities and politicians posting their memories of Michael on social media. Elton John, another friend and collaborator, wrote on Instagram of his "deep shock" at the loss of "the kindest, most generous soul and a brilliant artist".
After his death it emerged that he gave numerous hefty donations to various charities and strangers but insisted these were all kept secret. He gave a TV contestant enough money to fund her IVF treatment. He gave a stranger £25,000 to clear her debt. He apparently set up a trust providing grants for disabled children and adults, he worked undercover at a homeless shelter and he played a free Christmas concert in honour of the nurses who cared for his dying mother. Michael also gave the royalties from his hit Last Christmas/Everything She Wants to Ethiopian famine relief.