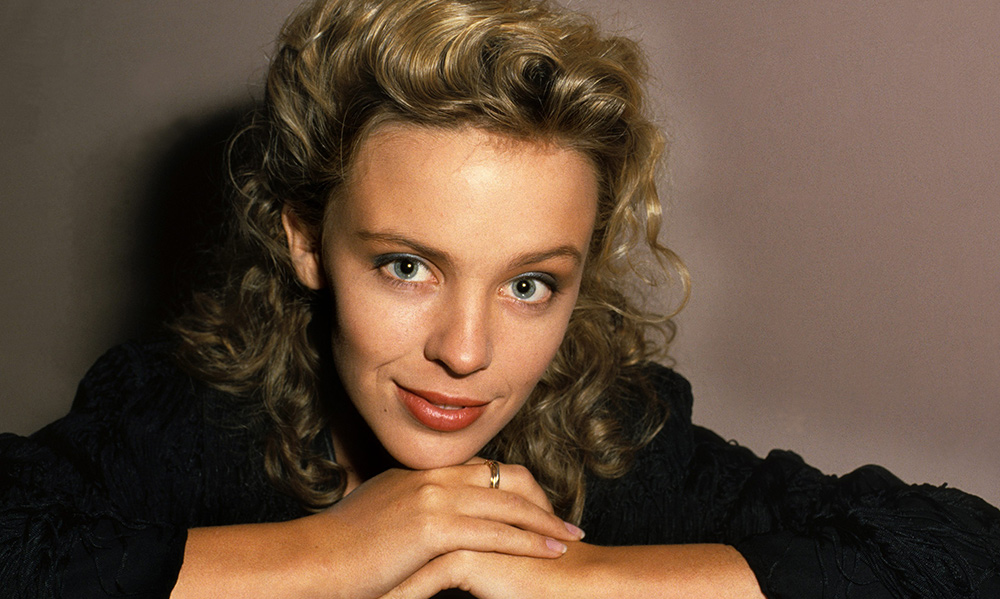 Kylie Ann Minogue was born 28 May 1968 in Melbourne, Australia. She is a fifth-generation Australian and has Irish ancestry; her mother, Carol Ann Jones, came from Maesteg, Wales.
She had minor role in the Australian television soap opera The Sullivans (1979) and in 1985, she was cast in one of the lead roles in The Henderson Kids. Kylie was later cast in the soap opera Neighbours in 1986 as Charlene Mitchell, a schoolgirl turned garage mechanic. Neighbours achieved popularity in the UK, and a story that created a romance between her character and the character played by Jason Donovan culminated in a wedding episode in 1987 that attracted an audience of 20 million British viewers.
Her first single, "The Locomotion", spent seven weeks at number one on the Australian singles charts and became the country's highest-selling single in the 1980s.
When Kylie flew to the UK for her first meeting with hit makers Stock, Aitken and Waterman, they forgot she was coming so hadn't prepared anything. As a result, they wrote "I Should Be So Lucky" in 40 minutes while she was waiting in reception. She then recorded it in around the same time. In 1988 the song reached number one in the United Kingdom, Australia, Germany, Finland, Switzerland, Israel and Hong Kong
Michael Hutchence wrote INXS hit "Suicide Blonde" about Kylie, who he was dating at the time. She had to dye her hair platinum blonde for The Delinquents and said to him, "I'm going suicide blonde today."
At the suggestion of Nick Cave, with whom she'd just duetted on "Where The Wild Roses Grow", Kylie recited the lyrics to "I Should Be So Lucky" as poetry for 1995's Poetry Jam at the Royal Albert Hall. She described it "a most cathartic moment."
Kylie has provided guest vocals for The Pet Shop Boys, Coldplay, Just Jack, Towa Tei (formerly of Deee-lite), Hurts, Taio Cruz and sister Dannii.
In September 2001, Minogue released "Can't Get You Out of My Head", the lead single from her eighth studio album, Fever. It reached number one in over forty countries and sold 5 million copies, becoming Minogue's most successful single.
There is a Bronze statue of Minogue at Waterfront City, in Melbourne Docklands.
"Spinning Around" was Minogue's fifth number one single in the United Kingdom. Minogue became one of only two artists to have a number one single in three consecutive decades, achieving this in the 1980s, 1990s, and 2000s
In the 2007 Doctor Who Christmas special, Kylie played a waitress on a spaceship modelled on the Titanic. Fans got very excited over the fact that her character's name, Astrid, was an anagram of "Tardis".
Her 1997 single "Some Kind Of Bliss" was co-written and produced by James Dean Bradfield and Sean Moore of the Manic Street Preachers. Its video was shot in the Spanish desert and co-starred British actor Dexter Fletcher.
Minogue was diagnosed with breast cancer at age 36 in May 2005, leading to the postponement of the remainder of her Showgirl: The Greatest Hits Tour and her withdrawal from the Glastonbury Festival. Due to Kylie's battle with breast cancer, doctors reported that the number of mammograms performed in Australia rose by 40% – a phenomenon they called "the Kylie effect".
In January 2007, Madame Tussauds in London unveiled its fourth waxwork of Minogue; only Queen Elizabeth II has had more models created.
Her single "Can't Get You Out Of My Head" was named the most-played track of the 2000s. The song eventually became the third best-selling UK single and the most-played song in the UK in 2001.
In March 2010, Minogue was declared by researchers as the "most powerful celebrity in Britain".
Kylie played "The Green Fairy" in Baz Luhrmann's film musical Moulin Rouge!
In 2008, she was honoured with Music Industry Trust's award for recognition of her 20-year career and was hailed as "an icon of pop and style", becoming the first female musician to receive a Music Industry Trust award.
In January 2011, Minogue received a Guinness World Records citation for having the most consecutive decades with top five albums in the UK, with all her albums doing so.
Minogue has sold 70 million records worldwide and has earned numerous awards and accolades, including a Grammy Award, three Brit Awards, 17 ARIA Music Awards, two MTV Europe Music Award and two MTV Video Music Award.