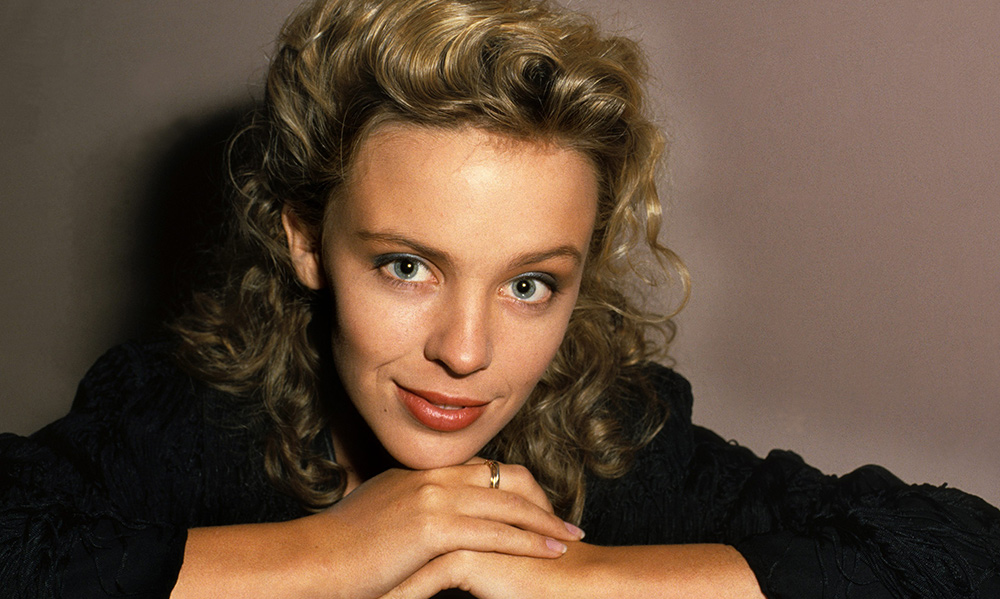 Kylie Ann Minogue was born 28 May 1968 in Melbourne, Australia. She is a fifth-generation Australian and has Irish ancestry; her mother, Carol Ann Jones, came from Maesteg, Wales.
She had minor role in the Australian television soap opera The Sullivans (1979) and in 1985, she was cast in one of the lead roles in The Henderson Kids. Kylie was later cast in the soap opera Neighbours in 1986 as Charlene Mitchell, a schoolgirl turned garage mechanic. Neighbours achieved popularity in the UK, and a story that created a romance between her character and the character played by Jason Donovan culminated in a wedding episode in 1987 that attracted an audience of 20 million British viewers.
Her first single, "The Locomotion", spent seven weeks at number one on the Australian singles charts and became the country's highest-selling single in the 1980s.
When Kylie flew to the UK for her first meeting with hit makers Stock, Aitken and Waterman, they forgot she was coming so hadn't prepared anything. As a result, they wrote "I Should Be So Lucky" in 40 minutes while she was waiting in reception. She then recorded it in around the same time. In 1988 the song reached number one in the United Kingdom, Australia, Germany, Finland, Switzerland, Israel and Hong Kong.
Michael Hutchence wrote INXS hit "Suicide Blonde" about Kylie, who he was dating at the time. She had to dye her hair platinum blonde for The Delinquents and said to him, "I'm going suicide blonde today."
At the suggestion of Nick Cave, with whom she'd just duetted on "Where The Wild Roses Grow", Kylie recited the lyrics to "I Should Be So Lucky" as poetry for 1995's Poetry Jam at the Royal Albert Hall. She described it "a most cathartic moment."
Kylie has provided guest vocals for The Pet Shop Boys, Coldplay, Just Jack, Towa Tei (formerly of Deee-lite), Hurts, Taio Cruz and sister Dannii.
In September 2001, Minogue released "Can't Get You Out of My Head", the lead single from her eighth studio album, Fever. It reached number one in over forty countries and sold 5 million copies, becoming Minogue's most successful single.
There is a Bronze statue of Minogue at Waterfront City, in Melbourne Docklands.
"Spinning Around" was Minogue's fifth number one single in the United Kingdom. Minogue became one of only two artists to have a number one single in three consecutive decades, achieving this in the 1980s, 1990s, and 2000s
In the 2007 Doctor Who Christmas special, Kylie played a waitress on a spaceship modelled on the Titanic. Fans got very excited over the fact that her character's name, Astrid, was an anagram of "Tardis".
Her 1997 single "Some Kind Of Bliss" was co-written and produced by James Dean Bradfield and Sean Moore of the Manic Street Preachers. Its video was shot in the Spanish desert and co-starred British actor Dexter Fletcher.
Minogue was diagnosed with breast cancer at age 36 in May 2005, leading to the postponement of the remainder of her Showgirl: The Greatest Hits Tour and her withdrawal from the Glastonbury Festival. Due to Kylie's battle with breast cancer, doctors reported that the number of mammograms performed in Australia rose by 40% – a phenomenon they called "the Kylie effect".
In January 2007, Madame Tussauds in London unveiled its fourth waxwork of Minogue; only Queen Elizabeth II has had more models created.
Her single "Can't Get You Out Of My Head" was named the most-played track of the 2000s. The song eventually became the third best-selling UK single and the most-played song in the UK in 2001.
In March 2010, Minogue was declared by researchers as the "most powerful celebrity in Britain".
Kylie played "The Green Fairy" in Baz Luhrmann's film musical Moulin Rouge!
In 2008, she was honoured with Music Industry Trust's award for recognition of her 20-year career and was hailed as "an icon of pop and style", becoming the first female musician to receive a Music Industry Trust award.
In January 2011, Minogue received a Guinness World Records citation for having the most consecutive decades with top five albums in the UK, with all her albums doing so.
Minogue has sold 70 million records worldwide and has earned numerous awards and accolades, including a Grammy Award, three Brit Awards, 17 ARIA Music Awards, two MTV Europe Music Award and two MTV Video Music Award.
Important Dates In The Life Of Kylie Minogue:
12 Mar 2022
Stereophonics scored their eighth UK No.1 with their 25th anniversary album Oochya! The achievement made them one of the most successful chart acts of all time, tying with
Taylor Swift
,
Oasis
,
Kylie Minogue
and
R.E.M.
- who also have had eight chart toppers.
The Beatles
have the most, with 15, followed by
Elvis Presley
and Robbie Williams, both of whom have 13.
14 Nov 2020
Kylie Minogue was at No.1 with her fifteenth studio album Disco. The album was later nominated in categories at the 2021 Billboard Music Awards and 2021 ARIA Music Awards.
13 Nov 2020
Kylie Minogue
went to No.1 on the UK album chart with Disco, making her the only woman to top the chart in five consecutive decades.
14 Feb 2010
Everybody Hurts, recorded to help Haiti's earthquake victims went to No.1 on the UK singles chart. The REM cover featured Leona Lewis,
Kylie Minogue
, Robbie Williams and
Take That
sold over 453,000 copies in its first week.
3 Jul 2008
Kylie Minogue
received an OBE for services to music from the Prince of Wales at Buckingham Palace, England. Earlier this year, she was also presented with the Order of Arts and Letters by the French government for her "contribution to the enrichment of French culture".
20 Feb 2008
Winners at this year's Brit Awards in London, included
Take That
who won the trophies for best British live act and British single, The Arctic Monkeys won best British group and album - both for the second year in a row and
Foo Fighters
won best international group and album. Kate Nash won best British female and Mark Ronson was named best British male.
Kylie Minogue
won best international female and Mika was named best British breakthrough act. Sir
Paul McCartney
performed a medley of hits, including 'Live and Let Die',
'Hey Jude'
and 'Lady 'Madonna' after he was honoured with an outstanding contribution award. The show was presented by Sharon Osbourne.
29 Oct 2007
Kylie Minogue
was honoured with the Music Industry Trust prize for her 20-year career and status as an "icon of pop and style" at a London ceremony. The first time in the event's 16-year history that the award has gone to a woman, past winners included Sir
Elton John
and Peter Gabriel.
7 Mar 2007
Rhett Hutchence the brother of INXS singer
Michael Hutchence
defended his decision to sell some of the late star's belongings online saying he needed money to set up home with his new girlfriend. Items in the auction included lyrics, T-shirts and a fax his brother had sent to his then girlfriend
Kylie Minogue
.
6 Feb 2007
An exhibition of
Kylie Minogue
's stage costumes, awards and accessories was launched in central London. The display at the Victoria and Albert Museum showed her changing image from 1987 onwards, from the dungarees she wore as Charlene in the Australian soap Neighbours and the gold hot pants she wore in her 'Spinning Around' video.
2 Jan 2007
Kylie Minogue
played the first of two nights at Wembley Arena in London during her re-scheduled Showgirl world tour. The tour was postponed last year after Kylie was diagnosed with breast cancer, for which the singer had since received treatment.
30 Jul 2006
British gay magazine Attitude listed the 'Top 10 Gay Albums' of all time. No.1 was Scissor Sisters - Scissor Sisters, 2, Arrival -
ABBA
, 3, Vauxhall and I - Morrissey, 4, Light Years -
Kylie Minogue
, 5, Older -
George Michael
, 6, Welcome To The Pleasuredome - Frankie Goes To Hollywood, 7, Erotica -
Madonna
, 8, I Am a Bird Now - Antony and the Johnsons, 9, Bad Girls - Donna Summer and No. 10 The Man Who Sold The World -
David Bowie
.
20 May 2005
Kylie Minogue
had a cancerous lump removed from her breast at St Frances Xavier Cabrini Hospital in Melbourne, Australia. The singer had been due to begin the 20-date Australian leg of her current worldwide Showgirl tour in Sydney.
8 Feb 2005
Kylie Minogue
was voted the world's sexiest woman in her 30s by UK magazine Good Housekeeping. Sade was voted No.4 in the over 40s with
Madonna
coming in at No.7 and Jerry Hall at No.8. And Sharon Osbourne was voted into 3rd place in the over 50s section.
31 Dec 2004
Pete Waterman was awarded an OBE for his services to music. Once part of the Stock, Aitken & Waterman team he also booked the first ever tour for The Bay City Rollers, signed Musical Youth and Nik Kershaw during the 70's and was promotion consultant for John Travolta. Waterman had written and produced more than 200 hit singles in 25 years for acts from
Kylie Minogue
to Steps.
27 Sep 2003
Kylie Minogue
called in police to investigate a series of threatening letters. The singer became concerned after receiving 700 letters at her home and office. The letters started as ordinary fan mail but became increasingly aggressive.
29 Jul 2003
The chairman of the Professional Association of Teachers Jim O'Neill warned that children were being put under pressure to grow up too soon by pop stars who use a sexy image. "
Kylie Minogue
might be a great singer but in many of these things you can see more of her bottom than you hear of her voice," said Mr O'Neill.
2 Jun 2003
A painting of
Kylie Minogue
wearing gold hot pants caused tempers to fray among drivers in Brighton. Artist Simon Etheridge, put up the almost life-size picture in his own Art Asylum gallery, as part of a Festival and since then motorists had caused regular traffic hold-ups as they stopped to take a second look.
10 Apr 2003
American singer Little Eva died in Kinston, North Carolina, aged 59. She had the 1962 US No.1 & UK No.2 single 'The Loco-Motion'. Eva was working as a babysitter for songwriters
Carole King
and Gerry Goffin who asked her to record the song they'd just written. 'The Loco-Motion' was also a hit for Grand Funk Railroad in 1974 (US No.1) and for
Kylie Minogue
in 1988 (US No.3).
28 Sep 2002
Madonna
was voted the greatest female singer of all-time by 75,0000 music fans in a VH1 poll. But critics and music fans were unhappy with the position of
Kylie Minogue
who was voted into second place beating Diana Ross, (12th) and Annie Lennox, (14th). The highest placed UK act was
Kate Bush
who was voted No. 10.
23 May 2002
Winners at the 47th Ivor Novello awards included, Dido for Songwriter of the year, Best song went to
U2
, 'Walk On.'
Kylie Minogue
won The Dance Award and Most Performed Work and International Hit for 'Can't Get You Out Of My Head.' Hear'say won Bestselling UK single for 'Pure And Simple'. Mick Hucknall won Outstanding Song collection and
Kate Bush
was awarded Outstanding Contribution to British music.
30 Nov 2001
The first
Top Of The Pops
UK Awards were held in Manchester, with categories voted by viewers of the BBC show. Winners included: Best pop act: Westlife, Best R&B Act: Destiny's Child, Best Rock Act:
U2
, Best Dance Act: Fatboy Slim, Best Newcomer: Nelly Furtado, Best Single:
Kylie Minogue
, 'Can't Get You Out Of My Head', Best Album: Travis, 'The Invisible Band', Artist on top of the world: Jennifer Lopez, Hall of Fame Award went to
Paul McCartney
.
23 Sep 2001
Kylie Minogue
started a five-week run at No.1 on the UK singles chart with 'Can't Get You Out Of My Head.' The Australian singers 6th No.1 was written and produced by Cathy Dennis and former Mud guitarist Rob Davis, for which the pair won an Ivor Novello Award for the most performed song of the year. 'Can't Get You Out Of My Head' also charted at No.1 in 40 countries.
1 Jul 2000
Kylie Minogue
was at No.1 on the UK singles chart with 'Spinning Around', the singers fifth No.1 was co-written by Paula Abdul, (it was originally intended for Abdul's "comeback" album). 'Spinning Around' gave Minogue the honor of being one of three artists (the others being
Madonna
and
U2
) to have a No.1 in the 1980s, 1990s and 2000s.
2 Oct 1995
Nick Cave and the Bad Seeds and
Kylie Minogue
released the duet 'Where the Wild Roses Grow'. The song later won 1996 ARIA Awards: 'Single of the Year', 'Song of the Year' and 'Best Pop Release'.
19 Sep 1990
Kylie Minogue
's 'Better The Devil You Know' gave producers Stock, Aitken and Waterman their 100th UK chart entry.
5 May 1990
The
John Lennon
tribute concert was held at the Pier Head Arena in Merseyside, featuring Lenny Kravitz, Al Green, Joe Cocker, The Christians,
Kylie Minogue
,
Ringo Starr
, Jeff Lynne,
Tom Petty
, Deacon Blue, Lou Reed, Joe Walsh and Wet Wet Wet.
3 Feb 1990
For the first time ever, the UK Top 3 singles featured non-British and non-American acts. Ireland's
Sinead O'Connor
, Australia's
Kylie Minogue
and Belgium's Technotronic. Sinead O'Connor had her first No.1 single with Nothing Compares To U', a song written by
Prince
.
27 Jan 1990
Kylie Minogue
had her third UK No.1 single with 'Tears On My Pillow', the song was originally a US hit for Little Anthony and The Imperials in 1958.
13 May 1989
Kylie Minogue
was at No.1 on the UK singles chart with her second solo No.1 'Hand On Your Heart.' The song was written and produced by Stock, Aitken & Waterman.
2 Jan 1989
Record Mirror published a chart of last years Top UK singles artists. No.1 was
Kylie Minogue
, No.2, Bros, No.3, Yazz, No.4 Tiffany, No.5,
Phil Collins
, No.6, Cliff Richard, No.7, Erasure, No.8, Pet Shop Boys, No.9, Belinda Carlisle, and No.10, Wet Wet Wet.
5 Nov 1988
'The Locomotion', became the first song to reach the US Top 5 in three different versions, when
Kylie Minogue
's reached No.3 on the US chart. Written by American songwriters Gerry Goffin and
Carole King
, the song is notable for appearing in the American Top 5 three times – each time in a different decade: for Little Eva in 1962 and for Grand Funk Railroad in 1974.
28 Aug 1988
Kylie Minogue
set a new UK record when her debut album Kylie became the biggest selling album by a female artist in Britain with sales of almost two million.
20 Feb 1988
Kylie Minogue
was at No.1 on the UK singles chart with 'I Should Be So Lucky.' Minogue had become a household name playing Charlene Ramsey in Australian soap Neighbours. After every major UK record company turned down the track, producer Pete Waterman released the single on his own PWL label. Kylie has gone on to score over 30 hit singles.
28 Jul 1987
Kylie Minogue
released a cover version of the Gerry Goffin and
Carole King
penned song 'The Loco-Motion' in Australia, as her debut single. Minogue had first performed the song at an impromptu performance at an Australian rules football charity event with the cast of the Australian soap opera Neighbours. The song reached No.1 in Australia and the success in her home country resulted in her signing a record deal with PWL Records in London, England.