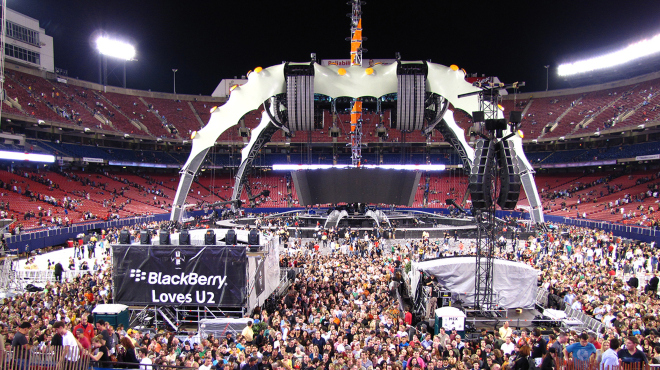 The worldwide concert industry generates about $8 billion each year in revenue with the top 25 single artist concerts alone grossing about $360 million. More people are going to concerts and ticket prices are also rising as a whole. For artists, touring is the way to make money. You get to travel and promote yourself as a brand and it is the best way to show yourself off to new fans that might not have heard of you otherwise.
Now more than ever, major concert tours translate to mega bucks for superstar artists who otherwise earn only fractions per digital song download or stream. To help ensure arena and stadium sellouts, today's stage sets and audio-visual razzle-dazzle must go bigger than ever, which means obscenely high productions costs that are passed on to ticket buyers.
Here are the Top 10 Grossing Tours… ever.
Ed Sheeran: ÷ Tour 2017-19.
255 shows. Total gross $775,046,937. Attendance 8,796,567.
The ÷ Tour (pronounced 'Divide Tour') in support of his third studio album kicked off on 16 March 2017, in Turin, Italy ending on 26 August 2019, in Ipswich, England. The one-man show set world records for the highest-grossing concert tour and the most tickets sold by a tour. It also became the most attended tour of all time with over 8.5 million having attended in 43 different countries. Several shows were postponed in April 2017 after Sheeran broke both arms and a rib after crashing his bicycle near his home in Suffolk.
U2: 360° Tour 2009–11
110 shows. Total gross $736,421,584. Attendance 7,272,046
Sponsored by BlackBerry and in support of the group's 2009 album No Line on the Horizon, the concerts featured U2 playing 'in the round' on a circular stage, allowing the audience to surround them on all sides. To accommodate the stage configuration, a large 170-ton, $40 million four-legged structure nicknamed 'The Claw' was built above the stage. The Claw was so enormous that it took two days to dismantle. It was reported that this tour cost $750,000 a day to run as three separate models of the biggest stage in rock history traveled around the world. The group of individuals involved in this tour clocked in at over 250, and that doesn't include all of the staffers working for the vendors involved on the tour. U2 to gave €9m of tour profits to charity.
Guns N' Roses: Not in This Lifetime… Tour 2016-19
159 shows. Total gross $563,300,000. Attendance 4,377,126
The tour's name is a reference to a 2012 interview in which Axl Rose, when asked about when a potential reunion would happen, responded "not in this lifetime." It brought together the classic Guns N' Roses line-up with Rose, Slash and Duff McKagan, marking the first time since the Use Your Illusion Tour in 1993 that the three performed together. The set was designed by Phil Ealy. They built a 71-foot (22 m) wide main stage including band risers, LED staircases made with P9 LED video tiles, LED fascia and amp stacks, and a self-climber piano lift used for Rose's performance of 'November Rain.'
Coldplay: A Head Full of Dreams Tour 2016–17.
114 shows. Total gross $523,033,675. Attendance 5,389,586
Launched to support their seventh studio album A Head Full of Dreams, the tour visited stadiums and arenas across five continents. A staple of the set list was a segment of the show known as the "Fan Dedication Song", where a song was requested by fans through social media service Instagram, for Coldplay to play on the night. A live album, Live in Buenos Aires, covering the tour, which was recorded during the last show in La Plata, as well as a concert film, Live in São Paulo, filmed around the world was later released.
Roger Waters: The Wall Live 2010–13.
Total shows 219 Total gross $458,673,798. Attendance 4,129,863
The tour was the first time the Pink Floyd album The Wall has been performed in its entirety by the band or any of its former members since Waters performed the album live in Berlin 21 July 1990. The touring version of Pink Floyd's The Wall was one of the most ambitious and complex rock shows ever staged. It is estimated that the tour cost £37 million ($60M) to stage. Waters, a pacifist, incorporated an increased emphasis on the show's anti-war message, and he requested fans to send him pictures of loved ones who have died as a result of wars.
AC/DC: Black Ice World Tour 2008–10.
167 shows. Total gross $441,121,000. Attendance 4,846,965
In support of their fifteenth studio album Black Ice this became the last tour with founding AC/DC member and rhythm guitarist Malcolm Young, who left the band in September 2014 due to ill health (Young died on 18 November 2017) and was also the last tour with long-time drummer Phil Rudd who was charged in November 2014 for hiring a hitman to murder someone and possession of drugs. This was also the last full tour to feature long-time lead vocalist Brian Johnson as he left the band halfway during the Rock or Bust World Tour due to hearing problems.
The Rolling Stones: No Filter Tour 2017–19
44 shows. Total gross $415.609.064. Attendance 2,290,871
The Rolling Stones first toured North America in 1964 playing 11 shows and opening the set with 'Not Fade Away'. Over 50 years later in late March 2019, it was announced that Mick Jagger would be receiving surgery to replace a valve in his heart, forcing The Rolling Stones to postpone the 17-date North American leg of the tour. The procedure took place on 5 April 2019 in New York, with Jagger making a full recovery and returning to touring in the summer this time opening the shows with 'Street Fighting Man'.
Metallica: World Wired Tour 2016–2019
139 shows.Total gross $414,450,000. Attendance 4,055,397
230 crew would construct the three giant metal scaffolding systems that made up the backdrop to the show, leapfrogging each other from city to city. As one stage was being played on, the next gig's stage was being built, and the previous show's was being trucked to the venue after that with seventy-five trucks carrying everything for the tour. Flamethrowers known to the crew as the "big guns" shot flames 65ft into the air from the very top of the scaffold towers. Stadiums didn't have enough power to feed the Metallica show, so they carried six generators with them – making enough power for 185 houses for a day.
Madonna: Sticky & Sweet Tour 2008–09
85 shows. Total gross $407,713,266. Attendance 3,545,899
Staged to promote Madonna's eleventh studio album, Hard Candy, The Sticky & Sweet Tour broke many records in terms of its ticket sales, commercial gross and audience attendance. During the second leg, two workers constructing her stage at Stade Vélodrome in Marseille were killed when the roof of the stage collapsed. The tour comprised of over 250 travelling workers, 69 guitars, 12 trampolines and 100 pairs of kneepads.
Pink: Beautiful Trauma World Tour 2018-19.
156 shows. Total gross $397,300.000/ Attendance 3,088,647
The Beautiful Trauma World Tour became the second highest-grossing tour of all time by a female solo artist. Pink who would start the show with 'Get the Party Started' trained as a competitive gymnast between the ages 4 and 12 and would entertain the crowds with various highflying stage antics during the tour. The Beautiful Trauma World Tour played in North America, Europe, New Zealand and Australia where the singer played nine sold out nights at the Rod Laver Arena in Melbourne.