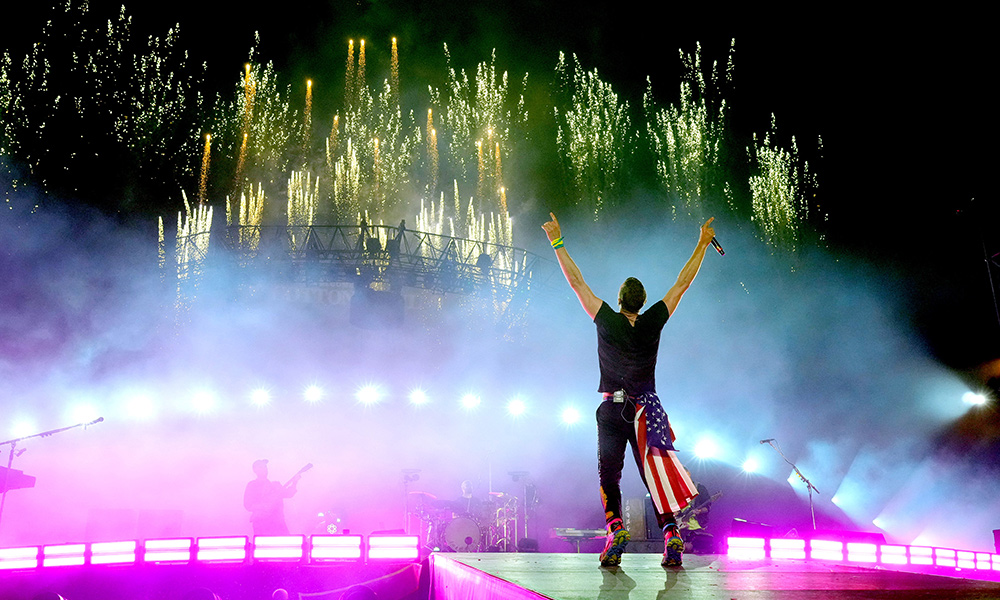 The rise and rise of Coldplay was rapid. Chris Martin later explained that he was impersonating Neil Young while entertaining guests when he came across the first chord of a song, which stuck with him for a bit then in a Neil Young voice he sang "look at the stars". Martin went on to further explain that the word "yellow" has absolutely no meaning whatsoever and while writing the rest of the song he tried his best to change yellow to something else since every lyric before yellow made no sense but in the end the word "yellow" just sounded right.
Coldplay appeared from nowhere and in no time at all, we were all singing; "Look at the stars, Look how they shine for you, And everything you do, Yeah, they were all yellow".
Coldplay's emergence was perfectly timed; in 2000, Oasis had sacked two of its founding members and embraced psychedelic experimentation on Standing on the Shoulder of Giants. Radiohead had just released their follow-up to OK Computer, the experimental Kid A to mixed reviews, (but big sales).
Coldplay formed in 1996 by Chris Martin and guitarist Jonny Buckland at University College London (UCL), under the name Pectoralz. Martin was born in Whitestone, Exeter, Devon, the eldest of five children. He found his passion for music at a young age. He boarded at Sherborne School in Dorset and where he met future Coldplay manager Phil Harvey. While at UCL (where he read Ancient World Studies and graduated with first-class honours degree in Greek and Latin), he met future Coldplay bandmates Jonny Buckland, Will Champion and Guy Berryman.
First know as Starfish the band became Coldplay after drummer Will Champion joined the ranks in July 1997. Multi-instrumentalist Champion learnt how to play drums in order to serve as the drummer for the band.
The band finally settled on the name "Coldplay" which was suggested by Tim Crompton, a local student who had been using the name for his own group.
During 1997, Martin had met then Classics student Tim Rice-Oxley and asked each other to play off their own songs on the piano. Martin, finding Rice-Oxley to be talented, asked him to be Coldplay's keyboard player but Rice-Oxley refused as his own band, Keane, was already active.
After recording and releasing three EPs: Safety in 1998, Brothers & Sisters as a single in 1999 and after signing to Parlophone, The Blue Room, their first release on a major label.
By September 1999, Coldplay were recording what would become their debut album, Parachutes, which was released in the UK in July 2000, (and November 2000 in North America). The album's cover features a photograph of a globe taken with a disposable Kodak camera.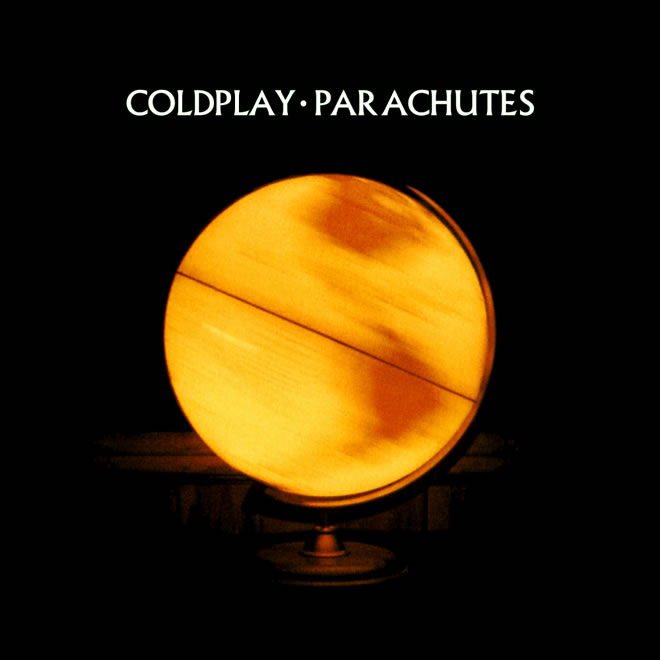 Leading up to the launch of Parachutes, Coldplay released two singles, "Shiver" which just scraped into the UK top 40, and they "Yellow", which after heavy radio play in the UK, crashed into the UK charts at No.4. Parachutes then proceeded to give Coldplay their first UK No.1 album.
In 2001, Coldplay were breaking into European markets and had their sights set on breaking the US. They succeeded; Parachutes won the Grammy Award for Best Alternative Music Album (although only reaching No.51 on the chart). The album has become the 12th best-selling album of the 21st century in the UK, (and won the Best British Album award at the 2001 Brit Awards). As of 2011, it has sold around 8.5 million copies worldwide.
The band's second studio album, A Rush of Blood to the Head, released in 2002 topped the charts in the UK and in many other countries, including Australia and Canada. The third studio album, X&Y, was released in 2005 and finally gave Coldplay commercial success in the US, peaking at No.1. Now they were unstoppable. Viva la Vida or Death and All His Friends topped the charts in over thirty-six countries and became the best-selling album of 2008.
Now a superstar, Chris Martin was easy game for the tabloids in the UK. Martin had met actress Gwyneth Paltrow at a Coldplay concert in 2002, and they soon became an item and later married. The couple that have two children announced their separation in March 2014.
Chris Martin has been particularly outspoken on various issues of fair trade and has campaigned for Oxfam's Make Trade Fair campaign. He travelled to Ghana and Haiti to meet farmers and view the effects of unfair trade practices. He was also a vocal critic of US President George W. Bush and the war in Iraq.
Bearing in mind his political voice, in April 2006, The Guardian newspaper reported that Martin was backing the British Conservative Party leader David Cameron and had written a new theme song for the party titled "Talk to David. This was later revealed to be an April Fool's joke.
In 2014, Chris Martin announced in an interview that Coldplay were in the middle of working on their seventh studio album which would be called A Head Full of Dreams. Martin stated it might be the band's final album.
The rise of Coldplay was fast; very swiftly they conquered the world. With the new album in 2015 Coldplay had released 7 albums over 15 years. Over 7 years, The Beatles released 13 studio albums, but times have changed.
Viva la Vida or Death and All His Friends (2008), Mylo Xyloto (2011), Ghost Stories (2014), A Head Full of Dreams (2015) and Everyday Life (2019) all reached No.1 around the world. Coldplay have achieved nine million-selling singles in the United Kingdom and sold 18.2 million albums and 33.6 million song downloads in the United States.
Important Dates In The Life Of Coldplay:
23 Oct 2019
The tracklist for
Coldplay's
forthcoming album was exclusively announced for the first time in a classified advert in the North Wales Daily Post. The ad appeared alongside items for sale including a fridge freezer and a bale of hay, and below a Welsh Government public notice. Coldplay has strong links to North Wales, with the band's guitarist Jonny Buckland having grown up in Pantymwyn, near Mold. The band had been drip-feeding details of their new double album Everyday Life with a series of hints.
1 Oct 2019
Accounts released revealed that
Ed Sheeran
Ltd, made a gross profit of £23,770,262, equating to £65,124 a day during 2018. The accounts also showed that he paid £4,506,139 in tax. Separate figures for total earnings before tax, costs and fees found the singer generated £89.8m last year, putting him below Coldplay at £94.2m and U2 at £96.3m, according to Forbes.
27 Mar 2019
Coldplay
frontman Chris Martin had a restraining order granted against a deranged stalker. The woman who has visited the outside of his home numerous times claimed they had a romantic relationship. Martin stated that he feared for the safety of his family.
15 Jul 2016
In what they famously describe as a 'conscious uncoupling,'
Chris Martin
of Coldplay and actress Gwyneth Paltrow officially divorce after more than ten years of marriage.
22 Feb 2016
Adele
won four prizes including best British female solo artist and best album at this years Brit Awards,
Coldplay
won Best British group, making them the most successful band in the ceremony's history. The show also featured an emotional tribute to
David Bowie
, led by Annie Lennox and his friend Gary Oldman.
4 Jun 2015
According to the BPI's Music Market 2015 report British acts accounted for 1 in 7 albums sold worldwide. With 13.7% of worldwide sales, it's the highest British share since the BPI began recording figures in 2000. Albums by One Direction,
Ed Sheeran
,
Coldplay
, Sam Smith and
Pink Floyd
all made the top ten list of the world's biggest-sellers of 2014.
3 Dec 2014
Singer-songwriter
Ed Sheeran
was named the most-streamed artist in the world by Spotify. The 23-year-old had racked up more than 860 million streams on the service, beating
Eminem
and
Coldplay
who came second and third respectively. Katy Perry was the year's most streamed female artist, with Ariana Grande second and Lana Del Rey third.
30 Jun 2014
Ed Sheeran
's second album X became the fastest-selling UK album of the year so far after selling 182,000 copies in its first week, 14,000 more than
Coldplay
managed with Ghost Stories which was released in May.
28 Jun 2013
Coldplay
's 2011 headline appearance on the Glastonbury Pyramid Stage was voted the top Glastonbury moment by BBC Radio listeners.
Radiohead
and Blur's 2009 Pyramid Stage appearances polled second and third respectively, with
Bruce Springsteen
's performance of Thunder Road in 2009 coming fourth.
2 Apr 2013
Coldplay
beat the likes of
Pink Floyd
and
The Beatles
to the top of a BBC Radio 2 poll to find listeners' favourite album of all time. A Rush Of Blood To The Head, came top of the list. Keane's Hopes And Fears took second place, with
Duran Duran
's Rio in third. Pink Floyd's
The Dark Side Of The Moon
came fourth, while The Beatles' 1967 classic
Sgt Pepper
's Lonely Hearts Club Band could only manage eighth place. The poll was held to tie in with the recent BBC season The Golden Age of the Album.
1 Feb 2013
Coldplay
's 'Clocks' topped a list by BBC Radio 6 Music's top 100 tracks of the past 10 years. More than 100,000 votes were cast in the poll which looked back over the 10 years since the station began in 2002. Arctic Monkeys' 'I Bet You Look Good On The Dancefloor' was voted into second place, and Elbow's 'One Day Like This' in third.
19 Dec 2012
Madonna
's MDNA World Tour made more money than any other during 2012. The tour grossed $228m (£141m), after more than 1.6 million fans paid to see her perform in 65 cities worldwide since last June. She beat
Bruce Springsteen
into first place on the highest-grossing tour list, who earned $198 million (£123 million). Also in the top 25 were
Coldplay
, who took fifth place, and Lady Gaga at number six, who attracted audiences reaching 1.1 million people in comparison.
12 Dec 2012
The
Rolling Stones
,
The Who
,
Michael Stipe
,
Chris Martin
,
Bruce Springsteen
and Roger Waters played at Madison Square Garden and raised over $30m (£18.6m) at a benefit gig in New York for those affected by superstorm Sandy which had caused the deaths of 120 people when it hit the Caribbean and US in October of this year. The surviving members of
Nirvana
, Dave Grohl and Krist Novoselic, also joined Sir
Paul McCartney
on stage to perform.
19 Oct 2011
Coldplay
released their fifth studio album 'Mylo Xyloto' which charted at No.1 in thirty-four countries. In the UK 'Mylo Xyloto' became
Coldplay
's fifth album to debut at No.1 and became the group's third to debut at No.1 on the US Billboard 200.
22 Sep 2011
Research conducted by car maker SEAT found that
Queen
's '
Bohemian Rhapsody
' was the song most likely to be found on British iPods, with more than 40% of owners having the hit on their players.
The Beatles
had four songs in the list, a feat also matched by
Coldplay
. Other favourites included
U2
, The Killers and
Rihanna
.
29 Mar 2011
A website that illegally sold Beatles songs online for 25 cents each agreed to pay record companies almost $1m (£625,000) to settle a legal case. BlueBeat.com, based in the US, streamed and sold music by
The Beatles
,
Coldplay
and others until it was sued in 2009. In the few days before it was forced to shut down, it had distributed more than 67,000 Beatles tracks.
27 Feb 2010
U2
raked in more money than any other music act in the US in 2009 making $109m (£71m) from touring, record sales and other royalties, almost twice as much as the second best,
Bruce Springsteen
who took home $58m (£38m), followed by
Madonna
with $47m (£31m) and
AC/DC
with $44m (£29m).
Coldplay
were the most successful British group, at number eight, with takings of $27m (£18m).
8 Jan 2010
Jimmy Page
launched a new set of stamps in the UK which featured classic album covers from the last 40 years including
Coldplay
, Power, Corruption And Lies, New Order,
David Bowie
and Parklife by Blur.
6 Apr 2009
PRS for Music announced that the money made by UK artists overseas increased by £20m ($29.45) in 2008, with British talent earning almost £140m ($206.23) in 2008. It said international tours by UK acts including
The Police
,
Coldplay
,
Elton John
and
Iron Maiden
had boosted income. Four of the top 10 bestselling albums globally were by British artists,
Coldplay
's Viva La Vida or Death and All His Friends was the bestselling album, with 6.8 million copies sold, while Welsh singer-songwriter Duffy was fourth with her debut album Rockferry, Leona Lewis and
Amy Winehouse
were sixth and seventh respectively.
9 Feb 2009
Led Zeppelin
singer Robert Plant took home five prizes for his collaboration with bluegrass singer Alison Krauss at this year's Grammy Awards held in Los Angeles. The duo won album of the year for Raising Sand and record of the year for 'Please Read The Letter.'
Coldplay
(who won song of the year for 'Viva La Vida')
Adele
, Duffy,
Radiohead
and Peter Gabriel were among other UK acts to be honoured.
1 Jan 2009
According to official UK sales figures Duffy's debut album Rockferry came top of the year-end chart, with 1.685 million copies sold.
Take That
had the second biggest seller with The Circus, Kings of Leon, Only By The Night was third, Spirit by Leona Lewis was fourth and
Coldplay
had the fifth biggest seller with Viva La Vida.
X Factor
winner Alexandra Burke had the UK's top-selling single after her version of Hallelujah sold 888,000 copies in the last two weeks of the year.
10 Nov 2008
Coldplay
were declared the biggest-selling act of 2008 at the World Music Awards held in Monaco. The band picked up the prize ' along with the Rock Act Of The Year award ' after their current album 'Viva La Vida Or Death And All His Friends' topped charts around the globe. Other winners at the awards included Leona Lewis for Best Pop Female ' and Best New Artist,
Amy Winehouse
was the winner in the Female Pop/Rock award, while Alicia Keys was named best in the R&B category. Lil' Wayne bagged the Hip-Hop/Rap Artist award, while Akon was declared the Biggest Internet Artist Of The Year.
22 Jun 2008
Coldplay
went to No.1 on the UK singles chart with 'Viva La Vida', their first UK No.1. History was made by this single, as it had no physical CD-single release in the UK, being available by internet download only. The song won a Grammy Award for Song of the Year in 2009.
4 Apr 2008
Beyonce Knowles married Jay-Z at his New York apartment.
Coldplay
frontman Chris Martin and wife Gwyneth Paltrow and Beyonces former bandmates in Destiny's Child, Kelly Rowland and Michelle Williams all attended the private ceremony.
10 Apr 2006
Actress Gwyneth Paltrow and
Coldplay
singer Chris Martin announced they had named their second child, a boy, Moses Martin. The couple also had a daughter named Apple.
15 Feb 2006
Winners at this year's Brit Awards included, James Blunt who won British male solo artist, British female solo artist went to KT Tunstall.
Coldplay
won Best British album for X&Y and Best British single for 'Speed of Sound.' Kaiser Chiefs won Best British group and Best British Live Act, British urban act went to Lemar, British breakthrough act was Arctic Monkeys, International breakthrough act was won by Jack Johnson, with
Madonna
winning International female solo artist.
Green Day
won International group and Best International album with American Idiot and Outstanding contribution to music went to Paul Weller.
31 Dec 2005
According to official figures singer-songwriter James Blunt's 'Back To Bedlam' was the biggest selling UK album of 2005. The former soldier, who was virtually unknown this time last year, outsold
Coldplay
's album 'X&Y' which finished second and Robbie Williams came in third place with 'Intensive Care' album. The rest of the Top 10: No.4. Kaiser Chiefs - 'Employment', 5. Gorillaz - 'Demon Days', 6. Westlife - 'Face To Face', 7. KT Tunstall - 'Eye To The Telescope', 8. Kelly Clarkson - 'Breakaway', 9. Faithless - 'Forever Faithless - The Greatest Hits' and No.10,
Eminem
- 'Curtain Call - The Hits'.
6 Nov 2005
The Official UK Charts announced that Robbie Williams had sold the most albums in the UK so far this century with sales of 6.3m.
Coldplay
were at number two, with sales of 6.2m albums and Dido was in third place 5.7m albums sold. The figures were based on albums sold in the UK from 1st January 2000 to 11th October 2005 excluding greatest hits, live albums and downloads.
3 Nov 2005
Winners at this years
MTV
Europe awards included
Coldplay
who won best UK act and best song for 'Speed Of Sound',
Green Day
won best rock act and best album, Alicia Keys was named best R&B act, System of a Down won best alternative act, The Black Eyed Peas won the best pop award and for the first time, the awards included a category for best African act, won by 2 Face.
Madonna
, in her first live TV performance since a riding accident, launched the show by emerging from a giant disco ball. Madonna also presented MTV's 'Free Your Mind' humanitarian award to Live 8 organiser
Bob Geldof
.
8 Sep 2005
A charity album featuring some of the biggest bands in the UK was thought to be the fastest ever produced.
Coldplay
,
Radiohead
, Kaiser Chiefs, Antony and the Johnsons, The Magic Numbers, The Coral, Bloc Party and Gorillaz were among those who recorded tracks for 'Help: A Day in the Life.' The whole 22-track album was made available for download from the War Child website the following day.
2 Jul 2005
The world's biggest music stars united in concerts around the world to put pressure on political leaders ahead of the G8 summit to tackle poverty in Africa. Concerts in 10 cities, including London, Philadelphia, Paris, Berlin, Johannesburg, Rome and Moscow played to hundreds of thousands of people. A TV audience of several hundred million watched the gigs. In London
Pink Floyd
,
The Who
,
Madonna
,
U2
,
Coldplay
, Sting, The Scissor Sisters, Keane, and
Paul McCartney
performed. Philadelphia saw, Destiny's Child, Jay-Z and
Bon Jovi
, Canada,
Bryan Adams
and
Neil Young
headlined, Bjork headlined in Tokyo and
Green Day
played in Berlin.
15 Jun 2005
Coldplay
went straight to No.1 on US album chart with their third album 'X&Y', having already entered at number one in the UK. The last time a British artist had a simultaneous US and UK number one was in November 2000 with '1', a compilation of hits by
The Beatles
. The last studio album to reach number one on both sides of the Atlantic was
Radiohead
's 'Kid A' in October 2000. 'X&Y' went on to top over 30 global charts.
30 May 2005
Coldplay
's new album was illegally put on the internet a week before its UK and US release. The leak took place on the day copies were sent to UK radio stations and the day before it went on sale in Japan. Security measures around the release included hosting album playbacks at Abbey Road studios for journalists instead of sending them copies of the album, any CDs that were sent out were labelled with a false name - The Fir Trees - to throw would-be pirates off the scent.
5 Dec 2004
Band Aid 20 started a four week at No.1 on the UK singles chart with a new version of Do They Know It's Christmas? The third time the song had reached No.1. The new version featured, Joss Stone, Busted,
Chris Martin
,
Bono
, Justin Hawkins, Dizzee Rascal, Tom Chaplin, Ms Dynamite, Beverly Knight, Will Young, Jamelia, Fran Healy, Sugababes, Dido and Robbie Williams.
11 Nov 2004
Coldplay
fan Sarah Sainsbury wrote to the band asking for their autographs so she could sell them to raise funds at her school charity.
Coldplay
sent her a triple platinum disc worth over £4,000.
2 Apr 2004
Coldplay
singer Chris Martin was accused of attacking a photographer after leaving a London restaurant with his wife Gwyneth Paltrow. A
Coldplay
spokesman said photographer Alessandro Copetti had been running after Paltrow's taxi and tripped. Mr Copetti said he had been taking pictures of the singer and his wife outside a restaurant when Martin kicked him from behind.
6 Nov 2003
Winners at this years
MTV
awards included Christina Aguilera for Best female,
Coldplay
won Best group, Justin Timberlake won Best album for 'Justified', The Panjabi MC won best dance act. Best R&B act went to Beyonce.
Eminem
won the best hip-hop act award for the fifth year running. Reggae artist Sean Paul took the best new act award and best video was won by Sigur Ros. An estimated one billion people in 28 countries watched the show, which was held in Edinburgh, Scotland for the first time.
8 Oct 2003
Coldplay
singer Chris Martin asked Australian police to drop a charge of malicious damage after allegedly attacking a photographer's car. Martin was charged in July after breaking a windscreen with a rock after being photographed surfing. Martin did not appear in court at Byron Bay, New South Wales, when his lawyer, Megan Cusack, asked for the charge to be dropped.
21 Jul 2003
Coldplay
singer Chris Martin was charged with malicious damage in Australia after he allegedly attacked a photographer's car after he had taken pictures of him surfing at Seven Mile Beach. Martin admitted he had lost his temper due to the constant harassment by that journalist, and consequently smashed his windscreen and let the air out of his tyres.
24 Apr 2003
The first official UK download chart was compiled after the big five record companies - EMI, Warners, Sony, BMG and Universal combined for a Digital Download day. Over 150,000 computer users had downloaded 1.1m tracks. The Net Parade Top 3: No.3, Tatu, 'All The Things She Said', No, 2,
Coldplay
'Clocks' and No.1 Christina Aguilera, 'Beautiful.'
23 Feb 2003
Norah Jones cleaned up at the 45th Grammy Awards, held at Madison Square Garden, New York. The singer, songwriter won, Album of the year and Record of the year, with 'Don't Know Why.' Song of the year, Best new artist and Best female pop vocal for 'Don't Know Why'. Other winners included Best male pop vocal, John Mayer, 'Our Body Is A Wonderland'. Best male rock vocal,
Bruce Springsteen
, 'The Rising', Best female rock vocal, Sheryl Crow, 'Steve Mc
Queen
', Best rock performance by group,
Coldplay
'In My Place', Best rap album,
Eminem
, 'The
Eminem
Show'.
20 Feb 2003
Winners at this years Brit Awards included Robbie Williams for British male solo artist, Ms Dynamite won British female artist, Best British album went to
Coldplay
for A Rush Of Blood, Best British group went to
Coldplay
,
Red Hot Chili Peppers
won International Group, Blue won Best Pop Act and Liberty X won Best single for 'Just A Little.'
1 Sep 2002
Coldplay
scored their second UK No.1 album with A Rush Of Blood To The Head. The album won the band the 2003 Grammy for Best Alternative Album for the second time in a row, successive to their previous win in the same category, and the 2004 Grammy for Record of the Year for the song 'Clocks'.
26 Feb 2001
Winners at the Brit Awards included
Coldplay
, Best British group and Best British album for 'Parachutes', Robbie Williams, Best British Male artist and Best single for 'Rock DJ', Sonique, Best British Female artist, Best Dance act went to Fat Boy Slim, A1 won Best British Newcomer, Westlife won Best Pop act,
Eminem
won Best International Male solo artist and
U2
won Outstanding contribution to music.
31 Oct 2000
Winners at this years Q Awards included, David Gray, best single for 'Babylon',
Oasis
won best live act,
Coldplay
won best album for Parachutes, best act in the world went to Travis, Badly Drawn Boy won best new act and former Clash member
Joe Strummer
won the Q Inspiration award.
16 Jul 2000
Coldplay
went to No.1 on the UK album chart with their debut release Parachutes. The release spawned the hit singles 'Shiver', 'Yellow', 'Trouble', and 'Don't Panic' and won the Grammy Award for Best Alternative Music Album in 2002.
25 May 1998
Coldplay
released their first ever record, an EP called Safety, which featured 3 tracks; 'Bigger Stronger', 'No More Keeping My Feet on the Ground', and 'Such a Rush'. The EP was intended as a demo for record companies and is now such a rarity that it is known to fetch in excess of £2000 on eBay.