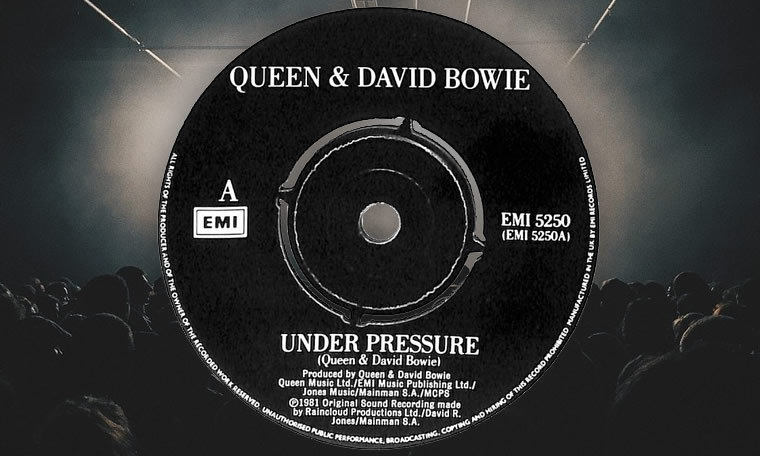 "Under Pressure" was recorded in September 1981, at Mountain Studios, near where David Bowie was living at the time. He ended up jamming with Queen and one of the pieces they improvised around what was an unfinished Queen tune, with the working title "Feel Like". David Bowie had very definite ideas on how he wanted the finished song to sound and insisted on being involved in the mixing process, which was completed a couple of weeks later at the Power Station studio, New York, USA, with Bowie, Roger Taylor and Freddie Mercury. Brian May and John Deacon had made their contributions to the initial mix at Mountain Studios and elected to stay away; perhaps there were enough egos involved already.
In interviews at the time, Bowie stated that he wasn't entirely happy with the finished version of "Under Pressure", feeling that it stood up well as a demo, but still required further work, particularly lyrically. However, in later years he appeared to warm to the song. He has included "Under Pressure" in his live set on a number of occasions, including his 50th birthday celebration concert in 1997, where he clearly enjoyed performing it.
With Freddie's part sung by the remarkable American bassist and vocalist, Gail Ann Dorsey, the performance is an absolute treat and well worth seeking out the CD or DVD for. Gail Ann is a big Queen fan and stated on a BowieNet live chat session in 1998, "Early on, on the Outside tour, David asked would I consider singing Under Pressure like the Annie Lennox duet he performed at Freddie Mercury's Memorial Concert. Queen is my favourite band of all time and I remember being so overwhelmed by David's suggestion that I cried. To sing a part originally sung by Freddie Mercury so far has been the greatest honour of my life."
"Under Pressure" was released as a single shortly after its completion, on 26th October 1981, over six months ahead of the album it would end up on. With no other completed new material available, the B-side was the non-album track "Soul Brother", written by Freddie Mercury and recorded during the sessions for The Game. Despite David Bowie's reservations, "Under Pressure" was a hit single, reaching No.29 in the US Billboard Hot 100 and spending two weeks at No.1, during an eleven week run in the UK singles chart. (becoming the group's second No.1 hit in their home country after 1975's "Bohemian Rhapsody").
Despite the presence of two great rock show-men sharing the lead vocals on this collaboration of stellar proportions, it is the 'quiet one' who stole the show utterly, with a bass riff comprising only seven notes, six of them identical. As Roger recalled in the documentary 'Queen – Days of our Lives', having devised the riff shortly before the band stopped for a meal break, John returned to the studio later with no recollection of what he'd done earlier. Fortunately, Roger remembered it and all was saved.
Controversy arose when Vanilla Ice sampled the bassline for his 1990 single "Ice Ice Baby". Initially, he denied the accusation, and then said he had modified it,(and did not originally pay songwriting credit or royalties to Queen and Bowie). A lawsuit resulted in Bowie and all the members of Queen being given songwriting credit for the sample. Vanilla Ice later claimed to have purchased the publishing rights to "Under Pressure", saying buying the song made more financial sense than paying out royalties.
The September 2005 edition of online music magazine Stylus singled out the bassline in "Under Pressure" as the best in popular music history and in more recent times "Under Pressure"has been used in TV commercial's for Google Plus which features The Muppets and featured in the first trailer of the 2015 film, Minions.
Thanks to Phil Chapman
We have a book! This Day In Music's Guide To Queen. This book tells the full story of the band and its members from pre-Queen to post-Freddie, all the studio and live albums, the 50 Greatest Queen songs, videos, Queen locations, and more…