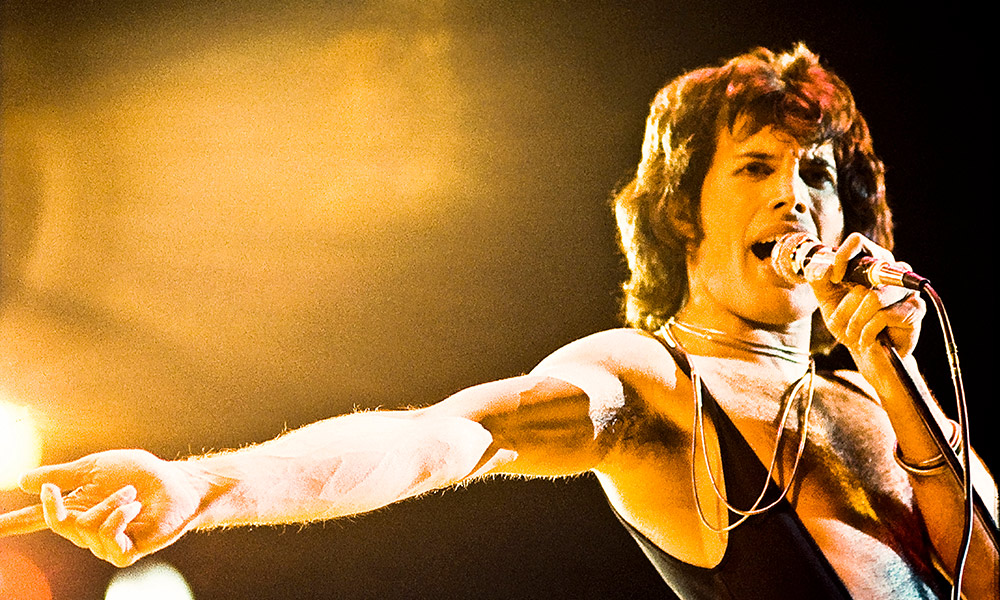 Farrokh Bulsara was born on 5th Sept 1946, on the small spice island of Zanzibar. His parents, Bomi and Jer Bulsara, were both Parsee (Persian). His father, Bomi, was a civil servant, working as a High Court cashier for the British Government. In 1954, at the age of eight, Freddie was shipped to St Peter's English boarding school in Panchgani, about fifty miles outside Bombay. It was there his friends began to call him Freddie, a name the family also adopted.
He was music mad and played records on the family's old record player, stacking the singles to play constantly. The music he was able to get was mostly Indian, but some Western music was available. The principal headmaster of St Peter's had noticed Freddie's musical talent, and wrote to his parents suggesting that they might wish to pay a little extra on Freddie's school fees to enable him to study music properly. They agreed, and Freddie began to learn to play the piano.
In 1964, many of the British and Indians, due to political unrest in Zanzibar, left their country, Freddie who was seventeen, moved with his family to Feltham, Middlesex, with Freddie eventually enrolling Ealing College where he gained a diploma in graphic art and design.
After Jimi Hendrix exploded onto the scene in 1967, Freddie became an ardent fan. He later through a friend was taken along to rehearsals of a band called Smile, with Brian May on the guitar and Roger Taylor on drums. Freddie hit if off with the pair and inspired by Smile, began to experiment with music for the first time since leaving India.
He made his live debut with a group called Ibex in the showbiz capital of nowhere – Bolton, Lancashire in August 1969. Freddie still loved Jimi Hendrix, (he once saw Hendrix perform live 14 night in a row), and was a huge fan of Cream and a new group called Led Zeppelin. The singer was restless, he quit Ibex (who were now called Wreckage) and joined a band called Sour Milk Tea who were working – but Freddie wasn't happy.
Then in a twist of fate, he heard that his old mates from Smile were looking for new singer, and he did of course get the gig. Bassist John Deacon was recruited, Freddie changed their name to Queen, and using his art and design skills, designed the band's logo – using their birth signs: two fairies for him (Virgo), two lions for Roger and John (Leo) and a crab for Brian (Cancer) and wrote what would become the group's first hit "Seven Sea Of Rhye". If only all bands histories were this easy!
Queen became the biggest group in the UK, and with the help of Freddie's songwriting, they soon had a string of hits. The flamboyant Mercury sung with an incisive sense of rhythm, he was able to glide effortlessly from one register to another. He also had a great musicality. His phrasing was subtle, delicate or energetic and slamming. The most notable aspect of his songwriting involved the wide range of genres that he used, which included, among other styles, rockabilly, progressive rock, heavy metal, gospel and disco. And like all the greatest groups, Queen was team, with four gifted songsmiths in their ranks.
Mercury first started developing "Bohemian Rhapsody" in the late 1960s, he would play parts of songs he was writing at the piano, and one of his pieces, known simply as "The Cowboy Song", contained lyrics that ended up in the completed version produced years later. Featured on their 1975 album A Night at the Opera the track became a huge commercial success, staying at the top of the UK Singles Chart for nine weeks and selling more than a million copies by the end of January 1976. It reached number one again in 1991 for another five weeks when the same version was re-released following Mercury's death, eventually becoming the UK's third-best-selling single of all time.
July 13, 1985 was a special day for Queen and Freddie. It was the day of their memorable performance at Live Aid, a tremendous show at Wembley Stadium in front of 72,000 people. Queen secured their place in history, as every media person, journalist, fan and critic unanimously agreed: Queen stole the show. In reviewing Live Aid in 2005, one critic wrote, "Those who compile lists of Great Rock Frontmen and award the top spots to Mick Jagger, Robert Plant, etc all are guilty of a terrible oversight. Freddie, as evidenced by his Dionysian Live Aid performance, was easily the most godlike of them all."
In 2005, a poll organised by Blender and MTV2 saw Mercury voted the greatest male singer of all time.
Freddie was a very shy and retiring man in person, he also granted very few interviews leaving the talking to fellow band mates May and Taylor. Mercury once said of himself: "When I'm performing I'm an extrovert, yet inside I'm a completely different man." While on stage, Mercury basked in the love from the audience, which was famously noted by Kurt Cobain, in his suicide note, when he wrote of how he both admired and envied Mercury for being able to do so.
Mercury died of bronchopneumonia on November 24th, 1991 aged 45, just one day after he publicly announced he was HIV positive.
We have a book! This Day In Music's Guide To Queen. This book tells the full story of the band and its members from pre-Queen to post-Freddie, all the studio and live albums, the 50 Greatest Queen songs, videos, Queen locations, and more…