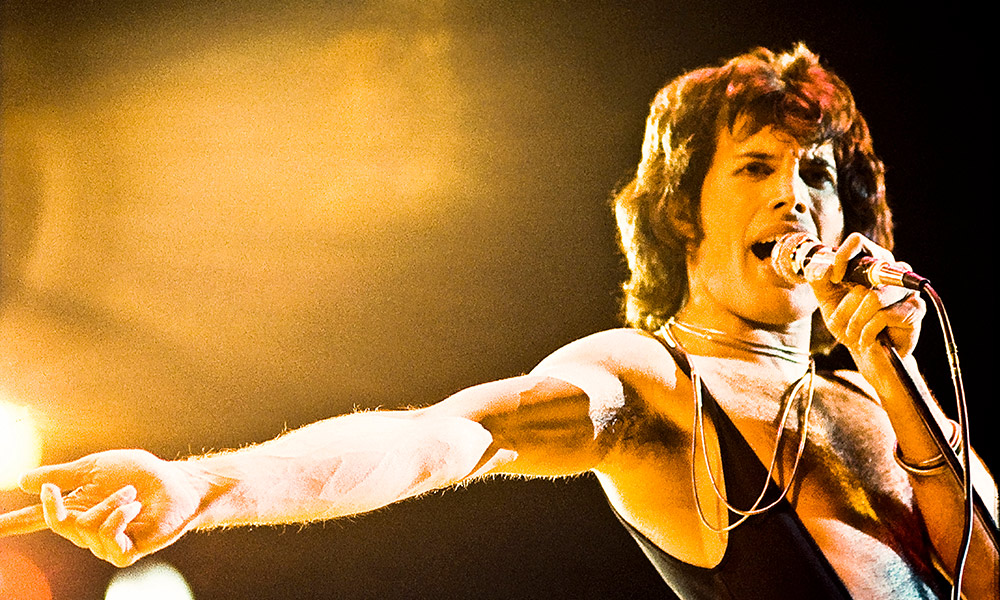 Farrokh Bulsara was born on 5th Sept 1946, on the small spice island of Zanzibar. His parents, Bomi and Jer Bulsara, were both Parsee (Persian). His father, Bomi, was a civil servant, working as a High Court cashier for the British Government. In 1954, at the age of eight, Freddie was shipped to St Peter's English boarding school in Panchgani, about fifty miles outside Bombay. It was there his friends began to call him Freddie, a name the family also adopted.
He was music mad and played records on the family's old record player, stacking the singles to play constantly. The music he was able to get was mostly Indian, but some Western music was available. The principal headmaster of St Peter's had noticed Freddie's musical talent, and wrote to his parents suggesting that they might wish to pay a little extra on Freddie's school fees to enable him to study music properly. They agreed, and Freddie began to learn to play the piano.
In 1964, many of the British and Indians, due to political unrest in Zanzibar, left their country, Freddie who was seventeen, moved with his family to Feltham, Middlesex, with Freddie eventually enrolling Ealing College where he gained a diploma in graphic art and design.
After Jimi Hendrix exploded onto the scene in 1967, Freddie became an ardent fan. He later through a friend was taken along to rehearsals of a band called Smile, with Brian May on the guitar and Roger Taylor on drums. Freddie hit if off with the pair and inspired by Smile, began to experiment with music for the first time since leaving India.
He made his live debut with a group called Ibex in the showbiz capital of nowhere – Bolton, Lancashire in August 1969. Freddie still loved Jimi Hendrix, (he once saw Hendrix perform live 14 night in a row), and was a huge fan of Cream and a new group called Led Zeppelin. The singer was restless, he quit Ibex (who were now called Wreckage) and joined a band called Sour Milk Tea who were working – but Freddie wasn't happy.
Then in a twist of fate, he heard that his old mates from Smile were looking for new singer, and he did of course get the gig. Bassist John Deacon was recruited, Freddie changed their name to Queen, and using his art and design skills, designed the band's logo – using their birth signs: two fairies for him (Virgo), two lions for Roger and John (Leo) and a crab for Brian (Cancer) and wrote what would become the group's first hit "Seven Sea Of Rhye". If only all bands histories were this easy!
Queen became the biggest group in the UK, and with the help of Freddie's songwriting, they soon had a string of hits. The flamboyant Mercury sung with an incisive sense of rhythm, he was able to glide effortlessly from one register to another. He also had a great musicality. His phrasing was subtle, delicate or energetic and slamming. The most notable aspect of his songwriting involved the wide range of genres that he used, which included, among other styles, rockabilly, progressive rock, heavy metal, gospel and disco. And like all the greatest groups, Queen was team, with four gifted songsmiths in their ranks.
Mercury first started developing "Bohemian Rhapsody" in the late 1960s, he would play parts of songs he was writing at the piano, and one of his pieces, known simply as "The Cowboy Song", contained lyrics that ended up in the completed version produced years later. Featured on their 1975 album A Night at the Opera the track became a huge commercial success, staying at the top of the UK Singles Chart for nine weeks and selling more than a million copies by the end of January 1976. It reached number one again in 1991 for another five weeks when the same version was re-released following Mercury's death, eventually becoming the UK's third-best-selling single of all time.
July 13, 1985 was a special day for Queen and Freddie. It was the day of their memorable performance at Live Aid, a tremendous show at Wembley Stadium in front of 72,000 people. Queen secured their place in history, as every media person, journalist, fan and critic unanimously agreed: Queen stole the show. In reviewing Live Aid in 2005, one critic wrote, "Those who compile lists of Great Rock Frontmen and award the top spots to Mick Jagger, Robert Plant, etc all are guilty of a terrible oversight. Freddie, as evidenced by his Dionysian Live Aid performance, was easily the most godlike of them all."
In 2005, a poll organised by Blender and MTV2 saw Mercury voted the greatest male singer of all time.
Freddie was a very shy and retiring man in person, he also granted very few interviews leaving the talking to fellow band mates May and Taylor. Mercury once said of himself: "When I'm performing I'm an extrovert, yet inside I'm a completely different man." While on stage, Mercury basked in the love from the audience, which was famously noted by Kurt Cobain, in his suicide note, when he wrote of how he both admired and envied Mercury for being able to do so.
Mercury died of bronchopneumonia on November 24th, 1991 aged 45, just one day after he publicly announced he was HIV positive.
We have a book! This Day In Music's Guide To Queen. This book tells the full story of the band and its members from pre-Queen to post-Freddie, all the studio and live albums, the 50 Greatest Queen songs, videos, Queen locations, and more…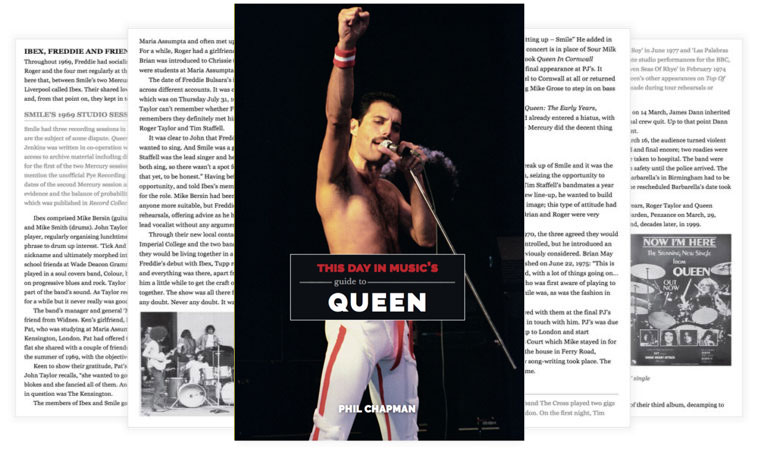 Important Dates In The Life Of Freddie Mercury:
5 Sep 2016
An asteroid was named after
Freddie Mercury
to mark what would have been the singer's 70th birthday. The
Queen
frontman has had his name attached to Asteroid 17473, which was discovered in 1991 - the year he died.
Queen
guitarist Brian May told a gathering of 1,250 fans at Montreux Casino in Switzerland that the asteroid would now be known as Asteroid 17473 Freddiemercury.
1 Sep 2016
A Blue Plaque marking the first home
Freddie Mercury
lived in when he arrived in England was unveiled. The
Queen
frontman moved to the semi-detached home in Feltham, west London, after his family left Zanzibar in 1964 when Mercury was 17.
2 Dec 2013
Roger Taylor and Brian May opened the
Queen
Studio Experience - Montreux, an exhibition of
Queen
memorabilia at Mountain Studios in Switzerland, where they had recorded many classic tracks spanning seven albums and where
Freddie Mercury
recorded his last vocal. The exhibition would open to the public a day later.
12 Jan 2013
The 1974 Rolls-Royce Silver Shadow used by
Freddie Mercury
until his death in November 1991, sold at auction for £74,000 to a Russian businessman. The 62,000-mile classic Rolls-Royce which had a guide price of just £9,000-£11,000 featured grey leather, wood trim, electric windows, automatic gearbox, a car phone and radio cassette player and a 6.75-litre V8 engine. It was sold as part of the Coys auction at Autosport International.
1 Nov 2012
Metal Hammer magazine published a list of the "Top ten rock and heavy metal moustaches…Ever". The list which included moustaches worn by the likes of
Frank Zappa
, all the members of
Black Sabbath
, (except
Ozzy Osbourne
). James Hetfield, and Lemmy placed
Freddie Mercury
at the top of the list.
4 Jul 2012
Bonhams of London announced that
Freddie Mercury
's black and white harlequin stage costume had sold for £22,500 at their Entertainment Memorabilia sale. The harlequin costume was one of Freddie's most recognisable stage designs, which he wore at a number of high-profile concerts in the 1970s. Also a pair of Freddie's ballet pumps exceeded the pre-sale estimate of £1,500 - 2,000, selling for £4,000 to an overseas internet bidder. Freddie had worn the white leather ballet shoes during
Queen
's legendary Hyde Park performance in 1976.
5 Mar 2012
Sony admitted that a number of
Michael Jackson
tracks had been stolen after its website was hacked. The singer, who died in June 2009 at the age of 50, had recorded unreleased duets with artists ranging from the late
Freddie Mercury
and Black Eyed Peas singer will.i.am.
5 Jun 2010
Led Zeppelin
were officially voted the nation's favourite band by the BBC's 'I'm In A Rock 'N` Roll Band', coming ahead of both
The Beatles
and
Queen
in a phone-in vote. The show also featured Best Singer, Guitarist, and Drummer live phone-in votes which saw
Jimmy Page
, Robert Plant and
John Bonham
all nominated in their categories.
John Bonham
was crowned top drummer ahead of Dave Grohl and
Keith Moon
, whilst Jimmy and Robert were runners up to
Jimi Hendrix
and
Freddie Mercury
respectively.
25 Nov 2009
Brian May joined
Freddie Mercury
's 87-year-old mother Jer Bulsara in Feltham town centre, at a ceremony to unveil a plaque to the late singers memory. They were joined by over 2,000 fans from as far as Japan and Australia who descended on the Centre, in Feltham High Street in England. The plague reads: "
Freddie Mercury
- musician, singer and songwriter" along with the dates he lived in Feltham, between 1964 and 1968.
4 Jan 2009
17 Oct 2005
Freddie Mercury
's 1974 Rolls Royce Silver Shadow failed to sell in an eBay auction, having not met its reserve price. It had been listed by his sister, Kashmira Cooke, who had inherited the car from him. The auction had attracted nearly 200 bids and exceeded £60,000 (approximately $93,000). The luxury vehicle had not appeared in public since 2002, when it had been used to transport the Bulsara family to the premiere of the
Queen
stage musical We Will Rock You. It came with a box of Kleenex Mansize tissues left in the car by Freddie.
11 Oct 2005
Freddie Mercury
's 1974 Rolls Royce Silver Shadow was offered for auction on eBay by his sister, Kashmira Cooke, who had inherited the car from him. The luxury vehicle had not appeared in public since 2002, when it had been used to transport the Bulsara family to the premiere of the
Queen
stage musical We Will Rock You. It came with a box of Kleenex Mansize tissues left in the car by Freddie.
10 Jul 2005
The four members of
Led Zeppelin
were voted the UK's ideal supergroup after 3,500 music fans were asked to create their fantasy band for Planet Rock Radio.
Jimmy Page
won best guitarist, followed by Guns N' Roses' Slash and
Deep Purple
's Ritchie Blackmore. John Paul Jones was named top bassist, with
John Bonham
, who died in 1980, winning best drummer and Robert Plant beat the late
Freddie Mercury
to best singer.
24 Oct 2004
Queen
became the first rock act to receive an official seal of approval in Iran. Western music was still strictly censored in the Islamic republic, where homosexuality is considered a crime, but an album of
Queen
's greatest hits was released this week in Iran.
Freddie Mercury
, was proud of his Iranian ancestry, and illegal bootleg albums and singles had made
Queen
one of the most popular bands in Iran.
2 Oct 2003
A pair of trousers worn in 1984 by the late
Queen
star
Freddie Mercury
were sold to the Hard Rock Cafe for £4,230 at a Christie's auction of pop memorabilia held in London, England. A wooden sculpture of a cupboard, designed by
John Lennon
, claimed the highest price of the day, £28,200. Hundreds of items related to
The Beatles
, The
Rolling Stones
, and
Jimi Hendrix
also went under the hammer at the sale.
24 Jul 2002
A garden centre was sued over claims it killed a collection of the late singer
Freddie Mercury
's prized koi fish. Mercury's former partner, Mary Austin who inherited the Japanese koi collection claimed 84 fish died when the electricity powering a temporary pond was accidentally turned off by a worker from Clifton Nurseries, of Maida Vale, West London. At the time of Mercury's death he had amassed one of the best collections of the fish in the UK. One koi can be worth £250,000.
24 May 1999
Queen
singer
Freddie Mercury
, who died in 1991, was honoured on a new set of millennium stamps issued by the Royal Mail. Mercury, who featured on the 19p stamp, was a keen stamp collector, and his collection was bought by the Post Office in 1993. The stamp marked his contribution to the
Live Aid
charity concert in 1985, and caused controversy by featuring a small portion of
Queen
's drummer, Roger Taylor, in the background - UK stamps by tradition only carry pictures of living persons who are members of the Royal Family.
25 Nov 1996
A statue in Montreux, Switzerland by sculptor Irena Sedlecka was erected as a tribute to
Freddie Mercury
. Standing almost 10 feet (3 metres) high overlooking Lake Geneva it was unveiled by Freddie's father and Montserrat Caballé, with bandmates Brian May and Roger Taylor also in attendance.
14 Aug 1993
Freddie Mercury
had his first solo UK No.1 single with 'Living On My Own'. The song had been a minor hit in 1985 when released from his solo album Mr. Bad Guy, this remixed version was reissued.
1 May 1993
George Michael
,
Queen
and Lisa Stansfield went to No.1 on the UK singles chart with 'The Five Live EP' which was recorded at the
Freddie Mercury
tribute concert held in April 1992, at Wembley Stadium, London.
29 May 1992
Concerned that some pupils were overly identifying with
Freddie Mercury
, the sacred heart School in Clifton New Jersey decided not to sing the
Queen
song 'We Are The Champions', at their Graduation Ceremony.
23 May 1992
A statement issued by
Freddie Mercury
's attorneys stated that Mercury had bequeathed the majority of his estate (£10 million - $17 million) to his long-time friend Mary Austin.
20 Apr 1992
'A Concert For Life' took place at Wembley Stadium as a tribute to
Queen
singer
Freddie Mercury
and for aids awareness. Acts appearing included;
Elton John
, Roger Daltrey, Tony Iommi (
Black Sabbath
),
David Bowie
,
Mick Ronson
, James Hetfield,
George Michael
, Seal, Paul Young, Annie Lennox, Lisa Stansfield, Robert Plant, Joe Elliott and Phil Collen, Axl Rose and Slash.
21 Dec 1991
'
Bohemian Rhapsody
- 'These Are The Days Of Our Lives' by
Queen
started a five week run at No.1 in the UK, the 1975 word-wide hit had been re-released following the death of
Freddie Mercury
.
27 Nov 1991
Freddie Mercury
's funeral service was conducted by a Zoroastrian priest, for 35 of his close friends and family, with
Elton John
and the remaining members of
Queen
among those in attendance. Mercury was cremated at Kensal Green Cemetery, West London, England.
24 Nov 1991
Queen frontman
Freddie Mercury
(born Farrokh Bulsara) died at the age of 45, following complications from the AIDS virus. His death came just one day after he announced his diagnosis to the press. Mercury co-founded Queen in 1970, and remained the band's frontman throughout his life. Beloved for his flamboyant stage presence and his impressive vocal range, Mercury wrote many of the band's best-loved hits, including the operatic "Bohemian Rhapsody," "Somebody to Love," and the enduring anthem, "We Are the Champions." Outside of Queen, Mercury pursued a variety of projects, including his solo album, Mr. Bad Guy – a Top Ten hit in the UK.
18 Feb 1990
Freddie Mercury
made his final public appearance on stage when he joined the rest of
Queen
to collect the Brit Award for Outstanding Contribution to Music, held at the Dominion Theatre, London, England.
1 Dec 1976
The
Sex Pistols
appeared on ITV's live early evening 'Today' show (in place of
Queen
who had pulled out following a trip to the dentists by
Freddie Mercury
). Taunted by interviewer Bill Grundy who asked the band to say something outrageous, guitarist Steve Jones says: 'You dirty bastard...you dirty fucker...what a fucking rotter!' Grundy died of a heart attack aged 69 on 9th Feb 1993.
24 Aug 1975
Queen
started recording '
Bohemian Rhapsody
' at Rockfield studio's in Monmouth, Wales, (the song was recorded over three weeks).
Freddie Mercury
had mentally prepared the song beforehand and directed the band throughout the sessions. May, Mercury, and Taylor sang their vocal parts continually for ten to twelve hours a day, resulting in 180 separate overdubs.
2 Jul 1971
Queen
appeared at Surrey College, England. This was the group's first gig with the line-up of
Freddie Mercury
, Brian May, Roger Taylor and John Deacon.
27 Jun 1970
The newly formed
Queen
featuring
Freddie Mercury
(possibly still known as Freddie Bulsara) on vocals, guitarist Brian May, drummer Roger Taylor and Mike Grose on bass played their first gig at Truro City Hall, Cornwall, England. They were billed as Smile, Brian and Roger's previous band, for whom the booking had been made originally. Original material at this time included an early version of 'Stone Cold Crazy'.
23 Aug 1969
Ibex, featuring vocalist Freddie Bulsara (later known as
Freddie Mercury
) played a gig at the Octagon Theatre, Bolton, Lancashire, UK.