Queen – Sheer Heart Attack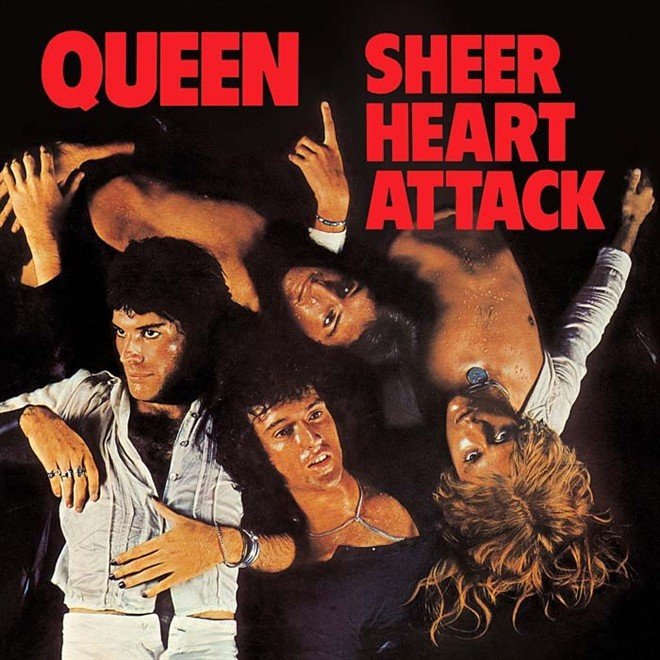 It's arguable that Sheer Heart Attack, rather than it's predecessor, Queen II, or 1975's A Night At The Opera, was Queen's truly seminal album. Whether you agree with this view or not, there is no doubt that the band's development over four years of live performance and two previous album's worth of studio time coalesced into something very special in 1974.
In comparison with Queen II, this album might seem almost restrained in its production, but every track is constructed with clever arrangements and multiple layers of sound, woven together with a precision and sensitivity borne of their increasing mastery of the recording studio. An outstanding balance of style and pace, Sheer Heart Attack shows off Queen's impressive range very effectively. This well constructed album demonstrates their full understanding of the two-sided vinyl format and, in the age of downloads, still demands to be listened to in its entirety; the whole is definitely greater than the sum of the parts.
Side one also includes a medley of independently written songs, similar in construction to Queen II's 'Side Black' medley. From the haunting opening arpeggios of Tenement Funster, via the bitter aggression of Flick Of The Wrist, to the plaintive fading chord of Lily Of The Valley, the medley takes the listener on a brief excursion through some of Queen's lesser trodden musical avenues and showcases the brilliance of all four band members. American progressive metal band, Dream Theater included an extremely faithful cover of the medley on disc two of the special edition version of their 2009 album Black Clouds & Silver Linings.
Sheer Heart Attack was recorded between July and September 1974. Queen refined existing songs and developed new material for this, their third album in June 1974 at Rockfield Studios in Monmouth, Wales. Brian May was in the early stages of recovery from hepatitis and was absent from many earlier sessions, requiring long periods of rest. Having barely recovered, he was forced into another hospital stay in August, by a duodenal ulcer. After Brian had returned to full time work the band, with producer Roy Thomas Baker, decamped to Wessex Studios in London, England. A lot of the vocal overdubs were recorded at Wessex, with additional material being recorded at Air Studios, also in London. The album was mixed at Trident Studios in London and engineered by Trident's Mike Stone.
The album's cover photograph was based on an idea by Queen; they presented photographer Mick Rock with the brief that they wanted to look as though they'd been washed up on the shore of a desert island. To complete the effect they were smeared with Vaseline and sprayed with water. The credits on the back of the cover would include their first album's "…and nobody played synthesiser" reference, shortened to "no synthesisers".
Although members of the music press were still not sure what to make of Queen, the record-buying public had started making up its mind from the release of Seven Seas Of Rhye. Sheer Heart Attack and its single releases – Killer Queen in particular – ensured that the band's fan base would grow beyond the hard core of 'those in the know' to rapidly expanding international legions, keen to buy the records and fill ever-larger concert venues.
Thanks to Phil Chapman
We have a book! This Day In Music's Guide To Queen. This book tells the full story of the band and its members from pre-Queen to post-Freddie, all the studio and live albums, the 50 Greatest Queen songs, videos, Queen locations, and more…