Queen – A Night At The Opera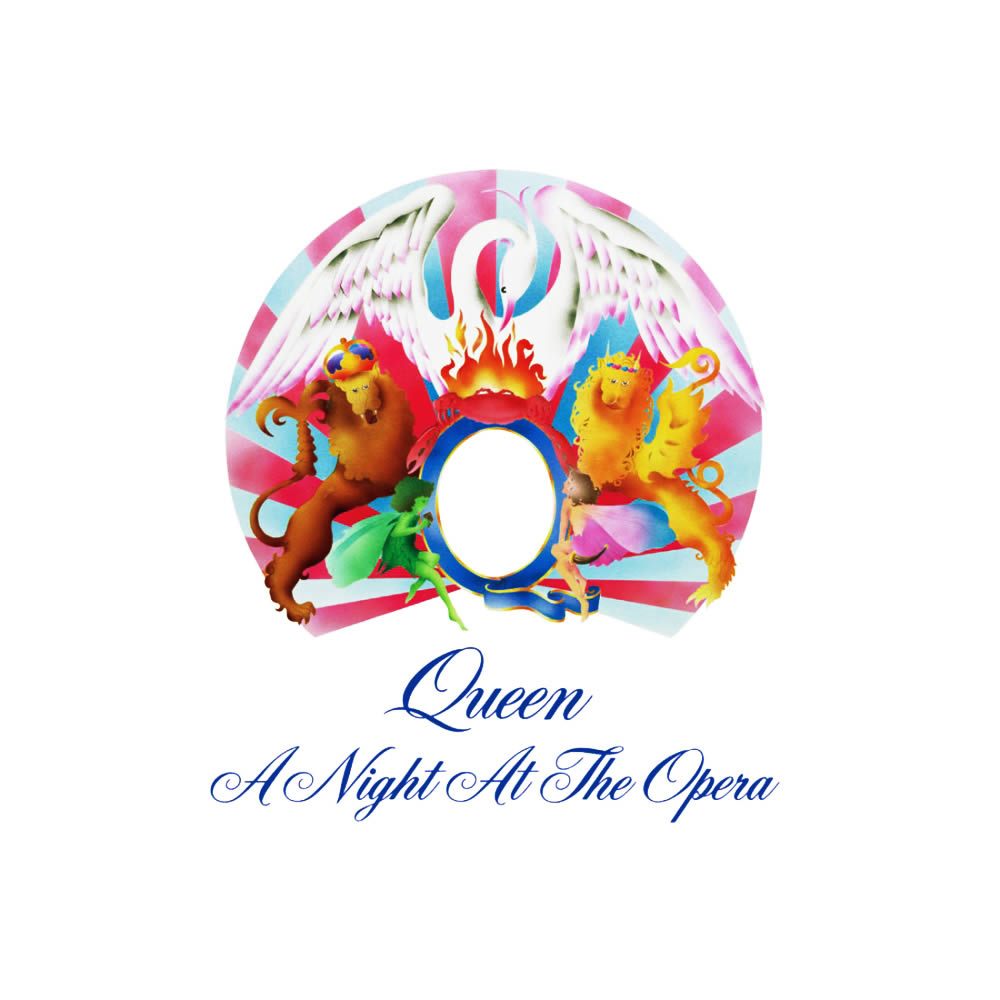 By the time they were ready to start work on their fourth album, Queen were both experienced and proficient in recording studio craft. Buoyed by the commercial success of Sheer Heart Attack and driven by their unfettered confidence and ambition, they approached the project with a view to pushing the boundaries further than ever before; it was time to produce their magnum opus.
Queen devoted an intensive period, during June and July 1975, to developing and rehearsing new material. The recording itself took place from August to November of the same year, using several different studios including: Lansdowne Recording Studios, London, England, Olympic Sound Studios, London, Rockfield Studios, Monmouth, Wale, Roundhouse Recording Studios, London, SARM Studios, London, and Scorpio Sound Studios, London, England (where legendary British radio DJ Kenny Everett was handed a tape copy of a new unreleased track called Bohemian Rhapsody).
Reputedly, A Night At The Opera was produced at a cost approaching £40,000 – making it one of the most expensive rock albums up to that point (in 2012, using the UK Retail Price Index, it would be equivalent to £284,000). The time and expense were justified as soon as it was released; by the time it hit the UK record shops on 21st November 1975, public awareness of Queen's fourth album was already growing, thanks to their well-publicised UK tour, which had commenced a week earlier in Liverpool, and the rapid climb up the charts of the Bohemian Rhapsody single, which had been released on 31st October and would be announced as the new UK No.1 a mere four days later.
This was the album which broke Queen to a wider audience around the world and established them as true rock superstars; in its original chart run it spent forty-four weeks in the UK album charts – four of them at No.1 – and 47 weeks in the USA Billboard album chart, reaching the highest position of No.4; its sales in the USA earned it a gold disc, whilst it went quadruple platinum in the UK.
The deluxe edition of the A Night At The Opera 2011 digital remaster included a Bonus EP which featured pared-down remixes of I'm In Love With My Car, You're My Best Friend and the Bohemian Rhapsody operatic section. These were accompanied by live recordings of '39 and Love Of My Life and a new version of Keep Yourself Alive, recorded in June 1975 for a USA single.
In addition to another leap forward in the development of Queen's unique multi-layered big-production sound, this album includes classic songwriting contributions from all four band members: You're My Best Friend is the first true example of John Deacon's considerable abilities as a composer of hit singles; Freddie Mercury's enjoyment of 'music hall' and vaudeville styles is further developed, with two beautifully orchestrated examples in Lazing On A Sunday Afternoon and Seaside Rendezvous; Brian May ventures into similar territory with Good Company, in addition to contributing songs in more familiar styles; and Roger Taylor's I'm In Love With My Car provides a further evolved example of both his songwriting and vocal style, as well as a B-side for the mighty Bohemian Rhapsody. This, of course, was the international hit single which lead many new fans to purchase A Night At The Opera and discover just how much more there was to Queen.
Following the pattern of previous Queen albums, the sleeve credits for A Night At The Opera included the line "No Synthesizers!"; with the considerable musical talents of all four band members, combined with their and Roy Thomas Baker's 'no limits' approach to production, it was clear they had no need for them.
The album's title was decided during a break in the Bohemian Rhapsody sessions, at Rockfield Studios. The band members were watching the Marx Brothers film 'A Night at the Opera' on an early VCR (video cassette recorder) and decided its title was a perfect fit for the album they were creating, particularly given the operatic nature of the epic track they were working on at the time.
Thanks to Phil Chapman
We have a book! This Day In Music's Guide To Queen. This book tells the full story of the band and its members from pre-Queen to post-Freddie, all the studio and live albums, the 50 Greatest Queen songs, videos, Queen locations, and more…