The Jimi Hendrix Experience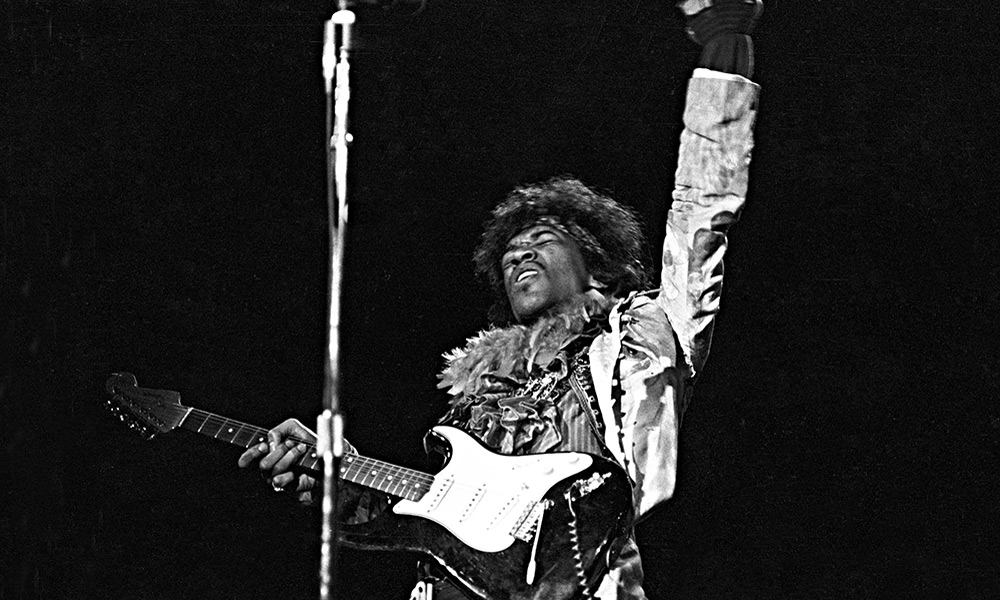 In 1966, Jimi Hendrix, Mitch Mitchell, and Noel Redding played together for the first time. The Jimi Hendrix Experience was formed.
I've seen just about all my favourite guitarists play live, Jimmy Page, Jeff Beck, Joe Walsh, Mark Knopfler, David Gilmour, Eric Clapton, Jonny Greenwood, none of whom disappointed. But if only I'd been born ten years earlier, I would've seen Jimi Hendrix.
Jimi did things with those six strings like no other guitarist. Never mind the gimmicks, playing with his teeth, behind his head, setting fire to the damn thing. Jimi was the guitarist's guitarist.
Did he have a vision, did he have a plan? Probably not. It was one of those 'right time, right place' moments that brought Jimi over to England after Keith Richards' girlfriend Linda Keith had told Chas Chandler from the Animals to go and check this new guitarist when he was in New York. Funny how these twists of fate happen. Did you know it was Beatle George Harrison who recommended the Rolling Stones to Decca's A&R man Derek Rowe. And it was Rowe who had turned down The Beatles!
Bassist Noel Redding was the first to audition for the Experience. Redding had been working in a variety of English groups who were going nowhere fast. Apparently, Redding was chosen because Hendrix liked his attitude towards music and his 'Afro' hairstyle.
Then came drummer Mitch Mitchell, who had an acting background and had starred in a children's television programme, Jennings and Derbyshire, when he was a teenager. Now a session drummer, Mitchell had worked with The Pretty Things, Bill Knight & The Sceptres, The Riot Squad, Georgie Fame and the Blue Flames, and The Who (as a session drummer while the band was deciding on a replacement for Doug Sandom, their eventual choice being Keith Moon).
On the 1967 Hendrix UK package tour with Pink Floyd, The Move, and Amen Corner, the other acts didn't stand a chance, most reviews only mention Jimi and his band. He had the curtains closed on him one night after the management at the venue regarded his movements with his guitar as having sexual overtones. On another night, Hendrix was having equipment problems and in his frustration rammed his Gibson Flying V into his speaker cabinets. Like an enormous arrow, the guitar became stuck in the amplifier, which the audience greeted as part of the act.
I wonder what Noel and Mitch thought of Jimi the first time they met. Here was this softly spoken American geezer who could make his guitar do things that were totally alien to any other player.
The three gelled and went on to record three landmark albums: Are You Experienced, Axis: Bold as Love, and Electric Ladyland. Again it's hard to appreciate the groundbreaking qualities of these records. All music genres normally have a bunch of artists with a similar feel. But no one sounded like this guy; just listen to works like 'Foxy Lady', 'Purple Haze', 'Manic Depression', 'Hey Joe', 'Little Wing', 'Voodoo Chile' and their blinding version of Dylan's 'All Along The Watchtower'.
It is funny how things turn out. Hendrix was particularly fond of Elvis Presley. The 15-year-old went to see the King of Rock and Roll perform when he played a show in Jimi's hometown of Seattle in 1957. Leap forward to London in the late '60s and a young Freddie Mercury was particularly fond of Jimi Hendrix (he saw him play live over a dozen times).
On June 4, 1967, the Experience played their last show in England, at London's Saville Theatre, before heading off to America. The Beatles' Sgt. Pepper album had just been released and two Beatles (McCartney and Harrison) were in attendance, along with a roll call of other UK rock stardom, including: Brian Epstein, Eric Clapton, Spencer Davis, Jack Bruce, and Lulu. Hendrix and the Experience opened the show with his own rendering of "Sgt. Pepper's Lonely Hearts Club Band", rehearsed only minutes before taking the stage, much to McCartney's astonishment and delight.
The following fans' accounts of attending this tour are taken from the This Day in Music book Jimi Hendrix – The Day I Was There which contains over 500 stories from people that saw Jimi Hendrix live in concert. Available in print and all digital formats.
CHEETAH CLUB
26 JUNE 1966, NEW YORK, NEW YORK
I WAS THERE: JAYNE KELL, AGE 15
I actually saw him three times. The first was at the Club Cheetah in NYC. I had not yet turned 16. My mother and my aunt took my cousin Julia, who was 13, and myself for a week to NYC. Our mothers stayed in one suite, Julia and I in another at the Waldorf – their mistake, our great fortune.
My cousin and I snuck out and made our way to the Village and heard there was going to be a great concert that night at the Club Cheetah. I have totally forgotten the band who we went there to see but will never forget who we actually saw. After talking our way in, we edged up to the front and – POW! Like lightning, our lives were forever changed. Talk about being awoken. He was beautiful, dressed like a rock god and sexy. But it was the guitar that spoke to me. It truly rocked my 16-year old world.
HYDE PARK TOWERS HOTEL
22 SEPTEMBER 1966, LONDON, UK
I WAS THERE: GORDON HASKELL
When I was in the band The Fleur de Lys our manager Nicholas Wright was also the Animals' photographer and arranged for
us to live at Cranley Gardens, South Kensington, The Animals' main flat. They were away on a long tour of the USA. It was during this time in 1966/67 that Jimi Hendrix was also living there, awaiting Chas Chandler's return. Hendrix only had an acoustic guitar and we showed him the main music shops in Charing Cross Road and Denmark Street.
Most of his time he spent drawing and painting in his bedroom. We were very busy working as a session band for Atlantic – Polydor Records so were out most days at the studio and barely talked to him. When Chas came round eventually, he invited us all to the first gigs of Hendrix, which were sensational and intimate, in small clubs like Blaises, just up the road in Queensway. Hendrix also played with us in the Speakeasy on two occasions. He was remarkable. He used our guitarist's right-handed Stratocaster and simply played upside down, which really means he could play as well backwards as forwards. He also sat in on bass while I (the bassist) watched.
The guitarist for the Animals was Hilton Valentine, who produced one Fleur de Lys session at Kingsway Studios, where we cut four songs and Hendrix overdubbed on them. The tracks were never released as none of us were that happy with the choice of songs. Our last meeting was at the Saville prior to his first USA trip as 'Jimi Hendrix' after 'Hey Joe'. We never saw him again.
MARBLE ARCH
OCTOBER 1966, LONDON, UK
I WAS THERE: PHIL SWERN
My first job in the music business was in 1966 when I joined Strike Records as errand boy/tea maker. They operated unofficially out of a flat in the Marble Arch area of London. At the time they were enjoying their one and only hit with 'That's Nice' by Neil Christian but were investing in several other up and coming acts.
In the flat below lived Jimi Hendrix, and one day I got in the lift and there was the man himself. He said, 'Hey man, do you work upstairs? There's a new Roy Harper album I know is coming out soon – any chance you can get me a copy?' I immediately went upstairs and into the cupboard and removed a white label copy of the record, then went back and knocked on Jimi's door. He answered and was very grateful and invited me in for a cup of tea. I thanked him but said I had to get back to work, so he said, 'Well, come back tomorrow at 3.30 and join me for tea.' I agreed and the following day turned up to find he'd made tea with cucumber sandwiches. I was shocked but ended up staying and chatting with Jimi for over half an hour … I was only 18 and concerned he might give me drugs, or whatever, but he was so gentle and quiet.
We chatted about the blues and other styles of music and he played me his demo of 'Hey Joe' before I realised I was going to be late back for work. I got a real telling off for not being around to make tea for all the staff at Strike. but it was worth it!
KIRKLEVINGTON COUNTRY CLUB
15 JANUARY 1967, KIRKLEVINGTON, UK
I WAS THERE: NEVILLE HENDERSON
We found ourselves no further than 12 feet from the band when they started. I can't remember what they opened with, but my attention was drawn immediately to this wild man on guitar. I remember thinking how mobile he and drummer Mitch Mitchell were, whilst Noel Redding seemed a lot more reserved, the quiet man of the band. I gradually became more drawn to Hendrix, with his strange technique and playing a right-handed guitar upside down on his left side. By the end of their set I remember thinking long and hard about what I'd just witnessed, a true guitar genius ably backed by two other great musicians. I couldn't believe it.
Afterwards, when the huge crowd had all gone, we sat together at tables having a drink and a chat. I recall saying to my wife, Marg, 'Just look who we are sitting with!' Next but one to my left was Alan Price, then Chas Chandler and directly opposite me were Jimi, Mitch and Noel. The Real McCoy guys were also there. It was a terrific hour of chat we had. I remember Noel Redding did most of the talking and I was struck by how quiet Jimi was. When I spoke to him he'd quietly answer, but he wasn't a conversation hogger, as I thought he might have been. Someof the detail he did divulge was how when playing Café Wha? in Greenwich Village as Jimmy James, at the time backing Curtis Knight, he was approached by Chas and persuaded to come to London, where auditions for a suitable backing group were set
up, with the Jimi Hendrix Experience born. They very quickly released their first single, 'Hey Joe', to test the water, but it was currently in the charts at No.6, and they were working on another, 'Purple Haze'.
What we were seeing here was Jimi in the early days of his flamboyant career. I was very impressed with this guy. By now it was getting late, the roadies were getting impatient and we had to end the conversation, so we said our goodbyes and headed for home. As I thought about it next morning, my whole conception of Hendrix had changed. Here was a really quiet, modest guy, and a quality musician – totally different to what I'd thought before. We all had a great night in his company.