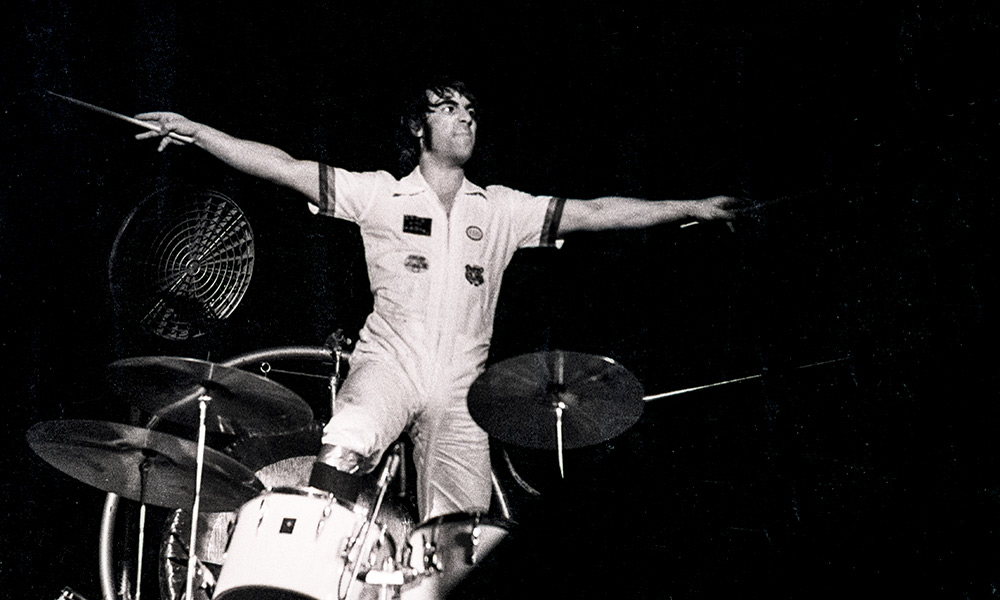 Keith Moon, drummer with The Who, died on 7th Sept 1978 of an overdose of heminevrin prescribed to combat alcoholism. A post-mortem confirmed there were 32 tablets in his system, 26 of which were undissolved. Moon had attended a party the night before organised by Paul McCartney for the launch of the 'The Buddy Holly Story' movie. He played on all The Who albums from their debut, 1965's My Generation, to 1978's Who Are You, which was released two weeks before his death.
On 23rd Aug 1968, enjoying a wild birthday party Keith Moon drove his Lincoln car into a Holiday Inn swimming pool. As the party had become out of control, the police were called to put an end to the festivities. Moon, ever keen to avoid the boys in blue snuck outside and got into a Lincoln Continental Limousine and attempted to make a getaway. Unfortunately, in his inebriated state, he released the handbrake and began rolling towards the pool. Moon simply sat back and waited, as the car crashed through the fence around the pool and into the water.
He played quite differently to his peers, turning his massive kit into a lead instrument, and his up-front technique was crucial in establishing the Who's passionate style. It's been said that Keith Moon was to the drums what Jimi Hendrix was to the guitar – a complete original. Moon's kit was the biggest in rock, at one stage boasting at least 10 tom-toms, twin bass drums, twin timpani, snare, half-a-dozen cymbals and a gong.
He became a surf music fan as a schoolboy, took early lessons on drums as a teenager and played with three local bands in his native Wembley in north-west London, The Escorts, Mark Twain & the Strangers, and The Beachcombers, before joining The Who in the spring of 1964. Shortly after Keith's recruitment, The Who became managed by Kit Lambert and Chris Stamp whose energy and ambition focused the group.
Moon's drumming is outstanding throughout the group's début album My Generation and on several Sixties singles, most notably 'Happy Jack' (1966) and 'I Can See For Miles' (1967), but it is on the double album Tommy (1969) that his talents are best utilised. On Townshend's celebrated rock opera he becomes an orchestra within himself, driving the band along with an intelligence and sureness of touch that defies analysis. On Who's Next (1971) Moon is reined in somewhat but his playing on the bridge on 'Behind Blue Eyes' and throughout both 'Bargain' and 'Won't Get Fooled Again' ranks with anything he ever did.
His legacy is outstanding: Keith Moon is said to have named Led Zeppelin when an early version of the band was being discussed that would have had himself, along with John Entwistle on bass, Jimmy Page on Guitar, and an undecided vocalist, as members; he stated the potential supergroup would "go down like a lead Zeppelin".
When touring with The Who, drummer Keith Moon used to enjoy flushing Cherry bombs down toilets. His repeated practice of blowing up toilets with explosives led him to be banned from several hotel chains around the world for life, including all Holiday Inn, Sheraton, and Hilton hotels.
Keith died on September 7, 1978, from an accidental overdose of the prescription drug Heminevrin, prescribed to combat alcoholism. He died in the same flat in Curzon Place in London's Mayfair (belonging to Harry Nilsson) that Mama Cass had passed away in during 1974. On the eve of his death, Moon had been at a screening of The Buddy Holly Story during the Paul McCartney-sponsored, annual Buddy Holly week.
Moon was set to have a part in Monty Python's film Life of Brian and was with the Python members in the Caribbean as they wrote the script, but Moon died before it began filming. The published edition of the screenplay to Life of Brian is dedicated to the Who drummer.
Keith Moon was best known as a member of the Who, but he was far more than that, even within the context of his role within the group. Moon, with his manic, lunatic side, and his life of excessive drinking, partying, and other indulgences, probably represented the youthful, zany side of rock & roll, as well as its self-destructive side, better than anyone else on the planet. In that sense, he was the soul of the Who, as much as Pete Townshend was its brain and Roger Daltrey was its heart; and, along with John Entwistle, Moon was at the core of its sound, and not just for his drumming per se. He played the skins with the kind of wild abandon that most trained musicians before him, not knowing any better, would have described as lunatic, in the worst sense of the word, and he lived his life with just about that same degree of intensity (even once running himself over with his own car). But more than the drumming itself, it was the lunacy that he brought to the personality mix of the four members that kept their music and their playing, not to mention their image, on the cutting edge of youth, even as they all moved into their thirties and tried to get more serious about music.
Moon occasionally played on other peoples' records, but he only finished and released one solo album of his own, Two Sides of the Moon (though another may have been planned in 1975). Not taken seriously at the time, this record now appears to have captured the essence of Moon's nature. Recorded in a series of marathon sessions that were as notable for their huge bills for alcohol as the studio time involved, it is a strange, haunting mix of innocent '50s/early-'60s rock & roll and leering, joyful lust, and a savage sense of wit directed at the music business and played out both between and in the songs themselves.
On the morning of September 7th, 1978, Keith woke up at 7:30 am, and watched "The Abominable Dr. Phibes." Annette cooked him a steak, and he went back to sleep. Annette crashed on the couch, as Keith snored a lot. At 3:40pm, she woke up, and got spooked. It was too quiet. She tried waking Keith, but guess what? She phoned the doctor, who then phoned an ambulance. She tried giving him mouth to mouth, with no response. The ambulance came and tried jolting his heart, but that didn't work either. Keith was dead at 32.
Keith was taking Heminevrin, a prescription drug used to combat alcoholism. He was given 100 tablets to be administered as he pleased. He must have felt a hell of a binge coming up, because he downed 32 of the things.
The funeral took place on Wednesday, Sept 13, at Golders Green Crematorium, which has snazzy new ovens. Eric Clapton, Charlie Watts and Bill Wyman were among the 120 mourners that crammed the West Chapel. Flowers were sent by various Beatles, Stones, Zeppelin, Fleetwood Mac, Bowie, The Moody Blues.
Did Keith really drive that car into a hotel swimming pool? Well, Roger Daltrey recently stated in an interview that the event did, in fact, take place, insisting: "It flaming well did happen, we got the $50,000 bill for it – he could have gone to jail for three years."
According to the story, The Who were on tour and were at a Holiday Inn (from which they've subsequently been banned) in Flint, Michigan. It was the drummers 20th birthday, although it's often reported it was his 21st (this was probably due to the fact you have to be 21 to drink in America). The day saw a party that begun in the morning and carried on right through to the evening, with several bands, groupies, roadies and stage crews in attendance, and all (particularly Moon) were highly inebriated. As the party got more and more out of control, the police were called to put an end to the festivities. Moon, ever keen to avoid the boys in blue snuck outside and got into a Lincoln Continental Limousine (or a Cadillac depending on who you believe) and attempted to make a getaway. Unfortunately, in his inebriated state he was unable to properly control the vehicle and as he released the handbrake, the car lurched backwards and began rolling towards the pool. Moon simply sat back and waited, as the car crashed through the fence around the pool and into the water.
Moon couldn't drive and never had a drivers licence.
As Moon came out of the car and back to the surface, he was greeted by a police sergeant holding a gun. You'd think with a gun in his face and a stomach full of pool chemicals he'd have given up, but even then Moon tried to run, eventually getting caught when he slipped, somewhat ironically, on some of his own birthday cake.
We have a book you might enjoy Dear Boy: The Life Of Keith Moon In this astonishing biography, Tony Fletcher questions the myths, avoids the time-honoured anecdotes and talks afresh to those who where closest to Moon.