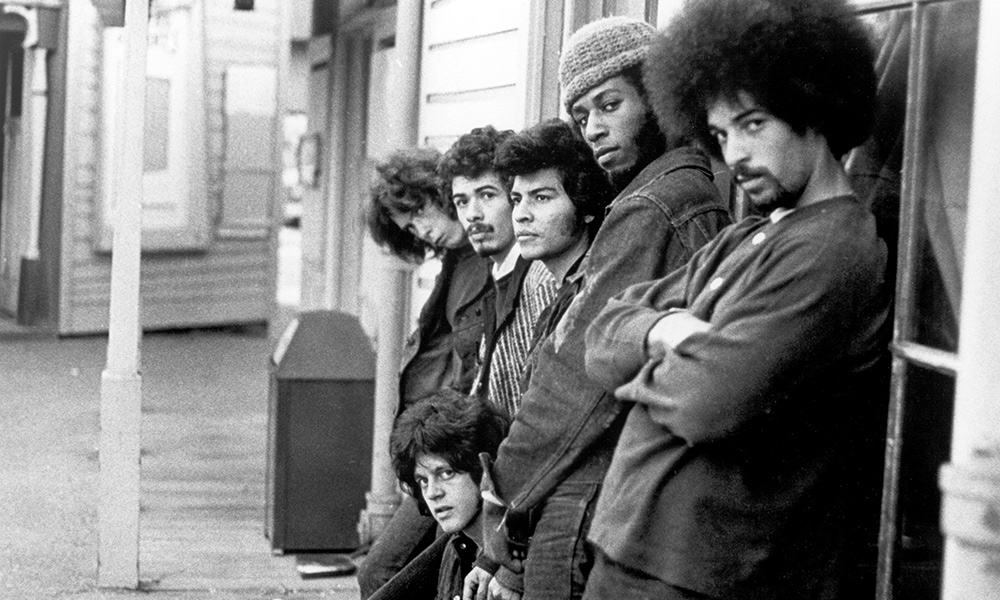 The sound of Carlos Santana is one of the world's best-known musical signatures. For more than five decades, from Santana's earliest days as a groundbreaking Afro-Latin-blues-rock fusion outfit in San Francisco – Carlos has been the visionary force behind artistry that transcends musical genres and generational, cultural and geographical boundaries. Long before the category now known as "world music" was named, Santana's ever-evolving sound played on percussion instruments such as timbales and congas not generally heard in rock was always ahead of its time.
Carlos Santana was born July 20, 1947 in Autlán de Navarro, Jalisco, Mexico. He began playing the violin at age five; by age eight, however, he had switched to the guitar. As a teenager, he played in bands in Tijuana, Mexico, where he was exposed not only to the local norteño music but also to blues, especially to guitarists T-Bone Walker and B.B. King. Carlos was also heavily influenced by Ritchie Valens at a time when there were very few Mexicans in American rock and pop music.
His family moved to San Francisco in the mid Sixties and by late 1966, Santana had formed the Santana Blues Band with guitarist keyboardist/singer Gregg Rolie. During the group's early days, the line-up was volatile, with the membership settling to Carlos, Rolie, bassist David Brown, drummer Bob "Doc" Livingston, and percussionist Marcus Malone in 1967, around which time the group lost the "Blues Band" from their name.
Promoter Bill Graham discovered the band and booked Santana to play his Fillmore West on June 16, 1968. The band then soon landed a deal with Columbia Records. Prior to recording their first album in early 1969, Santana swapped Livingston and Malone for Michael Shrieve and Mike Carabello, adding percussionist Jose Chepito Areas as well. This line-up recorded the group's eponymous debut.
After appearing at the the Seattle Pop Festival in July 69 and the three day Atlantic City Pop Festival the following week, they had a career-making appearance at the Woodstock Festival along with Janis Joplin, Jimi Hendrix, Crosby Stills Nash & Young, The Who and Creedence Clearwater Revival. This appearance introduced them to an international audience resulting in their debut album becoming a swift success, climbing its way to number four on Billboard's album charts during the course of its two-year run on the charts.
In April the following year Santana began sessions for what would be their breakthrough album Abraxas at Wally Heider Recording Studio, San Francisco, California. When released in September of this year, Abraxas peaked at number one on the US chart. The album's mix of rock, blues, jazz, salsa and other influences was well received. The album included two of Santana's most enduring and well-known hits, "Oye Como Va", and the Peter Green penned "Black Magic Woman" (which appeared on the 1968 Fleetwood Mac album The Pious Bird of Good Omen). Abraxas spent six weeks at number one on the Billboard chart at the end of 1970 and remained on the charts for 88 weeks.
In 1972, Santana became interested in the pioneering fusion band the Mahavishnu Orchestra and its guitarist, John McLaughlin. His first non-band album, 1973's Love Devotion Surrender, was recorded with John McLaughlin and Mahavishnu Orchestra.
Santana albums conceived during the next ten years followed the same formula, and in 1990, Santana kicked off the decade with a new album Spirits Dancing in the Flesh. Santana toured widely over the next few years but there were no further new album releases, and eventually, he was even without a recording contract.
Their fortunes were revived when their old supporter Clive Davis signed the group to Arista in 1998. Davis designed a star-studded comeback for the band that took the form of Supernatural, released on June 15, 1999. The album exceeded any possible expectations reaching number one in eleven countries.
The single "Smooth," a song featuring Matchbox Twenty singer Rob Thomas (who also co-wrote the tune), topped the US charts for 12 weeks, the first chart-topping song in Carlos Santana's long-running career. On Billboard magazine's rankings of the top songs of the first 50 years of the Billboard Hot 100 singles chart, "Smooth" was ranked as the number-two song overall (behind only "The Twist" by Chubby Checker) and the number one rock song in the history of the chart.
Supernatural became an international smash, topping the charts throughout the world, and winning eight Grammy Awards, including Record of the Year and Album of the Year. The album produced another number one single in the form of "Maria Maria," which featured Wyclef Jean and the G&B Product. Carlos later collaborated with chef Roberto Santibañez to open five restaurants of the same name, after the song. The majority are located in the San Francisco Bay Area, and other locations are in Arizona and Texas.
On a personal note, during a Santana concert at First Midwest Bank Amphitheatre in Tinley Park, Illinois, Carlos proposed to his girlfriend, Cindy Blackman who had just finished a drum solo during the band's set. The couple married in December 2010.
Carlos Santana published his memoir, The Universal Tone: Bringing My Story to Light in 2014.
Important Dates In The Life Of Santana:
8 Jun 2021
American singer Dean Parrish died at the age of 78. Best known for the song, 'I'm on My Way', which became noted for being the penultimate record that was played at the last Northern soul all-nighter at the Wigan Casino, he also worked as a session musician with
Jimi Hendrix
and
Santana
in 1970, and played guitar with
Bob Marley
in 1972.
12 Feb 2021
Rupert Neve died at 94 years old due to pneumonia and heart failure. Neve was a pioneering designer of professional audio recording equipment. Regarded as the father of modern studio recording, his equipment became industry standard and influenced the sound of countless musicians including
Nirvana
,
Fleetwood Mac
,
Santana
,
The Who
,
Pink Floyd
and many more. Nirvana even recorded their iconic album
Nevermind
on a mixing console at Sound City Studios designed by Neve.
9 Mar 2020
American record producer Keith Olsen died age 74. He worked with many artists including Rick Springfield,
Fleetwood Mac
,
Ozzy Osbourne
, the
Grateful Dead
, Whitesnake, Pat Benatar, Heart,
Santana
, Foreigner, Scorpions, Magnum, Journey, Emerson, Lake & Palmer, Joe Walsh, and Eric Burdon & the Animals.
3 Feb 2018
American pop, funk and jazz drummer Leon Chancler died in Los Angeles, California of prostate cancer, at the age of 65. He worked with Herbie Hancock, Miles Davis,
Michael Jackson
's (on 'Billie Jean'), Donna Summer,
Carlos Santana
, The Crusaders,
Frank Sinatra
, Weather Report, Lionel Richie, Kenny Rogers, Thelonious Monk, Herbie Hancock and John Lee Hooker.
17 Sep 2017
Brazilian musician and producer Laudir de Oliveira died of a heart attack at the age of 77 while performing onstage in his native Rio de Janeiro. He is mostly renowned for his time as percussionist with the band Chicago from 1973 until 1982. As a session musician he worked for other musicians like Chick Corea,
Carlos Santana
The Jacksons, Wayne Shorter and Nina Simone.
14 Apr 2014
Latin jazz percussionist Armando Peraza died of pneumonia at the age of 89. He was a member of
Santana
from 1972 until the early 90s appearing on over 15 of the groups albums. Born in Lawton Batista, Havana, Cuba, Peraza played congas, bongos, and timbales.
9 Dec 2013
Recipients honoured at the 36th annual national John F. Kennedy Center for the Performing Arts were: pianist, keyboardist, bandleader and composer Herbie Hancock; singer and songwriter
Billy Joel
and guitarist and songwriter
Carlos Santana
.
9 Jul 2010
During a
Santana
concert at First Midwest Bank Amphitheatre in Tinley Park, Illinois, guitarist Carlos Santana proposed to his girlfriend, Cindy Blackman who had just finished a drum solo during the band's set. The couple married in December 2010.
4 Sep 2000
American bassist David Brown died due to liver and kidney failure. He was the primary bass player with
Santana
from 1966 until 1971 and played in Santana at
Woodstock
and at Altamont festival in 1969 and on the band's first three studio albums.
1 Apr 2000
Santana started a two-week run at No.1 on the UK album chart with 'Supernatural.' The album went on to win eight Grammy Awards including Album Of The Year, Record Of The Year (for 'Smooth') and Song Of The Year.
24 Feb 2000
Carlos Santana
won eight awards at this years Grammy Awards for his Supernatural album. Before Supernatural, the guitarist had not had a Top 10 album since 1981. Sting won two awards, one for best pop album and another for best male pop vocalist. Sir
Elton John
won the legend award and
Phil Collins
the best soundtrack award for Tarzan.
25 Oct 1999
Santana topped the US album chart with Supernatural. The massively popular album, which went on to win eight Grammy awards, spent a total of 12 non-consecutive weeks at the top of the Billboard 200, thanks in part to such chart-topping hits as "Smooth" ft. Rob Thomas and "Maria Maria" ft. the Product G&B.
15 Jan 1998
American Chicago blues vocalist, harmonica player, Junior Wells died aged 63. Born Amos Blakemore he is best known for his signature song 'Messin' with the Kid' and his 1965 album Hoodoo Man Blues. He also worked with Muddy Waters, Van Morrison,
Carlos Santana
, Bonnie Raitt and The
Rolling Stones
.
20 Jun 1987
Aerosmith
appeared at the Cotton Bowl in Dallas, Texas, the first night on their Permanent Vacation 147 date world tour. Over the years the venue has been the home to the Texxas Jam, which has featured
Deep Purple
, Boston, Journey, Ted Nugent, Scorpions, Cheap Trick,
Van Halen
, Blue Öyster Cult, Sammy Hagar, Rush, Nazareth, Styx, Foghat,
Santana
and the
Eagles
.
Eric Clapton
notably held his first massive 3-day Crossroads Guitar Festival here in 2004.
20 Jul 1986
Carlos Santana
celebrated his 39th birthday, and 20th anniversary in the music business, with a concert in San Francisco. Previous group members were assembled for the event, as 17 of them performed together on stage.
8 Jul 1984
Bob Dylan
's current European tour came to an end at Slane Castle, County Meath in Ireland. Dylan was joined on stage by Van Morrison and they duetted on It's All Over Now Baby Blue.
U2
's Bono, who was sent to interview Dylan for the Irish rock magazine Hot Press, ended up duetting with Dylan on Blowin' In The Wind and Leopard Skin Pillbox Hat.
Carlos Santana
also joined Dylan on stage and played guitar on the last seven songs of the set.
2 Apr 1981
23 Apr 1979
American bassist Doug Rauch died of a heroin overdose in San Francisco, at the age of 28. He was most famous for his work with
Carlos Santana
during his jazz fusion period in the early 1970s and had also worked with Carly Simon, John McLaughlin and
David Bowie
.
28 Oct 1978
27 Mar 1973
Rolling Stone magazine reported that after becoming a disciple of Sri Chinmoy,
Carlos Santana
had changed his name to 'Devadip', which means 'the lamp of the light of the Supreme'.
15 Nov 1971
In this week's Disc and Music Echo's Progressive album chart: No.5, Cat Stevens, 'Teaser and the Firecat, No.4, Hawkwind, 'In Search Of Space', No.3,
Santana
, No.2,
Rod Stewart
, 'Every Picture Tell's A Story' and No.1
John Lennon
,
Imagine
.
27 Jun 1970
The 3-day Bath Festival of Blues and Progressive Music in Bath, England took place. The line-up included,
Santana
, The Flock,
Led Zeppelin
(headlining act), Hot Tuna, Country Joe McDonald, Colosseum, Jefferson Airplane (set aborted), The Byrds (acoustic set), Dr. John,
Frank Zappa
& the Mothers of Invention, Canned Heat, It's a Beautiful Day, Steppenwolf, Johnny Winter, John Mayall with Peter Green,
Pink Floyd
, (who premiered their new suite, "Atom Heart Mother", which at that time was announced as the "Amazing Pudding"), Pentangle, Fairport Convention, and Keef Hartley.
11 May 1970
The triple soundtrack album
Woodstock
was released in the US, going gold within two weeks. The album featured tracks by; Canned Heat, Richie Havens, Country Joe McDonald,
Crosby Stills & Nash
,
The Who
, Jefferson Airplane, Joe Cocker,
Santana
and others. The couple on the album cover are Bobbi Kelly and Nick Ercoline.
17 Apr 1970
Santana
began sessions for what would be their breakthrough album Abraxas at Wally Heider Recording Studio, San Francisco, California. When released in September of this year, Abraxas peaked at No.1 on the US chart.
6 Dec 1969
The
Rolling Stones
played a free festival at Altamont in California, along with Jefferson Airplane,
Santana
, The Flying Burrito Brothers and
Crosby Stills Nash & Young
.
Rolling Stones
fan Meredith Hunter was stabbed to death as the group played by Hell's Angels who'd been hired to police the event. It's claimed Hunter was waving a revolver. One other man drowned, two men were killed by in a hit-and run accident and two babies were born.
30 Aug 1969
The three day Texas Pop Festival took place featuring
Janis Joplin
,
Led Zeppelin
, Sam & Dave,
Santana
, Johnny Winter, Grand Funk Railroad, Delaney & Bonnie, Nazz, Spirit, B.B. King, Canned Heat and Chicago. Over 120,000 fans attended the festival.
15 Aug 1969
Woodstock
Festival was held on Max Yasgur's 600 acre farm in Bethel outside New York. Attended by over 400,000 people, the event featured,
Jimi Hendrix
,
Crosby Stills Nash & Young
,
Santana
,
The Who
,
Creedence Clearwater Revival
,
Grateful Dead
,
Janis Joplin
, The Band, Canned Heat, Joan Baez, Melanie, Ten Years After, Sly and the Family Stone, Johnny Winter, Jefferson Airplane, Ravi Shanker, Country Joe and the Fish, Blood Sweat and Tears, Arlo Guthrie, and Joe Cocker. During the three days there were three deaths, two births and four miscarriages.
1 Aug 1969
The three day US Atlantic City Pop Festival took place at the Atlantic City race track with B.B. King,
Janis Joplin
,
Santana
, Three Dog Night, Dr John,
Procol Harum
, Arthur Brown,
Iron Butterfly
,
Creedence Clearwater Revival
,
Little Richard
, Tim Buckley, The Byrds, Jefferson Airplane, The Mothers Of Invention and Canned Heat.
Joni Mitchell
started to cry and ran off stage in the middle of her third song because the crowd was not paying attention to her performance.
25 Jul 1969
The Seattle Pop Festival took place at the Gold Creek Park, Woodinville, Washington. Acts who appeared over three days included,
Chuck Berry
, Tim Buckley, The Byrds, Chicago Transit Authority, Albert Collins,
Bo Diddley
,
The Doors
, The Flock, The Flying Burrito Brothers, Guess Who, It's A Beautiful Day,
Led Zeppelin
,
Santana
, Spirit, Ten Years After, Ike & Tina Turner, Vanilla Fudge, Alice Cooper and The Youngbloods.
2 May 1969
19 Jul 1968
Pink Floyd
played the second of three nights at the Boston Tea Party, Boston, Massachusetts. Opened in January 1967 as a psychedelic club, many many famous artists, including
Grateful Dead
,
Neil Young
, The J. Geils Band,
Frank Zappa
,
Cream
,
Fleetwood Mac
,
The Allman Brothers Band
,
Led Zeppelin
, The
Jimi Hendrix Experience
,
Jeff Beck
,
The Who
,
Santana
, Taj Mahal, Ten Years After and Sly & the Family Stone all appeared.