Crosby, Stills, Nash & Young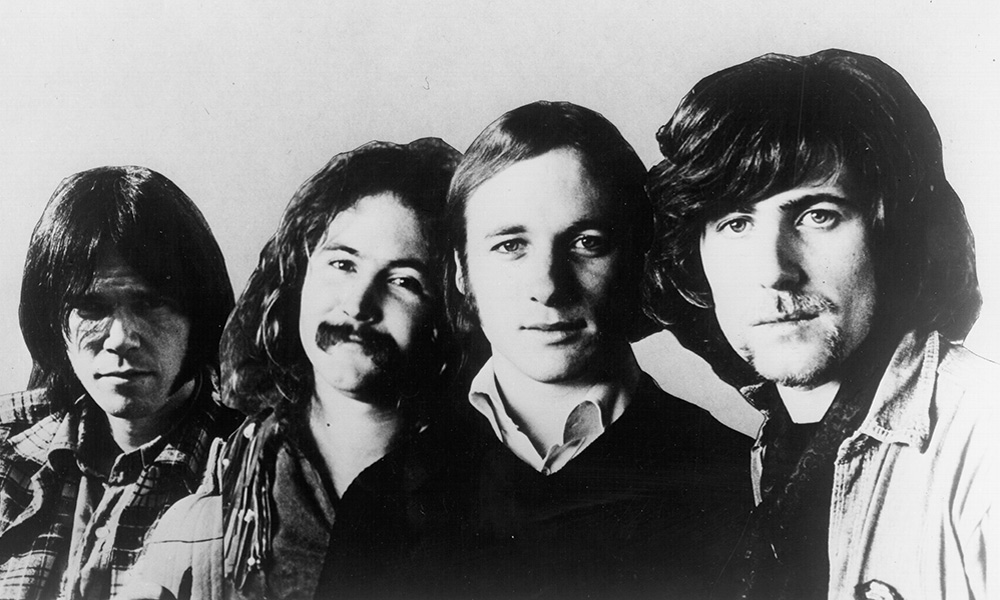 1. David Crosby was a founding member of the Byrds, Stephen Stills had been a guitarist, keyboardist, vocalist and songwriter in Buffalo Springfield (which also featured Neil Young), and Graham Nash had been a guitarist, singer and songwriter with The Hollies.
2. Neil Young and Stephen Stills first met in 1965, at the Fourth Dimension in Thunder Bay, Ontario. Young was there with the Squires, a Winnipeg group he had been leading and Stills was on tour with The Company, a spin-off from the Au Go Go Singers.
3. Graham Nash initially met both David Crosby and Stephen Stills in 1966 during a Hollies US tour.
4. David's father Floyd Crosby had his own name in lights long before his son ever dreamed of being famous. He was an award-winning cinematographer for more than 100 movies, including the 1952 Western classic High Noon.
5. At a party in July 1968 at Joni Mitchell's house, Nash asked Stills and Crosby to repeat their performance of a new song by Stills, "You Don't Have To Cry", with Nash improvising a third part harmony. The vocals gelled, and the three realised that they had a very good vocal chemistry.
6. Crosby, Stills and Nash had an unsuccessful audition with The Beatles' Apple Records.
7. The three members used their surnames as identification to ensure independence and a guarantee that the band could not continue without one of them.
8. The trio's first album, Crosby, Stills & Nash, was released in May 1969. The eponymously titled album was a major hit in the US, peaking at number 6 on the Billboard chart during a 107-week stay that spawned two Top 40 hits; "Suite: Judy Blue Eyes" and "Marrakesh Express".
9. Stills was involved with musician Judy Collins from 1968 to 1969 and wrote the song "Suite: Judy Blue Eyes" for her.
10. Wanting to hire a keyboard player, Stills initially approached Steve Winwood, who was already occupied with the newly formed group Blind Faith. Atlantic Records Ahmet Ertegün suggested former Buffalo Springfield member Neil Young, though principally a guitarist, Young was a proficient keyboardist and could alternate on the instrument with Stills and Nash in a live context.
11. "Our House" is about the house in Laurel Canyon that Graham Nash shared with his then-lover Joni Mitchell, which Nash wrote in less than an hour.
12. When Neil Young joined Crosby, Stills & Nash the terms of the contract allowed him full freedom to maintain a parallel career with his new band, Crazy Horse.
13. The 1970 protest song "Ohio" was written by Neil Young in reaction to the Kent State shootings of May 4, 1970. The shootings of unarmed college students by members of the Ohio National Guard at Kent State University in Kent, Ohio, took place during a mass protest against the bombing of Cambodia by the US. Twenty-eight guardsmen killed four students and wounded nine others, one of whom suffered permanent paralysis.
14. Crosby co-wrote "Wooden Ships" (on their debut album) on his boat with both Stephen Stills and Jefferson Airplane's Paul Kantner, the latter of whom could not be credited at the time for legal reasons. The politically charged track was written as the Vietnam War was in full swing, and is one of the most socially conscious songs in the Crosby Stills and Nash catalogue.
15. Their first gig with Neil Young in the line-up was on 16 August 1969, at the Auditorium Theatre in Chicago, with Joni Mitchell as their opening act. Their second show was in the early morning of 18 August 1969, at the Woodstock Festival. Stephen Stills famously told the crowd, "This is only the second time we've performed in front of people. We're scared shitless."
16. After the release of their debut album Crosby, Stills & Nash won the Grammy Award for Best New Artist of 1969.
17. They appeared at the violence-plagued Altamont Free Concert on December 6, 1969 alongside Santana, Jefferson Airplane, The Flying Burrito Brothers and the Rolling Stones. At the band's request, their performance was not included in the subsequent film Gimme Shelter.
18. When released in 1970, Déjà Vu topped the charts during a 97-week stay in the US and generated three hit singles, including the Stills-sung cover of Joni Mitchell's "Woodstock" and both of Nash's contributions "Teach Your Children" and "Our House".
19. "Teach Your Children" was written by Graham Nash when he was a member of the Hollies, but it was never recorded by the group and first appeared on Déjà Vu.
20. Stephen Stills fired bassist Gred Reeves from the group shortly before the beginning of their second American tour in April 1970 "because he suddenly decided he was an Apache witch doctor." He was replaced by Calvin "Fuzzy" Samuels, a homeless Jamaican musician recently discovered by Stills at Island Records' London studios.
21. Worldwide sales of their 1970 album Déjà Vu currently sit at over 8 million copies.
22. Crosby's long-time girlfriend Christine Hinton was killed in a car accident in 1969. Crosby was devastated, and began abusing drugs more severely than he had before.
23. Grateful Dead guitarist Jerry Garcia plays pedal steel guitar on "Teach Your Children" and former Lovin' Spoonful leader John Sebastian plays harmonica on the title track "Déjà Vu."
24. The 1971 double album 4 Way Street, also topped the US charts during a 42-week stay.
25. The group reunited for a highly successful stadium tour in the summer of 1974. Following the tour, the foursome attempted to record a new album, provisionally entitled Human Highway. The recording sessions, which took place at The Record Plant in Sausalito, were marked by constant bickering. The bickering eventually became too much, and the album was cancelled. CSNY did not perform together again as a foursome until Live Aid in Philadelphia in 1985.
26. Graham Nash became an American citizen on 14 August 1978 and holds dual citizenship of the United Kingdom and the United States.
27. In 1982, after being convicted of several drugs and weapons offenses, David Crosby spent nine months in a Texas state prison. The drug charges were related to possession of heroin and cocaine.
28. CS&N worked with producer Rick Rubin to record a covers album (tentatively titled Songs We Wish We'd Written). Seven songs were completed before the dissolution of the sessions due to the increasingly acrimonious relationship between Rubin and Crosby.
29. Neil Young was part owner of Lionel, LLC, a company that makes toy trains and model railroad accessories.
30. Interested in photography as a child, Graham Nash began to collect photographs in the early 1970s. He decided to sell his 2,000 print collection through Sotheby's in 1990 where it set an auction record for the highest grossing sale of a single private collection of photography.
31. David Crosby appeared as a pirate in the 1991 film Hook, as a 1970s hippie in the 1991 film Backdraft, and as a bartender in the 1992 feature film Thunderheart.
32. CSN were inducted into the Rock and Roll Hall of Fame in 1997; CSN&Y is the first band to have all its members inducted into the hall twice.
33. David Crosby was the recipient of a highly publicized liver transplant in 1994, which was paid for by Phil Collins.
34. Jason Bond, a biologist at East Carolina University, named a newly discovered Spider Myrmekiaphila neilyoungi after his favourite musician.
35. In the late nineties David Crosby helped singer Melissa Etheridge and her then-partner Julie Cypher become parents, through the process of artificial insemination. At the time of their birth, the identity of the donor was anonymous, but Etheridge later revealed that their friend Crosby had been the benefactor.
36. In 2006, David Crosby and Graham Nash lent their signature harmonies to the title track for David Gilmour's On an Island album.
37. Neil Young was made an Officer of the Order of Canada on December 30, 2009.
38. On August 25, 2012, Young was mistakenly reported dead by NBCNews.com, the day when astronaut Neil Armstrong died.
39. Recently Crosby, along with entrepreneur and long-time friend Steven Sponder, announced he was seeking to license his name to a leading national cannabis company. The "Mighty Croz" brand will be geared to cannabis connoisseurs.
40. Crosby, Stills, Nash & Young are noted for their intricate vocal harmonies, often tumultuous interpersonal relationships, political activism, and lasting influence on American music and culture. They released eight studio albums, five live albums and twenty-two singles.
David Crosby died in Santa Ynez, California, on January 18, 2023, at the age of 81. Believing he was "probably going to die fairly soon", Crosby had planned his funeral at least three years prior to his death, to be held at his horse ranch in Santa Ynez, in hopes that he would be reconciled with his former Byrds and CSN bandmates so that they would attend.
We have a book! Crosby, Stills & Nash – Music is Love
Important Dates In The Life Of Crosby, Stills, Nash & Young:
6 Nov 2014
American musician Rick Rosas died aged 65. He was one of the most sought after studio session musicians in Los Angeles. Throughout his career, he played with
Neil Young
, Joe Walsh, Crosby, Stills, Nash & Young, Jerry Lee Lewis,
Ron Wood
and many others. In 2014, Rosas joined
Neil Young
and Crazy Horse on their European tour, following Billy Talbot's inability to tour due to a stroke - making Rosas the only bassist to have played with three of Young's major band-based projects, Buffalo Springfield, Crosby, Stills, Nash & Young and Crazy Horse.
18 Mar 2014
American musician, percussionist, actor and voice actor Joe Lala died from complications of lung cancer at the age of 66. As a drummer and percussionist, he worked with The Byrds, Crosby, Stills, Nash & Young, Manassas, The
Bee Gees
,
Whitney Houston
, Joe Walsh, Andy Gibb and many others. He played the trademark congas that drove the
Bee Gees
' 1976 US chart-topper 'You Should Be Dancing', subsequently included on the multi-million selling Saturday Night Fever soundtrack.
21 May 1970
Crosby, Stills, Nash & Young released the protest single Ohio, written and composed by
Neil Young
in reaction to the Kent State shootings of May 4, 1970, when unarmed college students were shot by the Ohio National Guard. The guardsmen fired 67 rounds over a period of 13 seconds, killing four students and wounding nine others, one of whom suffered permanent paralysis.
17 Aug 1969
The final day of the 3 day
Woodstock
Festival took place at Max Yasgur's farm in Bethel, New York. Acts who appeared included
Crosby, Stills, Nash & Young
,
The Who
,
Jimi Hendrix
, Ten Years After, John Sebastian, Sha Na Na, Joe Cocker, Country Joe and the Fish, The Band, Ten Years After, Johnny Winter and Paul Butterfield Blues Band. Over 186,000 tickets had been sold but on the first day, the flimsy fences and ticket barriers had come down. Organizers announced the concert would be a free event, prompting thousands more to head for the concert.
16 Aug 1969
Crosby, Stills, Nash & Young supported by
Joni Mitchell
appeared at the Auditorium Theater in Chicago, Illinois.