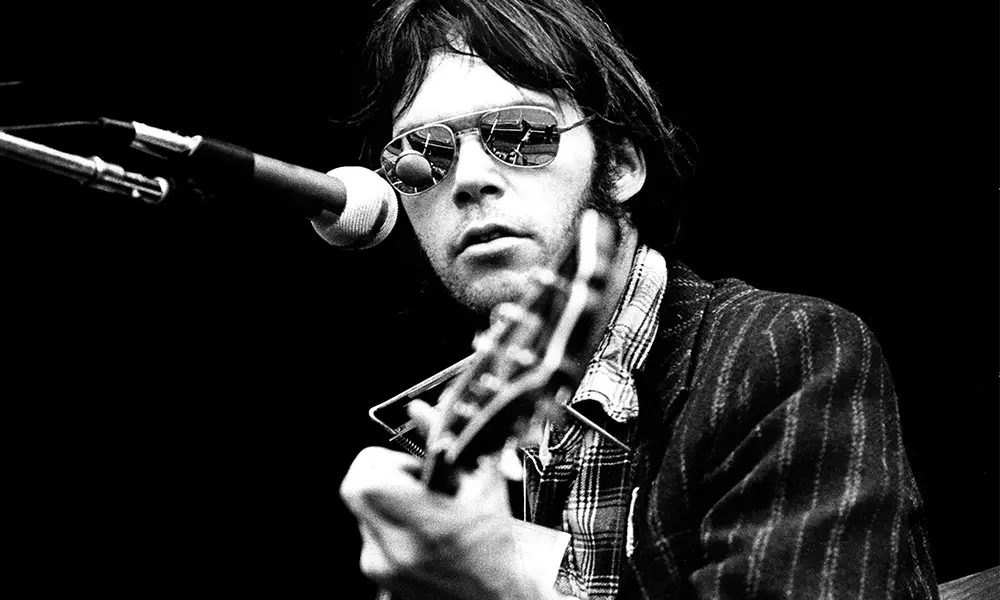 Having survived the rocky path from a struggling songsmith to superstardom, Neil Young is one of few performers to have achieved eminence yet at the same time maintained his credibility, eternally moving forward regardless of fashion or the demands of his record labels.
One of a handful of durable stars to have emerged from the relative obscurity of Canada, Young heads a cast list that includes peers like Joni Mitchell, Leonard Cohen, The Band and, more recently, Arcade Fire and Rufus Wainwright.
Having already made his name alongside longstanding musical ally Stephen Stills in Buffalo Springfield, Young staked his claim to superstardom in July 1969 by appearing with Davis Crosby, Stills and Graham Nash for the first time at The Fillmore East in New York. Young was initially asked to help out on live dates only but ended up joining the group on and off for the next 30 years. Little did any of the four know what a life and career changing moment this would be.
Growing up, Young idolised Elvis Presley and strived to be just like him and around the age of 10 he began to play music himself on a plastic ukulele. Other early musical influences included Chuck Berry, Little Richard, Fats Domino, The Chantels, The Monotones, The Fleetwoods and UK instrumental group The Shadows.
Raised by his mother in Fort Rouge, Winnipeg, Young was a shy, dry-humoured youth who enrolled at Earl Grey Junior High School where he formed his first band, The Jades and then, later, The Squires. In 1965 Young toured Canada as a solo artist and, while in Toronto, joined the Rick James-fronted Mynah Birds. The band secured a record deal with the Motown label but, as their first album was being recorded, James was arrested for being AWOL from the Naval Reserve. After the Mynah Birds disbanded, Young and bass player Bruce Palmer relocated to Los Angeles, travelling in Young's converted hearse, a 1948 Buick Roadmaster.
Young had met and hung out with Stephen Stills in Toronto, and when Stills recognised the distinctive hearse, he realised his friend was in town. Young and Palmer hooked up with Stephen Stills, Richie Furay, and Dewey Martin to form the folk, country, psychedelic group Buffalo Springfield. Their first release – Buffalo Springfield (1966) sold well after Stills' topical song, 'For What It's Worth', became a hit. A protest song about the kids on Sunset Street being clubbed into submission by LA's finest, its progress was aided by Young's melodic harmonics played on electric guitar.
After the breakup of Buffalo Springfield, Young signed a solo deal with Reprise Records (home of his colleague and friend Joni Mitchell), releasing his first album Neil Young in 1968. For his next album, Young recruited three young musicians from a band called The Rockets: Danny Whitten, Billy Talbot and Ralph Molina. These three took the name Crazy Horse, after the historical Native American figure of the same name.
This signalled a new beginning for Young, which can be heard on the 1969 album Everybody Knows This Is Nowhere (which is one of this writer's all-time favourite albums. If you've never heard it, I highly recommend it!).
Stephen Stills wanted a fourth member for his three-piece group, and it was Atlantic label head Ahmet Ertegün who suggested Young as the fourth member. His joining Crosby, Stills & Nash made them the first rock supergroup, the 1969 Woodstock festival their first major appearance.
With four great songwriters in one group, it was always going to be difficult. Between September 1970 and May 1971, each of the quartet released high-profile solo albums (Crosby's – If I Could Only Remember My Name, Stills' – Stephen Stills, Nash's – Songs for Beginners, and Young's – After the Gold Rush).
After the Gold Rush was just the beginning of a spectacular solo career for Young, who has outshone his fellow group members ever since.
He's always been his own man, releasing over 40 albums; he's had his experimental years, and he's directed a number of films (using the pseudonym Bernard Shakey). Young is an outspoken advocate for environmental issues and the welfare of small farmers, having co-founded Farm Aid in 1985.
Young has only ever achieved one US #1 hit single, 'Heart Of Gold' – maybe because of this Young has never had to face the pressures of being a 'pop star'. But he couldn't be a pop star, never was.
Neil Young – Long May You Run.