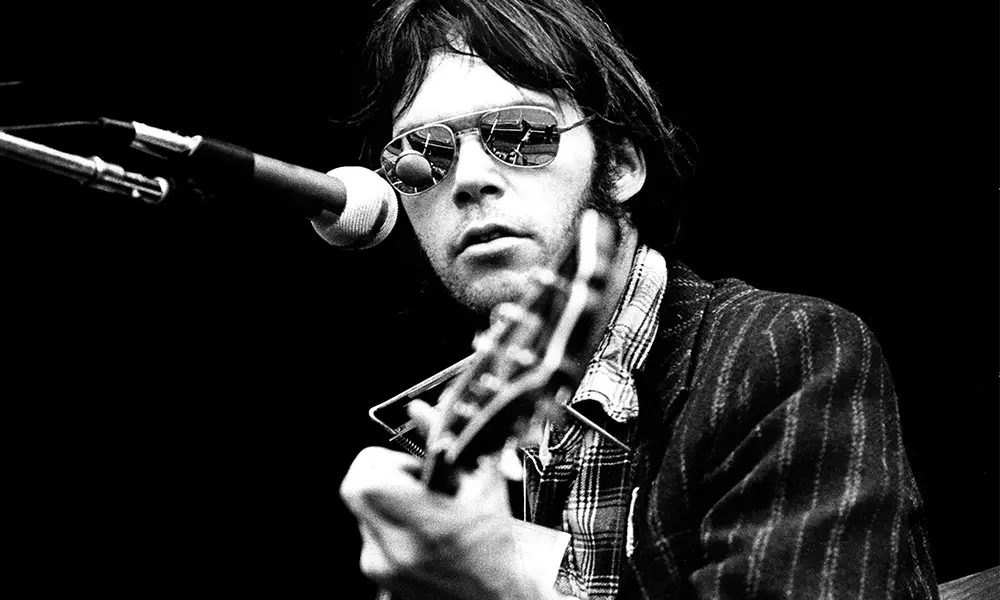 Having survived the rocky path from a struggling songsmith to superstardom, Neil Young is one of few performers to have achieved eminence yet at the same time maintained his credibility, eternally moving forward regardless of fashion or the demands of his record labels.
One of a handful of durable stars to have emerged from the relative obscurity of Canada, Young heads a cast list that includes peers like Joni Mitchell, Leonard Cohen, The Band and, more recently, Arcade Fire and Rufus Wainwright.
Having already made his name alongside longstanding musical ally Stephen Stills in Buffalo Springfield, Young staked his claim to superstardom in July 1969 by appearing with Davis Crosby, Stills and Graham Nash for the first time at The Fillmore East in New York. Young was initially asked to help out on live dates only but ended up joining the group on and off for the next 30 years. Little did any of the four know what a life and career changing moment this would be.
Growing up, Young idolised Elvis Presley and strived to be just like him and around the age of 10 he began to play music himself on a plastic ukulele. Other early musical influences included Chuck Berry, Little Richard, Fats Domino, The Chantels, The Monotones, The Fleetwoods and UK instrumental group The Shadows.
Raised by his mother in Fort Rouge, Winnipeg, Young was a shy, dry-humoured youth who enrolled at Earl Grey Junior High School where he formed his first band, The Jades and then, later, The Squires. In 1965 Young toured Canada as a solo artist and, while in Toronto, joined the Rick James-fronted Mynah Birds. The band secured a record deal with the Motown label but, as their first album was being recorded, James was arrested for being AWOL from the Naval Reserve. After the Mynah Birds disbanded, Young and bass player Bruce Palmer relocated to Los Angeles, travelling in Young's converted hearse, a 1948 Buick Roadmaster.
Young had met and hung out with Stephen Stills in Toronto, and when Stills recognised the distinctive hearse, he realised his friend was in town. Young and Palmer hooked up with Stephen Stills, Richie Furay, and Dewey Martin to form the folk, country, psychedelic group Buffalo Springfield. Their first release – Buffalo Springfield (1966) sold well after Stills' topical song, 'For What It's Worth', became a hit. A protest song about the kids on Sunset Street being clubbed into submission by LA's finest, its progress was aided by Young's melodic harmonics played on electric guitar.
After the breakup of Buffalo Springfield, Young signed a solo deal with Reprise Records (home of his colleague and friend Joni Mitchell), releasing his first album Neil Young in 1968. For his next album, Young recruited three young musicians from a band called The Rockets: Danny Whitten, Billy Talbot and Ralph Molina. These three took the name Crazy Horse, after the historical Native American figure of the same name.
This signalled a new beginning for Young, which can be heard on the 1969 album Everybody Knows This Is Nowhere (which is one of this writer's all-time favourite albums. If you've never heard it, I highly recommend it!).
Stephen Stills wanted a fourth member for his three-piece group, and it was Atlantic label head Ahmet Ertegün who suggested Young as the fourth member. His joining Crosby, Stills & Nash made them the first rock supergroup, the 1969 Woodstock festival their first major appearance.
With four great songwriters in one group, it was always going to be difficult. Between September 1970 and May 1971, each of the quartet released high-profile solo albums (Crosby's – If I Could Only Remember My Name, Stills' – Stephen Stills, Nash's – Songs for Beginners, and Young's – After the Gold Rush).
After the Gold Rush was just the beginning of a spectacular solo career for Young, who has outshone his fellow group members ever since.
He's always been his own man, releasing over 40 albums; he's had his experimental years, and he's directed a number of films (using the pseudonym Bernard Shakey). Young is an outspoken advocate for environmental issues and the welfare of small farmers, having co-founded Farm Aid in 1985.
Young has only ever achieved one US #1 hit single, 'Heart Of Gold' – maybe because of this Young has never had to face the pressures of being a 'pop star'. But he couldn't be a pop star, never was.
Neil Young – Long May You Run.
Important Dates In The Life Of Neil Young:
7 Feb 2021
Producer Elliot Mazer died at the age of 79. He is most famous for his work with
Neil Young
, working on a string of releases including Harvest, Journey Through The Past, Times Fades Away, Tonight's The Night, American Stars & Bars, Hawks & Doves, Everybody's Rockin', Old Ways, Lucky 13 and the recently released "lost" album Homegrown. He also worked with The Band, Janis Joplin,
Rory Gallagher
and many more.
21 Jun 2019
American music manager and record executive Elliot Roberts died aged 76. He is best known for helping to start and develop the careers of singer-songwriters from the late 1960s and 1970s, including those of
Neil Young
– whom he managed for over fifty years – and
Joni Mitchell
.
1 Jan 2019
American singer, songwriter Pegi Young died of cancer age 66. She first met future husband
Neil Young
in 1974 when she was working as a waitress at a diner near his ranch, a story he tells in the 1992 song 'Unknown Legend'. They married in August 1978 and had two children. Her debut as a singer came in 1983 when she was a member of The Pinkettes, the backing vocalists on her husband's rockabilly Shocking Pinks tour. She released her debut solo album in 2007.
25 Aug 2018
Neil Young and American actress and environmental activist Daryl Hannah married in a secret ceremony in Atascadero, California. It was Young's third marriage and her first.
7 Oct 2016
The Rolling Stones
played the first night of the Desert Trip festival, at the Empire Polo Club in Indio, California. The event also featured Bob Dylan, Paul McCartney, Neil Young, Roger Waters and the Who. The six-day (split over two weekends) event rakes in $160 million, making it the highest-earning music festival ever.
18 Jan 2015
American session drummer Dallas Taylor died of complications from viral pneumonia and kidney disease, aged 66. He is best known as the drummer on Crosby, Stills and Nash's debut album, Crosby, Stills & Nash (1969) and their follow-up with
Neil Young
, Déjà Vu (1970) as well as appearing on Stephen Stills' eponymous first solo album in 1970. Taylor was the drummer for Stills' group Manassas in 1972 and 1973. In 1970, Dallas sat in with
The Doors
accompanying John Densmore on drums.
Jim Morrison
acknowledges him on
The Doors
Live in New York album.
6 Nov 2014
American musician Rick Rosas died aged 65. He was one of the most sought after studio session musicians in Los Angeles. Throughout his career, he played with
Neil Young
, Joe Walsh, Crosby, Stills, Nash & Young, Jerry Lee Lewis,
Ron Wood
and many others. In 2014, Rosas joined
Neil Young
and Crazy Horse on their European tour, following Billy Talbot's inability to tour due to a stroke - making Rosas the only bassist to have played with three of Young's major band-based projects, Buffalo Springfield, Crosby, Stills, Nash & Young and Crazy Horse.
30 Jan 2010
Neil Young
was named the Musicares person of the year for his "influential artistic accomplishments and philanthropic work". A string of artist including
Elton John
, Norah Jones, James Taylor, Elvis Costello, John Forgarty, Dave Matthews and Sheryl Crowe performed his songs as he was honoured by the US Recording Academy at the Los Angeles Convention Centre.
30 Dec 2009
Singer, songwriter
Neil Young
was made an Officer of the Order of Canada. Other Canadian musicians who have been given the award include
Bryan Adams
, Leonard Cohen and the members of Rush.
19 Sep 2008
American drummer Earl Palmer died. Worked with
The Beach Boys
,
Little Richard
('Tutti Frutti'),
Frank Sinatra
, Ike And Tina Turner ('River Deep, Mountain High'), The
Monkees
, Fats Domino ('I'm Walkin'),
Neil Young
, Elvis Costello, Tom Waits, The
Righteous Brothers
('You've Lost That Lovin' Feelin'), and Randy Newman, Tom Waits, Bonnie Raitt, Tim Buckley, Little Feat and Elvis Costello.
12 May 2008
Singer-songwriter
Neil Young
had a spider named after him. US university biologist Jason Bond discovered a new species of trapdoor spider and decided to name it after his favourite musician. Myrmekiaphila neilyoungi was found in Jefferson County, Alabama, in 2007.
30 Nov 2007
During a Christies Rock & Roll auction held the Rockefeller Plaza, New York City a collection of 276 ticket stubs compiled by a rock journalist who covered many rock concerts at New York City venues sold for $2,000. The tickets included concerts by:
Jimi Hendrix
,
The Who
,
Rolling Stones
,
Frank Zappa
,
The Beach Boys
,
Pink Floyd
,
The Allman Brothers Band
,
Led Zeppelin
,
Neil Young
,
Fleetwood Mac
,
Grateful Dead
and
Bruce Springsteen
.
23 Sep 2006
Neil Young
was named artist of the year at the Americana Honors and Awards at the fifth annual event in Nashville, Tennessee. The 60-year-old singer-songwriter released the protest album Living With War this year.
2 Jul 2005
The world's biggest music stars united in concerts around the world to put pressure on political leaders ahead of the G8 summit to tackle poverty in Africa. Concerts in 10 cities, including London, Philadelphia, Paris, Berlin, Johannesburg, Rome and Moscow played to hundreds of thousands of people. A TV audience of several hundred million watched the gigs. In London
Pink Floyd
,
The Who
,
Madonna
,
U2
,
Coldplay
, Sting, The Scissor Sisters, Keane, and
Paul McCartney
performed. Philadelphia saw, Destiny's Child, Jay-Z and
Bon Jovi
, Canada,
Bryan Adams
and
Neil Young
headlined, Bjork headlined in Tokyo and
Green Day
played in Berlin.
29 Mar 2005
Neil Young
was treated for a brain aneurysm at a hospital in New York. Doctors expected the 59 year old to make a full recovery. The aneurysm was discovered when Young's vision became blurred after the induction ceremony for the Rock and Roll Hall of Fame last month.
1 Oct 2004
Canadian bassist Bruce Palmer died of a heart attack. Member of The Mynah Birds and The Buffalo Springfield. Also worked with Crosby, Stills, Nash, & Young and
Neil Young
.
12 Sep 2004
American drummer and arranger Kenny Buttrey died in Nashville, Tennessee, Worked with
Neil Young
, (Harvest, and After the Gold Rush),
Bob Dylan
(Blonde on Blonde, Nashville Skyline & John Wesley Harding), and Bob Seger,
Elvis Presley
, Donovan,
George Harrison
, Joan Baez, Dan Fogelberg, Kris Kristofferson, Jimmy Buffett,
Chuck Berry
and Area Code 615.
17 Nov 2003
American country music legend Don Gibson died of natural causes aged 75. Scored the 1958 US No.7 single 'Oh Lonesome Me', (covered by
Neil Young
on his After The Gold Rush album), 1961 UK No.14 single 'Sea Of Heartbreak'. His song 'I Can't Stop Loving You', has been recorded by over 700 artists, most notably by Ray Charles in 1962.
22 Sep 2001
'A Tribute to Heroes' was aired commercial-free on most of the major US TV networks. The live program was organised to raise money following the terrorist attacks on the Pentagon and New York's World Trade Center.
Neil Young
,
Tom Petty
,
Paul Simon
,
Billy Joel
,
U2
, Limp Bizkit,
Bruce Springsteen
and
Pearl Jam
all performed. Manning the telephones to take pledges were celebrities including Jack Nicholson, Jim Carrey, Whoopi Goldberg, Goldie Hawn, Robin Williams, Meg Ryan, Cuba Gooding Jr., Kurt Russell, Adam Sandler and many more.
25 Aug 2000
Academy Award-winning film score composer and record producer Jack Nitzsche died of a heart attack. He produced The
Rolling Stones
,
Neil Young
, Buffalo Springfield and The Walker Brothers. Musical scores including The Exorcist, One Flew Over the Cuckoo's Nest, co-wrote 'Up Where We Belong' with Buffy Sainte-Marie from 1982 film An Officer and a Gentleman.
1 May 2000
A writer who claimed
Neil Young
went back on an agreement to have a biography written about him filed a $1.8 million civil fraud suit against Young in Los Angeles Superior Court. Young had blocked the book's publication.
16 Dec 1997
American singer songwriter Nicolette Larson died aged 45 of complications arising from cerebral edema. Worked with
Neil Young
, (Comes a Time and Harvest Moon albums), Emmylou Harris, Linda Ronstadt, Michael McDonald, Willie Nelson, Jimmy Buffett,
The Beach Boys
and The Doobie Brothers. Best known for her 1978 cover of
Neil Young
'Lotta Love'.
16 Oct 1992
4 Jul 1986
The second Farm Aid benefit concert took place at Manor Downs Racetrack, Manor, Texas. Held to raise money for family farmers in the US, the concerts were organized by Willie Nelson, John Mellencamp and
Neil Young
. Artists who appeared included: Alabama,
The Beach Boys
,
Bob Dylan
, Steve Earle, The Fabulous Thunderbirds, Emmylou Harris, Jason & the Scorchers, Waylon Jennings, George Jones,
Bon Jovi
, John Mellencamp,
Tom Petty
, Vince Neil and Willie Nelson.
22 Sep 1985
The first Farm Aid benefit concert was held before a crowd of 80,000 people at the Memorial Stadium in Champaign, Illinois. Organized by Willie Nelson, John Mellencamp and
Neil Young
, the event had been spurred on by
Bob Dylan
's comments at
Live Aid
earlier in that year that he hoped some of the money would help American farmers. The star studded line-up of country stars included: Alabama, Hoyt Axton,
Glen Campbell
,
Johnny Cash
, Charlie Daniels Band, John Denver,
Bob Dylan
, John Fogerty, Vince Gill, Merle Haggard, Emmylou Harris, Waylon Jennings, George Jones, Kris Kristofferson, Loretta Lynn, Roger Miller, Nitty Gritty Dirt Band, Willie Nelson, Charley Pride, Bonnie Raitt, Kenny Rogers.
13 Jul 1985
At 12.01 Status Quo started the
Live Aid
extravaganza, held between Wembley Stadium, London and The JFK Stadium, Philadelphia. The cream of the world's biggest rock stars took part in the worldwide event, raising over £40million. TV pictures beamed to over 1.5bn people in 160 countries made it the biggest live broadcast ever known. Artists who appeared included
Paul McCartney
,
Phil Collins
,
The Who
,
U2
,
David Bowie
and
Mick Jagger
,
Queen
, Tina Turner, The Cars,
Neil Young
,
Tom Petty
,
Bob Dylan
,
Bryan Adams
,
Hall and Oates
, Lionel Richie and
Led Zeppelin
.
1 Dec 1983
Neil Young
was sued by Geffen Records because his new music for the label was 'not commercial in nature and musically uncharacteristic of his previous albums'. His latest album Everybody's Rockin' featured a selection of rockabilly songs (both covers and original material) which ran for just 25 minutes, Young's shortest album.
4 Nov 1977
25 Nov 1976
The Band made their final performance; 'The Last Waltz' held on American Thanksgiving Day, at Winterland Ballroom in San Francisco. The show also featured
Joni Mitchell
, Dr John,
Neil Young
, Van Morrison,
Neil Diamond
,
Eric Clapton
and others. The event was filmed by director Martin Scorsese and made into a documentary of the same name, released in 1978.
12 Aug 1973
18 Apr 1973
The
Crosby, Stills Nash & Young
documentary Journey Through The Past, directed by Neil Young, debuted at the Dallas Film Festival. The experimental film featured concert footage from 1966 onward, backstage footage and art film-like sequences.
18 Nov 1972
Singer, songwriter Danny Whitten died of a drug overdose aged 29. He was a member of Neil Young's Crazy Horse and writer of 'I Don't Wanna Talk About It', covered by
Rod Stewart
, Rita Coolidge and Everything But The Girl. The
Neil Young
song 'The Needle and the Damage Done' was written about Whitten's heroin use (before he died of an overdose).
18 Mar 1972
Neil Young
started a three week run at No.1 on the US singles chart with 'Heart Of Gold'. Released from the 1972 album Harvest, it is so far Young's only US No. 1 single. The song features backup vocals by James Taylor and Linda Ronstadt.
11 Mar 1972
Neil Young
went to No.1 on the US & UK album chart with his fourth studio album 'Harvest.' The album featured the US No.1 hit single 'Heart Of Gold.'
17 Feb 1971
James Taylor made his TV debut on The
Johnny Cash
Show. Other guests included
Neil Young
, Linda Ronstadt and Tony Joe White.
21 May 1970
Crosby, Stills, Nash & Young released the protest single Ohio, written and composed by
Neil Young
in reaction to the Kent State shootings of May 4, 1970, when unarmed college students were shot by the Ohio National Guard. The guardsmen fired 67 rounds over a period of 13 seconds, killing four students and wounding nine others, one of whom suffered permanent paralysis.
4 May 1970
Four students at Kent University were killed and eleven wounded by National Guard troops at a campus demonstration protesting the escalation of the Vietnam War. The incident inspired
Neil Young
to compose 'Ohio' which became a hit for
Crosby Stills Nash & Young
.
4 Apr 1970
Crosby Stills Nash & Young
went to No.1 on the US album chart with Deja Vu. The first album which saw
Neil Young
joining Crosby, Stills and Nash featured three US Top 40 singles: 'Teach Your Children', 'Our House' and '
Woodstock
'.
25 Jul 1969
Neil Young
appeared with
Crosby, Stills and Nash
for the first time when played at The Fillmore East in New York. Young was initially asked to help out with live material only, but ended up joining the group on and off for the next 30 years.
1 May 1969
Bob Dylan
recorded an appearance for The
Johnny Cash
Show at the Ryman Auditorium in Nashville, Tennessee. After two solo numbers from Dylan,
Johnny Cash
joined him for a rendition of 'Girl From The North Country'. In this primetime show, Cash enjoyed booking contemporary performers as guests;
Neil Young
, James Taylor, Ray Charles and
Eric Clapton
were all booked to appear on forthcoming shows.
19 Jul 1968
Pink Floyd
played the second of three nights at the Boston Tea Party, Boston, Massachusetts. Opened in January 1967 as a psychedelic club, many many famous artists, including
Grateful Dead
,
Neil Young
, The J. Geils Band,
Frank Zappa
,
Cream
,
Fleetwood Mac
,
The Allman Brothers Band
,
Led Zeppelin
, The
Jimi Hendrix Experience
,
Jeff Beck
,
The Who
,
Santana
, Taj Mahal, Ten Years After and Sly & the Family Stone all appeared.
20 Mar 1968
Eric Clapton
Neil Young
, Richie Furay and Jim Mesina, were arrested in Los Angeles for 'being at a place where it was suspected marijuana was being used.' Clapton was later found innocent, the others paid small fines.
19 Dec 1967
Buffalo Springfield appeared at the Community Concourse, San Diego, California. The group became a springboard for the careers of
Neil Young
Stephen Stills, Richie Furay and Jim Messina.
11 Apr 1966
Buffalo Springfield made their live debut at The Troubadour in Hollywood, California. The folk rock band are renowned both for their music and as a springboard for the careers of
Neil Young
, Stephen Stills, Richie Furay and Jim Messina. Buffalo Springfield were among the first wave of North American bands to become popular in the wake of the British invasion.
3 Mar 1966
Neil Young
, Stephen Stills and Richie Furay formed Buffalo Springfield in Los Angeles. Among the first wave of American bands to become popular in the wake of the British invasion, the group combined rock, folk, and country music into a sound all its own. Its million-selling song 'For What It's Worth' became a political anthem for the turbulent late 1960s.
13 Feb 1960
Frank Sinatra
launched his own record label, Reprise Records, in order to allow more artistic freedom for his own recordings. Hence, he garnered the nickname "The Chairman of the Board."One of the label's founding principles under Sinatra's leadership was that each artist would have full creative freedom, and at some point complete ownership of their work. Reprise later became the home of many influential US acts such as
Neil Young
,
Jimi Hendrix
,
Joni Mitchell
, Randy Newman and
The Beach Boys
.