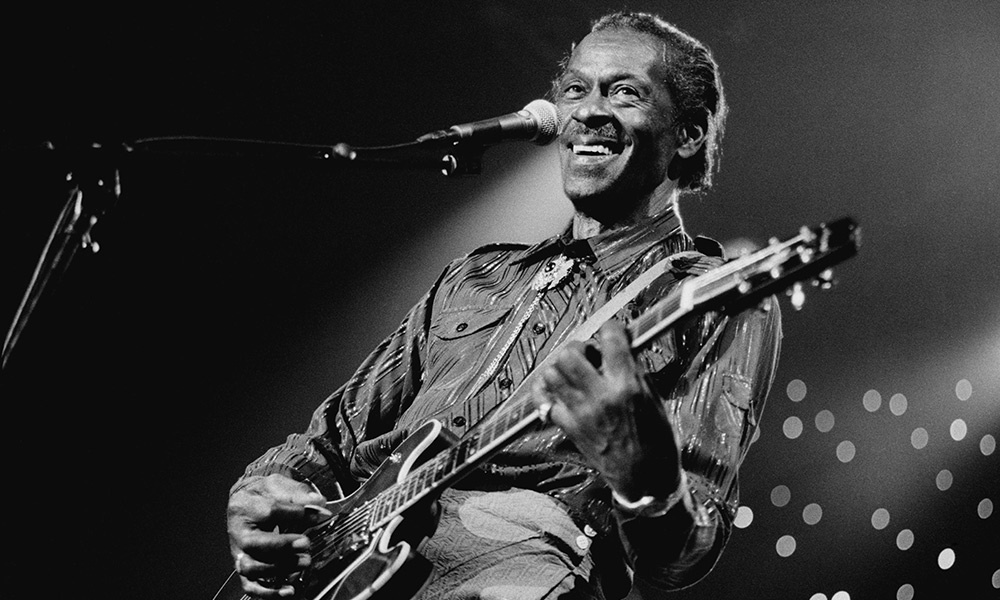 American guitarist, singer, and songwriter Chuck Berry was born on 18th Oct 1926. Berry was one of the pioneers of rock and roll music, he refined and developed rhythm and blues into the major elements that made rock and roll distinctive, with lyrics focusing on teen life and consumerism and his own brand of showmanship that became a major influence on subsequent rock music.
Without Chuck Berry, there'd be no Beatles and no Rolling Stones. Now can you imagine a world without the Stones? The only people who would've met Mick Jagger would have been his pupils at Dartford Boys Grammar School, where Mr. Jagger (or 'Jumpin Jack Flash' as he was known by his class) worked as a PE instructor. He retired when he was 60 and is now regularly sighted around local bars chasing young ladies. And Keith Richards? Well, I can't actually think of anything The Human Riff could've done except play the guitar. So maybe Keith would be busking at the bottom of escalators deep beneath the London underground network in London.
"Johnny B. Goode" was one of the examples of music sent out into space In such good company as well. The musical selection was varied: Beethoven, Guan Pinghu, Mozart, Stravinsky, and Chuck Berry. You see, he IS the King of Rock and Roll, no Elvis Presley records in sight!
The Voyager Golden Records were included on both Voyager spacecraft, which were launched in 1977. They contain sounds and images selected to portray the diversity of life and culture on Earth, and are intended for any intelligent extraterrestrial life form, or for future humans, who may find them. The Voyager spacecraft are not heading toward any particular star, but Voyager 1 will be within 1.6 light years of the star AC+79 3888 in the Ophiuchus constellation in about 40,000 years. Now that might seem like a long time to you, but if I was an alien, I know it would be worth the wait.
Voyager will come crashing down on planet Zonk, the door will burst open on impact, and out will roll that disc. The three-headed men will excitedly gather around the smoldering craft, get out their record player (where did that come from?), and marvel at the sounds coming from that small disc.
First that guitar riff and then…
Deep down in Louisiana close to New Orleans
Way back up in the woods among the evergreens
There stood a log cabin made of earth and wood
Where lived a country boy named Johnny B. Goode
Who never ever learned to read or write so well
But he could play the guitar just like a-ringin' a bell

And you know, it will sound even better to those aliens, because having three heads, they'll all have six ears. All the better for listening to rock and roll music with.
"Johnny B. Goode" is Berry's masterpiece, as it brought together all the elements of his unique musical sound. It cemented his place in rock history and inspired so many young men to learn the guitar and form bands. Without Chuck Berry, Bruce Springsteen would be a folk singer.
Chuck outlived so many of his contemporaries. Berry is like all great innovators, truly original, and unique.
Some say he only wrote one song, which has been re-worked over and over again, but I don't agree with that. And anyway, if it was just one song, it was a bloody good one.
In 2002, Rolling Stone magazine published a list of the Top 50 guitar songs of all time. No.5 was "Brown Sugar" by The Rolling Stones, No.4, "You Really Got Me" By The Kinks, No.3, "Crossroads", by Cream, No.2 "Purple Haze", by Jimi Hendrix and No.1 "Johnny B Goode", Chuck Berry.
Now that's a very nice list indeed to top.
Chuck Berry died on 18 March 2017 aged 90.
"If you tried to give rock and roll another name, you might call it 'Chuck Berry'." John Lennon
Important Dates In The Life Of Chuck Berry:
9 May 2020
Little Richard
died of bone cancer at the age of 87. He had his biggest hits in the 1950s and was known for his exuberant performances and flamboyant outfits. With the likes of Chuck Berry and Elvis, he was one of the handful of US acts who mixed blues, R&B and gospel that led to the evolution of rock 'n' roll. He sold more than 30 million records worldwide with hits including 'Good Golly Miss Molly', 'Lucille', 'Tutti Frutti' and 'Long Tall Sally'.
18 Mar 2017
Chuck Berry
died aged 90. The American guitarist, singer and songwriter was one of the pioneers of rock and roll music. With songs such as 'Maybellene' (1955), 'Roll Over Beethoven' (1956), 'Rock and Roll Music' (1957) and 'Johnny B. Goode' (1958), Berry refined and developed rhythm and blues into the major elements that made rock and roll distinctive.
9 Nov 2015
Scottish session drummer Andy White died aged 82. He was affectionately christened "the fifth Beatle" as he was best known for replacing
Ringo Starr
on drums on the
The Beatles
' first single, '
Love Me Do
'. White was featured on the American 7" single release of the song, which also appeared on the band's debut British album, Please Please Me. He also played on 'P.S. I Love You', which was the B-side of '
Love Me Do
'. White also worked with
Chuck Berry
, Billy Fury, Herman's Hermits and Tom Jones.
3 Dec 2014
8 May 2014
Chuck Berry
was named as one of the 2014 Polar Music Prize laureates. A spokesperson from the award committee said: "In the course of three minutes he conjures up an image of the everyday life and dreams of a teenager, often with the focus on cars.
Chuck Berry
, born in 1926, was the first to drive up onto the highway and announce that we are born to run."
1 Jan 2011
Chuck Berry
cut short a concert at Congress Theater, Chicago, Illinois after collapsing on stage an hour into the show. Berry slumped over a keyboard and did not move for a couple of minutes before being helped off stage, he returned 15 minutes later only to be forced off again almost immediately. The 84 year-old later re-emerged on stage but told fans he had no strength to continue performing.
8 Jun 2008
Rolling Stone magazine published a list of the Top 50 guitar songs of all time. No.5 was 'Brown Sugar' by The
Rolling Stones
, No.4 , 'You Really Got Me' by
The Kinks
, No.3, 'Crossroads', by
Cream
, No.2 'Purple Haze', by
Jimi Hendrix
and No.1 'Johnny B Goode',
Chuck Berry
.
12 Sep 2004
American drummer and arranger Kenny Buttrey died in Nashville, Tennessee, Worked with
Neil Young
, (Harvest, and After the Gold Rush),
Bob Dylan
(Blonde on Blonde, Nashville Skyline & John Wesley Harding), and Bob Seger,
Elvis Presley
, Donovan,
George Harrison
, Joan Baez, Dan Fogelberg, Kris Kristofferson, Jimmy Buffett,
Chuck Berry
and Area Code 615.
26 Mar 2004
Jan Berry of Jan and Dean, died at the age of 62, after being in poor health sustained in a 1966 car crash. Had the 1963 US No.1 & UK No.26 single 'Surf City', (co written by Beach Boy
Brian Wilson
). At the height of their fame, Jan and Dean hosted and performed at The T.A.M.I. Show, the film also featured The
Rolling Stones
,
Chuck Berry
,
James Brown
,
Marvin Gaye
, The
Supremes
and
Smokey Robinson
& The Miracles.
26 Aug 2003
23 Oct 2002
A federal judge in St. Louis dismissed a lawsuit against
Chuck Berry
by Johnnie Johnson, a piano player and former collaborator who wanted royalties for more than 30 songs written between 1955 and 1966. The songs in question included 'No Particular Place To Go', 'Roll Over Beethoven', and 'Sweet Little Sixteen'. Johnson's lawsuit argued that he and Berry were co-writers on many of the songs, but because Berry copyrighted them in his name alone, Johnson got none of the royalties. The judge ruled that too many years had passed to bring about a royalties suit.
20 Jul 2000
The Evergreen Ballroom in Lacey, Washington was destroyed by a fire. During the ballroom's heyday in the 1950s, 60s and 70s, many of music's greats played there:
Elvis Presley
,
Johnny Cash
, Duke Ellington,
Chuck Berry
,
Little Richard
, Ike & Tina Turner and Fats Domino.
Glen Campbell
had lived in the kitchen at the venue for a while before he became famous.
21 Nov 1995
Legendary manager of
Led Zeppelin
Peter Grant died from a heart attack aged 60. Known as being one of the shrewdest and most ruthless managers in rock history, Grant secured 90% of concert gate money and intimidated record store owners who dealt in bootlegs. The former wrestler, also worked as a film extra and bodyguard. During the early 60's Grant worked as a tour manager for
Bo Diddley
, The Everly Brothers,
Little Richard
,
Chuck Berry
, Eddie Cochran, Gene Vincent and The Animals.
6 Feb 1990
Over 200 women filed court actions against
Chuck Berry
after it was alleged that he had been secretly filming them in the toilets of the restaurant he owned.
27 Dec 1989
A former chef at the
Chuck Berry
owned restaurant Southern Air started court proceedings against Berry alleging that the singer had installed secret video cameras in the ladies toilets. A further 200 other women also took action claiming that the recordings were used for improper sexual fetishes.
29 Sep 1989
While travelling on his motorbike from Los Angeles,
Bruce Springsteen
called in at Matt's Saloon in Prescott, Arizona and jammed with the house band. Bruce played a bunch of rock and roll classics, including
Elvis Presley
's 'Don't Be Cruel,' and
Chuck Berry
's 'Sweet Little Sixteen' and 'Route 66.' Bruce also donated $100,000 to a barmaid's hospital bill.
8 Oct 1987
Chuck Berry
was awarded a star on the Hollywood Walk of Fame. His film biography, Hail, Hail Rock & Roll also premiered on the same night.
16 Oct 1986
30 Jan 1982
28 Aug 1981
Producer Guy Stevens died at the age of 38 years old, having overdosed on prescription drugs he was taking to reduce his alcohol dependency. He worked with
Mott The Hoople
,
Free
and
The Clash
. He was the president of the
Chuck Berry
Appreciation Society and it was Stevens who brought Berry to the UK for his first tour. He gave
Procol Harum
and Mott the Hoople their distinctive names.
19 Nov 1979
Chuck Berry
was released from prison after serving a four-month sentence for tax evasion.
12 Jul 1979
American singer songwriter Minnie Riperton died of cancer aged 31. The
Stevie Wonder
produced 'Loving You' gave Minnie a US No.1 single in 1975. She worked at Chess records singing backup for various artists such as Etta James, Fontella Bass,
Bo Diddley
,
Chuck Berry
and Muddy Waters. She also sang lead for the experimental rock/soul group Rotary Connection, from 1967 to 1971. Also a member of Wonderlove in 1973, a backup group for
Stevie Wonder
.
10 Jul 1979
Chuck Berry
was sentenced to five months in jail after being found guilty of tax evasion.
21 Jul 1973
Canned Heat, Nazareth, Edgar Broughton Band, Groundhogs, Sensational Alex Harvey Band, Medicine Head, all appeared at Buxton Festival in Derbyshire, England. Hell's Angels arrived in force and proceeded to drink the site dry. Initially they paid for the booze, but when the money ran out a deputation was sent into the audience to collect donations of 10p per person. About 20 minutes into his set
Chuck Berry
was showing one of the Angels how to do his duck-walk properly. He did one from one end of the stage to the other and disappeared into the wings. The band played on, the Angels bopped, and Chuck legged it to his car and drove off at high speed, never to return.
25 Nov 1972
Chuck Berry
was at No.1 on the UK singles chart with 'My Ding a-Ling', his only UK No.1. The song was originally recorded by Dave Bartholomew in 1952. Berry's version was from a concert recorded at the Locarno ballroom in Coventry, England, on 3 February 1972. Boston radio station WMEX disc jockey Jim Connors was credited with a gold record for discovering the song and pushing it to No.1 over the airwaves and amongst his peers in the United States.
21 Oct 1972
Chuck Berry
started a two week run at No.1 on the US singles chart with 'My Ding-A-Ling', his first and only US and UK No.1, 17 years after his first chart hit.
1 Feb 1972
Chuck Berry
had his first UK No.1 single with a live recording of a song he'd been playing live for over 20 years 'My Ding-a-Ling'. UK public morality campaigner Mary Whitehouse attempted to have the song banned due to its innuendo-laden lyrics. The Average White Band members guitarist Onnie McIntyre and drummer Robbie McIntosh played on the single.
7 Nov 1969
The
Rolling Stones
kicked off their 6th North American tour at Fort Collins state University, Colorado. Also on the bill was Ike and Tina Turner,
Chuck Berry
and B.B. King.
16 Oct 1969
Record company executive and founder of the Chess record label Leonard Chess died of a heart attack aged 52. Home to John Lee Hooker,
Chuck Berry
,
Bo Diddley
Little Walter, The Moonglows, The Flamingos, Jimmy Reed and Sonny Boy Williamson.
13 Sep 1969
John Lennon
& Yoko Ono flew to Canada to perform at the Rock & Roll Revival Show in Toronto, Canada. The band members
Eric Clapton
, Klaus Voormann and drummer Alan White were put together so late that they had to rehearse on the plane from England. Also making an appearance at the concert were
Chuck Berry
, Gene Vincent,
Bo Diddley
,
The Doors
and Alice Cooper. Lennon later released his performance as the Live Peace in Toronto 1969 album.
25 Jul 1969
The Seattle Pop Festival took place at the Gold Creek Park, Woodinville, Washington. Acts who appeared over three days included,
Chuck Berry
, Tim Buckley, The Byrds, Chicago Transit Authority, Albert Collins,
Bo Diddley
,
The Doors
, The Flock, The Flying Burrito Brothers, Guess Who, It's A Beautiful Day,
Led Zeppelin
,
Santana
, Spirit, Ten Years After, Ike & Tina Turner, Vanilla Fudge, Alice Cooper and The Youngbloods.
4 Jul 1969
Janis Joplin
,
Led Zeppelin
, Johnny Winter, Delaney and Bonnie,
Creedence Clearwater Revival
, Canned Heat, Joe Cocker, Blood Sweat & Tears,
Chuck Berry
, Spirit, Chicago and Paul Butterfield all appeared at the two-day Atlanta Pop Festival, Byron, Georgia.
28 Dec 1968
The three day Miami Pop festival took place, the first major rock festival held on the East Coast of the US, with The
Jimi Hendrix Experience
,
Chuck Berry
, The McCoys,
Joni Mitchell
,
Fleetwood Mac
,
Marvin Gaye
, The Turtles, The Box Tops, Steppenwolf, Three Dog Night, Pacific Gas and Electric,
Procol Harum
, Canned Heat,
Iron Butterfly
and
Grateful Dead
.
18 May 1968
The first Miami Pop event took place with an estimated 100,000 people attending the concert, which was promoted by Richard O'Barry & Michael Lang (later famous as the promoter of
Woodstock
). Bands featured at the festival included Steppenwolf, The
Jimi Hendrix Experience
, The Mothers of Invention, Blue Cheer,
Chuck Berry
, The Blues Image, Pacific Gas and Electric, Three Dog Night and the Crazy World of Arthur Brown.
28 Oct 1964
10 Jun 1964
The first edition of the official The
Rolling Stones
book was issued, priced at one and six, (the publication ran for 30 issues). Also on this day, at producers Phil Spector's suggestion, The Stones recorded 'It's All Over Now', 'I Can't Be Satisfied' and 'Time Is On My Side' at Chess studios in Chicago. During the day, the Stones got to meet, Muddy Waters, Willie Dixon, Buddy Guy and
Chuck Berry
.
9 May 1964
Chuck Berry
began his first ever UK tour at The Astoria Theatre, London, supported by The Animals, The Swinging Blue Jeans, Karl Denver and the Nashville Teens.
7 Jun 1963
The
Rolling Stones
released their debut single, 'Come On'. Recorded the previous month, the track was originally written and released by
Chuck Berry
in 1961. The B-side was also a cover version, Willie Dixon's 'I Want to Be Loved'. The single reached No.21 in the UK chart.
10 May 1963
The
Rolling Stones
recorded the
Chuck Berry
song 'Come On', at Olympic Studios, London. This the bands first release was issued on the 7th June 1963 by Decca Records.
4 Mar 1963
The Beach Boys
released 'Surfin' U.S.A.' a song with lyrics by Brian Wilson set to the music of 'Sweet Little Sixteen', written by
Chuck Berry
. Billboard ranked 'Surfin' U.S.A.' the No. 1 song of 1963.
31 May 1961
Chuck Berry
opened 'Berry Park', an amusement complex near St Louis. The park had its own zoo, golf course and ferris wheel.
23 Dec 1959
Chuck Berry
was arrested after taking 14 year old Janice Norine (who unbeknown to Berry was working as a prostitute), across a state line. He was sentenced to 5 years jail but after racist comments by the judge Berry was freed.
31 Mar 1958
Chuck Berry
's rock 'n' roll classic 'Johnny B. Goode' single was released. It entered the US charts six weeks later and peaked at No.8 on the chart. The song's original lyrics referred to Johnny as a 'colored boy', but Berry later acknowledged that he changed it to 'country boy' to ensure radio play.
28 Mar 1958
Buddy Holly
kicked off the first night of a 43 date tour at Brooklyn Paramount Theatre in Brooklyn, New York. The Alan Freed's Big Beat Show also featured Jerry Lee Lewis,
Chuck Berry
, Frankie Lymon, The Diamonds, Billy Ford, Danny & The Juniors, The Chantels, Larry Williams, Screaming Jay Hawkins, The Pastels, Jo-Ann Campbell and Ed Townsend. On most days the acts played two shows.
16 Apr 1956
Chuck Berry
recorded "Roll Over Beethoven" which was released by Chess Records the following month. It is said that Berry wrote the song in response to his sister Lucy always using the family piano to play classical music when Berry wanted to play pop music. The lyric "roll over Beethoven and tell Tchaikovsky the news" refers to how classical composers would roll over in their graves upon hearing that classical music had given way to rock and roll.
21 May 1955
Chuck Berry
recorded 'Maybellene' at Universal Recording Studios, Chicago, Illinois. The song adapted in part from the Western swing fiddle tune 'Ida Red' is said to be one of the first rock and roll songs. The track became Berry's debut single release in July of this year where it peaked at No.5 on the US chart.
31 Oct 1952
Pianist Johnnie Johnson hired 26 year old
Chuck Berry
as a guitarist in his band. While playing evening gigs in the St. Louis area, Berry kept his day job as a hairdresser for the next three years.