The Beach Boys – Pet Sounds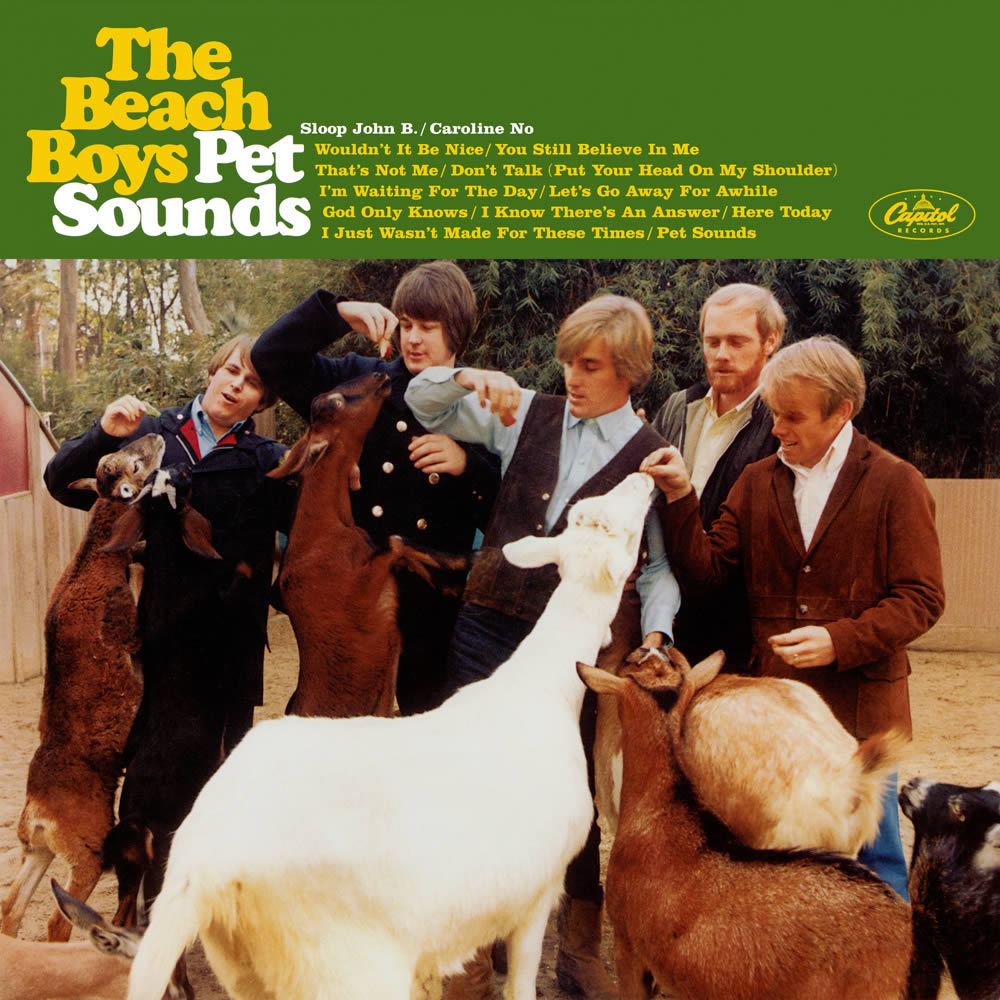 The Beatles stated that The Beach Boys Pet Sounds album had a major influence on them and the making of their 1967 Sgt. Pepper's Lonely Hearts Club Band. But the two groups were playing a public game of cat and mouse. On hearing The Beatles Rubber Soul album, Beach Boy Brian Wilson proclaimed he was going make 'the greatest rock album ever made!'
Released in May 1966, Pet Sounds is now regarded as the masterpiece of composer-producer Brian Wilson and is often hailed as one of the best and most influential albums in pop music.
To confirm this, Pet Sounds has been widely ranked as one of the most influential records ever released and has been ranked at #1 in several music magazines lists of greatest albums of all time, including New Musical Express, The Times and Mojo Magazine. In 2003, it was ranked #2 in Rolling Stones 500 Greatest Albums of All Time list, (Sgt. Pepper's came first).
The album was created several months after Brian Wilson had quit touring with the band in order to focus his attention on writing and recording. In it, he wove elaborate layers of vocal harmonies, and unconventional instruments such as bicycle bells, dog whistles, buzzing organs, harpsichords, flutes, Electro-Theremin, Hawaiian-sounding string instruments, Coca-Cola cans and barking dogs, (Wilson's own dog Banana is featured), along with the more usual keyboards and guitars. Wilson essentially made Pet Sounds without the rest of the band, using them only to flesh out the vocal arrangements.
As a child, his mother told him that dogs could pick up "vibrations" from people, so that the dog would bark at "bad vibrations". Wilson turned this into the general idea for the song "Good Vibrations", which went on to become the band's third US #1 hit, with the track being recorded in various Los Angeles studios, at a cost of over $16,000. The recording engineer would later say that the last take sounded exactly like the first, six months earlier.
Wilson's approach was in some respects a refinement and development of the famous 'Wall of Sound' technique created by his mentor and rival Phil Spector. In fact, Wilson has stated that he named the album using Spector's initials.
Along with Revolver and Pink Floyd's The Piper at the Gates of Dawn, Pet Sounds is one of the first psychedelic rock masterpieces with its artful experiments, psychedelic lyrics, new sounds on guitars, organs, pianos and other instruments.
While psychedelic drugs inspired The Beatles to look at the problems in the world around them, they made Brian Wilson turn his attention inward and probe his emotional longings and his deep-seated self-doubts.
The album's cover shots were taken at San Diego Zoo, and according to the Pet Sounds liner notes, "The photos of The Beach Boys feeding an assortment of goats was a play on the album's chosen title, Pet Sounds. The idea that the sounds heard on the album were Brian's 'pet,' or favorite, sounds".