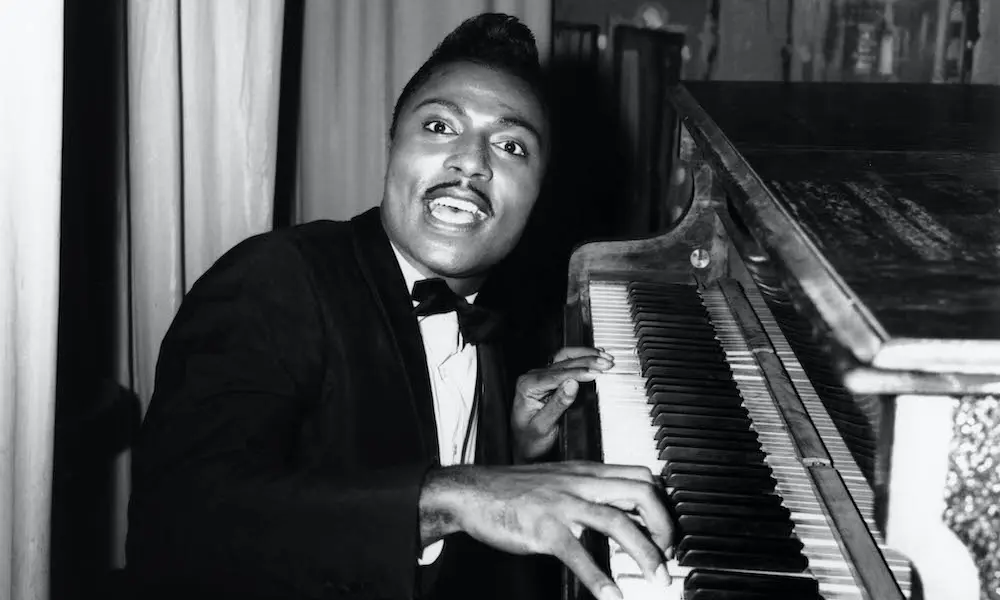 In Sept 1955, Little Richard entered a New Orleans recording studio to begin two days of recording. Things were not going well and during a break, Richard and his producer; Bumps Blackwell went to the Dew Drop Inn for lunch. Richard started playing the piano in the bar, singing aloud and lewd version of "Tutti Frutti." With only fifteen minutes left in the session, Richard recorded the song and coined the phrase, "A-wop-bop-a-loo-bop-a-lop-bam-boom."
Can you imagine how cool it would be to coin a phrase like that! And today over fifty years later, it still sounds as good.
That opening cry of "A-wop-bop-a-loo-bop-a-lop-bop-bop!" was supposedly intended to be an onomatopoeic parody of a drum intro.
Little Richard Penniman had recorded for Peacock Records since 1951, his records had been relatively undistinguished and had sold poorly. In February 1955, he sent a demo tape to Specialty Records, which was heard by producer Robert 'Bumps' Blackwell. Blackwell heard promise in the tapes and arranged a recording session for Little Richard at in New Orleans in September 1955, with Fats Domino's backing band.
However, as the session wore on, Little Richard's anarchic performance style was not being fully captured on tape. It was then that the Band took a lunch break and in frustration, Richard started pounding a piano and singing a ribald song, which he had been performing, live for some time.
Richard is considered key in the transition from rhythm and blues to rock and roll in the 1950s. He was also the first artist to put the funk in the rock and roll beat and contributed significantly to the development of soul music. He was also a brilliant showman.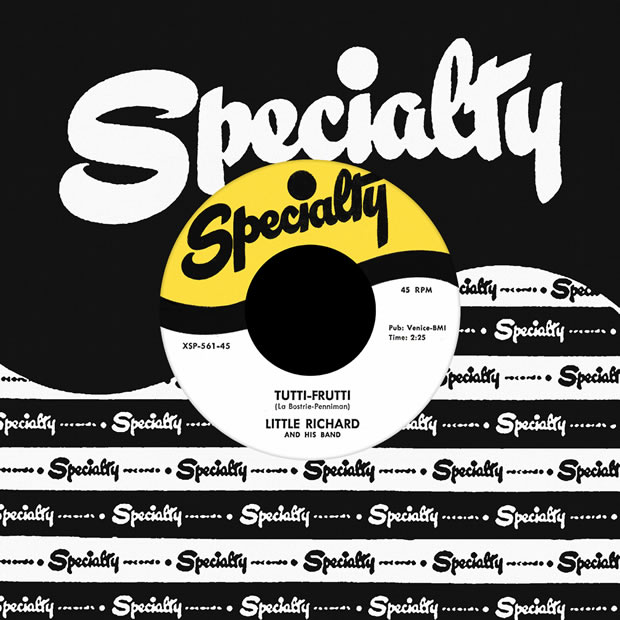 When released the record entered the Billboard Rhythm and Blues chart at the end of November 1955, and rose to #2 early in 1956. It also reached #17 on the Billboard pop chart. Surprisingly in the UK, it only scraped into the top 30 in 1957, as the B-side of "Long Tall Sally".
On October 12, 1957, while at the height of stardom, Penniman abruptly quit rock and roll music and became a born-again Christian. He had charted seventeen original hits in less than three years. In January 1958, he enrolled in and attended Bible college to become a preacher and evangelist and began recording and performing only gospel music for a number of years. He then moved back and forth from rock and roll to the ministry, until he was able to reconcile the two roles in later life.
Did you know that Tutti Frutti is Cockney slang for Beauty?
It's funny how the phrase 'Tutti Frutti' has stuck with us for all this time, and is now so well established. We have so many brands using the name to sell everything from Pizzas to ladies' underwear to the award-winning UK TV series, Bars, a German TV Game show and the film Miss Tutti Frutti. And the world-famous Croatian rock band called …. Tutti Frutti. (who?).
In 2010, The Library of Congress National Recording Registry added Penniman's original 1955 hit "Tutti Frutti" to its registry, claiming that the hit announced a new era in music: "A-wop-bop-a-loo-bop-a-lop-bam-boom!"
Important Dates In The Life Of Little Richard:
29 Jan 2021
American electric blues, Texas blues and jazz blues tenor saxophonist, Grady Gaines died age 86. He performed and recorded with
Little Richard
in the 1950s and later worked with Little Willie John,
Sam Cooke
, Jackie Wilson and Joe Tex.
9 May 2020
Little Richard
died of bone cancer at the age of 87. He had his biggest hits in the 1950s and was known for his exuberant performances and flamboyant outfits. With the likes of Chuck Berry and Elvis, he was one of the handful of US acts who mixed blues, R&B and gospel that led to the evolution of rock 'n' roll. He sold more than 30 million records worldwide with hits including 'Good Golly Miss Molly', 'Lucille', 'Tutti Frutti' and 'Long Tall Sally'.
19 Sep 2008
American drummer Earl Palmer died. Worked with
The Beach Boys
,
Little Richard
('Tutti Frutti'),
Frank Sinatra
, Ike And Tina Turner ('River Deep, Mountain High'), The
Monkees
, Fats Domino ('I'm Walkin'),
Neil Young
, Elvis Costello, Tom Waits, The
Righteous Brothers
('You've Lost That Lovin' Feelin'), and Randy Newman, Tom Waits, Bonnie Raitt, Tim Buckley, Little Feat and Elvis Costello.
28 May 2008
American guitarist Jerry Cole died aged 68. He first entered the pop music scene as one of The Champs along with
Glen Campbell
. Cole and Campbell later formed the Gee Cee's and released one single called 'Buzzsaw Twist'. He backed up
Elvis Presley
in 1974 and also worked with Jerry Lee Lewis,
Roy Orbison
,
Aretha Franklin
, The
Righteous Brothers
,
Little Richard
, Ray Charles, Tony Orlando & Dawn, Lou Rawls,
Gregg Allman
, Lee Hazlewood, Blood Sweat & Tears, Kenny Rogers,
Neil Diamond
, Steely Dan,
The Beach Boys
and Isaac Hayes.
6 Jun 2006
20 Jul 2000
The Evergreen Ballroom in Lacey, Washington was destroyed by a fire. During the ballroom's heyday in the 1950s, 60s and 70s, many of music's greats played there:
Elvis Presley
,
Johnny Cash
, Duke Ellington,
Chuck Berry
,
Little Richard
, Ike & Tina Turner and Fats Domino.
Glen Campbell
had lived in the kitchen at the venue for a while before he became famous.
30 Nov 1999
Don 'Sugarcane' Harris was found dead in his Los Angeles apartment at the age of 61. The American guitarist and violinist was part of the 50s duo Don & Dewey. He also worked with
Little Richard
, John Mayall,
Frank Zappa
, John Lee Hooker and Johnny Otis.
21 Nov 1995
Legendary manager of
Led Zeppelin
Peter Grant died from a heart attack aged 60. Known as being one of the shrewdest and most ruthless managers in rock history, Grant secured 90% of concert gate money and intimidated record store owners who dealt in bootlegs. The former wrestler, also worked as a film extra and bodyguard. During the early 60's Grant worked as a tour manager for
Bo Diddley
, The Everly Brothers,
Little Richard
,
Chuck Berry
, Eddie Cochran, Gene Vincent and The Animals.
30 Jan 1982
2 Jan 1980
US singer Larry Williams was found dead from a gunshot wound to his head in his Los Angeles, California home aged 45. Williams had the 1957 US No.5 & UK No. 21 single 'Short Fat Fannie.' Also known for 'Bony Moronie' and 'Dizzy Miss Lizzy.'
The Beatles
,
Rolling Stones
, Dr. Feelgood, Flying Burrito Brothers, Johnny Winter,
Little Richard
,
The Who
, Ritchie Valens and
Bill Haley
& His Comets all covered his songs.
22 Jul 1979
Little Richard
now known as the Reverend Richard Pennman told his congregation about the evils of rock & roll music, declaring 'If God can save an old homosexual like me, he can save anybody.'
19 May 1979
21 Feb 1972
Led Zeppelin
released 'Rock And Roll / Four Sticks' as a 7 inch single in the US, peaking at No.47 on the chart. The song was written as a spontaneous jam session, whilst the band were trying to finish 'Four Sticks'. Drummer
John Bonham
played the introduction to
Little Richard
's 'You Keep A-Knockin' and Page added a guitar riff; with the tapes rolling the basic song was finished fifteen minutes later.
14 Oct 1971
Music publishing firm, Arco Industries filed a $500,000 dollar lawsuit against
Creedence Clearwater Revival
singer John Fogerty, claiming that Fogerty's song Travelin' Band "contained substantial material copied from
Little Richard
's Good Golly, Miss Molly". The suit was eventually dropped.
1 Aug 1969
The three day US Atlantic City Pop Festival took place at the Atlantic City race track with B.B. King,
Janis Joplin
,
Santana
, Three Dog Night, Dr John,
Procol Harum
, Arthur Brown,
Iron Butterfly
,
Creedence Clearwater Revival
,
Little Richard
, Tim Buckley, The Byrds, Jefferson Airplane, The Mothers Of Invention and Canned Heat.
Joni Mitchell
started to cry and ran off stage in the middle of her third song because the crowd was not paying attention to her performance.
22 Jan 1969
The Beatles
moved from Twickenham Film Studios to Apple studios in London to start recording the "Get Back" LP. Billy Preston was brought into the sessions (John, Paul, and George knew Preston from 1962, when he was a member of
Little Richard
's backing group).
The Beatles
were determined to record the album "live", flaws and all.
19 Jun 1964
Martha and the Vandellas recored one of
Motown
's signature songs 'Dancing in the Street' at Hitsville U.S.A. in Detroit, Michigan. Written by
Marvin Gaye
, William "Mickey" Stevenson and Ivy Jo Hunter the song reached No.2 on the Billboard Hot 100 chart and No.4 in the UK. Many artists have covered the song including, the Mamas & the Papas,
David Bowie
and
Mick Jagger
,
The Kinks
,
Grateful Dead
and
Little Richard
.
29 Oct 1963
23 Oct 1963
12 Nov 1962
28 Oct 1962
The Beatles
played at the Empire in Liverpool, their first gig at Liverpool's top theatre. Eight acts were on the bill including
Little Richard
, Craig Douglas, Jet Harris and Kenny Lynch & Sounds Incorporated.
12 Oct 1957
During an Australian tour,
Little Richard
publicly renounced rock 'n' roll and embraced God, telling a story of dreaming of his own damnation after praying to God when one of the engines on a plane he was on caught fire. The singer threw four diamond rings, valued at $8,000, into Sydney's Hunter River and soon after launched a Gospel career. Five years later, he would switch back to Rock.
15 Oct 1956
Little Richard
recored 'Good Golly, Miss Molly' at J&M Studio, New Orleans, Louisiana. Little Richard first heard the phrase "Good golly, Miss Molly" from a Southern DJ named Jimmy Pennick. He modified the lyrics into the more suggestive "Good golly, Miss Molly/You sure like to ball."
14 Sep 1955
Little Richard
entered a New Orleans recording studio to begin two days of recording. Things were not going well and during a break, Richard and his producer; Bumps Blackwell went to the Dew Drop Inn for lunch. Richard started playing the piano in the bar like crazy, singing a loud and lewd version of 'Tutti Frutti.' With only fifteen minutes left in the session, Richard recorded the song and coined the phrase, 'a-wop-bop-a-loo-bop-a-lop-bam-boom.'
16 Oct 1951
18 year old Richard Penniman, who was already using the stage name
Little Richard
made his first recordings for RCA Camden at the studios of Atlanta radio station WGST.