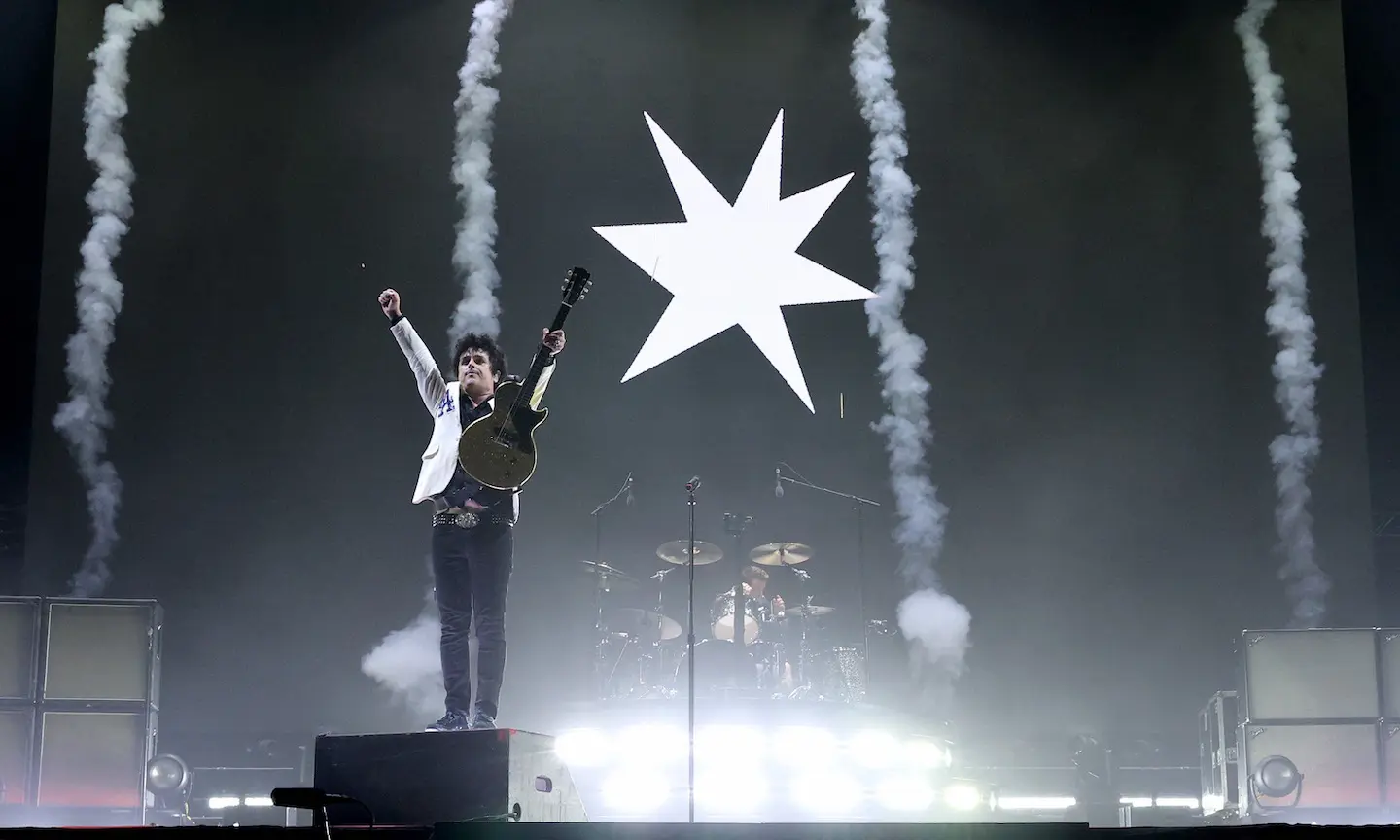 Green Day has sold more than 85 million records worldwide. The group has won five Grammy Awards: Best Alternative Album for Dookie, (the jewel in the crown of their '90s punk era), Best Rock Album for American Idiot, Record of the Year for "Boulevard of Broken Dreams", Best Rock Album for the second time for 21st Century Breakdown and Best Musical Show Album for American Idiot: The Original Broadway Cast Recording. In 2010, a stage adaptation of American Idiot debuted on Broadway. The musical was nominated for three Tony Awards.
Billie Joe Armstrong was born in Oakland, California and raised in nearby Rodeo, the youngest of six children. Armstrong's father, a jazz musician and truck driver for Safeway, died of esophageal cancer in 1982 when Armstrong was 10. His mother worked as waitress at Rod's Hickory Pit restaurant in El Cerrito, (where Armstrong and Mike Dirnt played their first gig on October 17, 1987). Billie Joe got his first electric guitar, a Fernandes Stratocaster copy nicknamed 'Blue', when he was 10 – a gift from his mother, which Armstrong still plays to this day. The guitar is so iconic in fact; there is a company that makes replicas of the Strat.
Armstrong first met Michael Pritchard in the school cafeteria, and they immediately bonded over their love of music. Dirnt was adopted when he was six weeks old, after being given up by his heroin-addicted teenage mother. He apparently adopted the name 'Dirnt' from school, where his favourite hobby was playing "air-bass".
Both started to learn guitar – the two spent much time at Armstrong's house where they played songs by various artists, such as Ramones, Ozzy Osbourne, Def Leppard, Hüsker Dü, AC/DC, Lynyrd Skynyrd, The Replacements, The Who and Van Halen. At the age of 15, they formed Sweet Children with Billie Joe singing and playing lead guitar, Mike playing rhythm guitar, Sean Hughes on bass and Raj Punjabi on drums.
In 1988, Armstrong and Dirnt began working with former Isocracy drummer John Kiffmeyer, the following year they changed their name to Green Day, choosing the name because of their fondness for marijuana. The band were joint-smokers since puberty and Billie Joe got his nickname, "Two Dollar Bill," from selling joints at that price at his high school.
Owner of Lookout! Records Larry Livermore saw the band play an early show and signed the group to his label resulting in the release of its debut extended play, 1,000 Hours in 1989. (In 1985, Livermore formed the Lookouts, a punk-rock band whose 12-year-old drummer, Tre Cool, later went on to join Green Day).
Green Day's debut studio album, 39/Smooth was released early 1990 and by 1991 after Tré Cool had been filling in as a temporary member he became Green Day's permanent drummer. The band went on tour for most of 1992 and 1993, and played a number of shows overseas in Europe. The band's second studio album Kerplunk sold 50,000 copies in the US.
Now with a fervent fan base, 1993 saw the band leave Lookout! Records and sign with Reprise Records after attracting the attention of producer Rob Cavallo. The band went to work on recording their major label debut, Dookie which was recorded in three weeks, and released in February 1994. Dookie became a commercial success, helped by extensive MTV airplay for the videos of the songs "Longview", "Basket Case", and "When I Come Around", all of which reached the number-one position on the Modern Rock Tracks charts. The album went on to sell over 10 million copies in the US.
Green Day were now well and truly established as a high profile act playing sold out tours. During a performance on September 9, 1994 at Hatch Memorial Shell in Boston, mayhem broke out during the band's set and by the end of the rampage, 100 people were injured and 45 arrested. The band also joined the line-ups of both the Lollapalooza festival and Woodstock '94, where the group started an infamous mud fight. During the concert, a security guard mistook bassist Mike Dirnt for a stage-invading fan and punched out some of his teeth. Viewed by millions by pay-per-view television, the Woodstock 1994 performance further aided Green Day's growing publicity and recognition, and helped push its album to eventual diamond status. In 1995, Dookie won the Grammy Award for Best Alternative Album and the band was nominated for nine MTV Video Music Awards including Video of the Year.
Though Insomniac (1995), Nimrod (1997) and Warning (2000), did not match the success of Dookie, Insomniac and Nimrod reached double platinum and Warning achieved gold status. Green Day's seventh album, American Idiot (2004), a rock opera, was delayed when the album's master tapes were stolen during recording sessions. Rather than re-recording that material, the band decided to start over from scratch. When released it found popularity with a younger generation, selling six million copies in the US., charting in 27 countries, and peaking at number one in 19. American Idiot eventually sold 16 million copies worldwide and won the Grammy Award for Best Rock Album in 2005. The seven-minute epic "Wake Me Up When September Ends," is a memorial to Billie Joe's father.
The band's eighth studio 21st Century Breakdown (produced by Butch Vig), released in 2009 achieved the band's best chart performance and once again gave Green Day a Grammy Award for Best Rock Album at the 52nd Grammy Awards the following year. This was followed by a trilogy of albums, ¡Uno!, ¡Dos! and ¡Tré!, recoded at Jingletown Studios in Oakland, California and released in September, November and December 2012 respectively.
Green Day's twelfth studio album, Revolution Radio, was released on October 7, 2016 and became their third to debut at number one on the Billboard 200 as well as peaking at number-one in the UK.
At just 43, Armstrong, Dirnt and Tré Cool are the youngest ever inductees into the Rock 'N' Roll Hall of Fame. The band was inducted in 2015, the first year they were eligible. For better or worse, the trio are responsible for inspiring an entire generation of pop-punk bands – influencing countless bands and fans throughout the world.