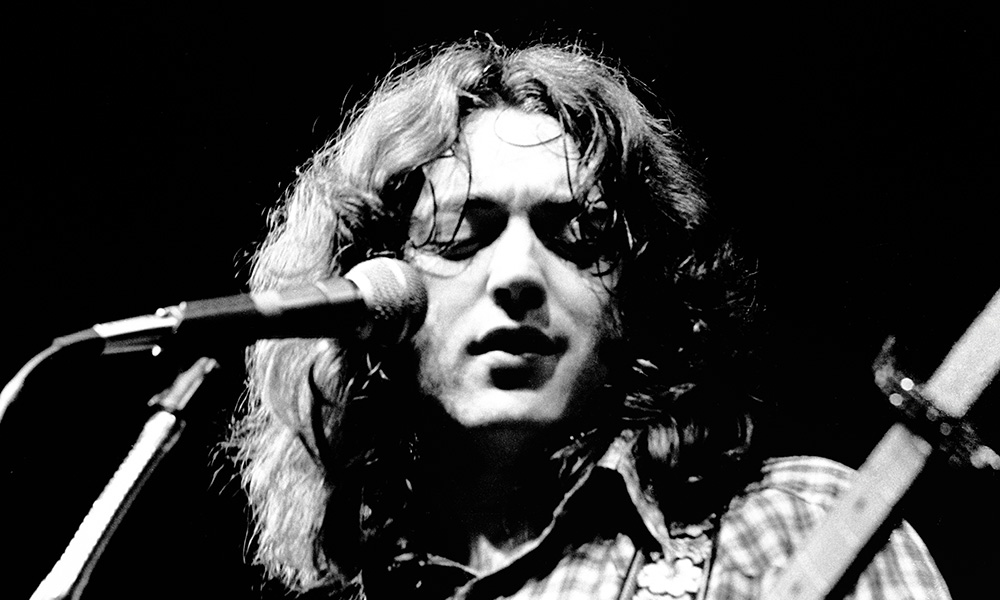 London, October 14, 2014: To the Irish Embassy near Hyde Park Corner where a beat-up 1961 sunburst Fender Stratocaster guitar with rosewood fretboard, worn and frayed like an old but comfortable leather jacket, sits in a glass case beneath the winding staircase in the rather grand reception area. At the top of the stairs the Irish Ambassador Dan Mulhall is at the head of a short receiving line, and in a little while he will tell an assembled gathering how much he loves the music of the man who owned and played that battered old Strat.
It belonged, of course, to Rory Gallagher who toted it across stages the world over, its dog-eared condition a testament to the amount of use it had. It became almost as famous as Rory himself and when once it was stolen and the word put out that 'Mr. Gallagher would like it back', the next night someone lobbed it over the fence into Rory's back garden.
Rory Gallagher wasn't lovesick like Eric Clapton, caught in a web of romantic intrigue that inspired his weeping guitar licks; he wasn't covered in glory, leaping around stages dressed in suits embroidered with the moon and stars like Jimmy Page; and he wasn't a sonic visionary and famously grumpy like Jeff Beck. He was just Rory, in his check shirt and denim jeans, a down-home working bluesman, a traveller, rough and ready, an anti-star who was never likely to become one, at least not like the trio of Yardbird guitarists in whose path he followed a few years after they made their mark. But he probably played more gigs in his lifetime than all three of them put together.
Schooled in the early sixties in the Irish Showband scene that he inevitably rejected as being too limiting, he formed the blues-rock trio Taste and when I joined MM in 1970 they were being whispered about in the same terms as any of the up-and-coming blues bands, like Free and even Led Zeppelin. Then they split and Rory became his own man, leading trios and quartets of musicians for the remainder of life, which ended in 1995 when complications following a liver transplant – Rory liked a drink – proved insurmountable.

The gathering at the Embassy was to mark the release of a lavish box set of recordings and a DVD from Rory's Irish Tour of 1974. Rory made a point of touring Ireland once a year and was an inspiration to many in a country where rock – at least in the seventies – was something of a rare commodity because of the Troubles. Leading a quartet that included Jerry McAvoy (bass), Rod De'Ath (drums) and Lou Martin (keyboards), he was in the peak of form, tearing through his blues-rock workouts, Delta and Chicago style, expressive slide work and self-penned compositions.
I met Rory a few times back in the seventies. He was immensely modest, shy and retiring off stage, electrifying on, simply a working musician for whom fame and acclaim were unwelcome side-effects of a life spent doing what he loved, playing the blues on that battered but beloved old Strat.
Important Dates In The Life Of Rory Gallagher:
7 Feb 2021
Producer Elliot Mazer died at the age of 79. He is most famous for his work with
Neil Young
, working on a string of releases including Harvest, Journey Through The Past, Times Fades Away, Tonight's The Night, American Stars & Bars, Hawks & Doves, Everybody's Rockin', Old Ways, Lucky 13 and the recently released "lost" album Homegrown. He also worked with The Band, Janis Joplin,
Rory Gallagher
and many more.
19 Jan 2019
Scottish drummer Ted McKenna died aged 68 of a hemorrhage during a routine operation for a hernia. He worked with The Sensational Alex Harvey Band, Rory Gallagher, The Michael Schenker Group and toured with Ian Gillan for a short period in 1990.
14 Jun 1995
Irish guitarist
Rory Gallagher
died after a chest infection set in following a liver transplant. Had been a member of Taste before going solo, sold over 30m albums worldwide. Voted Melody Maker's Top Musician of the Year in 1972, auditioned for The
Rolling Stones
following the departure of Mick Taylor. Gallagher made his final performance on 10 January 1995 in the Netherlands.
29 Aug 1981
The two day Rock on the Tyne festival began in Gateshead, England, featuring Ian Dury, Elvis Costello,
U2
,
Rory Gallagher
, Doll By Doll, Wang Chung, Becket, Dr Feelgood, The Gingers Nutters (featuring
Ginger Baker
), Trimmer and Jenkins and Lindisfarne.
2 Sep 1972
The Erie Canal Soda Pop Festival was held over three days on Bull Island, near Griffin, Indiana. The Promoters expected over 50,000 music fans, and over 200,000 attended the festival. Many bands pulled out as the festival drifted steadily into anarchy. Bands that did appear included Flash Cadillac & the Continental Kids, Black Oak Arkansas, Cheech and Chong, Foghat, Albert King, Brownsville Station, Canned heat, Flash, Ravi Shankar,
Rory Gallagher
, Lee Michaels and Frosty, the
Eagles
, The Amboy Dukes, and Gentle Giant. Three concert goers drowned in the Wabash River and as the festival ended, the remnants of the crowd burned down the music stand.
21 May 1972
The Doors
,
Pink Floyd
, the
Faces
, Family, Curved Air, Atomic Rooster,
The Kinks
,
Rory Gallagher
, Uriah Heep, Country Joe McDonald, Buddy Miles, Status Quo, Brinsley Schwarz, Spencer Davis, The Strawbs and Humble Pie all appeared at the 2nd British Rock Meeting, Insel Grun, Germersheim, West Germany. The festival was due to take place in Mannheim, West Germany, but after protests from the locals, the concert actually took place in nearby Germersheim.