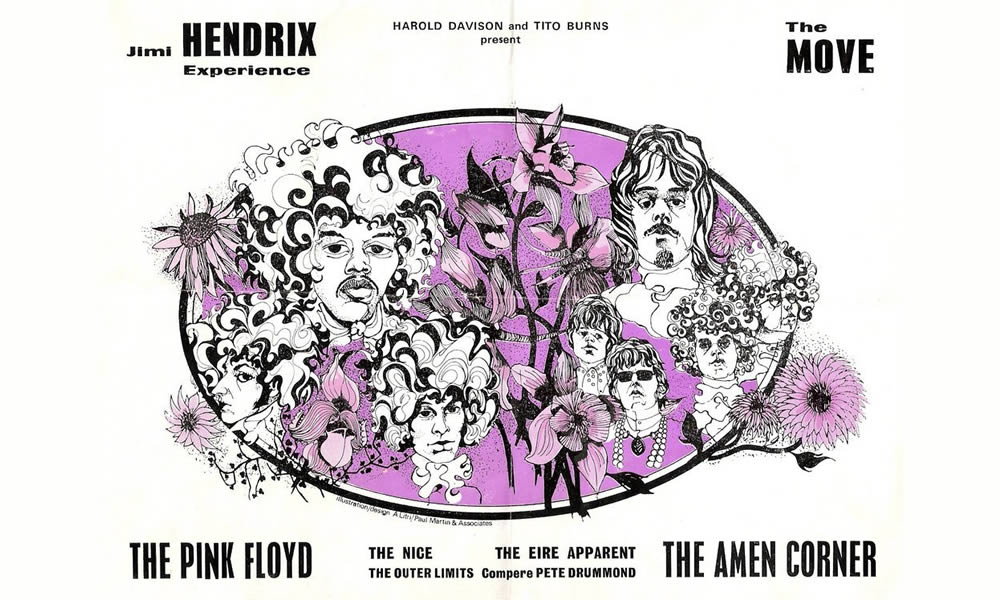 The 16-date UK package tour kicked off on 14 November 1967. Thirty-one shows in 16 cities, the tour featured The Jimi Hendrix Experience, Pink Floyd, The Move, Nice, and Amen Corner who all played two shows a night, and at each gig, the headlining Hendrix was allotted exactly 40 minutes. The Move, who preceded Hendrix onstage, had just half an hour, and Pink Floyd were allowed between 15 and 20 minutes. Tickets cost from 7/6 to 15 shillings (37.5p to 75p).
Touring the UK in 1967 would've been no picnic. Forget the luxury sleeper bus or five-star hotels today's stars are accustomed to. These guys would've been travelling in small vans or cars with inadequate heating (we didn't have air-con in British cars then), and staying in basic city hotels.
Hendrix was on his way to becoming a major star; his first three singles, 'Hey Joe', 'Purple Haze', and 'The Wind Cries Mary', had all been top ten hits. His debut album released in May of that year was sitting in the top 20 where it stayed for 33 weeks. Pink Floyd had also seen chart action with both 'Arnold Layne' and 'See Emily Play' reaching the top 20. The Move had also had three top ten hits including 'Flowers In The Rain' and Amen Corner were just about to score what would become their biggest hit so far, 'Bend Me, Shape Me'. These were top acts!
The tour was faced with some interesting challenges. After the two performances in Blackpool, the equipment of all the bands, including guitars and amplifiers, were left on the stage overnight. When they returned the following morning to pack it away, they found intruders had broken into the venue during the night and had smashed some of guitars and amplifiers.
Pink Floyd were having a few problems with their founding member, Syd Barrett, who was not enjoying the tour. Arriving in a new town, Syd would go for a walk, and not get back to the venue until just a few minutes before Floyd were due onstage. He'd play the show, go off again, come back hours later, in time for the second performance. But one night, he didn't turn up at all, resulting in Davy O'List (of The Nice) to stand in for him.
During the tour Hendrix commonly wore a glimmering, pale blue, crushed velvet suit with flared trousers. His set was packed with dynamic numbers, enabling the guitarist and his band to show off not only their amazing playing skills but deliver a show full of great showmanship. The set included 'Hey Joe' and 'Purple Haze' as well as a version of the Beatles' 'Sergeant Pepper's Lonely Hearts Club Band' and The Troggs 'Wild Thing'.
During one performance at the City Hall, Newcastle-Upon-Tyne, Jimi Hendrix was having equipment problems and in his frustration rammed his Gibson Flying V into his speaker cabinets. Like an enormous arrow, the guitar became stuck in the amplifier, which the audience greeted as if it all was part of the act.
Reviews from the tour were all focused on the headline act. A review in the Coventry Evening Telegraph said: "More than 3,000 youngsters attended two houses at the Coventry Theatre. He [Hendrix] can play guitar with his teeth, lying on the stage, or behind his back – and do it better than most in a more conventional position. The result was a stunning, completely individual performance, which included hits like 'Hey Joe', 'The Wind Cries Mary' and 'Purple Haze' and the wildest version yet of 'Wild Thing'. But the teenagers who stood on their seats for Jimi Hendrix were unmoved – and I guess somewhat bewildered – by the Pink Floyd, a group for whom the new wave is more of a spring tide."
The 16-date tour took Hendrix to Belfast for two shows at Whitla Hall, Queens College. It was Jimi's 25th birthday and before the shows the guitarist was given a birthday cake by the promoters. This was to be the only concert that The Jimi Hendrix Experience ever played in Ireland.
The following month, on the final night of the tour at Green's Playhouse, Glasgow, Jimi Hendrix had the curtains closed on him halfway through his set, after the management at the venue regarded his movements with his guitar as having sexual overtones. And that was it, tour over, the end of what undoubtedly must rank as one of the best ever package tours to tour the UK.
The following fans' accounts of attending this tour are taken from the This Day in Music book Jimi Hendrix – The Day I Was There which contains over 500 stories from people that saw Jimi Hendrix live in concert. Available in print and all digital formats.
ROYAL ALBERT HALL
14 NOVEMBER 1967, LONDON, UK
I WAS THERE: BARRY KEANE
I was fortunate enough to see Jimi Hendrix play live seven times between January 1967 and August 1970. I watched him perform in a variety of venues, from a club in the heart of London to a field on the Isle of Wight with 500,000 others. I even saw him play in a cave. That was at Chislehurst, where we were jammed in so tight I actually lifted my feet off the floor and stayed upright. To hell with health and safety! I watched him play three times at the Saville Theatre in Shaftsbury Avenue, London. This venue was owned by Beatles manager Brian Epstein. My fiancée and I were at the first show on Sunday 27 August 1967, when Epstein was found dead in his London flat. They announced at the end of Jim's show that the second performance was cancelled. I remember leaving the gig and passing people queuing for the second show, thinking they haven't heard the news yet. This was over 50 years ago. No smart phones then.
Every Hendrix concert I saw was memorable for different reasons. The first was at the Marquee Club in Wardour Street on 24 January 1967. I was 16 the previous June and had recently seen the Cream play live at the Bromel Club in Bromley. After watching Jimi, I said to a friend that Eric Clapton had a real rival now.
Perhaps the most memorable occasion was at the Royal Albert Hall. Our seats were where the orchestra sits at a classical concert, so we watched the gig from behind the bands (also including The Move, Amen Corner and Pink Floyd). Just before the Experience came on the roadies piled huge speakers in front of us, obliterating our view. Sod this, I thought, so got up and sat down on the side of the stage. When Jimi came on I was a few yards from him as he played. Bliss! At the end I rushed forward to pat him on the back, thinking, 'He feels just like a normal person'. I don't know what I was expecting? Sparks to fly perhaps! I suppose what I mean is he was just a man who happened to be blessed with this incredible ability to play guitar like no one else.
Jimi's short time in the limelight was akin to a huge firework exploding in the sky, with an incredible display of sound and light. Then the spectacle disappears. And, just like the firework, Jimi was gone….
COVENTRY THEATRE
19 NOVEMBER 1967, COVENTRY, UK
I WAS THERE: PATRICK TIERNAN
The first number he did was 'Fire'. I seem to remember 'The Wind Cries Mary', 'Hey Joe' and 'Purple Haze'. He wore a wide brimmed hat with a feather in it and crushed red flares. I asked my mates if they would come with me. Nobody would, so I saw him alone. I don't think I've seen anyone that good since. I always remind my mates what they missed.
THE DOME
2 DECEMBER 1967, BRIGHTON, UK
I WAS THERE: MIKE ROBSON
A whole crowd of us went there by train. The Move were sensational – it was during their Something Else period. Floyd took too long to set up but played a great show. I don't remember what Amen Corner or Eire Apparent were like. Hendrix blew them all away. He was very charismatic, and kept giggling and pointing at Noel Redding, saying, 'Look at his hair!' It was the only time I ever saw him. It was earsplittingly loud, and I was near the front.
GREEN'S PLAYHOUSE
5 DECEMBER 1967, GLASGOW
I WAS THERE: KATHY DUFFY
I saw Jimi with my brother Gerard. He was a Hendrix fan and I was a Rolling Stones fan, but he had no one to go with so asked me and my friend Jean. Jean and I had seen lots of bands, including the Stones a few times. I liked some of Jimi's music. Jean didn't. The Stones were her heroes too.
It was a mad rush when the doors opened. When he came on, the crowd went wild. He had an orange silk Sixties-style shirt and looked amazing. I've honestly never seen a band so different. It was amazing. His performance was outstanding, playing the guitar behind his back, between his legs and with his teeth. This was unheard of and not been seen before. He was gyrating with the guitar provocatively and Jean decided to leave and wait for us outside. She thought it was disgusting, but Gerard and I were totally entranced.
Unfortunately, Gerard was killed in a motorbike accident just months after the concert. I was heartbroken. He was my best friend as well as a brother. He was only 17. However, the years pass and life goes on. I'm so glad I went to that concert. Not many folk can say they saw Jimi Hendrix. It's so sad that he passed so young. And I still have Gerard's copy of Are You Experienced.