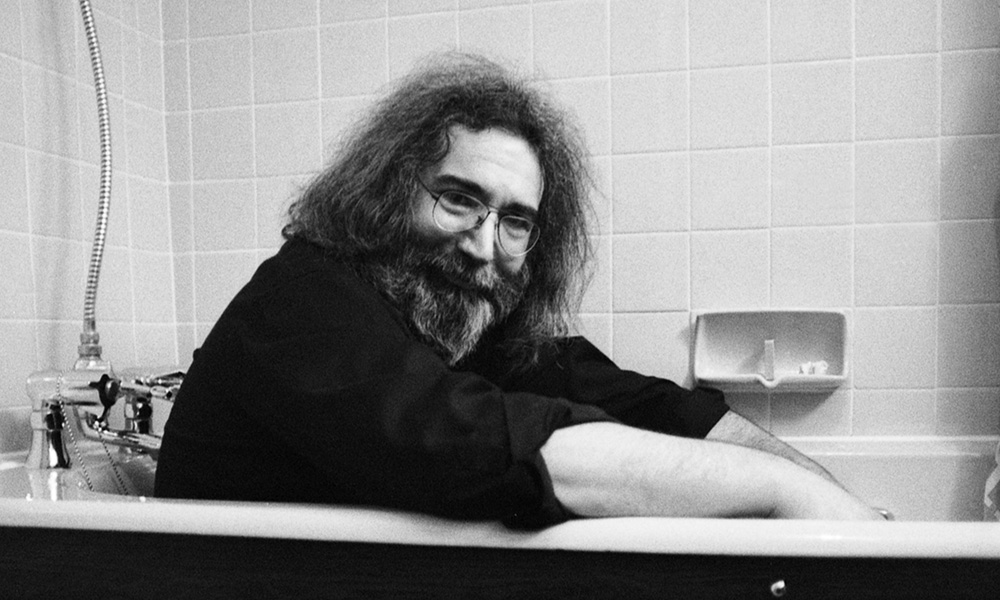 On 11th July 1992, a range of eight ties, designed by Jerry Garcia of The Grateful Dead, went on sale in the US. President Bill Clinton bought a set. So did lots of former hippies who were now caught in the 9-5 trap and daily humdrum life. At least now they could stare longingly at their $36 tie hanging from their neck. During meetings, they could stroke the fabric and let their minds wander and reminisce about those long lost days of letting it all hangout. The drugs, the freedom, the girls, the music!
Before he became a band member, Jerry attended California School of Fine Arts where he worked on his painting skills. Twenty years later, it would seem that his painting became a hit when he put it into Tie collections. The collection grossed millions in the US by the end of the year.
The sales blurb said it all: "They are vibrant, yet not overly gaudy for it to be unacceptable to wear with corporate attires. The ties are lovely, very detailed in design and unique. Would you have never thought fruit pictures would be appropriate for a formal gathering? But Jerry Garcia has somehow managed to make unfussy pictures to be appropriate for formal wears."
It continued: "If you check on the Jerry Garcia "Lust" tie, it is a very rich-looking tie which has a heart at the bottom of the tie. It would be perfect for luring your valentine. Any dates would definitely be great when you have this collection for a tie."
Merchandise is, of course, a massive money-spinner. We've come a long way from Beatles chewing gum: some acts make money from merch than they do from record sales.
Fancy a Rolling Stones lunch box? AC/DC playing cards? Or how about a meadow in a can from R.E.M.?
But hold on – the award for the best range of merch undoubtedly goes to that fire-breathing, blood-spitting group of men from New York City called… KISS
See for yourself at the Kissarmy website. It's amazing, you can buy KISS golf club covers, Rhinestone Icons, KISS Sandals, Wigs, Mugs, Calendars, Puzzle cubes, KISSopoly, (Monopoly to you), along with the more conventional Hoodies & T-Shirts.
And the ultimate piece of merch – branded by your favorite hard rock group – The KISS Kasket. Yes, order yours now. How cool is that, knowing that when it's your time to go to that great gig in the sky, your remains can gently de-compose in one of these.
I'll give you the sales pitch from the site: "The burial caskets are made of 20-gauge steel and feature iconic KISS images with a striking black interior fabric. Both head panels display classic KISS logos. The Premium Design model exterior is entirely encased in deluxe KISS graphics that features flames all around and includes a large image of the band on top."
So, when you've sneaked out for a hot date wearing your Jerry Garcia lust tie, and you've sown your seeds from your 'meadow in a can', there's still a payoff, even it all goes horribly wrong. Your wife found the empty packet of Gene Simmons KISS Condoms 3 Pack in your suit pocket and gave you a swift blow with the KISS baseball bat to dispatch you to the great merch store in the sky.
But you can still have the last laugh, secure in the knowledge that your nearest and dearest have to carry you to your resting place in a gaudy rock'n'roll box, adorned with the four faces of men in full makeup and the legend 'KISS Forever'.
Important Dates In The Life Of Jerry Garcia:
1 Jun 2017
The sale of
Jerry Garcia
's favourite guitar, Wolf, raised millions of dollars for a civil rights group when an auction of the custom-made guitar fetched a total of $3.2m (£2.5m). It was bought at a New York charity concert by Brian Halligan, CEO of marketing group HubSpot and a lifelong fan of the band - or a "Deadhead". The money raised would go to the Southern Poverty Law Centre.
18 Jun 2015
Van Morrison, Cyndi Lauper and Toby Keith were among the inductees into the Song Writers Hall Of Fame at a star-studded gala in New York City. The
Grateful Dead
's
Jerry Garcia
was also inducted posthumously alongside the band's lyricist Robert Hunter.
5 Jul 2014
The four surviving members of the
Grateful Dead
gave what they said would be their final performance, playing to over 70,000 fans at Chicago's Soldier Field. The shows came 20 years after the death of lead guitarist
Jerry Garcia
, who played his last show in the nation's third-largest city in 1995.
20 Aug 2009
14 Sep 2005
The newly refurbished
Grateful Dead
's original tour bus went on display at the Volo Auto Museum in Volo, Illinois. The 1965 Gillig bus, which
Jerry Garcia
and the rest of the Dead dubbed 'Sugar Magnolia' was used by the band on their frequent tours across the US between 1967 and 1985. The ceiling was lined with hundreds of vintage rock posters featuring
The Beatles
,
Jimi Hendrix
,
Janis Joplin
and others who had visited the bus.
25 Oct 2001
13 law firms were still involved in claims to
Grateful Dead
guitarist
Jerry Garcia
's $10m estate six years after his death. Former wives & girlfriends continued to fight on how to distribute his estate and annual royalties of $4.6m.
3 Jul 2001
American singer, songwriter Johnny Russell died aged 61. Wrote 'Act Naturally' covered by
The Beatles
and Buck Owens. Jim Reeves,
Jerry Garcia
,
Dolly Parton
, Emmylou Harris, and Linda Ronstadt all covered his songs.
15 Apr 1996
The rest of
Jerry Garcia
's ashes were scattered near the Golden Gate Bridge in San Francisco. A small portion had been scattered in the Ganges River in India 11 days earlier. The
Grateful Dead
leader had died on 9th Aug 1995.
9 Aug 1995
Jerry Garcia
guitarist and singer from the
Grateful Dead
died from a heart attack at the Serenity Knolls rehabilitation clinic in San Francisco aged 53. Garcia co-founded the New Riders of the Purple Sage and also released several solo albums. He was well known for his distinctive guitar playing and was ranked 13th in Rolling Stone's "100 Greatest Guitarist's of All Time"
9 Jul 1995
The
Grateful Dead
gave their last concert with leader
Jerry Garcia
at Chicago's Soldier Field. Jerry would die of a heart attack a month later while in drug rehab.
6 Sep 1994
English keyboard player Nicky Hopkins died aged 50, in Nashville, Tennessee, of complications from intestinal surgery. Was a highly respected session musician, worked with The
Rolling Stones
,
Jeff Beck
,
The Beatles
,
The Who
,
The Kinks
,
Small Faces
,
Led Zeppelin
,
John Lennon
,
George Harrison
, and the
Jerry Garcia
Band.
The Kinks
song 'Session Man' from Face to Face is dedicated to (and features) Hopkins.
11 Jul 1992
A range of eight ties, designed by
Jerry Garcia
of the
Grateful Dead
went on sale in the US. President Bill Clinton bought a set. The collection grossed millions in the US by the end of the year.
10 Jul 1986
Jerry Garcia
of the Grateful Dead went into a five day diabetic coma, resulting in the band withdrawing from their current tour.
13 Mar 1971
Brewer and Shipley entered the US singles chart with 'One Toke Over The Line'. The song, which featured
Grateful Dead
's
Jerry Garcia
on steel guitar, peaked at No.10 despite being banned by radio stations for its drug references. Brewer and Shipley maintained that the word 'toke' meant 'token' as in ticket, hence the line 'waitin' downtown at the railway station, one toke over the line.'
17 May 1963
The first Monterey Folk Festival took place over three days in Monterey, California. The line-up included Joan Baez,
Bob Dylan
, Peter, Paul and Mary, and a young Jerry Garcia, who performed with The Wildwood Boys.