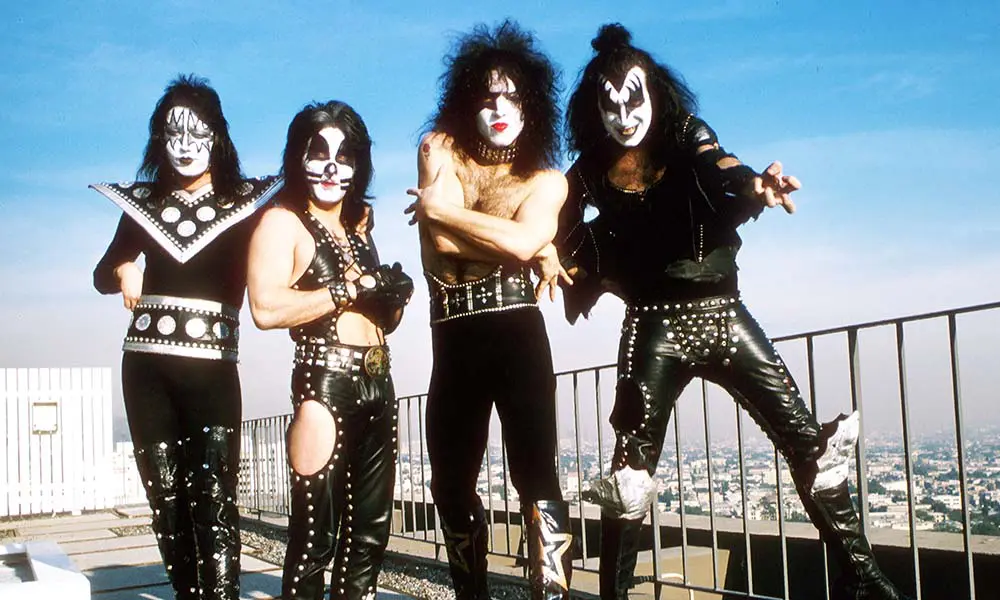 On 30th January 1973 – after recently changing their name from Wicked Lester – Gene Simmons, Paul Stanley, Ace Frehley and Peter Criss made their first appearance as KISS at the Popcorn Club in Queens, New York. The band's name – which is often spelt in all capital letters – has been rumoured (falsely) to have many secret meanings, among them an acronym for "Knights In Satan's Service."
Wicked Lester were going nowhere fast. Both Simmons and Stanley wanted to break from the group who had recently had their latest album rejected by their label Epic.
Simmons spotted an ad in Rolling Stone which was placed by Peter Criss, a drummer "looking to do anything to make it." The three met, Criss passed the audition, and the trio started rehearsing. Guitarist Ace Frehley joined soon afterwards and in the same month, Wicked Lester changes their name to KISS.
By the summer of '73, a five-track demo tape produced by Eddie Kramer grabbed the attention of Neil Bogart, a former pop singer who was running the new Buddah Record label offshoot Casablanca Records. (Bogart also signed Donna Summer and The Village People.) By October the band were in the studio recording their debut album.
When you consider that in 1973 Elton John was riding high in the US with "Don't Shoot Me, I'm Only The Piano Player" and "Goodbye Yellow Brick Road," Led Zeppelin turned in "Houses Of The Holy," and David Bowie gave us "Aladdin Sane," four guys dressed as comic-style characters playing hard rock was always going to be tough! In fact, KISS spent many years of hard graft before becoming worldwide superstars; their debut album initially sold just 75,000 copies. And their record label Casablanca were losing money quickly.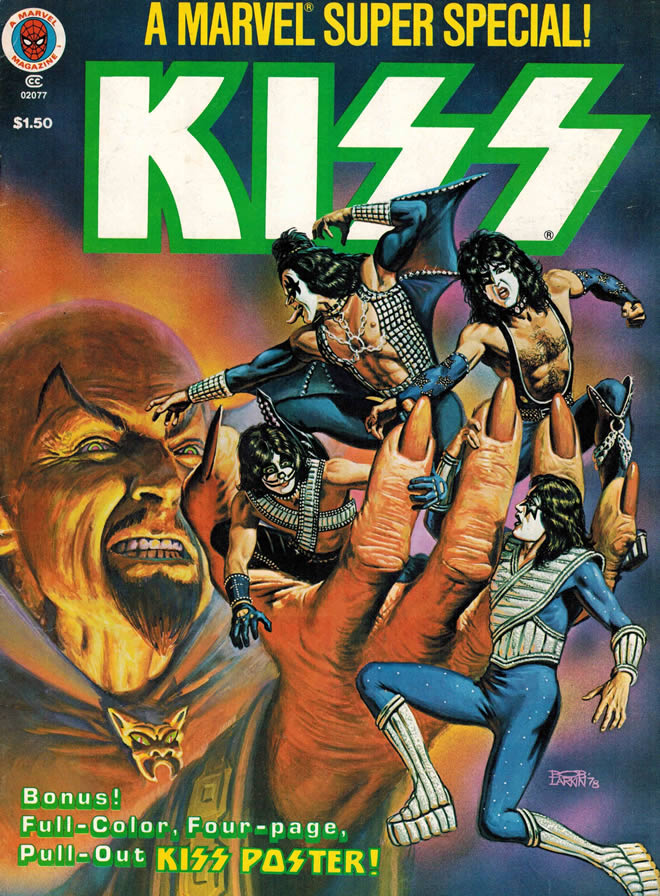 Their breakthrough happened with the release of the 1975 live album, Alive!, when a live version of "Rock and Roll All Nite" was released as a single. The follow-up album Destroyer spawned their first US top 10 hit, "Beth."
In 1978, at their commercial peak, all four members simultaneously released solo albums, a feat that had never been achieved before (or since). KISS also attempted what so many other artists have failed to do — they made a film, Kiss Meets the Phantom of the Park. It was supposed to be a cross between the Beatles' A Hard Day's Night and Star Wars. The critics hated it.
KISS have now released almost 40 studio albums over 36 years, selling over 100 million albums worldwide. Add to that the largest collection of rock merchandise you can imagine — they have KISS products for just about everything a rock fan could wish for. In fact, I'm sure there are houses scattered around the globe which are full of KISS products, with fans sat around in their KISS boots, t-shirts and caps, drinking coffee from the KISS mug, making calls on their KISS-skinned BlackBerries … I could go on.
When KISS announced the addition of the latest item to their ever-growing list of products in 2001, the KISS Kasket, Gene Simmons quipped, "I love livin', but this makes the alternative look pretty damn good."
Important Dates In The Life Of KISS:
17 May 2019
Eric Moore, lead singer of Ohio-based biker rock group The Godz died after a battle with bladder cancer age 67. The Godz had toured with acts including
Kiss
, Cheap Trick, Judas Priest, Blue Öyster Cult, and Iggy Pop.
1 Nov 2016
Bap Kennedy, singer, songwriter from Belfast, Northern Ireland, died in Belfast in hospice care from pancreatic and bowel cancer. He is noted for his collaborations with Steve Earle, Van Morrison, Shane MacGowan and Mark Knopfler, as well as for writing the song 'Moonlight Kiss' which was on the soundtrack for the film Serendipity. Kennedy was also in the rock band Energy Orchard.
6 Jun 2015
Singer Ronnie Gilbert, a member of the influential 1950s Folk quartet The Weavers, passed away at the age of 88. At the height of their popularity the quartet sold millions of records and are most often remembered for 'On Top Of Old Smoky', 'Kisses Sweeter Than Wine' and 'Rock Island Line'.
11 Apr 2014
Nirvana
were enlisted to the Rock and Roll Hall of Fame, alongside the likes of
Kiss
and Beatles manager Brian Epstein. REM's
Michael Stipe
inducted the group, saying: "
Nirvana
tapped into a voice that was yearning to be heard.
Nirvana
were kicking against the mainstream. They spoke truth and a lot of people listened."
14 May 2013
It was reported that
Kiss
planned to open over 100 restaurants in North America. The band who had just opened the third branch of Rock & Brews in the greater Los Angeles area said that they wished to open 100 more in the next five years. The band planned to open new branches at LAX airport in Los Angeles, Maui in Hawaii and Kansas City in Missouri over the coming year.
3 Jul 2012
Kiss
announced that they were set to release a guitar size book containing unseen photographs from their 40-year career. The limited edition called Monster would have a $4,299 price tag and at 3 feet tall, 2.5 feet wide, was reported to be the largest music book ever published.
22 May 2011
Four dead dogs in 'sealed containers' were found in the Tennessee home of former
Kiss
guitarist Vinnie Vincent during an investigation that led to his arrest on charges of assaulting his wife. Vincent, a member of Kiss from 1982 to 1984, was released after posting $10,000 bond after his arrest by the Rutherford County Sheriff's Department.
5 Dec 2009
Phish played the final show of their 2009 Fall Tour at the John Paul Jones Arena at the University of Virginia. At the beginning of a first set an erratic fan proceeded to run on stage fully naked. He ran up and hugged guitarist Trey Anastasio and kissed him on the cheek. He made three laps around the stage before finally being chased down by security.
26 Aug 2009
American pop music singer, songwriter, and record producer Ellie Greenwich died of a heart attack age 68. With Phil Spector and Jeff Barry she wrote or co-wrote many hits including 'Da Doo Ron Ron', 'Be My Baby' 'Then He Kissed Me', 'Do Wah Diddy Diddy', 'Leader of the Pack, and 'River Deep – Mountain High' among others.
10 Aug 2008
American singer-songwriter Katy Perry went to No.1 on the UK singles chart with 'I Kissed A Girl'. The track was a worldwide hit topping the charts in over than 20 countries.
29 Jul 2007
Heart problems forced
Kiss
singer and guitarist Paul Stanley to abandon a show in California. Paramedics stopped and restarted his heart to give it a regular rhythm after his heart spontaneously jumped to 190 plus beats per minute.
5 Apr 2007
Former
Kiss
guitarist Mark St. John died from an apparent brain haemorrhage at the age of 51. St. John was Kiss' third official guitarist, having replaced Vinnie Vincent in 1984 and appeared on the album 'Animalize'.
10 Jan 2005
A woman was suing Gene Simmons from
Kiss
for slander, alleging a documentary made her out to be a "sex-addicted nymphomaniac". Georgeann Walsh Ward, 53, of New York, said during a VH1 documentary her photo was flashed up as Simmons talked about his past sexual encounters. Ms Walsh Ward had dated Simmons for three years when he was a student. In the documentary, Simmons boasted of having sex with over 4,600 women.
14 Dec 2004
The funeral took place in Arlington, Texas for Damageplan and Pantera guitarist Dimebag Darrell,
Eddie Van Halen
, placed Darrell's original black and yellow stripes guitar into the KISS Kasket he was buried in. Several thousand fans and friends gathered at the Arlington Convention Center in Arlington, to mourn the guitarist's death. Darrell was shot five times in the back of the head during a gig at the Alrosa Villa Club in Columbus on 8th Dec 04 by a mentally ill former US Marine. Damageplan's drum technician, John Brooks, and tour manager, Chris Paluska, were both injured in the incident.
29 Aug 2003
Winners at this years
MTV
Video Music awards held in New York included, Missy Elliot, Video of the year for 'Work It', Viewers Choice award, 'Lifestyles Of The Rich And Famous' Good Charlotte, Rap Video went to 50 Cent for 'In Da Club', Pop Video, Justin Timberlake, 'Cry Me A River.'
Madonna
stunned a packed Radio City Hall audience by passionately kissing
Britney Spears
and Christina Aguilera during a racy version of 'Like A Virgin.'
19 Aug 2001
American soul singer Betty Everett died aged 61. She had the 1964 US No.6 single 'The Shoop Shoop Song (It's In His Kiss'), later covered by Cher.
18 Jul 2001
Kiss
added another product to their ever-growing merchandising universe: the "Kiss Kasket." The coffin featured the faces of the four founding members of the band, the Kiss logo and the words "Kiss Forever." Pantera guitarist Dimebag Darrell was buried in one after he was shot and killed on-stage in Dec 2004.
10 Apr 2001
Eminem
was given 2 years probation and fined £1,800 and £3,600 costs after admitting carrying a concealed weapon. The charges followed an incident outside a club in Warren, Michigan last June when
Eminem
'pistol whipped' John Guerra after he saw him kissing his wife.
11 Aug 1999
Kiss
arrived on Hollywood Boulevard to unveil their star on The Walk Of Fame. The band had released over 30 albums and sold over 80 million records world-wide.
8 Aug 1996
Kiss
appeared at the Riverfront Coliseum in Cincinnati, Ohio on their 192 date Alive World Tour. During this show a fan threw his fake leg on stage, which all the members signed and handed back to him.
16 Apr 1996
Kiss
appeared in full make-up at the 38th Grammy Awards, where they announced a reunion tour. It would mark the first time all four members had appeared together in over fifteen years.
26 Aug 1995
Seal went to No.1 on the US singles chart with 'Kiss From A Rose', taken from the film 'Batman Forever' a No.4 hit in the UK.
14 May 1993
During an auction at Christies in London the acoustic guitar that
Elvis Presley
used to make his first recordings in 1954, 'That's All Right Mama' and 'Blue Moon of Kentucky', sold for £130,285, ($152,000).And four 'Super Hero', Costumes worn by the group
Kiss
sold for £20,000, ($35,385).
29 Feb 1992
U2
kicked off their north American leg of the 'Zoo TV Tour', at The Lakeland Civic Centre Arena, Florida. Many acts have appeared here, including
Elvis Presley
, The
Rolling Stones
, Rush and
Bob Dylan
. It was here where
Kiss
guitarist Ace Frehley was nearly electrocuted, during a concert on December 11, 1976.
24 Nov 1991
Eric Carr (Paul Charles Caravello) drummer with
Kiss
died aged 41, of complications from cancer in a New York hospital. Carr replaced Peter Criss in 1980 and remained a band member until he became ill in 1991. For his Kiss stage persona, Carr was known as 'The Fox.'
4 Jul 1990
Paul Stanley from
Kiss
sustained neck and back injuries when he was involved in a car crash in New Jersey.
30 Jun 1989
Police were called in to control over 4,000 Bobby Brown fans trying to see him at the HMV Record store in London's Oxford Street, six fans were hospitalised and one had to be given the kiss of life.
10 Jun 1989
Jason Donovan was at No.1 on the UK singles chart with his version of the Brian Hyland 1962 hit 'Sealed With A Kiss'. Donovan became the first Australian act to enter the UK charts at No.1.
13 Feb 1989
This years Brit Awards was hosted by Sam Fox and
Mick Fleetwood
in which just about everything went wrong - lines were fluffed and bands mis-cued onto the stage. Winners included
Phil Collins
who won British Male Solo Artist, British Female Solo Artist was Annie Lennox, Erasure won Best British Group, Best British Album went to Fairground Attraction for 'First Of A Million Kisses', British Breakthrough Act was Bros,
Michael Jackson
won International Male, International Female went to Tracey Chapman and
U2
won Best International Group. This was the last year the show was broadcast live.
20 Aug 1988
Iron Maiden
,
Kiss
, David Lee Roth, Megadeth, Guns N' Roses and Helloween all appeared at this year's 'Monsters Of Rock' Festival, Castle Donington, England. Two rock fans died while 'slam dancing' as Guns N' Roses played.
16 Aug 1988
Kiss
played at The
Marquee Club
in London, England on their current 129-date Crazy Nights world tour.
19 Apr 1986
Prince
started a two week run at No.1 on the US singles chart with 'Kiss.'
Prince
also had the No.2 song 'Manic Monday', by The Bangles, which he wrote under the pseudonym 'Christopher.'
15 Mar 1986
The Bangles were at No.2 on the UK singles chart with 'Manic Monday', a song written by
Prince
under the pseudonym Christopher, it also made No.2 in the US, held of No.1 by
Prince
with 'Kiss'.
18 Sep 1983
Kiss
appeared without their 'make-up' for the first time during an interview on
MTV
promoting the release of their newest album, Lick It Up.
8 May 1982
Neil Bogart died of cancer at the age of 39. Bogart was the founder of Casablanca Records, with Peter Guber, home of Donna Summer, The Village People,
Kiss
, T.Rex and Joan Jett.
12 Jan 1981
It was reported that the White House had expanded its record library by including albums by
Bob Dylan
,
Kiss
and the
Sex Pistols
.
8 Nov 1980
Kiss
kicked off their 11 date Unmasked Tour of Australia and New Zealand laying two nights at Perth Entertainment Centre.
28 Oct 1978
The live-action movie KISS Meets the Phantom of the Park, was shown on NBC-TV in the U.S. The four rock stars had to deal with a mad scientist who went crazy in an amusement park. All four members of
Kiss
had just released their individual solo albums.
30 Jun 1977
Marvel Comics launched a comic book based on the rock group
Kiss
.  Blood from each band member was drawn by a registered nurse, witnessed by a notary public, and poured into the vats of red ink used for printing the comic at Marvel's Borden Ink plant in Depew, New York.
31 Mar 1976
The Brotherhood Of Man were at No.1 on the UK singles chart with the winning song of the Eurovision Song Contest 1976, 'Save Your Kisses For Me.' The group's first of three UK No.1's.
20 Feb 1976
All four members of
Kiss
had their footprints implanted on the pavement outside Grauman's Chinese Theatre in Hollywood.
11 Dec 1973
Kiss
guitarist Ace Frehley was nearly electrocuted during a concert in Florida when he touched a short-circuited light. The guitarist was carried from the stage but returned 10 minutes later to finish the show.
30 Jan 1973
After recently changing their name from Wicked Lester, Gene Simmons, Paul Stanley, Ace Frehley and Peter Criss made their first appearance as
Kiss
at the Popcorn Club in Queen's, New York.
13 Jul 1972
15 Mar 1970
Mary Ann Ganser American singer with The Shangri-Las died in Queens, New York aged 22 of a drug overdose. Between 1964 and 1966 they charted with teen melodramas, and remain especially known for their hits 'Leader of the Pack', 'Remember (Walking in the Sand)', and 'Give Him a Great Big Kiss'. The Shangri-Las were two sets of sisters: Mary Weiss (lead singer) and Elizabeth "Betty" Weiss and identical twins Marge Ganser and Mary Ann Ganser.
6 Dec 1969
One Hit Wonders
Steam started a two week run at No.1 on the US singles chart with 'Na Na Hey Hey Kiss Him Goodbye'. The song was actually recorded by Gary De Carlo, who intended it to be the "B" side of his first single. Gary didn't like the song and when record executives wanted to issue it as the "A" side, he insisted it be released under an assumed name. The song became a UK No.5 single for girl group Bananarama in 83.
11 Jan 1967
The
Jimi Hendrix Experience
recorded 'Purple Haze' at De Lane Lea studios in London. Hendrix later stated 'The Purple Haze,' was about a dream he had and that he was walking under the sea." In concert, Hendrix sometimes substituted lyrics for comic effect; "'scuse me while I kiss the sky" was rendered "'scuse me while I kiss this guy" (while gesturing towards his drummer Mitch Mitchell).
7 Dec 1963
The Beatles
second album 'With
The Beatles
' started a 21-week run at No.1 on the UK album chart. It replaced their first album 'Please Please Me' which had been at the top of the charts since it's release 30 weeks previously. Also today, all four Beatles appeared on BBC TV's 'Juke Box Dury'. Some of the songs
The Beatles
judged were 'Kiss Me Quick' by
Elvis Presley
, 'The Hippy Hippy Shake' by the Swinging Blue Jeans. 'Did You Have a Happy Birthday' by Paul Anka and 'Where Have You Been All My Life' by Gene Vincent.
2 Oct 1961
Phil Spector and partner Lester Sill released the first single on their new label Philles, The Crystals', 'Oh Yeah Maybe Baby.' A little over a year later, they had a No.1 hit with 'He's a Rebel,' and soon after, 'Da Doo Ron Ron' and 'Then He Kissed Me.'
14 Feb 1961
The Beatles
performed at the Cassanova Club, Liverpool, and at Litherland Town Hall, Liverpool where they played a special Valentine's Day show.
Paul McCartney
sang
Elvis Presley
's 'Wooden Heart', wearing a wooden heart pinned to his coat, covered with satin and embroidered with the names "John", "Paul", "George", and "Pete". The heart was raffled off, and the winner also won a kiss from Paul.