On 30th January 1973 – after recently changing their name from Wicked Lester – Gene Simmons, Paul Stanley, Ace Frehley and Peter Criss made their first appearance as KISS at the Popcorn Club in Queens, New York. The band's name – which is often spelt in all capital letters – has been rumoured (falsely) to have many secret meanings, among them an acronym for "Knights In Satan's Service."
Wicked Lester were going nowhere fast. Both Simmons and Stanley wanted to break from the group who had recently had their latest album rejected by their label Epic.
Simmons spotted an ad in Rolling Stone which was placed by Peter Criss, a drummer "looking to do anything to make it." The three met, Criss passed the audition, and the trio started rehearsing. Guitarist Ace Frehley joined soon afterwards and in the same month, Wicked Lester changes their name to KISS.
By the summer of '73, a five-track demo tape produced by Eddie Kramer grabbed the attention of Neil Bogart, a former pop singer who was running the new Buddah Record label offshoot Casablanca Records. (Bogart also signed Donna Summer and The Village People.) By October the band were in the studio recording their debut album.
When you consider that in 1973 Elton John was riding high in the US with "Don't Shoot Me, I'm Only The Piano Player" and "Goodbye Yellow Brick Road," Led Zeppelin turned in "Houses Of The Holy," and David Bowie gave us "Aladdin Sane," four guys dressed as comic-style characters playing hard rock was always going to be tough! In fact, KISS spent many years of hard graft before becoming worldwide superstars; their debut album initially sold just 75,000 copies. And their record label Casablanca were losing money quickly.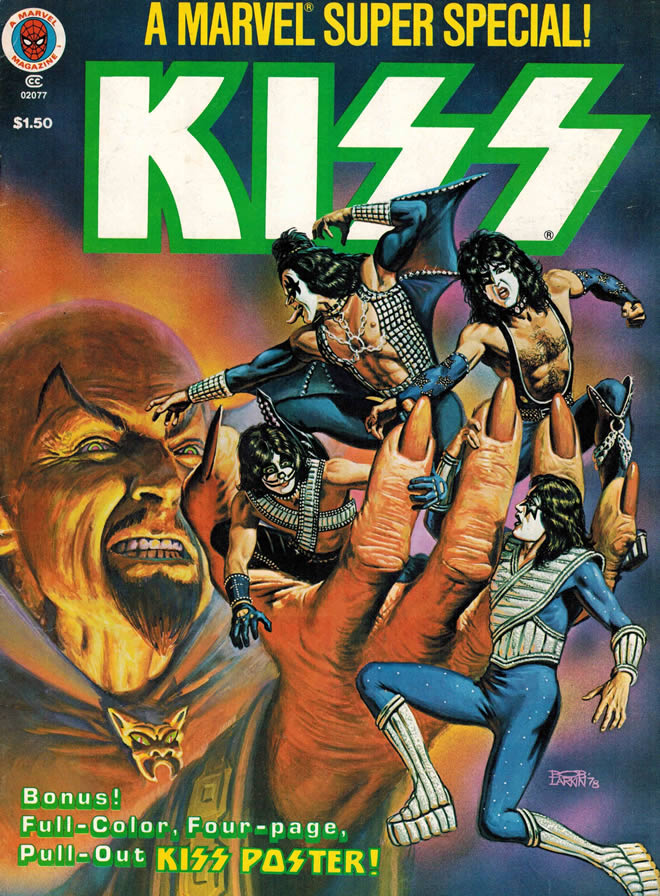 Their breakthrough happened with the release of the 1975 live album, Alive!, when a live version of "Rock and Roll All Nite" was released as a single. The follow-up album Destroyer spawned their first US top 10 hit, "Beth."
In 1978, at their commercial peak, all four members simultaneously released solo albums, a feat that had never been achieved before (or since). KISS also attempted what so many other artists have failed to do — they made a film, Kiss Meets the Phantom of the Park. It was supposed to be a cross between the Beatles' A Hard Day's Night and Star Wars. The critics hated it.
KISS have now released almost 40 studio albums over 36 years, selling over 100 million albums worldwide. Add to that the largest collection of rock merchandise you can imagine — they have KISS products for just about everything a rock fan could wish for. In fact, I'm sure there are houses scattered around the globe which are full of KISS products, with fans sat around in their KISS boots, t-shirts and caps, drinking coffee from the KISS mug, making calls on their KISS-skinned BlackBerries … I could go on.
When KISS announced the addition of the latest item to their ever-growing list of products in 2001, the KISS Kasket, Gene Simmons quipped, "I love livin', but this makes the alternative look pretty damn good."