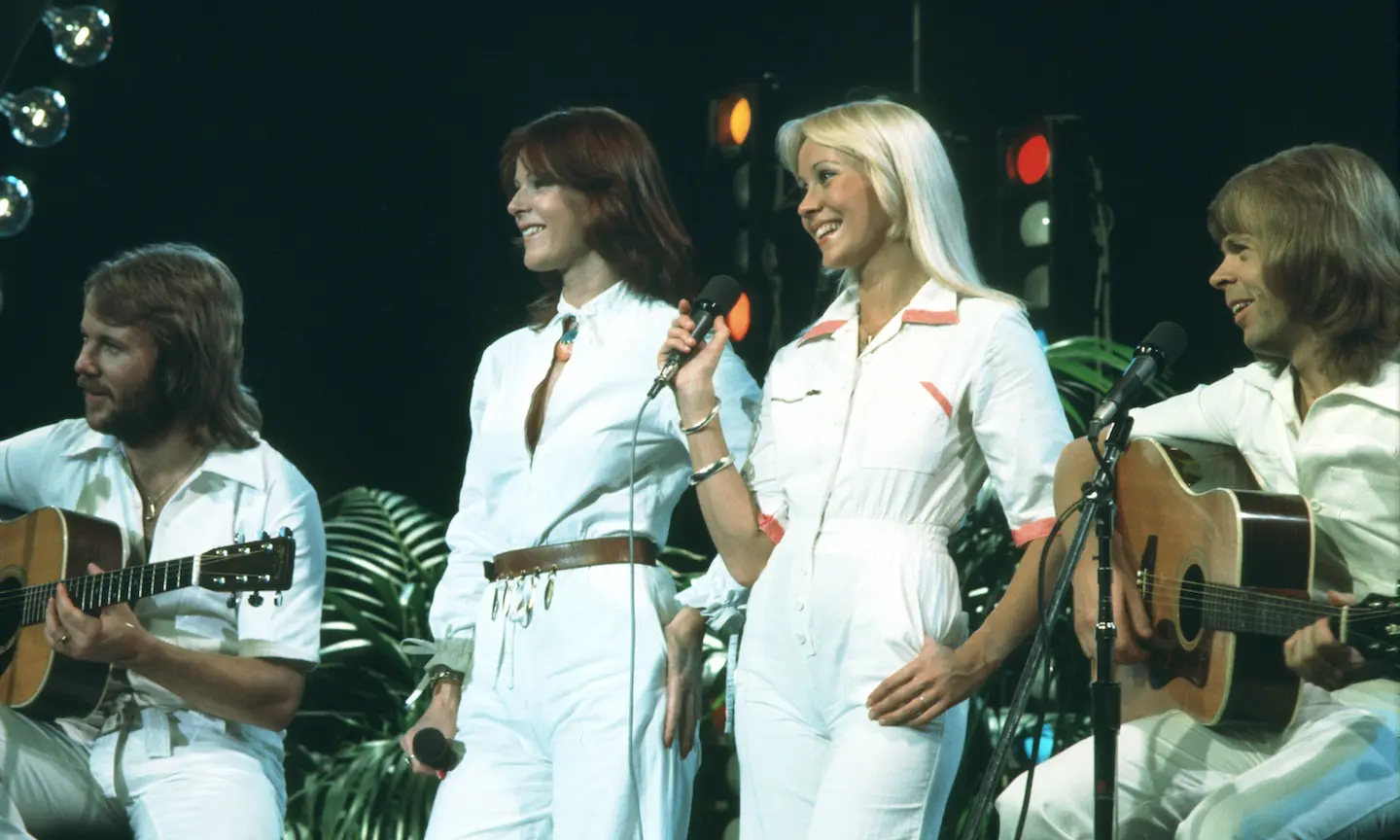 1. Benny Andersson became (at age 18) a member of a popular Swedish pop-rock group, the Hep Stars, that performed covers, amongst other things, of international hits. The Hep Stars were known as "the Swedish Beatles"
2. In June 1966, Ulvaeus and Andersson decided to write a song together. Their first attempt was "Isn't It Easy to Say", a song later recorded by The Hep Stars.
3. A competition to find a suitable name for the group was held in a Gothenburg newspaper. The group was impressed with the names "Alibaba", "FABB", and "Baba", but in the end all the entries were ignored and it was officially announced in the summer that the group were to be known as "ABBA".
4. ABBA first shot to worldwide fame when they won the Eurovision Song Contest in April, 1974 with "Waterloo", giving Sweden its first triumph in the contest.
5. ABBA was the first group to come from a non-English-speaking country to enjoy consistent success in the charts of English-speaking countries
6. In the summer of 1967, Anni-Frid 'Frida' Lyngstad won a national talent competition with "En ledig dag" ("A Day Off") a Swedish version of the bossa nova song "A Day in Portofino". The first prize was a recording contract with EMI Sweden.
7. An attempt at combining their talents occurred in April 1970 when the two couples went on holiday together to the island of Cyprus. What started as singing for fun on the beach ended up as an improvised live performance in front of the United Nations soldiers stationed on the island.
8. The official logo, using the bold version of the News Gothic typeface, was designed by Rune Söderqvist, and appeared for the first time on the "Dancing Queen" single in August 1976.
9. In 1973, ABBA agreed to promote baby food company Semper, and Björn and Agnetha's baby daughter Linda made her modelling debut in the adverts.
10. Those outrageous stage outfits were an easy way to save money on their tax bill. ABBA exploited a Swedish law, which meant clothes were tax deductible if their owners could prove they were not used for daily wear.
11. During the band's active years, Fältskog and Ulvaeus and Lyngstad and Andersson were married. At the height of their popularity, both relationships were suffering strain which ultimately resulted in the collapse of the Ulvaeus–Fältskog marriage in 1979 and the Andersson–Lyngstad marriage in 1981.
12. Not everyone in the band was Swedish. Anni-Frid Lyngstad was born on November 15th, 1945 in Bjørkåsen, Norway. The result of a liaison between young Synni Lyngstad and a German officer named Alfred Haase.
13. Led Zeppelin recorded their last album In Through the Out Door at ABBA's Polar Music Studios, in Stockholm. During a TV interview, Robert Plant confessed he went out one night in late 1978 with Björn Ulveaus and Benny Andersson, who all ended up in a local sex club to get away from Agnetha and Frida.
14. ABBA were massive in Australia. A 1976 TV Special for the Australian market got more views than the 1969 moon landing, "The Best of ABBA," was screened four times to record-setting ratings.
15. In 1971, Anni-Frid 'Frida' Lyngstad had her first number one single, "Min egen stad" ("My Own Town"), written by Benny and featuring all the future ABBA members on backing vocals.
16. Agnetha released four solo LPs between 1968 and 1971. She had many successful singles in the Swedish charts.
17. During the Cold War, currencies from behind the Iron Curtain were embargoed. However, ABBA was quite popular in the Soviet states. As they could not accept rubles, the band instead received royalty payments from the Soviet Union in oil commodities.
18. "Hej, gamle man", a song about an old Salvation Army soldier, became the quartet's first hit. The record was credited to Björn and Benny and reached number five on the Swedish charts and 114 on the Cashbox singles chart in the US.
19. In 2005 Madonna revealed that she wrote a letter to the members of ABBA begging to use their music on one of her tracks. The star wanted permission to sample the Swedish pop titans' massive 1979 disco hit "Gimme, Gimme, Gimme (A Man After Midnight)" for her latest single "Hung Up". ABBA gave her permission.
20. Before they were ABBA the band was known as Festfolk, meaning party people in Swedish.
21. The name ABBA was first used by a food company established in 1838 and some of its most well known products include Kalles kaviar and Abba pickled herring. In 1974, they decided to let Agnetha, Bjorn, Benny and Anni-Frid share their name, though ABBA is actually an acronym of the first letters of the band members' first names.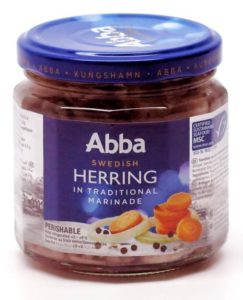 22. 3.5 million people applied for tickets for two dates to see ABBA at London's Royal Albert Hall, enough to fill the venue an astonishing 580 times.
23. ABBA have sold over 300 million albums and singles worldwide.
24. Björn and Benny are notorious for being protective of their catalogue. In 1987, they sued British acid house band The KLF over the unauthorised use of a passage from "Dancing Queen." Almost a decade later, they allowed The Fugees to use a sample from "The Name Of The Game" on their 1996 single "Rumble In The Jungle."
25. The group has pledged not to reunite. "We will never appear on stage again. There is simply no motivation to re-group," Björn Ulvaeus has said.
Important Dates In The Life Of ABBA:
26 May 2022
The four members of Abba made their first public appearance in 14 years as they attended the premiere of their Abba Voyage show in London, UK. Agnetha, Frida, Benny and Bjorn reunited for the opening night of the concert, which featured digital versions of the band. The concert had been in the works since 2016 and featured ground-breaking new technology that recreated the sight of Abba in their 1970s prime.
10 Sep 2021
ABBA
returned to the top-ten of the UK Singles Chart for the first time in almost forty years when 'Don't Shut Me Down' debuted at No.9, becoming their 20th top-ten single. The group's last single to reach the top-ten of the UK charts was 'One of Us', which peaked at No.3 in December 1981.
19 Sep 2020
Ozzy Osbourne
's former drummer, Lee Kerslake, died aged 73 from prostate cancer. He is best known for his performances on the Black Sabbath frontman's critically-acclaimed debut album, Blizzard of Ozz, and was also the drummer in Uriah Heep appearing on their 1972 album Demons and Wizards and nine studio records, as well as a live album, with the band before departing in 1978.
6 Aug 2020
British music producer and sound engineer Martin Birch died age 71. He became renowned for engineering and producing albums recorded predominantly by British rock bands, including
Deep Purple
, Rainbow,
Fleetwood Mac
, Whitesnake,
Black Sabbath
and Iron Maiden.
20 Apr 2018
Swedish DJ, remixer, and record producer, Avicii died aged 28. He was nominated for a Grammy for Best Dance Recording with 'Levels' at the 2013 Grammy Awards. His biggest single was 2013's 'Wake Me Up'. He recorded with Wyclef Jean, Robbie Williams,
ABBA
members Björn Ulvaeus and Benny Andersson, Rita Ora and Billie Joe Armstrong of
Green Day
.
4 Feb 2017
Black Sabbath
the band credited with inventing heavy metal music, played their last concert. The two-hour gig at the NEC Arena in their home city of Birmingham saw the rock veterans play 15 songs ending with their first hit, '
Paranoid
'. Ticker tape and balloons fell as singer
Ozzy Osbourne
, 68, thanked fans for nearly five decades of support. Sabbath's The End Tour began in the US in January last year and took in 81 dates across the world.
28 Jan 2017
British musician and keyboardist, and longtime member of the heavy metal band
Black Sabbath
, Geoff Nicholls died aged 68. Until his death, Nicholls played keyboards with former
Black Sabbath
singer Tony Martin, in his band Tony Martin's Headless Cross.
5 Jun 2016
The four members of
ABBA
performed alongside one another for the first time since 1982 at a private gala to mark 50 years since songwriting duo Bjorn Ulvaeus and Benny Andersson met for the first time in Stockholm. The impromptu performance reportedly began when Agnetha Faltskog and Anni-Frid Lyngstadon recited their 1980 hit 'Me and I' as a tribute to Andersson and Ulvaeus, before the two others joined in and made the reunion official.
5 Jun 2016
The final day of the sold-out Rock am Ring music festival in Germany was cancelled after lightning hurt at least 80 fans. At least eight people were seriously injured by the lightning strike.
Red Hot Chili Peppers
were among several bands, including
Black Sabbath
, Foals, Deftones and We Are Scientists, who were part of the line-up at the festival.
21 May 2015
Black Sabbath
received a lifetime achievement prize at the Ivor Novello songwriting awards. Guitarist Tony Iommi picked up the trophy, confirming the heavy metal band would embark on their "final tour" next year.
Ed Sheeran
was named songwriter of the year, and Annie Lennox was awarded the fellowship of the British Society of Songwriters, Composers and Authors (Basca) - the society's highest honour.
28 Jan 2015
Black Sabbath
bassist Geezer Butler was arrested after officers were called to the Corkscrew Saloon on the Furnace Creek Ranch in Death Valley National Park, California. The 65 year-old bassist was arrested for misdemeanour assault, public intoxication and vandalism after a fight broke out in the bar.
20 Jun 2014
Songs by
Elvis Presley
,
ABBA
and the
Spice Girls
were among those being used in research that hoped to unlock the secret of how our memory works. Researchers from the University of Amsterdam had created an online game in an attempt to shed light on why some tunes get stuck in your head. Fans were asked to identify song clips and compare them by their catchiness.
19 Jan 2014
16 Jun 2013
Black Sabbath
established a new UK chart record for the longest gap between No.1 albums when their new release, 13 debuted at the top of the charts, 42 years and 8 months after their second album
Paranoid
reached No.1.
1 Nov 2012
Metal Hammer magazine published a list of the "Top ten rock and heavy metal moustaches…Ever". The list which included moustaches worn by the likes of
Frank Zappa
, all the members of
Black Sabbath
, (except
Ozzy Osbourne
). James Hetfield, and Lemmy placed
Freddie Mercury
at the top of the list.
11 Nov 2011
In 2011,
Black Sabbath
fans rejoiced when all four original band members announced a reunion album and extensive world tour. The resulting LP, 13 was released in 2013.
19 Jul 2010
Ozzy Osbourne
and his former
Black Sabbath
band mate Tony Iommi settled a long-running legal dispute over the use of the group's name. Ozzy had filed suit against the guitarist in May of last year, accusing Iommi of falsely proclaiming to be the sole owner of the
Black Sabbath
name by lodging an application with the US Patent and Trademark Office. The pair released a joint statement confirming they have settled the dispute "amicably".
16 May 2010
Ronnie James Dio, singer with Elf, Rainbow,
Black Sabbath
and his own band Dio died after a six-month battle with stomach cancer. He was 67 years old. Dio's career began in 1957 with The Vegas Kings, which later changed to Ronnie and the Rumblers, then Ronnie and the Redcaps, then in 1961, Ronnie Dio and the Prophets. In 1967, Dio and Prophets guitarist Nick Pantas formed the Electric Elves, which shortened its name to Elf. The band's success eventually landed them an opening slot for
Deep Purple
which exposed Dio's voice to
Deep Purple
's guitarist, Ritchie Blackmore, who later recruited Dio and other members of Elf for his new band Rainbow.
16 Mar 2010
ABBA
were inducted into the US Rock and Roll Hall of Fame, along with
Genesis
and The Hollies.
Abba
's Benny Andersson and Anni-Frid Lyngstad accepted their trophies, in New York.
30 May 2009
Ozzy Osbourne
was suing the band's guitarist Tony Iommi over royalty payments. The 60-year-old had accused Iommi of falsely claiming to have sole rights to the band's name which has cost him royalties from merchandise sales. Osbourne was seeking unspecified damages, lost profits and a declaration he is a half-owner of the trademark. Iommi claims Osbourne legally relinquished rights to the band's name in the 1980s. Osbourne said he believed all four original members of the band should share
Black Sabbath
's name equally.
17 Mar 2008
Ola Brunkert, the former drummer with the Swedish group
ABBA
, was found dead at his home in Majorca, Spain, following an accident. The 62-year old musician had played on every Abba album the group released and had toured with the group.
8 Sep 2007
A commemorative plaque dedicated to Don Arden and the
Small Faces
was unveiled at 52–55 Carnaby Street, London, Arden's former offices. Arden achieved notoriety in Britain for his aggressive, sometimes illegal business tactics and looked after the career's of Small Faces, the Move, the Electric Light Orchestra and
Black Sabbath
. He was the father of Sharon Osbourne (and father-in-law of
Ozzy Osbourne
).
21 Jul 2007
Sharon Osbourne's music mogul father Don Arden died in a Los Angeles nursing home at the age of 81. Dubbed the Al Capone of Pop for his uncompromising business practices, he steered
Small Faces
,
Black Sabbath
and ELO to stardom.
30 Jul 2006
British gay magazine Attitude listed the 'Top 10 Gay Albums' of all time. No.1 was Scissor Sisters - Scissor Sisters, 2, Arrival -
ABBA
, 3, Vauxhall and I - Morrissey, 4, Light Years -
Kylie Minogue
, 5, Older -
George Michael
, 6, Welcome To The Pleasuredome - Frankie Goes To Hollywood, 7, Erotica -
Madonna
, 8, I Am a Bird Now - Antony and the Johnsons, 9, Bad Girls - Donna Summer and No. 10 The Man Who Sold The World -
David Bowie
.
23 May 2006
The King of Sweden presented the surviving members of
Led Zeppelin
with the Polar Music Prize in Stockholm recognising them as "great pioneers" of rock music. Robert Plant,
Jimmy Page
and John Paul Jones were joined by the daughter of drummer
John Bonham
, who died in 1980. The Polar Music Prize was founded in 1989 by Stig Anderson, manager of Swedish pop group
ABBA
who named it after his record label, Polar Records.
28 Apr 2006
ABBA
star Bjorn Ulvaeus was accused of avoiding paying 87m Swedish kronor (£6.5m) in taxes on the band's hit songs and musicals. The Swedish government was demanding he repaid the money. Abba sold over 370 million records and he also co-wrote the musical Mamma Mia.
13 Mar 2006
The
Sex Pistols
refused to attend their own induction into the US Rock and Roll Hall of Fame in Cleveland, Ohio.
Blondie
, Herb Alpert and
Black Sabbath
were all inducted but the Pistols posted a handwritten note on their website, calling the institution 'urine in wine', adding 'We're not your monkeys, we're not coming. You're not paying attention'.
23 Dec 2005
Geezer Butler, the bass player with
Black Sabbath
offered £5,000 for any information leading to the safe return of Toga, the three-month-old penguin that had been stolen from a zoo on the
Isle of Wight
a few days earlier.
6 Nov 2005
Madonna
scored her 36th Top Ten single with 'Hung Up', equaling the record with
Elvis Presley
for the most Top Ten singles. 'Hung Up' was also
Madonna
's 47th Top Forty single, the most for any female artist. The track sampled the instrumental riff from
ABBA
's 'Gimme, Gimme, Gimme'.
22 Oct 2005
Waterloo by
ABBA
was voted the best song in the history of the Eurovision Song Contest. Viewers in 31 countries across Europe voted during a special show in Copenhagen to celebrate the annual event's 50th birthday.
18 Oct 2005
Madonna
admitted that she wrote a grovelling letter to
Abba
asking if she could sample their music on her latest single 'Hung Up.' The singer had to seek permission to sample 'Gimme Gimme Gimme' and became only the second act that
Abba
has allowed to sample their work. The Fugees used part of 'The Name Of The Game' on their 1996 track 'Rumble In The Jungle.'
14 Feb 2005
Kerrang! magazine announced the results of its readers' poll for the best British rock albums ever. The Top 10 were: No.1,
Black Sabbath
's
Black Sabbath
; No.2,
Iron Maiden
's Number Of The Beast.
Sex Pistols
' Never Mind The Bollock's, Here's The
Sex Pistols
; No. 4,
Led Zeppelin IV
; No.5,
Black Sabbath
's
Paranoid
; No.6, Muse's Absolution; No.7,
The Clash
's London Calling; No.8,
Queen
's
Sheer Heart Attack
; No.9,
Iron Maiden
's
Iron Maiden
and No.10, Manic Street Preachers' The Holy Bible.
16 Dec 2004
Gold and silver
Black Sabbath
discs were stolen from the Kent home of
Ozzy Osbourne
's former manager Patrick Meehan. Police recovered the discs a week later after they were offered for sale on the internet auction site eBay.
17 Sep 2004
Israeli police arrested two of
Madonna
's bodyguards after they assaulted photographers waiting for the singer outside her hotel.
Madonna
was in Israel with 2,000 other students of Kabbalah, the Jewish mystical offshoot.
25 May 2004
Madonna
cancelled three shows in Israel after terrorists threatened to kill her and her kids. A spokesperson said she was targeted because she symbolises the West and not because she practises the Jewish faith Kabbalah.
24 May 2004
Madonna
kicked off the North American leg of her Re-invention World Tour by playing three sold out nights at The Los Angeles Forum. The tour became the top grossing of the year, with ticket sales of nearly $125 million, with over 900,000 fans attending the 60 date tour. As a follower of the Kabbalah,
Madonna
didn't play any Friday night gigs as the teaching of the religion forbids it.
1 Apr 2004
Paul Atkinson guitarist with The Zombies died aged 58 due to liver and kidney disease. They scored the 1964 US No.2 & UK No.12 single 'She's Not There'. He later became an artists and repertoire executive, working for Columbia and RCA discovering and signing such bands as
ABBA
, Bruce Hornsby, Mr. Mister, Judas Priest, and Michael Penn.
14 Dec 2003
Ozzy & Kelly Osbourne went to No.1 on the UK singles chart with 'Changes' a remake of a track first sung by Ozzy on the
Black Sabbath
album Volume IV in 1972. It was the first father and daughter chart topper since Frank & Nancy Sinatra in 1967.
15 Sep 2003
ABBA
tribute acts overtook
Elvis Presley
impersonators in the battle of British covers singers according to a survey. The Swedish group jumped from third most tributed act in 2001 to top in 2002 with imitators like
Abba
Fever and Voulez Vous putting on
Abba
shows. Elvis dropped to number two while
The Beatles
dropped to three. The Performing Right Society carried out the research.
24 Jun 2003
A man who had been deported from Sweden for stalking
ABBA
singer Agnetha Faeltskog was arrested near the singer's island retreat. Gert van der Graaf, 37, had been the singer's boyfriend from 1997 to 1999, but had been issued a restraining order barring him from seeing or talking to her in 2000.
6 May 2002
25 Sep 2000
Ozzy Osbourne
formally requested that
Black Sabbath
be removed from the nomination list for the Rock and Roll Hall of Fame. Calling the inclusion "meaningless", Osbourne went on to say "Let's face it.
Black Sabbath
have never been media darlings. We're a people's band and that suits us just fine."
4 Feb 2000
Bjorn Ulvaeus confirmed that the members of
ABBA
had turned down a $1 billion (£0.58 billion) offer by American and British consortium to reform the group. "It is a hell of a lot of money to say no to, but we decided it wasn't for us," band member Benny Andersson told the Swedish newspaper Aftonbladet.
19 Dec 1999
Irish boyband Westlife started a four week run at No.1 on the UK singles chart with their versions of the
ABBA
song 'I Have A Dream' and the Terry Jacks hit (written in French by Belgian, Jacques Brel and English lyrics by poet Rod McKuen), 'Seasons In The Sun'. It gave the group the Christmas No.1 and the last No.1 of the century.
30 Oct 1998
All four original members of
Black Sabbath
reunited momentarily to play '
Paranoid
' on US TV's David Letterman Show.
20 May 1998
Black Sabbath
drummer Bill Ward was taken to hospital in London after suffering a heart attack during a band rehearsal.
5 Apr 1998
British drummer Cozy Powell (Colin Flooks) was killed when his car smashed into crash barriers on the M4 motorway near Bristol, England. Powell had worked with the
Jeff Beck
Group, Whitesnake,
Black Sabbath
, Rainbow, Brian May, Peter Green and the ELP spin-off Emerson, Lake, and Powell. Powell, known as one of the most driving drummers in rock, had also had hits as a solo artist, including Dance WithThe Devil and The Man In Black, and had fronted his own band, Cozy Powell's Hammer.
12 Sep 1997
Founder of the Polar Music record label, songwriter, producer and
ABBA
's manager Stig Anderson died of a heart attack. Anderson co-wrote some of ABBA's biggest hits, such as 'Waterloo', 'Mamma Mia', 'S.O.S', 'Fernando', 'Dancing Queen', 'Knowing Me, Knowing You' and 'The Name of the Game.' His funeral was broadcast live on Swedish television an honour otherwise only reserved for distinguished statesmen or royalty.
9 Feb 1997
Scottish singer Brian Connolly with the Seventies Glam rock group Sweet died of kidney and liver failure aged 51. Connolly replaced Ian Gillan (later of
Deep Purple
and
Black Sabbath
) in Wainwright's Gentlemen who became Sweetshop and then shortened to Sweet. The group scored 15 UK top 40 hits including the 1973 No.1 hit 'Block Buster'.
1 Dec 1993
American rock singer-songwriter Ray Gillen died age 34 from an AIDS related disease in a New York Hospital. He was best known for his work with Badlands, in addition to his stint with
Black Sabbath
in the mid-1980s and recording most of the vocals on Phenomena's Dream Runner album.
18 Nov 1992
British group
Black Sabbath
were honoured with a star at the Rock Walk in Hollywood, California.
20 Apr 1992
'A Concert For Life' took place at Wembley Stadium as a tribute to
Queen
singer
Freddie Mercury
and for aids awareness. Acts appearing included;
Elton John
, Roger Daltrey, Tony Iommi (
Black Sabbath
),
David Bowie
,
Mick Ronson
, James Hetfield,
George Michael
, Seal, Paul Young, Annie Lennox, Lisa Stansfield, Robert Plant, Joe Elliott and Phil Collen, Axl Rose and Slash.
1 Jan 1982
ABBA
made their final live appearance as a group when they played in Stockholm, Sweden.
19 Dec 1981
ABBA
scored their seventh UK No.1 album with The Visitors, the Swedish pop group's eighth and final studio album. It was one of the first records to be recorded and mixed digitally, and was the first in history to be manufactured on the new CD format in 1982 on Atlantic.
2 Apr 1981
29 Nov 1980
ABBA
scored their ninth and last UK No.1 single with 'Super Trouper', the group's 25th Top 40 hit in the UK. The name "Super Trouper" referred to the gigantic spotlights used in stadium concerts.
22 Nov 1980
ABBA
scored their sixth UK No.1 album when Super Trouper started a nine week run at the top of the charts. The album which features the No.1 singles 'The Winner Takes It All' and 'Super Trouper', became the biggest-selling of 1980 in the UK.
9 Aug 1980
ABBA
scored their eighth UK No.1 single with 'The Winner Takes It All'. Taken from their 'Super Trouper' album. By this time, both couples were divorced.
29 Apr 1980
19 May 1979
ABBA
started a four week run at No.1 on the UK album chart with 'Voulez-Vous' the group's fourth No.1 album.
6 Nov 1977
ABBA
started a four week run at No.1 on the UK single chart with 'The Name Of The Game', the group's 6th No.1. The song was first called 'A Bit Of Myself.'
9 Apr 1977
ABBA
went to No.1 on the US singles chart with 'Dancing Queen', the group's 7th US Top 40 hit and first No.1. The song was also a No.1 in the UK in 1976 and 12 other countries.
2 Apr 1977
ABBA
were at No.1 on the UK singles chart with their fifth No.1 'Knowing Me, Knowing You.' The song was also a Top 10 hit in over 15 countries.
24 Dec 1976
The
Eagles
sixth album, Hotel California spent the first of eight non-consecutive weeks at the top of the Billboard chart. The band's first LP with Joe Walsh and last with bassist Randy Meisner which has now sold over 34 million copies worldwide. Some of the album was recorded at Criteria Studios, Miami. While the band were recording Black Sabbath were recording Technical Ecstasy in an adjacent studio and The Eagles were forced to stop recording on numerous occasions because Black Sabbath were too loud and the sound was coming through the wall.
3 Dec 1976
An estimated three and a half million people applied for
ABBA
's forthcoming British Albert Hall concerts, there were just over 11 thousand tickets available.
7 Sep 1976
ABBA
were at No.1 on the UK singles chart with 'Dancing Queen', the group's fourth UK No.1 single and their only US No.1 chart topper. The song was a No.1 hit in over a dozen countries and stayed at the top of the Swedish charts for 14 weeks.
15 Aug 1976
ABBA
released 'Dancing Queen' as the lead single from their fourth studio album, Arrival. Dancing Queen' (which had the working title of 'Boogaloo') went on to top the charts in more than a dozen countries including the United States where it became ABBA's only No.1.
18 Jun 1976
ABBA
gave a special live performance in Stockholm for Sweden's King Carl XVI Gustaf and Silvia Sommerlath on the eve of their wedding.
8 May 1976
ABBA
scored their third UK No.1 single with 'Fernando', the song went on to become
ABBA
's biggest selling single, with sales over 10 million. And also on day
Abba
started a nine-week run at No.1 on the UK album chart with their 'Greatest Hits' album.
31 Jan 1976
ABBA
knocked
Queen
from the UK No.1 position on the UK singles chart with 'Mamma Mia.' Queen's single '
Bohemian Rhapsody
' had enjoyed a nine week run at the top of the charts, by coincidence, Queen's single contains the famous "mamma mia, mamma mia, mamma mia let me go" line.
10 Dec 1975
ABBA
released 'Fernando'. The song is one of ABBA's best-selling singles of all time, with six million copies sold in 1976 alone and is one of fewer than forty all-time singles to have sold 10 million (or more) physical copies worldwide. The song was written for group member Anni-Frid Lyngstad and was included on her debut 1975 album Frida ensam.
12 Mar 1975
ABBA
recorded 'Mamma Mia' at Metronome Studio in Stockholm, Sweden. It was the last track recorded for their self-titled third album and was never intended for release as a single. ABBA's Australian record company, RCA, asked that 'Mamma Mia' be released as a single but Polar Music at first refused. The song went on to become a No.1 hit around the world.
6 Aug 1974
ABBA
scored their first US top 10 hit when 'Waterloo' went to No.6. 'Waterloo' was written specifically to be entered into the 1974 Eurovision Song Contest, after the group finished third with 'Ring Ring' the previous year in the Swedish pre-selection contest. The original title of the song was 'Honey Pie'.
15 Jun 1974
ABBA
's second album (but first UK release), 'Waterloo' entered the UK chart for the first time peaking at No.28. The album's title track won
ABBA
the 1974 Eurovision Song Contest.
4 May 1974
ABBA
were at No.1 on the UK singles chart with 'Waterloo', the group's first of nine UK No.1 singles was the 1974 Eurovision song contest winner for Sweden. The song was first called 'Honey Pie'.
6 Apr 1974
The California Jam 1 festival took place in Ontario, California, featuring the
Eagles
,
Black Sabbath
,
Deep Purple
, Earth, Wind & Fire, ELP, Black Oak Arkansas and Seals & Croft. Over 200,000 fans attended.
4 Mar 1974
ABBA
released 'Waterloo' the first single from their second album and the first single to be credited to the group performing under the name ABBA. It later became the winning entry for Sweden in the 1974 Eurovision Song Contest and a No.1 hit in several countries. It reached the US Top 10 and went on to sell nearly six million copies, making it one of the best-selling singles in history.
14 Mar 1973
ABBA
released 'Ring Ring' the title track of their debut album. It gave the group their first appearance on the UK singles chart where it peaked at No.32 and became their first Swedish No.1 and first Australian top 10 hit.
25 Sep 1972
Black Sabbath
released their fourth studio album, '
Black Sabbath
Vol. 4'. The album which features a monochrome photograph of
Ozzy Osbourne
with hands raised, taken during a
Black Sabbath
concert was originally to be titled 'Snowblind', after one of several songs referring to the band's cocaine use.
7 Jul 1971
26-year-old pop star Bjorn Ulvaeus and 21-year-old Agnetha Faltskog married in Verum, Sweden. 3000
ABBA
fans arrived and in the chaos a police horse stepped on the brides foot, causing her slight injury.
21 Mar 1971
Led Zeppelin
appeared at the Boat Club, Nottingham, England on their 'Back To The Clubs' tour. This was the first tour which saw Zeppelin performing '
Stairway To Heaven
', 'Black Dog' and 'Going To California'. Zeppelin opened the set with 'Immigrant Song' and 'Heartbreaker'. This small club on the banks of the River Trent had also seen performances by
Elton John
,
Black Sabbath
,
Sex Pistols
and
Rod Stewart
.
5 Feb 1971
Black Sabbath
started recording what would be their third album, 'Master Of Reality' at Island Studios in London, England. Released in July of this year, it is sometimes noted as the first stoner rock album. Guitarist Tony Iommi, decided to down tune his guitar down three semi-tones, Geezer Butler also down tuned his bass guitar to match Iommi. The result was a noticeably 'darker' sound that almost two decades later would prove hugely influential on at least three of the biggest grunge acts, namely Smashing Pumpkins, Soundgarden, and
Nirvana
.
7 Jan 1971
Black Sabbath
released '
Paranoid
' their second studio album in the US. The album features the band's best-known signature songs, including the title track, 'Iron Man' and 'War Pigs'. The album was originally titled War Pigs, but allegedly the record company changed it to Paranoid, fearing backlash from supporters of the ongoing Vietnam War.
27 Nov 1970
Black Sabbath
, Cactus and Steel Mill, (featuring
Bruce Springsteen
) all appeared at the Sunshine In, Asbury Park in New Jersey. All three acts played two shows, tickets cost $5.00.
10 Oct 1970
Black Sabbath
were at No.1 on the UK chart with their second album '
Paranoid
.' The album which contains some of the band's best-known signature songs, including the title track, 'Iron Man' and 'War Pigs' is now regarded as one of the classic Heavy Metal albums.
6 Aug 1970
The 10th National Jazz, Blues and Pop four day Festival was held at Plumpton Racecourse in Sussex, England. Featuring, Family, Groundhogs, Cat Stevens,
Deep Purple
, Fat Mattress, Yes, Caravan, The Strawbs,
Black Sabbath
, Wild Angles, Wishbone Ash and Daddy Longlegs.
23 May 1970
The
Grateful Dead
played their first gig outside the US at 'The Hollywood Rock Music Festival', in Newcastle under Lyme, Staffs, England. Also appearing at the festival was
Free
,
Ginger Baker
's Air Force, Colosseum, Family,
Black Sabbath
and Traffic.
9 Mar 1970
Having recently changed their name from Earth to
Black Sabbath
,
Ozzy Osbourne
, Tony Iommi, Geezer Butler and Bill Ward made their concert debut at The Roundhouse, London.
13 Feb 1970
On this day, Friday the 13th,
Black Sabbath
released their debut self-titled studio album on Vertigo records in the UK. Peaking at No.8 on the charts, the album has been recognised as the first main album to be credited with the development of the heavy metal genre.
29 Mar 1969
John Lennon
and Yoko Ono,
Black Sabbath
, The Crazy World Of Arthur Brown, Curved Air, J.J. Jackson's Dilemma, Shy Limbs, Spontaneous Music Ensemble, Sunflower Brass Band and Toe Fat all appeared at the London Free Easter Festival in Bethnal Green, London, England.
13 Jul 1968
Black Sabbath
played their first gig at a small backstreet Blues club in Birmingham, England.
5 Aug 1957
American Bandstand first aired on US TV. Dick Clark had replaced Bob Horn the previous year when the show was still called Bandstand, Clark went on to host the show until 1989. Countless acts appeared on the show over the years, including
ABBA
,
The Doors
, Talking Heads,
Madonna
,
Otis Redding
,
R.E.M.
and
Pink Floyd
.
16 Jan 1957