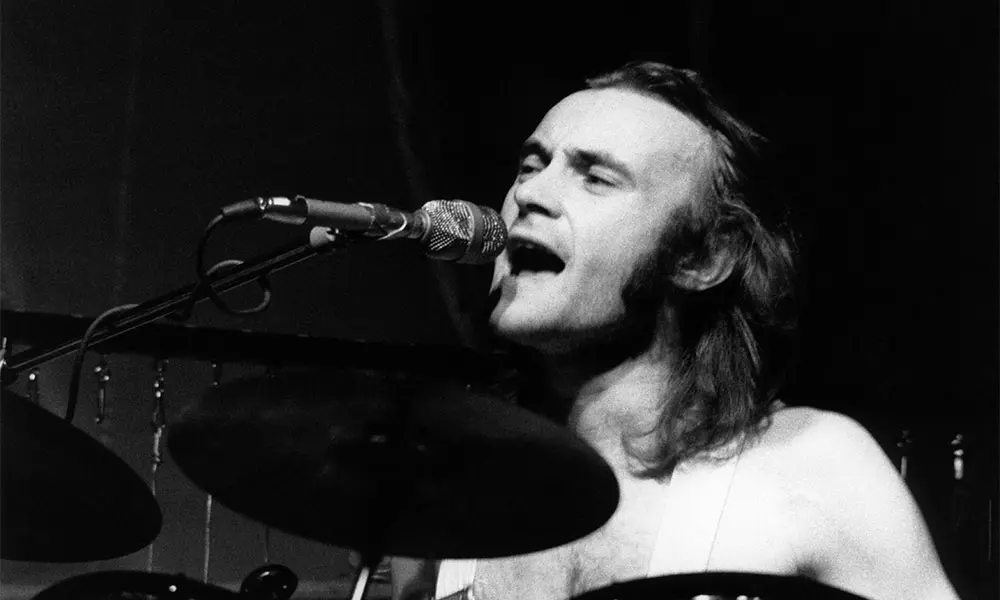 Phil Collins was born 30 January 1951 in Chiswick, Middlesex. His father was an insurance agent and his mother worked as a theatrical agent. He was given a toy drum kit for Christmas when he was five.
Aged five he entered a Butlins talent contest singing "Davy Crockett", but he stopped the orchestra halfway through to tell them they were in the wrong key.
Collins began his career as a child actor, and played the Artful Dodger in the London stage production of Oliver! He was also an extra in The Beatles' film A Hard Day's Night in 1964, and he later had a role in Calamity the Cow. He also appeared in Chitty Chitty Bang Bang as one of the children who storm the castle, but his scene was cut.
While attending Chiswick County School for Boys, Collins formed a band called the Real Thing, and later joined the Freehold, with whom he wrote his first song, "Lying Crying Dying."
In mid-1970, the rock band Genesis had decided to become a full time band and following the departures of drummer John Mayhew and guitarist Anthony Phillips, advertised for a drummer "sensitive to acoustic music". From 1970 to 1975, Collins played drums and percussion, and sang (largely backing) vocals on Genesis albums. His first album recorded with the band, Nursery Cryme, was recorded and released in 1971.
He has collected hundreds of artefacts related to the famous 1836 battle in San Antonio, Texas, narrated a light and sound show about the Alamo, and has spoken at related events.
He was inducted into the Modern Drummer Hall of Fame in 2012.
Collins was the only Live Aid performer who performed at both the US concert and the UK concert. He travelled to Philadelphia via Concorde to perform his solo material, play drums for Eric Clapton, and drummed with Robert Plant and Jimmy Page for a Led Zeppelin reunion.
Collins has married and divorced three separate times, paying out over $84 million in divorce settlements.
Like Rod Stewart and Eric Clapton, Collins is a model railway enthusiast.
He played percussion on "Art of Dying" by George Harrison for his triple album All Things Must Pass.
In August 1975, following The Lamb Lies Down on Broadway tour, Peter Gabriel left Genesis. The band placed an advert for a replacement in Melody Maker and received around 400 replies. After a lengthy auditioning process, during which he sang backup vocals for applicants, Collins became the band's lead vocalist.
Face Value his debut studio album released on 13 February 1981 reached No. 1 on the UK Albums Chart for three weeks and No. 7 on the US Billboard 200. It has since sold over 5 million copies in the US.
Collins's second solo album, Hello, I Must Be Going! was released in November 1982. The second single, a cover of "You Can't Hurry Love" by The Supremes, became Collins's first UK No. 1 single and went to No. 10 in the US
In 1984, Collins released "Against All Odds", the main theme for the film of the same title, which earned him the Grammy Award for Best Pop Vocal Performance.
His most successful album, the Diamond-certified No Jacket Required was released in 1985. It reached No. 1 in both the UK and the US. It contained the US No.1 hits "One More Night" and "Sussudio" as well top ten hits "Don't Lose My Number" and "Take Me Home".
Collins had cameo appearances in Steven Spielberg's Hook (1991) and the AIDS docudrama And the Band Played On (1993). He starred in Frauds and supplied voices to two animated features: Amblin's Balto (1995) and Disney's The Jungle Book 2 (2003). He also appeared in an episode of the series Miami Vice, entitled "Phil the Shill", in which he plays a cheating con-man.
Many believed that Collins himself was the drummer in the 2007 Gorilla commercial for Cadbury's Dairy Milk chocolate, which featured "In the Air Tonight". When asked about the Gorilla, Collins jokingly commented that "Not only is he a better drummer than me, he also has more hair."
In September 2009, it was reported that Collins could no longer play the drums, due to a recent operation to repair a dislocated vertebra in his neck.
In 2012, Collins was estimated to be the second wealthiest drummer in the world, only surpassed by Ringo Starr. Collins was estimated to have a fortune of £120 million in the Sunday Times Rich List of 2018, making him one of the 25 wealthiest people in the British music industry.
Important Dates In The Life Of Phil Collins:
29 Oct 2014
Phil Collins
handed over his large collection of Alamo memorabilia to a Texas museum, calling the donation the end of a six-decade "journey". "I'm 64," he said of his fascination with the 1836 battle. "When I was five or six years old, this thing began." Collins' collection included a fringed leather pouch used by Davy Crockett and Jim Bowie's legendary knife.
28 Aug 2012
Celebrity Net Worth named
Ringo Starr
as the world's richest drummer, with an estimated fortune of $300 million.
Phil Collins
was ranked second with $250 million, former
Nirvana
drummer Dave Grohl was third with $225 million, the
Eagles
' Don Henley came in forth with $200 million and
Metallica
's Lars Ulrich was fifth with $175 million. Also making the top ten were
U2
's Larry Mullen and The
Rolling Stones
' Charlie Watts.
15 Aug 2012
American musician Bob Birch died from an self-inflicted gunshot wound in his Los Angeles home, aged 56. Birch was badly injured in a car accident in 1995 and since then struggled with constant headaches, dizziness, vertigo, and severe pain throughout his body. He worked with Doobie Brothers,
Bryan Adams
, Lionel Richie,
George Michael
,
Eric Clapton
, B.B. King,
Phil Collins
, Keith Emerson,Barry Manilow and
Elton John
.
12 Nov 2003
American session drummer Tony Thompson died of cancer aged 48. He was most famous as the drummer with The Power Station along with Robert Palmer, and John Taylor and Andy Taylor of
Duran Duran
and Chic, whose single 'Le Freak' hit No.1 in the US, and No.7 in the UK. He also played on
David Bowie
's hit single 'Let's Dance'. Thompson also played drums with
Led Zeppelin
(along with
Phil Collins
) at
Live Aid
in 1985.
19 Apr 2000
Phil Collins
won £250,000 in a high court case over royalties with two former members of his band. The judge ruled that they had been overpaid in error but because the two musicians had no other income they would not have to pay it back.
29 Mar 2000
Phil Collins
took out a high court action against two former members of Earth, Wind & Fire. Collins claimed his company had overpaid the musicians by £50,000 ($85,000) in royalties on tracks including 'Sussudio' and 'Easy Lover'.
24 Feb 2000
Carlos Santana
won eight awards at this years Grammy Awards for his Supernatural album. Before Supernatural, the guitarist had not had a Top 10 album since 1981. Sting won two awards, one for best pop album and another for best male pop vocalist. Sir
Elton John
won the legend award and
Phil Collins
the best soundtrack award for Tarzan.
24 Jul 1999
6 Mar 1990
...But Seriously the fourth studio album by English drummer and singer-songwriter
Phil Collins
was at No.1 on the UK album chart. It was the best selling album of 1990 in the UK, eventually selling 2.75 million copies there and 4 million in the US. The lead single 'Another Day in Paradise' won a Grammy Award for Record of the Year.
6 Jan 1990
Phil Collins
started a three-week run at No.1 on the US album chart with '...But Seriously', his fourth solo studio album.
23 Dec 1989
Phil Collins
started a four week run at No.1 on the US singles chart with 'Another Day In Paradise', his 7th US solo No.1. Taken from his No.1 album ...But Seriously 'Another Day in Paradise' was written to bring attention to the problem of homelessness.
24 Aug 1989
The Who
performed Tommy at the Universal Amphitheatre, Los Angeles with special guests Steve Winwood,
Elton John
,
Phil Collins
, Patti LaBelle and Billy Idol.
13 Feb 1989
This years Brit Awards was hosted by Sam Fox and
Mick Fleetwood
in which just about everything went wrong - lines were fluffed and bands mis-cued onto the stage. Winners included
Phil Collins
who won British Male Solo Artist, British Female Solo Artist was Annie Lennox, Erasure won Best British Group, Best British Album went to Fairground Attraction for 'First Of A Million Kisses', British Breakthrough Act was Bros,
Michael Jackson
won International Male, International Female went to Tracey Chapman and
U2
won Best International Group. This was the last year the show was broadcast live.
2 Jan 1989
Record Mirror published a chart of last years Top UK singles artists. No.1 was
Kylie Minogue
, No.2, Bros, No.3, Yazz, No.4 Tiffany, No.5,
Phil Collins
, No.6, Cliff Richard, No.7, Erasure, No.8, Pet Shop Boys, No.9, Belinda Carlisle, and No.10, Wet Wet Wet.
22 Oct 1988
Phil Collins
started a two week run at No.1 on the US singles chart with his version of 'Groovy Kind Of Love', his 6th US No.1. The song was also a hit for The Mindbenders, the group that backed Wayne Fontana in 1965.
10 Sep 1988
Phil Collins
was at No.1 on the UK singles chart with 'A Groovy Kind Of Love.' Taken from his film Buster the song had been a No.2 hit for The Mindbenders in 1966. The song was written by Carole Bayer Sager when she was a 22-year-old schoolteacher, and Toni Wine who was a 17-year-old high school student.
11 Jun 1988
Nelson Mandellas 70th birthday tribute took place at Wembley Stadium, London, featuring
Whitney Houston
,
Phil Collins
,
Dire Straits
,
Stevie Wonder
, Tracy Chapman,
George Michael
,
Eric Clapton
, UB40, The Eurythmics and
Simple Minds
. The event was broadcast live on BBC 2 to 40 different countries with an estimated audience of 1 billion.
13 Jul 1985
At 12.01 Status Quo started the
Live Aid
extravaganza, held between Wembley Stadium, London and The JFK Stadium, Philadelphia. The cream of the world's biggest rock stars took part in the worldwide event, raising over £40million. TV pictures beamed to over 1.5bn people in 160 countries made it the biggest live broadcast ever known. Artists who appeared included
Paul McCartney
,
Phil Collins
,
The Who
,
U2
,
David Bowie
and
Mick Jagger
,
Queen
, Tina Turner, The Cars,
Neil Young
,
Tom Petty
,
Bob Dylan
,
Bryan Adams
,
Hall and Oates
, Lionel Richie and
Led Zeppelin
.
6 Jul 1985
Phil Collins
went to No.1 on the US singles chart with 'Sussudio', his third US No.1, it made No.12 in the UK. The track was taken from his third solo studio album, No Jacket Required.
30 Mar 1985
Phil Collins
started a two week run at No.1 on the US singles chart with 'One More Night', his second US No.1, it made No.4 in the UK. The track was taken from his third album, No Jacket Required.
24 Mar 1985
'Easy Lover' by Philip Bailey and
Phil Collins
was at No.1 on the UK singles chart. Bailey was a former vocalist with Earth, Wind & Fire. Phil Collins produced, drummed and sang on the track. 'Easy Lover' won an
MTV
Video Music Award for Best Overall Performance in a Video.
15 Dec 1984
Do They Know It's Christmas? by Band Aid entered the UK chart at No.1 and stayed at the top for five weeks. It became the biggest selling UK single of all time with sales over 3 and a half million. Band Aid was masterminded by former Boomtown Rats singer
Bob Geldof
, who had been moved by a TV news story of famine in Ethiopia. Geldof had the idea of raising funds with a one-off charity single featuring the cream of the current pop world.
Duran Duran
, Spandau Ballet, Paul Young, Culture Club,
George Michael
, Sting,
Bono
,
Phil Collins
, Paul Weller, Francis Rossi and Rick Parfitt of Status Quo and Bananarama all appeared on the recording.
21 Apr 1984
Phil Collins
started a three week run at No.1 in the US singles chart with the theme from 'Against All Odds'. It was Phil's first US No.1, a No. 2 in the UK.
15 Jan 1983
Phil Collins
had his first UK No.1 single with his version of 'You Can't Hurry Love,' a hit for The
Supremes
in 1966. Collins' version was the first track on the very first Now That's What I Call Music CD.
4 Oct 1980
Winners in the Melody Makers readers poll included,
Kate Bush
who won Best female singer, Peter Gabriel won Best male singer, Best guitarist went to Ritchie Blackmore,
Phil Collins
won Best drummer,
Genesis
won Band of the year, Best single went to
Pink Floyd
for 'Another Brick In
The Wall
(Part 2)' and Saxon won brightest hope.
24 May 1980
Genesis
fans turning up at the Roxy Club box office in Los Angeles to buy tickets for a forthcoming gig were surprised to find the band members
Phil Collins
, Tony Banks and Mike Rutherford selling the tickets themselves.
28 Mar 1976
Genesis
began their first North American tour since Peter Gabriel left the band, appearing in Buffalo, New York, with
Phil Collins
taking over as lead singer.
2 Feb 1976
Genesis
released 'A Trick Of The Tail', their seventh studio album and the first to feature drummer
Phil Collins
as full-time lead vocalist following the departure of original vocalist Peter Gabriel. After auditioning over 400 vocalists, which saw Collins teaching the potential lead singers the songs, the band decided that Collins should be the new vocalist.
16 Aug 1975
Peter Gabriel announced that he was leaving
Genesis
. The group auditioned more than 400 singers during the next 18 months before deciding that
Phil Collins
, who had been the drummer for Genesis since 1970, could front the band.
10 Sep 1966
The
Supremes
started a two week run at No.1 on the US singles chart with 'You Can't Hurry Love', the group's sixth US No.1. It made No.3 in the UK and gave
Phil Collins
a UK No.1 in 1982.
31 Mar 1964
Filming for A Hard Day's Night,
The Beatles
played a 'live television performance' in front of a studio of screaming fans (one of those fans was
Phil Collins
). The four songs used in the film were 'Tell Me Why', 'I Should Have Known Better', 'And I Love Her', and 'She Loves You'.