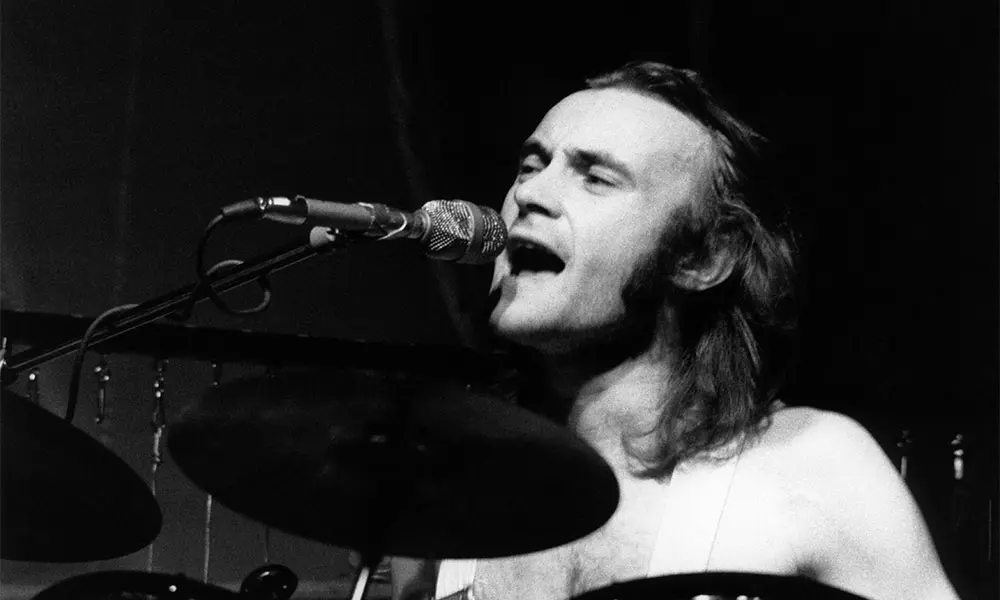 Phil Collins was born 30 January 1951 in Chiswick, Middlesex. His father was an insurance agent and his mother worked as a theatrical agent. He was given a toy drum kit for Christmas when he was five.
Aged five he entered a Butlins talent contest singing "Davy Crockett", but he stopped the orchestra halfway through to tell them they were in the wrong key.
Collins began his career as a child actor, and played the Artful Dodger in the London stage production of Oliver! He was also an extra in The Beatles' film A Hard Day's Night in 1964, and he later had a role in Calamity the Cow. He also appeared in Chitty Chitty Bang Bang as one of the children who storm the castle, but his scene was cut.
While attending Chiswick County School for Boys, Collins formed a band called the Real Thing, and later joined the Freehold, with whom he wrote his first song, "Lying Crying Dying."
In mid-1970, the rock band Genesis had decided to become a full time band and following the departures of drummer John Mayhew and guitarist Anthony Phillips, advertised for a drummer "sensitive to acoustic music". From 1970 to 1975, Collins played drums and percussion, and sang (largely backing) vocals on Genesis albums. His first album recorded with the band, Nursery Cryme, was recorded and released in 1971.
He has collected hundreds of artefacts related to the famous 1836 battle in San Antonio, Texas, narrated a light and sound show about the Alamo, and has spoken at related events.
He was inducted into the Modern Drummer Hall of Fame in 2012.
Collins was the only Live Aid performer who performed at both the US concert and the UK concert. He travelled to Philadelphia via Concorde to perform his solo material, play drums for Eric Clapton, and drummed with Robert Plant and Jimmy Page for a Led Zeppelin reunion.
Collins has married and divorced three separate times, paying out over $84 million in divorce settlements.
Like Rod Stewart and Eric Clapton, Collins is a model railway enthusiast.
He played percussion on "Art of Dying" by George Harrison for his triple album All Things Must Pass.
In August 1975, following The Lamb Lies Down on Broadway tour, Peter Gabriel left Genesis. The band placed an advert for a replacement in Melody Maker and received around 400 replies. After a lengthy auditioning process, during which he sang backup vocals for applicants, Collins became the band's lead vocalist.
Face Value his debut studio album released on 13 February 1981 reached No. 1 on the UK Albums Chart for three weeks and No. 7 on the US Billboard 200. It has since sold over 5 million copies in the US.
Collins's second solo album, Hello, I Must Be Going! was released in November 1982. The second single, a cover of "You Can't Hurry Love" by The Supremes, became Collins's first UK No. 1 single and went to No. 10 in the US
In 1984, Collins released "Against All Odds", the main theme for the film of the same title, which earned him the Grammy Award for Best Pop Vocal Performance.
His most successful album, the Diamond-certified No Jacket Required was released in 1985. It reached No. 1 in both the UK and the US. It contained the US No.1 hits "One More Night" and "Sussudio" as well top ten hits "Don't Lose My Number" and "Take Me Home".
Collins had cameo appearances in Steven Spielberg's Hook (1991) and the AIDS docudrama And the Band Played On (1993). He starred in Frauds and supplied voices to two animated features: Amblin's Balto (1995) and Disney's The Jungle Book 2 (2003). He also appeared in an episode of the series Miami Vice, entitled "Phil the Shill", in which he plays a cheating con-man.
Many believed that Collins himself was the drummer in the 2007 Gorilla commercial for Cadbury's Dairy Milk chocolate, which featured "In the Air Tonight". When asked about the Gorilla, Collins jokingly commented that "Not only is he a better drummer than me, he also has more hair."
In September 2009, it was reported that Collins could no longer play the drums, due to a recent operation to repair a dislocated vertebra in his neck.
In 2012, Collins was estimated to be the second wealthiest drummer in the world, only surpassed by Ringo Starr. Collins was estimated to have a fortune of £120 million in the Sunday Times Rich List of 2018, making him one of the 25 wealthiest people in the British music industry.