Live Aid – The Global Jukebox Plugs In & Lineup Times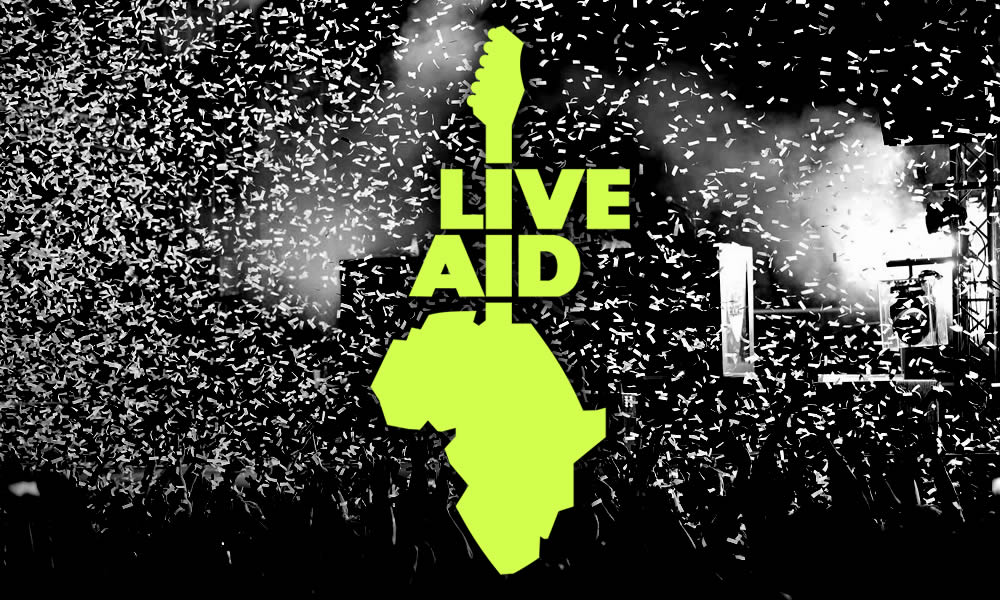 Billed as The Global Jukebox, and described as 'The Day Rock and Roll Changed the World,' Live Aid became the biggest live rock event ever. Staged in the UK and the US with contributions from countries including Japan, Australia, Holland, Yugoslavia, Russia, and Germany, the whole event featured 16 hours of live music and was watched by over 1.9 billion people worldwide.
The final amount raised exceeded all hopes and totalled over £110m. What was disappointing was the lack of donations from big companies – banks, oil companies and other major players. It was left to the general public to donate, which they did – music fans dug deep into their pockets, including one mystery woman from England who boosted the funds by personally pledging half a million pounds.
It all started in 1984 when Boomtown Rats singer Bob Geldof watched a BBC news report about the appalling famine in Africa. Geldof felt he had to do something to stop the suffering. He and Midge Ure of Ultravox got together and wrote the song "Do They Know It's Christmas" to raise money for the crisis. They then enlisted a host of other stars to record the song under the name of Band Aid, the name suggested by Linda Valentine of the Press Dept. of Phonogram Records, to whom The Boomtown Rats were signed.
Released on Phonogram in December 1984, with a sleeve by Sgt. Pepper designer Peter Blake, the track became the UK's biggest selling single of the time and raised £8m, although it took a while to persuade the then Conservative UK government to waive the VAT. They subsequently gave an equivalent sum (around $1 million, or £750,000) to charities working in Ethiopia and Chad.
Following the success of Band Aid, Bob Geldof visited Ethiopia to oversee the distribution of aid and realised that if the Band Aid organisation owned its own fleet of trucks to transport much-needed supplies, they would be in a better position to have a more direct impact on the famine. So the idea of a concert was born, and in just 10 weeks the project of Live Aid was put together.
The event began at midday on Saturday 13 July 1985 at London's Wembley Stadium with a fanfare for Prince Charles and Princess Diana and then it was over to veteran rockers Status Quo who opened the with their hit "Rockin' All Over The World" in front of a global audience.
Each act had around 20 minutes, and while some struggled (understandably) with technical problems, some acts gave blistering performances. Queen were outstanding, even though singer Freddie Mercury was suffering from a throat infection and went on stage against doctor's orders.
U2's performance established them as a pre-eminent live group for the first time. During a 14-minute rendition of "Bad", Bono jumped off the stage to join the crowd and dance with a girl. In July 2005, the girl with whom he danced revealed that he actually saved her life at the time. She was being crushed by the throngs of people pushing forwards; Bono saw this and gestured frantically at the ushers to help her. They did not understand what he was saying, and so he jumped down to help her himself.
Much later it was revealed that Bono hadn't intended to take so long getting back onstage, and the band had planned to perform another song, but, in fact, the extended "Bad" allowed the band to establish themselves as something completely different from everyone else on the bill. Apparently, the rest of the band saw their careers vanishing even as they kept playing, and gave Bono a hard time about it after the show.
Phil Collins appeared with Sting at Wembley before getting on the Concorde and flying to the U.S. to play with Eric Clapton and Led Zeppelin at JFK Stadium in Philadelphia. Due to a bad sound onstage Zeppelin's set was regarded as disappointing, so Zeppelin have never allowed the footage to be used on the official DVD.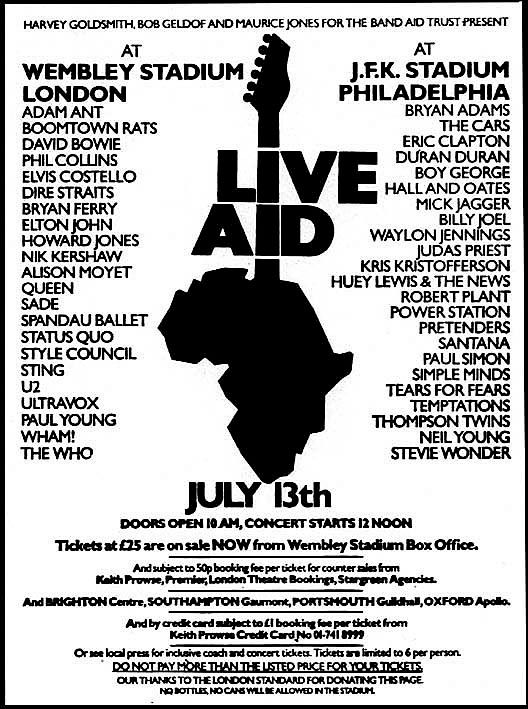 In Philadelphia, the celebrities turned out in force. Jack Nicholson came onstage to introduce Joan Baez and Bryan Adams, while other stars who graced the stage included Bette Midler, (who brought on Mick Jagger) and Chevy Chase.
David Bowie and Mick Jagger first wanted to make a live duet between the two continents, with their cover of "Dancing in the Street" with Bowie singing his lines from London, England and Jagger in Philly in the US but this wasn't technically possible, due to the slightly delayed satellite sound feed. They then switched to a video clip idea – which was later released as a single with all proceeds going to the cause.
Following Bowie's set, a video was shown to the audiences in London and Philadelphia, as well as on televisions around the world (though notably neither USA feed, from ABC or MTV, chose to show the film), showing starving and diseased Ethiopian children set to the song "Drive" by The Cars. The rate of giving became faster in the immediate aftermath of the moving video. Ironically, Geldof had previously refused to allow the video to be shown, due to time constraints, and had only relented when Bowie offered to drop the song "Five Years" from his set as a trade-off.
Geldof and his team had originally thought the concert might raise £5 million, but the current estimate is around £150 million ($200+ million), raised as a direct result of the concerts. On that very special day, they achieved something quite amazing and touched the hearts of millions of people resulting in saving and improving the lives of hundreds of thousands in Africa.
It didn't make poverty history, but Live Aid made a difference. The key thing it did, which utterly dwarfed the event, was to force a change of policy in the EU and particularly in the UK and America. Public opinion and people's perspective of charity changed on that day, when they realised that a small personal contribution could collectively make a big difference. Rocking all over the world, indeed.
Here is the full lineup of that momentous day (times are BST):
12.02 Status Quo
12.19 Style Council
12.44 Boomtown Rats
13.00 Adam Ant
13.06 INXS (video from Melbourne)
13.16 Ultravox
13.34 Loudness (video from Japan)
13.47 Spandau Ballet
13.51 Bernard Watson
14.02 Joan Baez
14.07 Elvis Costello
14.10 The Hooters
14.15 Opus (video from Austria)
14.22 Nik Kershaw
14.32 The Four Tops
14.38 B.B. King (video from The Hague)
14.45 Billy Ocean
14.52 Black Sabbath
14.55 Sade
15.12 Run DMC
15.18 Sting
15.27 Rick Springfield
15.35 Phil Collins
15.45 REO Speedwagon
15.50 Howard Jones
15.58 Autograph (video from Moscow)
16.03 Bryan Ferry
16.15 Crosby, Still and Nash
16.24 Udo Lindenberg (video from Cologne)
16.26 Judas Priest
16.38 Paul Young / Alison Moyet
17.00 Linkup between Wembley in the UK and JFK in the US
17.02 Bryan Adams
17.20 U2
17.40 The Beach Boys
18.00 Dire Straits and Sting
18.26 George Thorogood and the Destroyers / Bo Diddley / Albert Collins
18.44 Queen
19.03 David Bowie / Mick Jagger ( video)
19.07 Simple Minds
19.22 David Bowie
19.41 The Pretenders
20.00 The Who
20.20 Santana / Pat Metheny
20.50 Elton John
20.57 Ashford and Simpson / Teddy Pendergrass
21.05 Elton John / Kiki Dee / Wham!
21.30 Madonna
21.48 Freddie Mercury / Brian May
21.51 Paul McCartney
21.54 McCartney / Bowie / Pete Townshend / Alison Moyet / Bob Geldof
21.56 UK finale from Wembley
22.14 Tom Petty
22.30 Kenny Loggins
22.49 The Cars
23.07 Neil Young
23.43 The Power Station
00.21 The Thompson Twins
00.39 Eric Clapton
01.04 Phil Collins
01.13 Robert Plant / Jimmy Page / John Paul Jones
01.47 Duran Duran
02.15 Patti LaBelle
02.50 Hall and Oates / Eddie Kendricks / David Ruffin
03.15 Mick Jagger
03.28 Mick Jagger / Tina Turner
03.39 Bob Dylan / Keith Richards / Ron Wood
03.55 US finale
We have a book! David Bowie – I Was There which contains over 350 eyewitness accounts from fans who saw Bowie live in concert and worked with him including Live Aid. Available in print and all digital formats.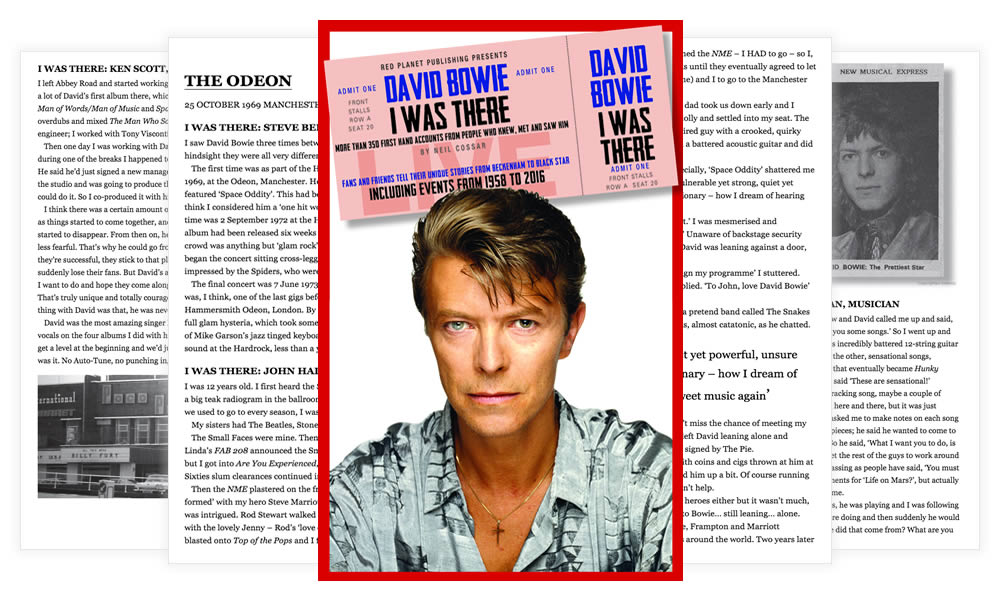 Important Dates In The Life Of Live Aid:
17 Apr 2020
English bass guitarist Matthew Seligman, best known as a member of The Soft Boys, died aged 64 due to complications of the coronavirus. Seligman was also a member of the Thompson Twins, and was a sideman for Thomas Dolby and backed
David Bowie
at his performance at
Live Aid
in 1985.
15 Sep 2019
Ric Ocasek the former lead singer with The Cars was found dead in his New York City apartment, he was 75. The Cars formed in Boston in the mid-1970s by Ocasek and band-mate Benjamin Orr after they met at high school. Their early hits included 'Just What I Needed', 'My Best Friend's Girl' and 'Good Times Roll'. Their 1984 ballad 'Drive' was used as background music for footage of the Ethiopian famine, and its re-release as a single after
Live Aid
helped raise money for the cause. After the band broke up in the late 1980s, Ocasek embarked on a solo career as well as working as a producer for artists including Weezer, Bad Religion and No Doubt.
24 Dec 2016
Status Quo guitarist Rick Parfitt died in hospital in Marbella, Spain aged 68. He died from a severe infection after going to hospital, following complications to a shoulder injury. His partnership with Francis Rossi became the core of Status Quo, one of Britain's most enduring bands. Status Quo had over 60 chart hits in the UK, more than any other rock band, including "Pictures of Matchstick Men" in 1967, "Whatever You Want" in 1979 and "In the Army Now" in 2010. Twenty-two of these reached the Top 10 in the UK Singles Chart. In July 1985 the band opened
Live Aid
at Wembley Stadium with "Rockin' All Over the World".
18 Oct 2005
Live Aid
co-founder Midge Ure collected his OBE from the
Queen
for his music and charity work. The 52 year-old ex-Ultravox singer wore a kilt for the occasion at Buckingham Palace, London.
12 Oct 2005
Singer and
Live Aid
co-founder Midge Ure received an honorary degree from Dundee's University of Abertay. He said: "Having left school at the age of 15, I never expected to receive such an accolade."
23 Jul 2005
Queen
's 1985
Live Aid
performance was voted the best rock concert ever by over 7,000 UK Sony Ericsson music fans.
Radiohead
were voted the best festival act for their 1997 Glastonbury performance and
Bob Dylan
's 1966 Manchester Free Trade Hall gig won the best ever solo gig.
22 Jan 2005
One of the biggest charity concerts since
Live Aid
raised £1.25 million ($2 million) for victims of the tsunami disaster in Asia. The concert held at The Millennium Stadium, Cardiff featured
Eric Clapton
, Manic Street Preachers, Keane, Charlotte Church, Snow Patrol, Embrace, Feeder, Craig David and Liberty X, who appeared before 60,000 fans at the sold-out concert.
12 Nov 2003
American session drummer Tony Thompson died of cancer aged 48. He was most famous as the drummer with The Power Station along with Robert Palmer, and John Taylor and Andy Taylor of
Duran Duran
and Chic, whose single 'Le Freak' hit No.1 in the US, and No.7 in the UK. He also played on
David Bowie
's hit single 'Let's Dance'. Thompson also played drums with
Led Zeppelin
(along with
Phil Collins
) at
Live Aid
in 1985.
24 May 1999
Queen
singer
Freddie Mercury
, who died in 1991, was honoured on a new set of millennium stamps issued by the Royal Mail. Mercury, who featured on the 19p stamp, was a keen stamp collector, and his collection was bought by the Post Office in 1993. The stamp marked his contribution to the
Live Aid
charity concert in 1985, and caused controversy by featuring a small portion of
Queen
's drummer, Roger Taylor, in the background - UK stamps by tradition only carry pictures of living persons who are members of the Royal Family.
16 Jun 1996
Rage Against The Machine, Beastie Boys, Smashing Pumpkins, Fugees,
Red Hot Chili Peppers
, John Lee Hooker, Beck, Sonic Youth, Yoko Ono, De La Soul and Richie Havens all appeared at the two-day Tibetan Freedom Concert, Golden Gate Park, San Francisco: A sell-out crowd of over 100,000 made it the largest US benefit concert since
Live Aid
in 1985.
9 Aug 1986
Queen
ended their Magic European tour at Knebworth Park, Stevenage, England, with over 120,000 fans witnessing what would be Queen's last ever live performance. On this, their final tour, Queen played to legions of established fans, plus many new ones gained as a result of their show-stealing performance at
Live Aid
the previous year. The support acts were Belouis Some, Big Country and Status Quo.
22 Sep 1985
The first Farm Aid benefit concert was held before a crowd of 80,000 people at the Memorial Stadium in Champaign, Illinois. Organized by Willie Nelson, John Mellencamp and
Neil Young
, the event had been spurred on by
Bob Dylan
's comments at
Live Aid
earlier in that year that he hoped some of the money would help American farmers. The star studded line-up of country stars included: Alabama, Hoyt Axton,
Glen Campbell
,
Johnny Cash
, Charlie Daniels Band, John Denver,
Bob Dylan
, John Fogerty, Vince Gill, Merle Haggard, Emmylou Harris, Waylon Jennings, George Jones, Kris Kristofferson, Loretta Lynn, Roger Miller, Nitty Gritty Dirt Band, Willie Nelson, Charley Pride, Bonnie Raitt, Kenny Rogers.
7 Sep 1985
David Bowie
and
Mick Jagger
were at No.1 on the UK singes chart with their version of the Martha Reeves and The Vandellas 1964 hit 'Dancing In The Street.' The song had been recorded as part of the
Live Aid
charity appeal. The original plan was to perform a track together live, with Bowie performing at Wembley Stadium and Jagger at the JFK Stadium, until it was realised that the satellite link-up would cause a half-second delay that would make this impossible.
3 Aug 1985
'Drive' by The Cars was re-released following it's dramatic use on TV during the
Live Aid
concert. All the royalties from the record went to the Band Aid trust.
13 Jul 1985
At 12.01 Status Quo started the
Live Aid
extravaganza, held between Wembley Stadium, London and The JFK Stadium, Philadelphia. The cream of the world's biggest rock stars took part in the worldwide event, raising over £40million. TV pictures beamed to over 1.5bn people in 160 countries made it the biggest live broadcast ever known. Artists who appeared included
Paul McCartney
,
Phil Collins
,
The Who
,
U2
,
David Bowie
and
Mick Jagger
,
Queen
, Tina Turner, The Cars,
Neil Young
,
Tom Petty
,
Bob Dylan
,
Bryan Adams
,
Hall and Oates
, Lionel Richie and
Led Zeppelin
.
29 Jun 1985
David Bowie
and
Mick Jagger
recorded a version of the Martha Reeves and the Vandellas 1964 hit 'Dancing In The Street' for the forthcoming
Live Aid
fundraising event. The single went on to become a No.1 UK hit. The original plan was to perform a track together live, with Bowie performing at Wembley Stadium and Jagger at John F. Kennedy Stadium, until it was realised that the satellite link-up would cause a half-second delay that would make this impossible unless either Bowie or Jagger mimed their contribution, something neither artist was willing to do.
23 Jul 1984
The Cars released 'Drive' from their Heartbeat City album as a single. Upon its release, 'Drive' became The Cars' highest charting single where it peaked at No.3 on the US chart. The song is associated with the 1985
Live Aid
event, where it was performed by Benjamin Orr during the Philadelphia concert and previously, the song was used as the background music to a montage of clips depicting the contemporaneous Ethiopian famine during the London event, which was introduced by
David Bowie.