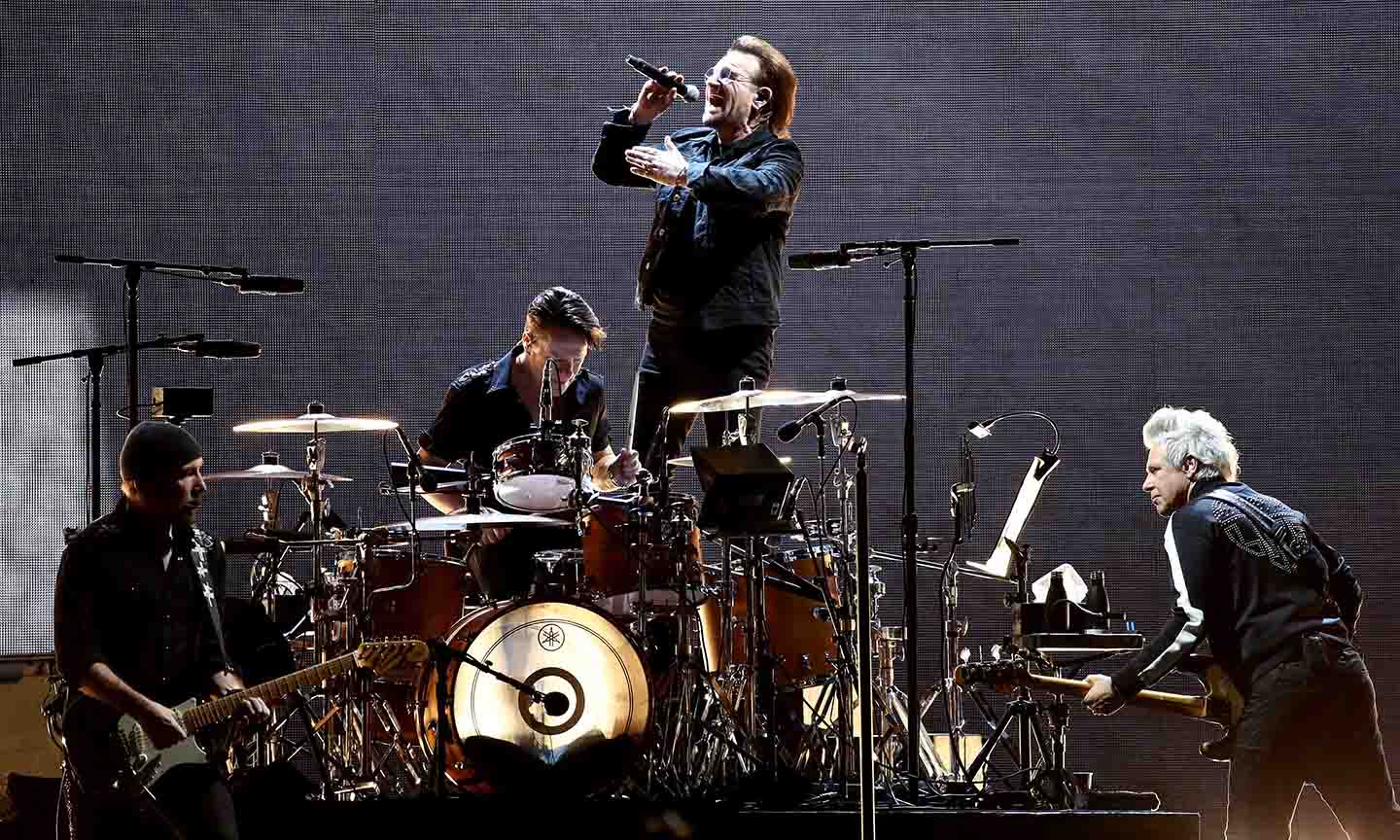 Larry Mullen, Jr., then a 14-year-old student at Mount Temple Comprehensive School, posted a note on the school's notice board in search of musicians for a new band—six people responded.
U2 have released 13 studio albums and are one of the world's best-selling music artists of all time, having sold more than 170 million records worldwide.
As a young teen in Dublin, the artist formerly known as Paul Hewson was a member of the street gang called 'Lypton Village.' His buddies started calling him Bono Vox after the neighborhood hearing-aid store Bonavox (latin for 'good voice'). He's been known as Bono ever since.
The Edge created the theme song for Season 1 and 2 of the animated television series The Batman.
They have won 22 Grammy Awards, more than any other band.
On Saint Patrick's Day in 1978, U2 won a talent show in Limerick. The prize consisted of £500 and studio time to record a demo which would be heard by CBS Ireland.
The group's first release, was an Ireland-only EP entitled Three, was released in September 1979.
During U2's first dates outside Ireland, they played a gig at the Islington's Hope and anchor to a crowd of only 9 people.
U2's performance in front of 72,000 fans in the stadium in an event that had a worldwide television audience of two billion people was a pivotal point in the band's career.
U2 were once known as Feedback and later as The Hype.
U2 drummer Larry Mullen Jr. co-wrote and produced a song for the Republic of Ireland national football team in time for the 1990 FIFA World Cup, called "Put 'Em Under Pressure", which topped the Irish charts.
In 2005 Bono and his wife, Ali, launch the EDUN clothing line.
The Joshua Tree became the fastest-selling album in British chart history, and topped the Billboard 200 in the United States for nine consecutive weeks.
In 1987, U2 became only the fourth rock band to be featured on the cover of Time magazine, (following The Beatles, The Band and The Who).
The Edge has also recorded with such artists as Johnny Cash, B. B. King, Tina Turner, Ronnie Wood, Jah Wobble, Jay-Z, and Rihanna.
Adam Clayton made international headlines in August 1989 when he was arrested in Dublin for carrying a small amount of marijuana.
Bono and the Edge wrote the song "She's a Mystery to Me" for Roy Orbison, which was featured on his 1989 album Mystery Girl.
U2 appeared on the 200th episode of the animated sitcom The Simpsons, "Trash of the Titans", in which Homer Simpson disrupted the band on stage during a PopMart concert.
In 1999 when Bono met with Pope John Paul II to discuss Third World debt. The Pope put on Bono's trademark wrap-around sunglasses during their meeting.
During the early 1990s, Adam Clayton dated British supermodel Naomi Campbell.
"Vertigo", was featured in an internationally aired television commercial for the Apple iPod.
Bono acquired a 1.5 percent stake in Facebook in 2010. Now, that small percentage is estimated to be worth nearly $1 billion.
The original working title of The Joshua Tree album was 'The Two Americas'.
In 2009 Adam Clayton's former housekeeper and PA was convicted by a jury of 181 counts of theft from the U2 bassist and sentenced to 7 years imprisonment.
Bono is almost never seen in public without sunglasses, as he suffers from glaucoma.
Important Dates In The Life Of U2:
2 Jan 2021
Record producer Steve Brown died age 65. He produced many acts including
U2
, The Pogues, Big Country,
Elton John
, The Cult, Manic Street Preachers and
Simple Minds
as well as producing Wham!'s debut album Fantastic.
2 Feb 2020
Czech-born American musician, filmmaker, record producer and singer-songwriter Ivan Král died age 71. He played bass with
Blondie
, Patti Smith and Iggy Pop. His songs have been recorded by such artists as
U2
,
Pearl Jam
,
David Bowie
,
Simple Minds
and John Waite, among others.
22 Nov 2019
Pollstar published their list of the top touring artists of the 2010s in North America.
U2
came in first with a gross of $1,038,104,132, followed by The
The Rolling Stones
($929,196,083),
Ed Sheeran
($922,361,663),
Taylor Swift
($899,627,048) and
Bon Jovi
($868,715,392).
1 Oct 2019
Accounts released revealed that
Ed Sheeran
Ltd, made a gross profit of £23,770,262, equating to £65,124 a day during 2018. The accounts also showed that he paid £4,506,139 in tax. Separate figures for total earnings before tax, costs and fees found the singer generated £89.8m last year, putting him below Coldplay at £94.2m and U2 at £96.3m, according to Forbes.
2 Aug 2019
Ed Sheeran
broke
U2's
tour record when his Divide tour became the biggest, most attended and highest grossing tour of all time. By the time the tour ended he would have spent 893 days on the road, compared to the 760 days U2 toured. Sheeran also surpassed Bono and co's tour attendance record of 7.3 million with a gig in France in May of this year.
19 Jun 2016
Artists including
Taylor Swift
, Maroon 5,
Pearl Jam
,
U2
and Sir
Paul McCartney
called for online copyright laws to be reformed. More than 180 artists signed an open letter criticising the Digital Millennium Copyright Act (DMCA). They claimed the law benefits companies that "exploit music for their financial enrichment", but not artists.
16 Nov 2014
U2
singer Bono was involved in what doctors called a "high energy bicycle accident." The singer was rushed to New York-Presbyterian/Weill Cornell Medical Center's emergency department and underwent five hours of surgery. The injury forced the group to postpone a planned weeklong residency on The Tonight Show starring Jimmy Fallon.
15 Oct 2014
U2
frontman Bono said he was sorry after their latest album was automatically added to the libraries of all iTunes users around the world, saying the move was a "drop of megalomania, a touch of generosity". iTunes users complained that the 11-track Songs of Innocence had been added to their music library without permission and that it was not clear how to delete it.
15 Sep 2014
Apple released a tool to remove
U2
's new album from its customers' iTunes accounts six days after giving away the music for free. Some users had complained about the fact that their latest album Songs of Innocence had automatically been downloaded to their devices without their permission.
21 Aug 2014
Sir
Paul McCartney
topped a list of the richest bassists in the world with estimated wealth of $1.2 billion according to the website www.therichest.com. Coming in at No.2 were Sting and Gene Simmons, both with a net worth of $300 million, followed by
Pink Floyd
's Roger Waters,
U2
's Adam Clayton and Flea from the
Red Hot Chili Peppers
.
2 Apr 2014
Recordings by
U2
, (The
Joshua Tree
), the Everly Brothers, ('Cathy's Clown'),
Jeff Buckley
, ('Hallelujah'), Linda Ronstadt, (Heart Like a Wheel) and
Creedence Clearwater Revival
's('Fortunate Son') were among those newly selected for induction into the Library of Congress National Recording Registry.
19 Jan 2014
17 Jul 2013
U2
singer Bono received France's highest cultural honour for his contribution to music and commitment to humanitarian causes when he was presented with the Commander of the Order of Arts and Letters by French Culture Minister Aurelie Filippetti in Paris.
13 Apr 2013
Sir
Paul McCartney
topped the Sunday Times Rich List of musicians with the £680m fortune he shares with his wife Nancy Shevell. Sir Paul, whose American heiress wife is said to be worth £150m, has topped each list since 1989 when he was worth an estimated £80m. Andrew Lloyd Webber was second, with £620m, while
U2
were third, with £520m.
Adele
topped the list for young music millionaires in Britain and Ireland with an estimated fortune of £30m.
28 Aug 2012
Celebrity Net Worth named
Ringo Starr
as the world's richest drummer, with an estimated fortune of $300 million.
Phil Collins
was ranked second with $250 million, former
Nirvana
drummer Dave Grohl was third with $225 million, the
Eagles
' Don Henley came in forth with $200 million and
Metallica
's Lars Ulrich was fifth with $175 million. Also making the top ten were
U2
's Larry Mullen and The
Rolling Stones
' Charlie Watts.
6 Jul 2012
Carol Hawkins, the former personal assistant of
U2
bassist Adam Clayton was jailed for seven years for embezzling 2.8m euros (£2.2m) of his money to fund a lavish lifestyle. Hawkins was convicted on 181 counts of theft from the bassist's bank accounts over a four-year period. The judge said Hawkins' crimes were "rooted in greed and nothing else".
6 Jun 2012
Adam Clayton's former personal assistant and housekeeper went on trial, accused of stealing almost 3m euros (£2.4m) from the
U2
bass player. Carol Hawkins, from Dublin, pleaded not guilty at Dublin Circuit Criminal Court to 181 counts of theft. She was accused of stealing money from two of Clayton's bank accounts over a four year period from 2004 to 2008. According to the latest Sunday Times Rich List, Bono, the Edge, Larry Mullen, Mr Clayton and their manager had a combined fortune of €628m, ($788m).
12 Mar 2012
Taylor Swift
beat
Adele
and Lady Gaga to be named the highest-earning pop artist of 2011. The 22-year-old earned $35,719,902 (£22.7m) in 2011 from a combination of music sales, royalties and touring.
U2
took second place with $32m (£20m) thanks to their 360 tour, seen by more than seven million people while Adele came 10th.
22 Sep 2011
Research conducted by car maker SEAT found that
Queen
's '
Bohemian Rhapsody
' was the song most likely to be found on British iPods, with more than 40% of owners having the hit on their players.
The Beatles
had four songs in the list, a feat also matched by
Coldplay
. Other favourites included
U2
, The Killers and
Rihanna
.
22 Jun 2011
It was reported in the Irish press that
Bono
's wandering peahen was causing havoc for some south Dublin residents. The peahen the less spectacular-coloured female partner to a male peacock had arrived in the Ard Mhuire housing estate in Killiney near to where the singer lived. One newspaper ran the headline: "Bono's cock drives me nuts". Local woman Susan McKeon said she first noticed the bird at night. "It had a tiny head and a huge body. It was actually quite ugly but I don't think it's fully grown."
13 May 2011
'Like A Rolling Stone' was voted as
Bob Dylan
's best-ever song by Rolling Stone Magazine, who had asked the opinions of a panel of writers, academics and musicians to compile a poll to mark Dylan's 70th birthday on 24th May. 'Like A Rolling Stone', was described by
U2
's Bono as 'a black eye of a pop song', while
Mick Jagger
praised the simplicity of 'Desolation Row'.
Keith Richards
argued that the original 1963 solo version of 'Girl From The North Country', ranked 30th, was superior to Dylan's 1969 duet of the same song with
Johnny Cash
.
29 Dec 2010
Pollstar reported that
Bon Jovi
were the highest earning touring act of the year, taking in over $200 million (£130.7m). Australian rockers
AC/DC
landed at number two for the second year in a row, with tickets sales from their recent trek totaling $177m (£115m).
U2
which was the top worldwide act in 2009, came in at third place, with ticket sales totaling $160.9m (£104.6m). Lady Gaga followed in fourth place, with
Metallica
at number five.
21 May 2010
U2
's lead singer Bono had emergency spinal surgery after suffering an injury while preparing for tour dates. The 50-year-old singer was treated at a specialist neurosurgery clinic in Munich and was expected to stay there for a number of days.
27 Feb 2010
U2
raked in more money than any other music act in the US in 2009 making $109m (£71m) from touring, record sales and other royalties, almost twice as much as the second best,
Bruce Springsteen
who took home $58m (£38m), followed by
Madonna
with $47m (£31m) and
AC/DC
with $44m (£29m).
Coldplay
were the most successful British group, at number eight, with takings of $27m (£18m).
3 Feb 2010
AC/DC
singer Brian Johnson, joined a growing group of critics of
Bob Geldof
and
U2
singer Bono over their very public charity work, saying they should stop lecturing audiences about charity work and instead do their good deeds in private. Johnson said "When I was a working man I didn't want to go to a concert for some bastard to talk down to me that I should be thinking of some kid in Africa. I'm sorry mate, do it yourself, spend some of your own money and get it done. It just makes me angry."
14 Jan 2010
The BBC admitted coverage of the launch of
U2
's album No Line On The Horizon in 2009 went too far - giving "undue prominence" to the band. RadioCentre, the trade body for commercial radio companies, had made a formal complaint over the coverage saying the BBC had given
U2
"the sort of publicity money can't buy".
15 Aug 2009
U2
's first UK gig on their current tour broke the attendance record for a Wembley Stadium concert. Over 88,000 people attended the show.
3 Mar 2009
To celebrate the release of
U2
's twelfth studio album and their appearance every night for a week on The Late Show with David Letterman, New York City Mayor Michael Bloomberg temporarily renamed part of 53rd street in Midtown Manhattan U2 Way.
29 Jan 2009
Singer-songwriter John Martyn died in hospital in Ireland at the age of 60. The folk, blues and funk artist was widely regarded as one of the most soulful and innovative singer-songwriters of his generation and had been cited as an influence by artists as varied as
U2
, Portishead and
Eric Clapton
.
11 Aug 2008
Karl Wiosna from Graig, near Pontypridd in Wales had his stereo equipment and music collection destroyed after being served with a noise abatement notice, which he later admitted breaching. Environmental health officers were alerted by neighbours who complained about the unacceptable volume Wiosna was playing his Cher and
U2
records. Two tape and record decks, a radio and CDs were seized and destroyed by the council, he was also fined £265.
2 Jun 2008
American guitarist and singer
Bo Diddley
, (Ellas Otha Bates) died of heart failure at his home in Archer, Florida aged 79. The legendary singer and performer, was known for his homemade square guitar and his 'shave and a haircut, two bits' rhythm, which influenced artists from
Buddy Holly
to
Bruce Springsteen
The
Rolling Stones
and
U2
.
18 Nov 2007
US celebrity publicist Paul Wasserman, died aged 73 of respiratory failure. His clients included The
Rolling Stones
,
The Who
,
Bob Dylan
,
Neil Diamond
,
Paul Simon
,
Tom Petty
and James Taylor. His career ended in 2000, when he was jailed for six months for swindling some of his friends by falsely claiming to be selling shares in investment schemes that he said were backed by stars like
U2
.
4 Oct 2007
The
Rolling Stones
set a new record for the top grossing tour of all time with their A Bigger Bang tour. The tour which ran from late 2005 to August 2007, earned the band £247m, ($437m) with The Stones playing to over 3.5 million people at 113 shows. The previous high was set by
U2
's Vertigo tour, which took place in 2005 and 2006, earning £220m, ($389m).
29 Mar 2007
U2
singer Bono accepted an honorary knighthood at a ceremony in Dublin. Fellow band members The Edge and Adam Clayton joined the frontman's wife and four children at the British ambassador David Reddaway's official residence. The rock star and campaigner, 46, was not entitled to be called "Sir" because he is not a British citizen. The
U2
singer's new title is Knight Commander of the Most Excellent Order of the British Empire (KBE).
30 Oct 2006
Winners at the 2006 Q Awards included The Arctic Monkeys who had four nominations, the Sheffield group won the best album and the people's choice awards, while
U2
picked up the prize for innovation.
Smokey Robinson
was honoured with his first ever UK award for his outstanding contribution to music, and Boy George won the classic song award for Karma Chameleon. Muse won best live act,
The Who
received the Q legend award and Primal Scream won the Q groundbreaker award and Corinne Bailey Rae won best new act.
18 Apr 2006
A line from
U2
's 1992 hit 'One' was voted the UK's favourite song lyric after in a poll of 13,000 people by music channel VH1. The line "One life, with each other, sisters, brothers" came top.
The Smiths
lyric "So you go, and you stand on your own, and you leave on your own, and you go home, and you cry, and you want to die" from the song 'How Soon is Now' came second in the poll, followed by "I feel stupid and contagious, here we are now, entertain us", from
Nirvana
's '
Smells Like Teen Spirit
' which was voted into third place.
14 Mar 2006
U2
topped Rolling Stone magazine's annual list of the year's biggest money earners from 2005 with $154.2m. (£78m), The
Rolling Stones
were listed second with $92.5m (£47m) and the
Eagles
third with 63.2m. (£32.m).
Paul McCartney
was in fourth place with $56m (£28m) and  
Elton John
in fifth with $48.9m. (£24.8m).
28 Dec 2005
Pink Floyd
were voted the greatest rock stars ever in a survey of 58,000 listeners from UK radio station Planet Rock.
Led Zeppelin
were voted into second place, 3rd was The
Rolling Stones
, 4th
The Who
, 5th,
AC/DC
, 6th,
U2
, 7th,
Guns N' Roses
, 8th,
Nirvana
, 9th,
Bon Jovi
and in 10th place
Jimi Hendrix
. Listeners also named the 1970s as the golden age of rock, followed by the 1960's.
17 Dec 2005
U2
had the top-grossing tour of 2005, according to Billboard. More than three million people watched the band's sell-out 90-date Vertigo tour which grossed $260m (£146.6m). The
Eagles
, took $117m (£66m) from 77 shows and
Neil Diamond
grossed more than $71m (£40m). Kenny Chesney was fourth with $63m (£35.5m),
Paul McCartney
$60m (£33.8m),
Rod Stewart
with $49m (£27m),
Elton John
with $45.5m (£25.6m), Dave Matthews Band with $45m (£25.3m), Jimmy Buffett with $41m (£23m) and
Green Day
with $36.5m (£20.5m).
4 Jul 2005
U2
won their court fight for the return of items of memorabilia, including a Stetson hat which they accused a former stylist of stealing. Judge Matthew Deery at Dublin's Circuit Court ordered Lola Cashman to return the items, which also include earrings, within seven days. Ms Cashman, had worked as
U2
's stylist during the 1980s and wrote an unauthorised book called 'Inside the Zoo'. Judge Deery said he found Ms Cashman's version of how she had been given the items at the end of a US tour doubtful, particularly her description of Bono running around in his underpants backstage.
2 Jul 2005
The world's biggest music stars united in concerts around the world to put pressure on political leaders ahead of the G8 summit to tackle poverty in Africa. Concerts in 10 cities, including London, Philadelphia, Paris, Berlin, Johannesburg, Rome and Moscow played to hundreds of thousands of people. A TV audience of several hundred million watched the gigs. In London
Pink Floyd
,
The Who
,
Madonna
,
U2
,
Coldplay
, Sting, The Scissor Sisters, Keane, and
Paul McCartney
performed. Philadelphia saw, Destiny's Child, Jay-Z and
Bon Jovi
, Canada,
Bryan Adams
and
Neil Young
headlined, Bjork headlined in Tokyo and
Green Day
played in Berlin.
27 May 2005
1 Apr 2005
During the first leg of their Vertigo World tour,
U2
appeared at the Arrowhead Sports Arena in Anaheim, Southern California, with Kings Of Leon as the opening act. By the end of the 131 date tour, 4,619,021 tickets had been sold with a total gross of $389 million.
28 Mar 2005
After playing a warm-up date the night before at the Los Angeles Sports Arena,
U2
kicked off their Vertigo tour at the iPay One Center in San Diego, California. The 131 date world tour would see the band playing in North America, Europe, South America and Japan. By the time it finished, the Vertigo Tour had sold 4,619,021 tickets, grossing $389 million; the second-highest figure ever for a world tour.
13 Jan 2005
A report showed that more songs had been written about
Elvis Presley
than any other artist. It listed over 220 songs including: 'Graceland' by
Paul Simon
, 'A Room At The Heartbreakhotel' by
U2
, 'Calling Elvis',
Dire Straits
, 'Happy Birthday Elvis', Loudon Wainwright III, 'There's A Guy Works Down The Chip Shop Swears He's Elvis', Kirsty MacColl, 'I Saw Elvis in a UFO', Ray Stevens. 'Elvis Has Left the Building' by
Frank Zappa
and 'My Dog Thinks I'm Elvis' by Ray Herndon.
5 Dec 2004
Band Aid 20 started a four week at No.1 on the UK singles chart with a new version of Do They Know It's Christmas? The third time the song had reached No.1. The new version featured, Joss Stone, Busted,
Chris Martin
,
Bono
, Justin Hawkins, Dizzee Rascal, Tom Chaplin, Ms Dynamite, Beverly Knight, Will Young, Jamelia, Fran Healy, Sugababes, Dido and Robbie Williams.
5 Dec 2004
U2
started a two week run at No.1 on the UK album chart with 'How To Dismantle An Atomic Bomb', the bands ninth UK No.1 album. The band also went to No.1 on the US album chart giving them their sixth US No.1 album.
22 Nov 2004
U2
shot the video for 'All Because Of You' from a moving flat bed truck on the streets of Brooklyn in New York City. Later in the day, they performed a brief concert under the Brooklyn Bridge, which was taped by
MTV
for a later showing.
14 Nov 2004
U2
went to No.1 on the UK singles chart with 'Vertigo', the bands fifth UK No.1, taken from 'How To Dismantle An Atomic Bomb'.
26 Oct 2004
Apple launched the
U2
Special Edition iPod as part of a partnership between Apple,
U2
and Universal Music Group. The new
U2
iPod held up to 5,000 songs and featured a red Click Wheel and custom engraving of
U2
band member signatures. The iPod was being introduced as the band released their new album 'How to Dismantle an Atomic Bomb.'
22 Jun 2002
U2
guitarist 'The Edge' married his girlfriend of ten years Morleigh Steinberg in Eze in the south of France. The couple first met when she was a belly dancer on the bands Zoo TV tour. Guest's included Bono, Eurythmics Dave Stewart and Lenny Kravitz.
18 Jun 2002
U2
lost a bid to prevent the demolition of Hanover Quay studio in Dublin.'Over 8,000 fans signed an online petition to preserve the studio, where the group recorded 'All That You Can't Leave Behind' and some of their 'Pop' album.
23 May 2002
Winners at the 47th Ivor Novello awards included, Dido for Songwriter of the year, Best song went to
U2
, 'Walk On.'
Kylie Minogue
won The Dance Award and Most Performed Work and International Hit for 'Can't Get You Out Of My Head.' Hear'say won Bestselling UK single for 'Pure And Simple'. Mick Hucknall won Outstanding Song collection and
Kate Bush
was awarded Outstanding Contribution to British music.
25 Mar 2002
Bono from
U2
made a appearance at the air rage trial of
R.E.M.
guitarist Peter Buck, telling the court 'I came to court because Peter is actually famously known for being a peaceable person. I once had to twist his arm to get him to a boxing match'. Buck was later cleared of all charges. He had been accused of attacking two cabin staff and covering them in yoghurt, knocking over a trolley and trying to steal a knife.
2 Mar 2002
The NME published the winners from this year's Carling Awards: Band of the year went to The Strokes, Album of the year, The Strokes for 'Is This It', Best live act was
U2
, Single of the year went to Ash for 'Burn Baby Burn' and Best solo artist was won by Ian Brown.
30 Nov 2001
The first
Top Of The Pops
UK Awards were held in Manchester, with categories voted by viewers of the BBC show. Winners included: Best pop act: Westlife, Best R&B Act: Destiny's Child, Best Rock Act:
U2
, Best Dance Act: Fatboy Slim, Best Newcomer: Nelly Furtado, Best Single:
Kylie Minogue
, 'Can't Get You Out Of My Head', Best Album: Travis, 'The Invisible Band', Artist on top of the world: Jennifer Lopez, Hall of Fame Award went to
Paul McCartney
.
22 Sep 2001
'A Tribute to Heroes' was aired commercial-free on most of the major US TV networks. The live program was organised to raise money following the terrorist attacks on the Pentagon and New York's World Trade Center.
Neil Young
,
Tom Petty
,
Paul Simon
,
Billy Joel
,
U2
, Limp Bizkit,
Bruce Springsteen
and
Pearl Jam
all performed. Manning the telephones to take pledges were celebrities including Jack Nicholson, Jim Carrey, Whoopi Goldberg, Goldie Hawn, Robin Williams, Meg Ryan, Cuba Gooding Jr., Kurt Russell, Adam Sandler and many more.
19 Mar 2001
Keith Richards
inducted Johnnie Johnson and James Burton at the 16th annual Rock & Roll Hall of Fame award ceremonies at the Waldorf Astoria in New York City. Richards also took part in the closing jam with
Bono
,
Paul Simon
, Kid Rock, Solomon Burke, Robbie Robertson and others.
26 Feb 2001
Winners at the Brit Awards included
Coldplay
, Best British group and Best British album for 'Parachutes', Robbie Williams, Best British Male artist and Best single for 'Rock DJ', Sonique, Best British Female artist, Best Dance act went to Fat Boy Slim, A1 won Best British Newcomer, Westlife won Best Pop act,
Eminem
won Best International Male solo artist and
U2
won Outstanding contribution to music.
22 Feb 2001
Winners at the 43rd Grammy Awards included
U2
, record of the year and song of the year with 'Beautiful Day', Steely Dan won album of the year for 'Two Against Nature', Macy Gray won Female pop vocal for 'I Try', Sting won Male pop vocal for 'She Walks This Earth',
Eminem
won Best Rap album from 'The Marshall Mathers LP',
Johnny Cash
won Best Male country performance for 'Solitary Man', and Shelby Lynne won best new artist award.
20 Jan 2001
A memorial service was held for Kirsty MacColl who was killed in a boating accident off the coast of Mexico in December 2000. Bono from
U2
and Billy Bragg were among friends and fans that packed St Martin-in-the-fields church in London.
9 Dec 2000
U2
made their first-ever appearance on the long-running NBC program 'Saturday Night Live.' The band played 'Beautiful Day' and 'Elevation.'
29 Nov 2000
U2
's Larry Mullen came to the rescue of motorcyclist who had been involved in an accident. Larry was driving home when he saw the motorcyclist who had crashed and stopped to call for help on his phone and then waited for the ambulance to arrive.
26 Nov 2000
Manchester club the Hacienda was auctioned off raising £18,000 for charity.
Madonna
made her UK TV debut at the club when C4 music show
The Tube
was broadcast live from the venue.
Oasis
, Happy Mondays,
U2
, New Order, Stone Roses,
The Smiths
and James all played at the club.
5 Nov 2000
U2
went to No.1 on the UK album chart with 'All That You Can't Leave Behind', the Irish group's 8th UK No.1 album. Creed were at No.1 on the US singles chart with 'With Arms Wide Open'.
15 Oct 2000
U2
went to No.1 on the UK singles chart with 'Beautiful Day', the group's fourth UK No.1 single and taken from their album 'All That You Can't Leave Behind'.
1 Jul 2000
Kylie Minogue
was at No.1 on the UK singles chart with 'Spinning Around', the singers fifth No.1 was co-written by Paula Abdul, (it was originally intended for Abdul's "comeback" album). 'Spinning Around' gave Minogue the honor of being one of three artists (the others being
Madonna
and
U2
) to have a No.1 in the 1980s, 1990s and 2000s.
3 Dec 1999
U2
singer Bono had his missing laptop computer returned after losing it. A young man had bought it for £300 discovered he had the missing laptop, which contained tracks from the forthcoming
U2
album.
11 Nov 1999
Britney Spears
won four
MTV
Awards; Best Female Singer, Best Pop Act, Best Song, '...Baby One More Time', Best Breakthrough Artist. Best Rock Act went to The Offspring, Best Male Act, Will Smith and
Bono
won the Free Your Mind award.
9 Oct 1999
Eurythmics,
George Michael
,
David Bowie
, Robbie Williams and
Bono
all appeared at 'Netaid' an event to raise money for global poverty. The concerts in London, New York and Geneva were all broadcast live on the internet.
6 Apr 1999
An all star tribute to singer, songwriter
Johnny Cash
took place in New York City with Sheryl Crow, Chris Isaak and
U2
all performing for the TV special.
15 Mar 1999
31 Oct 1998
Chart history was made when the UK Top 5 singles chart was made up entirely of new entries.
Alanis Morissette
went in at No.5, Culture Club at No.4,
U2
at No.3,
George Michael
at No.2 and Cher with 'Believe' at No.1. It made Cher (who was 52) the first female artist to have a No.1 single over the age of 50. The song was a No.1 in 23 countries.
9 Feb 1998
Winners at this year's Brit Awards included Finley Quaye who won Best British Male Solo Artist, Best British Female Solo Artist went to Shola Ama, The Verve won British Group and Best British Album for 'Urban Hymns', British Dance Act went to The Prodigy, British Breakthrough Act was Stereophonics, Best Selling British Album Act was The
Spice Girls
International Male, Jon
Bon Jovi
, International Female, Bjork, International Group,
U2
and Outstanding Contribution went to
Fleetwood Mac
. During the show Chumbawamba singer Danbert Nobacon threw a plastic bucket full of cold water over UK Deputy Prime Minister John Prescott.
29 Nov 1997
'Perfect Day' performed by various artists including
Elton John
,
Bono
, Tom Jones &
David Bowie
went to No.1 on the UK singles chart. Originally written and recorded in 1973 by Lou Reed, this new collaboration of 29 major artists was a fund raiser for the BBC Children In Need charity.
15 Sep 1997
A 34 year old man was awarded more than £20,000 by a French court after he lost his hearing when he stood too close to loudspeakers at a
U2
concert in 1993.
7 Jun 1997
Oasis
guitarist Noel Gallagher played a five-song set at the Tibet Freedom Concert, Downing Stadium in New York City.
U2
, Patti Smith and
Radiohead
also appeared at the concert.
20 May 1997
U2
caused traffic chaos in Kansas City, Missouri after they paid for traffic control to close down five lanes so they could shoot the video for 'Last Night On Earth'. Apart from major traffic jams, a passing Cadillac crashed into a plate glass window trying to avoid a cameraman.
25 Apr 1997
U2
's 'Pop Mart' world tour kicked off at The Las Vegas San Boyd Stadium in front of 35,000 fans. The tour featured the largest video screen in the world and would visit 80 cities around the planet.
15 Feb 1997
U2
went to No.1 on the UK singles chart with 'Discotheque', the bands third UK No.1 single. The entire track was leaked onto the internet in December 1996, forcing
U2
to move the release date.
12 Feb 1997
U2
held a press conference in the Lingerie Department at the Greenwich Village Kmart store in Manhattan, New York City, to announce their Pop Mart world tour. The tour was set to start in Las Vegas on April 25th of this year.
11 May 1996
Bill Graham the Irish journalist credited with discovering
U2
died of a heart attack aged 44. He was also the co-founder of the Irish music paper Hot Press. Members from Clannad,
U2
, Hothouse Flowers and Gavin Friday all attended his funeral.
16 Jan 1996
Jamaican authorities opened fire on Jimmy Buffett's seaplane, mistaking it for a drug trafficker's plane.
U2
singer Bono was also on the plane; neither singer was injured in the incident. The incident inspired Buffett to write a song called 'Jamaica Mistaica'.
15 Aug 1995
The Dublin hotel owned by
U2
'The Clarence' was damaged by a fire which took over three hours to control. Also 'The Kitchen' nightclub in the same building was affected by the fire and was evacuated.
24 Jul 1993
U2
started a two-week run at No.1 on the US album chart with 'Zooropa' the Irish bands fourth US No.1. Zooropa won a Grammy Award for Best Alternative Music Album in 1994.
29 Aug 1992
U2
became only the second act ever (
Billy Joel
was the first) to play at The Yankee Stadium in New York City, during their sold out Zoo TV tour.
29 Feb 1992
U2
kicked off their north American leg of the 'Zoo TV Tour', at The Lakeland Civic Centre Arena, Florida. Many acts have appeared here, including
Elvis Presley
, The
Rolling Stones
, Rush and
Bob Dylan
. It was here where
Kiss
guitarist Ace Frehley was nearly electrocuted, during a concert on December 11, 1976.
7 Dec 1991
U2
went to No.1 on the US album charts with 'Achtung Baby'. Featuring 'One', Zoo Station', 'The Fly' and 'Even Better Than The Real Thing'.
21 Nov 1991
Aerosmith
made a guest appearance in the Simpsons TV animated comedy. Other acts who have appeared on the show included:
Red Hot Chili Peppers
, The Smashing Pumpkins, Sonic Youth,
U2
, The Moody Blues, The B-52's,
The Who
,
R.E.M.
, Phish, Blink-182,
Metallica
, and The White Stripes.
2 Nov 1991
U2
scored their second UK No.1 single with 'The Fly', taken from their album 'Achtung Baby'. The song was also a showcase for a persona Bono had invented called "The Fly".
18 Apr 1991
Record producer Martin Hannett died. He worked with many Manchester acts including
The Smiths
, New Order,
Joy Division
, Happy Mondays, Magazine as well as
U2
and The Psychedelic Furs.
18 Mar 1991
After attending an in-store promo appearance
U2
were fined £500 ($850) after being found guilty of selling condoms illegally at the Virgin Megastore, Dublin.
27 Oct 1989
U2
bass player Adam Clayton was convicted of a drink driving offence by a Dublin court after being found driving twice over the legal limit. He was fined £500 and banned from driving for 1 year
6 Aug 1989
Adam Clayton of
U2
was arrested in The Blue Light Inn car park in Dublin for marijuana possession and intent to supply the drug to another person. His conviction was waived in exchange for paying £25,000 to the Dublin Woman's Aid Centre.
13 Feb 1989
This years Brit Awards was hosted by Sam Fox and
Mick Fleetwood
in which just about everything went wrong - lines were fluffed and bands mis-cued onto the stage. Winners included
Phil Collins
who won British Male Solo Artist, British Female Solo Artist was Annie Lennox, Erasure won Best British Group, Best British Album went to Fairground Attraction for 'First Of A Million Kisses', British Breakthrough Act was Bros,
Michael Jackson
won International Male, International Female went to Tracey Chapman and
U2
won Best International Group. This was the last year the show was broadcast live.
12 Nov 1988
U2
started a six-week run at No.1 on the US album chart with their sixth studio album 'Rattle And Hum' which went on to sell over 14 million copies.
27 Oct 1988
U2
's film 'Rattle And Hum', received its world wide premiere in the group's hometown Dublin.
22 Oct 1988
U2
scored their fourth UK No.1 album with the double set and film soundtrack 'Rattle And Hum', featuring their first UK No.1 single 'Desire'.
8 Oct 1988
On their 12th single release,
U2
scored their first UK No.1 with 'Desire.' The track which was also a US No.3 hit was taken from their album 'Rattle And Hum.'
4 Nov 1987
U2
were on the front cover of UK pop magazine 'Smash Hits', which also had features on the Pet Shop Boys, Wet Wet Wet, T'Pau, Sting and Black. Reviewed in the new singles page
The Smiths
'I Started Something I Couldn't Finish'.
5 Oct 1987
Former
Smiths
guitarist Johnny Marr began rehearsals with The Pretenders in preparation for the band supporting
U2
on their North America tour.
8 Aug 1987
U2
scored their second US No.1 single from their
Joshua Tree
album with 'I Still Haven't Found What I'm Looking For'. The song received two nominations for the 30th Grammy Awards in 1988, for Record of the Year and Song of the Year.
16 May 1987
U2
started a three week run at No.1 on the US singles chart 'With Or Without You', the group's first US No.1. The third track from their 1987 albumThe
Joshua Tree
the song was the group's most successful single at the time.
25 Apr 1987
U2
started a five-week run at No.1 on the US album chart with their fifth studio album The
Joshua Tree
. Inspired by American tour experiences, literature, and politics, the album topped the charts in over 20 countries, and is one of the world's all-time best-selling albums, with over 25 million copies sold. The album which won a Grammy Award for Album of the Year produced the hit singles 'With or Without You', 'I Still Haven't Found What I'm Looking For', and 'Where the Streets Have No Name'.
4 Apr 1987
U2
entered the US album chart at No.7 with The
Joshua Tree
making it the highest chart new entry in America for seven years.
27 Mar 1987
U2
performed from the roof of a store in downtown LA to make the video for 'Where The Streets Have No Name', attracting thousands of spectators and bringing traffic to a standstill. The police eventually stop the shoot.
21 Mar 1987
U2
scored their third UK No.1 album with The
Joshua Tree
featuring the singles 'Where The Streets Have No Name', & 'I Still Haven't Found What I'm Looking For'. The album became the fastest selling in UK history and the first album to sell over a million CDs, spending a total of 156 weeks on the UK chart. Also a US No.1.
9 Mar 1987
U2
released their fifth studio album The
Joshua Tree
which features the singles 'Where The Streets Have No Name', and 'I Still Haven't Found What I'm Looking For'. The album became the fastest selling in UK history and the first album to sell over a million CDs, spending a total of 201 weeks on the UK chart. It topped the charts in over 20 countries and became
U2
's first US No.1 album.
3 Jul 1986
U2
crew member Greg Carroll was killed in a motorcycle accident in Dublin while running an errand for Bono. The song 'One Tree Hill' on the bands
Joshua Tree
album is dedicated to Carroll.
4 Jun 1986
The first of a six date Conspiracy of Hope tour was held at Cow Palace, San Francisco, California. The benefit concerts on behalf of Amnesty International were held to increase awareness of Amnesty on the 25th anniversary of its work for human rights. The shows were headlined by
U2
and Sting, and also featured
Bryan Adams
, Peter Gabriel, Lou Reed, Joan Baez, and The Neville Brothers.
16 Nov 1985
U2
launched their own record label 'Mother Records.' The intent was 'to unearth fresh musical talent in Ireland' and the label released several one-off single releases for The Hothouse Flowers, In Tua Nua and Cactus World News amongst others.
13 Jul 1985
At 12.01 Status Quo started the
Live Aid
extravaganza, held between Wembley Stadium, London and The JFK Stadium, Philadelphia. The cream of the world's biggest rock stars took part in the worldwide event, raising over £40million. TV pictures beamed to over 1.5bn people in 160 countries made it the biggest live broadcast ever known. Artists who appeared included
Paul McCartney
,
Phil Collins
,
The Who
,
U2
,
David Bowie
and
Mick Jagger
,
Queen
, Tina Turner, The Cars,
Neil Young
,
Tom Petty
,
Bob Dylan
,
Bryan Adams
,
Hall and Oates
, Lionel Richie and
Led Zeppelin
.
15 Dec 1984
Do They Know It's Christmas? by Band Aid entered the UK chart at No.1 and stayed at the top for five weeks. It became the biggest selling UK single of all time with sales over 3 and a half million. Band Aid was masterminded by former Boomtown Rats singer
Bob Geldof
, who had been moved by a TV news story of famine in Ethiopia. Geldof had the idea of raising funds with a one-off charity single featuring the cream of the current pop world.
Duran Duran
, Spandau Ballet, Paul Young, Culture Club,
George Michael
, Sting,
Bono
,
Phil Collins
, Paul Weller, Francis Rossi and Rick Parfitt of Status Quo and Bananarama all appeared on the recording.
25 Nov 1984
The cream of the British pop world gathered at S.A.R.M. Studios, London to record the historic Do They Know It's Christmas? The single, which was written by
Bob Geldof
and Midge Ure, featured Paul Young,
Bono
, Boy George, Sting and
George Michael
. It went on to sell over three million copies in the UK, becoming the bestselling record ever, and raised over £8 million ($13.6 million) worldwide.
13 Oct 1984
U2
scored their second UK No.1 album with 'The Unforgettable Fire.' The album was produced by Brian Eno and Daniel Lanois and featured the single 'Pride (In The Name Of Love').
29 Aug 1984
U2
kicked off their Unforgettable Fire World Tour at Christchurch Town Hall in New Zealand, the first of 19 shows in Australia and New Zealand.
8 Jul 1984
Bob Dylan
's current European tour came to an end at Slane Castle, County Meath in Ireland. Dylan was joined on stage by Van Morrison and they duetted on It's All Over Now Baby Blue.
U2
's Bono, who was sent to interview Dylan for the Irish rock magazine Hot Press, ended up duetting with Dylan on Blowin' In The Wind and Leopard Skin Pillbox Hat.
Carlos Santana
also joined Dylan on stage and played guitar on the last seven songs of the set.
5 Jun 1983
During a 48-date North American tour
U2
played at Red Rocks Amphitheater near Denver. The show was recorded and released as '
U2
Live At Red Rocks: Under A Blood Red Sky.'
28 May 1983
The four day US Festival '83' took place in California, featuring
The Clash
,
U2
,
David Bowie
, The Pretenders,
Van Halen
, Stray Cats, Men At Work, Judas Priest,
Stevie Nicks
, Willie Nelson.
INXS
, Joe Walsh, Motley Crue and
Ozzy Osbourne
. Over 750,000 fans attended the festival.
23 Apr 1983
U2
kicked off their 48-date 'War' North American tour at The Carolina Concert For Children benefit, Chapel Hill, Carolina.
3 Apr 1983
After completing a 29-date UK tour,
U2
appeared on BBC TV
Top Of The Pops
performing their latest single 'Two Hearts Beat As One'.
12 Mar 1983
U2
scored their first UK No.1 album with 'War', which went on to spend a total of 147 weeks on the chart. The album featured the singles 'New Years Day' and 'Two Hearts Beat As One'.
28 Feb 1983
U2
released their third studio album War. Produced by Steve Lillywhite, the album has come to be regarded as
U2
's first overtly political album, in part because of songs like 'Sunday Bloody Sunday' and 'New Year's Day.' War became the band's first No.1 album in the UK (knocking
Michael Jackson
's
Thriller
from the top of the charts). The boy on the cover of the album is Peter Rowen (the brother of Bono's friend, Guggi from The Virgin Prunes).
21 Aug 1982
U2
singer Bono married Alison Stewart, his girlfriend from 1975 at All Saints Church, Raheny in Ireland.
U2
bassist Adam Clayton acted as Bono's best man.
13 Nov 1981
U2
kicked off a 23 date North American 'October' tour at JB Scott's in Albany, New York.
29 Aug 1981
The two day Rock on the Tyne festival began in Gateshead, England, featuring Ian Dury, Elvis Costello,
U2
,
Rory Gallagher
, Doll By Doll, Wang Chung, Becket, Dr Feelgood, The Gingers Nutters (featuring
Ginger Baker
), Trimmer and Jenkins and Lindisfarne.
12 Jul 1980
During their 23 date '11 O'clock Tick Tock'
U2
played at The Moonlight, West Hampstead in London, England.
22 May 1980
U2
kicked off their 23 date '11 O'Clock Tick Tock' tour at The Hope & Anchor in London.
26 Feb 1980
After seeing
U2
play at Dublin's National Boxing Stadium in front of 2,400 people; Rob Partridge and Bill Stewart from Island Records in the UK offered the band a recording contract.
23 Feb 1980
U2
appeared at The Moonlight Club, at The Railway Hotel in London, tickets cost £2.
15 Dec 1979
U2
appeared at the Windsor Castle Pub, Harrow Road, London, admission was free.
4 Dec 1979
U2
appeared at The Hope and Anchor, Islington, London. Misnamed 'The
U2
s', they played to only nine people and the show ended abruptly after The Edge broke a guitar string.
26 Sep 1979
U2
released their very first record, an EP titled '
U2
-3.' With an initial run of 1,000 individually numbered copies the tracks were produced by the band with Chas de Whalley and was available only in Ireland.
25 May 1978
After seeing The Hype (soon to become
U2
) appearing at the Project Arts Centre, in Dublin, Paul McGuinness became their manager.
17 Mar 1978
U2
won £500 ($850) and a chance to audition for CBS Ireland in a talent contest held in Dublin. The Limerick Civic Week Pop '78 Competition was sponsored by The Evening Express and Guinness Harp Lager.
19 Sep 1973
Country rock singer, songwriter 26-year-old
Gram Parsons
formerly of The Byrds and The Flying Burrito Brothers, died under mysterious conditions in
Joshua Tree
, California. His death was attributed to heart failure but later was officially announced as a drug overdose. His coffin was stolen by two of his associates, manager Phil Kaufman and Michael Martin, a former roadie for The Byrds, and was taken to Cap Rock in the California desert, where it was set alight, in accordance to Parson's wishes. The two were later arrested by police.
2 Jun 1962
Owen Gray's 'Twist Baby' became the first single released on UK based Island Records. The label became home to
Free
, Traffic, Jethro Tull,
Bob Marley
and
U2
.