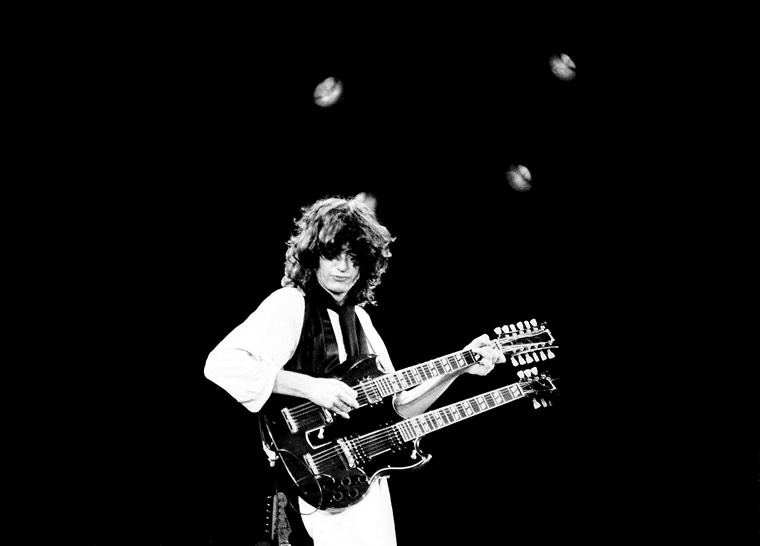 Jimmy Page was born on 9 January, 1944, guitarist and producer, member of the Yardbirds and Led Zeppelin. The band's fourth album, released in 1971 and featuring the rock classic "Stairway To Heaven," has sold over 37 million copies.
Page has also worked with The Black Crowes, Roy Harper, The Firm, Coverdale Page, Puff Daddy, and has released solo recordings and soundtracks as well as recording and touring with his old mate Robert Plant.
Jimmy Page is my guitar hero!
I've always been a massive Zeppelin fan and was lucky enough to see them live in 1972 when I was in my last year at school. They blew me away. I'd never experienced such a raw, exciting, loud, explosive gig like it; nobody could touch Zeppelin live at that stage. My ears rang for several days afterwards.
Page knew exactly what he was doing when he formed Zeppelin. The young guitarist had not only developed his live performing skills during his time with The Yardbirds, but had also previously become a master of the studio after playing on countless recordings as a much sought-after session guitarist.
Jimmy had scored many pop chart hits from as early as 1963 when he played on the Jet Harris and Tony Meehan hit "Diamonds". Many more followed, resulting in Page playing on sessions for the likes of Kathy Kirby, Micky Most, Heinz, The Zephyrs, Tom Jones, Brian Poole, Rod Stewart, Nico, Jackie Lynton, Cliff Bennett, Lulu, PJ Proby, Nashville Teens, Joe Cocker, Screaming Lord Sutch, Marianne Faithfull, Them, Cliff Richard, and even the Rolling Stones!
In 1966, Keith Moon, John Paul Jones, Jeff Beck, and Jimmy Page recorded Beck's Bolero. The experience gave Page an idea to form a new supergroup featuring Beck, along with The Who's John Entwistle on bass and Keith Moon on drums. During this time, Moon suggested the name Lead Zeppelin for the first time, after Entwistle commented that the proceedings would take to the air like a lead balloon. Zeppelin manager Peter Grant later changed it to Led Zeppelin, to avoid a mispronunciation of Leed Zeppelin.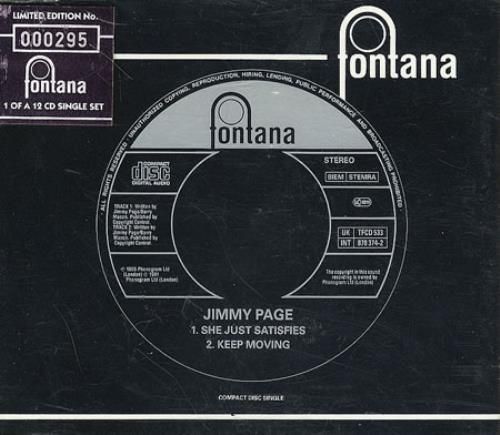 Page went on to join the Yardbirds, at first playing bass before switching to twin lead guitar with his friend Jeff Beck. At this stage The Yardbirds were falling apart; Beck quit, making them a quartet. They recorded one album with Page on lead guitar, Little Games. Though their studio sound was fairly commercial, the band's live performances were just the opposite, becoming heavier and more experimental. These concerts featured musical aspects that Page would later perfect with Zeppelin.
After the departure of Keith Relf and Jim McCarty in 1968, Page reconfigured the group with a new lineup to fulfil unfinished tour dates in Scandinavia.
The story has been told many times of how the group came together: Page's first choice vocalist, Terry Reid, recommended the young singer Robert Plant (who had already been in three bands); Plant pushed for his friend John Bonham, who was drumming for artists of the calibre of Tim Rose and had several offers to juggle. Fellow session player and veteran pop arranger/bassist John Paul Jones called up Jimmy Page and the lineup was set. Even so, things might not have jelled, but it was reportedly a magic affair when the foursome first rehearsed together on "The Train Kept A-Rolling", an old Yardbirds favourite that was to feature in many a future Zeppelin set.
Bonham's solidity and Jones' fluidity, coupled with a mutual love of soul music, proved the ideal bedrock for Page's structured folk and blues influences, combined with a talent for rock song arrangement that ensured the audience's interest. On top of that came Robert Plant's unique vocal style, rooted in blues but with incredible power in the upper range, plus a range of lyrical interests that extended beyond the straight pop and blues references of the time.
It's hard, even with hindsight, to describe the impact that the first Led Zeppelin album had on its release in January 1969. Page and manager Peter Grant did it their way, they changed the rules. Massive US tours, no single releases in the UK, Zeppelin became one of the best-selling acts ever – their 111.5 million certified units in the United States rank them as the second-best-selling band in the US. Each of their nine studio albums reached the top 10 of the album chart in the US, with six reaching the number-one spot.
Led Zeppelin disbanded following drummer John Bonham's sudden death in 1980. Page, Plant, and Jones didn't want to continue without the powerhouse that was John Bonham — which in my opinion was a brave move but the correct one.
Jimmy has always kept himself busy, touring with Plant, The Black Crowes, and immersing himself in various Zeppelin-related re-mastering projects.
They say you should never meet your heroes, but I met mine. A couple of years back I was at the BBC in London and Mr Page was also in the building recoding a radio show. I'd noticed a small crowd gathering outside the building, which was made up of fans and photographers. Walking to the BBC canteen for lunch I mentioned to a colleague how great it would be to bump into Jimmy, as I was such a fan. It turned out my colleague had worked with the guitarist in the past, so said jokingly "If we bump into him, I'll introduce you".
A few minutes later we stood waiting for a lift. The doors opened and there was Jimmy, who immediately greeted my friend by shaking his hand. My friend kept his word and said to Jimmy, "Meet a good friend of mine, Neil Cossar, who is a huge fan of yours." Jimmy held out his right hand — the hand that had played "Rock and Roll" a thousand times, the hand that came up with the riff to "Whole Lotta Love", the hand that had composed "Stairway To Heaven".
"Lovely to meet you," said Jimmy, squeezing my hand in a firm but friendly handshake. I'm not sure what I said. I think I mumbled, "Great to meet you". We all had a quick chat and off he went.
Over the next few days, I told anyone who would listen to my tale. I didn't wash my hands for two days…
I'd met my guitar hero.
Important Dates In The Life Of Jimmy Page:
20 Jun 2016
Lawyers for
Led Zeppelin
asked a judge to throw out a case accusing the band of stealing the riff for '
Stairway To Heaven
'. Singer Robert Plant, guitarist
Jimmy Page
and Warner Music argued that the claimants had failed to make their case after three days of testimony. The band were accused of basing Stairway on the 1968 Spirit song, 'Taurus'.
15 Jun 2016
Led Zeppelin
's guitarist
Jimmy Page
denied stealing the riff to '
Stairway To Heaven
' when he took the stand at a copyright trial in the US. The band were accused of lifting the opening guitar line from 'Taurus', a 1968 track by the band Spirit. Page testified that he had never heard the song until people started posting comparisons online a few years ago. Page admitted to owning several Spirit albums, but only remembered buying two of them, neither of which contained Taurus. Under questioning, he conceded that he did own a copy of the band's self-titled debut, on which the track appears, but could not recall how it came to be part of his collection.
12 Apr 2016
A US court ruled that
Led Zeppelin
founders Robert Plant and
Jimmy Page
must face trial in a copyright row over the song 'Stairway to Heaven'. The copyright infringement action had been brought by Michael Skidmore, a trustee for the late Spirit guitarist Randy Wolfe, who played on the same bill as Led Zeppelin in the 1960s, and claimed he should be given a writing credit on the track.
2 Dec 2012
Led Zeppelin
received a prestigious award from Barack Obama for their significant contribution to American culture and the arts. Dressed in black suits and bow ties, Robert Plant, John Paul Jones and
Jimmy Page
were among a group of artists who received Kennedy Centre Honours at a dinner event at the White House. In his tribute to the band, Mr Obama said: "When
Jimmy Page
, Robert Plant, John Paul Jones and
John Bonham
burst onto the musical scene in the late 1960s, the world never saw it coming." The president thanked the former band members for behaving themselves at the White House given their history of "hotel rooms being trashed and mayhem all around".
2 Oct 2012
British session guitarist Big Jim Sullivan (born James George Tomkins) died at the age of 71. Sullivan started his career in 1959 as a member of Marty Wilde's band and when Wilde bought Sullivan a Gibson Les Paul guitar, it was allegedly the first in Britain. Sullivan taught future
Deep Purple
guitarist Ritchie Blackmore to play guitar, as well as helping Yes and Asia guitarist Steve Howe on his road to success. He featured on 55 No.1 hits, and worked with
George Harrison
,
Frank Zappa
, Thunderclap Newman, Love Affair, Long John Baldry, Marmalade and The Tremeloes. During
Jimmy Page
's session career, he was known as 'Little Jim', to differentiate him from Big Jim.
5 Apr 2012
Jim Marshall, who made rock 'n' roll rawer and noisier by inventing the Marshall amplifier died at a hospice in London, aged 88. His amplifiers and speakers known as 'Marshall stacks' were used by
Jimi Hendrix
,
Eric Clapton
,
Jimmy Page
and almost every other major rock guitarist in the '60s and '70s and by the next generation of guitarists as well, including
Kurt Cobain
,
Eddie Van Halen
and
Slash
.
16 Oct 2010
Auburn University graduate student Justin Havird named a new species of fish, Lepidocephalichthys zeppelini, because the fish's pectoral fin reminded him of the double-neck guitar used by
Jimmy Page
. 'I'm a big
Led Zeppelin
fan, and I was listening to them while I was working on the fish,' Havird said. 'The structure that makes this species unique just reminded me of the guitar that
Jimmy Page
played'.
5 Jun 2010
Led Zeppelin
were officially voted the nation's favourite band by the BBC's 'I'm In A Rock 'N` Roll Band', coming ahead of both
The Beatles
and
Queen
in a phone-in vote. The show also featured Best Singer, Guitarist, and Drummer live phone-in votes which saw
Jimmy Page
, Robert Plant and
John Bonham
all nominated in their categories.
John Bonham
was crowned top drummer ahead of Dave Grohl and
Keith Moon
, whilst Jimmy and Robert were runners up to
Jimi Hendrix
and
Freddie Mercury
respectively.
14 Jan 2010
Guitarist
Jimmy Page
was honoured with the United Nations' first ever Pathways To Peace Award. Pathways To Peace is an international peace building, educational and consulting organization which has consultative status with the United Nations.
8 Jan 2010
Jimmy Page
launched a new set of stamps in the UK which featured classic album covers from the last 40 years including
Coldplay
, Power, Corruption And Lies, New Order,
David Bowie
and Parklife by Blur.
10 Jun 2009
Led Zeppelin
guitarist
Jimmy Page
was inducted into the Mojo Hall Of Fame at the magazine's award ceremony. Singer Richard Hawley won the best album prize, while Kasabian's single 'Fire' was named song of the year. Mojo had become the best-selling music magazine in the UK, selling more than twice as many copies as NME. A further 16 honorary prizes were handed out. They included the classic album award, which went to The Stone Roses for their 1989 self-titled debut LP and veteran space rockers Hawkwind accepted the Mojo Maverick honour.
24 Nov 2008
English drummer Michael Lee died from a seizure aged 39. Lee had worked with Robert Plant,
Jimmy Page
, Little Angels, The Cult, Ian Gillan, Echo & The Bunnymen, The Quireboys and
Thin Lizzy
.
10 Dec 2007
Led Zeppelin
played their first concert in 19 years, at London's 02 Arena as part of the Ahmet Ertegun Tribute Concert.
Jimmy Page
, Robert Plant and John Paul Jones were joined on stage by Jason Bonham, the son of their late drummer
John Bonham
. More than one million people had taken part in a ballot for the 20,000 tickets available for the show with all proceeds going to Ahmet's own charity. Zeppelin performed 16 songs including two encores. A number of celebrities attended the gig including
Dave Grohl
,
Jeff Beck
, Brian May, David Gilmour, The Edge, Peter Gabriel,
Mick Jagger
, Kate Moss, Naomi Campbell, Jerry Hall, Priscilla Presley and Paris Hilton.
2 Nov 2007
Led Zeppelin
's eagerly-awaited reunion concert in London was postponed for two weeks after guitarist
Jimmy Page
broke a finger. The tribute concert in honour of late Atlantic Records founder Ahmet Ertegun scheduled for 26 November would now take place on 10 December. More than a million fans applied for the 20,000 tickets available, which cost £125 each. Profits from the show would go towards scholarships in Ertegun's name in the UK, USA and the country of his birth Turkey.
12 Sep 2007
The surviving members of Led Zeppelin announced they would reform for a star-studded tribute concert in London. Robert Plant,
Jimmy Page
and John Paul Jones would play at a show to remember the late Atlantic Records founder Ahmet Ertegun. The place of
Led Zeppelin
drummer
John Bonham
, who died in 1980, would be taken by his son Jason. The one-off concert, the trio's first performance for 19 years, would take place at the O2 arena in London on 26th November.
30 Jul 2007
A man admitted bootlegging charges after hearing evidence from
Led Zeppelin
guitarist
Jimmy Page
. Robert Langley, 57, from Buckingham, originally denied three trademark and two copyright infringements after being caught at a record fair in Glasgow. The seizure of CDs and DVDs two years ago included £11,500 of counterfeit Led Zeppelin material.
2 Mar 2007
Jimi Hendrix
was crowned the 'wildest guitar hero' of all-time in a poll of music fans for Classic Rock magazine. Hendrix beat
Keith Richards
into second place, with
Stevie Ray Vaughan
in third.
Led Zeppelin
's
Jimmy Page
made it to number four, followed by Dimebag Darrell, who played for several heavy metal bands including Pantera and Damageplan.
14 Nov 2006
Led Zeppelin
were inducted into the UK Music Hall of Fame by Roger Taylor of
Queen
.
Jimmy Page
personally accepted the award in front of a 3,000 strong audience during the 3rd annual induction ceremony which was held at the famed Alexandra Palace in London.
23 May 2006
The King of Sweden presented the surviving members of
Led Zeppelin
with the Polar Music Prize in Stockholm recognising them as "great pioneers" of rock music. Robert Plant,
Jimmy Page
and John Paul Jones were joined by the daughter of drummer
John Bonham
, who died in 1980. The Polar Music Prize was founded in 1989 by Stig Anderson, manager of Swedish pop group
ABBA
who named it after his record label, Polar Records.
26 Mar 2006
Readers of Total Guitar magazine voted the guitar solo by
Jimmy Page
in
Led Zeppelin
's '
Stairway To Heaven
' as the greatest guitar solo of all time. The 1971 track was voted ahead of tracks by
Van Halen
,
Queen
,
Jimi Hendrix
and the
Eagles
. On the 20th anniversary of the original release of the song, it was announced via US radio sources that the song had logged up an estimated 2,874,000 radio plays - back to back, that would run for 44 years solid.
22 Sep 2005
Jimmy Page
was made an honorary citizen of Brazilian city Rio de Janeiro for his work helping its street children. The
Led Zeppelin
guitarist had opened Casa Jimmy (Jimmy's House) in 1998 which had so far supported more than 300 children.
10 Jul 2005
The four members of
Led Zeppelin
were voted the UK's ideal supergroup after 3,500 music fans were asked to create their fantasy band for Planet Rock Radio.
Jimmy Page
won best guitarist, followed by Guns N' Roses' Slash and
Deep Purple
's Ritchie Blackmore. John Paul Jones was named top bassist, with
John Bonham
, who died in 1980, winning best drummer and Robert Plant beat the late
Freddie Mercury
to best singer.
11 Jun 2005
Jimmy Page
,
Led Zeppelin
founding member and guitarist, was awarded an OBE in the
Queen
of England's Birthday Honours list and
Queen
guitarist and founding member Brian May was awarded a CBE.
13 Feb 2004
Led Zeppelin
were awarded a Lifetime Achievement Award at this year's Grammys.
Jimmy Page
, John Paul Jones and Jason Bonham all attended. Robert Plant did not, since he was working on a new album and tour.
21 Dec 2003
Tommy Hubbard from Whitby, aged 14, won the 2003 Riffathon, a nationwide guitar competition in aid of Action For Brazil's Children Trust. The final was held at the University of Surrey and was judged by
Jimmy Page
and Brian May. The ten Riffathon finalists each performed a
Led Zeppelin
classic track with a full live band. Tommy's performance of 'Ramble On' won him the star prize of a 1958 re-issue Gibson Les Paul standard guitar, donated by Gibson Guitars.
26 Aug 2003
28 Mar 2000
Jimmy Page
accepted substantial undisclosed libel damages from a magazine which claimed he had caused or contributed to the death of his
Led Zeppelin
bandmate
John Bonham
. Page's solicitor, Norman Chapman, told High Court Judge Mr Justice Morland that the feature in Ministry magazine printed in 1999 claimed Page was more concerned with keeping vomit off his bed than saving his friend's life, and that he stood over him wearing Satanist robes and performing a useless spell.
9 May 1998
Jimmy Page
appeared on US TV's 'Saturday Night Live' with rapper Sean 'Puffy' Combs and performed 'Come With Me' from the 'Godzilla' movie soundtrack. The song sampled the guitar riff from
Led Zeppelin
's song 'Kashmir'.
31 Mar 1995
Jimmy Page
escaped being knifed when a fan rushed the stage at a Page and Plant gig at Auburn Hills, Michigan. The fan was stopped by two security guards, who he knifes instead. After his arrest, he told police that he wanted to kill
Jimmy Page
because of the Satanic music he was playing.
20 Aug 1990
21 Nov 1988
In 1988, former
Led Zeppelin
guitarist
Jimmy Page
embarked on his first-ever UK solo tour. Accompanying him on drums was
John Bonham
, the son of his late, former bandmate, John Bonham.
29 Feb 1988
Robert Plant released his fourth solo album, Now And Zen. The album peaked at No. 10 on the UK chart. The tracks Heaven Knows and Tall Cool One featured guitarist
Jimmy Page
.
7 Oct 1982
Led Zeppelin
's
Jimmy Page
was given a 12-month conditional discharge after being found guilty of possessing cocaine.
10 Oct 1980
The funeral took place of
Led Zeppelin
's drummer
John Bonham
'Bonzo' was found dead at guitarists
Jimmy Page
's house of what was described as asphyxiation, after inhaling his own vomit after excessive vodka consumption, (40 shots in 4 hours) aged 32.
25 Sep 1980
John Bonham
, drummer with
Led Zeppelin
, died aged 32 after a heavy drinking session. 'Bonzo' was found dead at guitarists
Jimmy Page
's house of what was described as asphyxiation, after inhaling his own vomit after excessive vodka consumption, (40 shots in 4 hours). During live sets his drum solo, 'Moby Dick,' would often last for half an hour and regularly featured his use of his bare hands. In 2007, Ludwig issued a limited edition drum kit in Bonham's memory.
14 Apr 1975
After rumours that
Jimmy Page
, Steve Marriott,
Jeff Beck
or Chris Spedding variously would replace Mick Taylor as guitarist in The
Rolling Stones
, a press release confirmed that
Ronnie Wood
would be joining the band for their forthcoming American tour.
21 Jun 1972
The first Stonehenge Free Festival was held at Stonehenge, England culminating on the summer solstice. Staged between 1972 and 1984, acts who have appeared include Hawkwind, Gong, Doctor and the Medics, Flux of Pink Indians, Buster Blood Vessel, Crass, Selector, Dexys Midnight Runners, Thompson Twins, The Raincoats, Amazulu, Wishbone Ash, Man, Benjamin Zephaniah, The Enid, Roy Harper,
Jimmy Page
, Ted Chippington, Zorch and Ozric Tentacles.
27 Feb 1972
Led Zeppelin
appeared at Sydney Showgrounds, Sydney in Australia, over 25,000 fans attending the show.
Jimmy Page
appeared clean shaven having shaved of the beard he had grown since the summer of 1970.
14 Dec 1971
Led Zeppelin IV
was riding high in the Top 10 of the US album charts. In 2006, the album was rated No.1 on Classic Rock magazine's '100 Greatest British Albums' poll, and No.1 in a poll conducted by Guitar World. The album has now sold over 23 million copies in the US. The typeface for the lyrics to Stairway to Heaven, printed on the inside sleeve of the album, was
Jimmy Page
's contribution. He found it in an old arts and crafts magazine from the late 19th century. He thought the lettering was interesting and arranged for a designer to create a whole alphabet.
18 Nov 1970
Led Zeppelin III
was at No.1 on the UK & US album charts. The original cover and interior gatefold art consisted of a surreal collection of random images. Behind the front cover was a rotatable laminated card disc, covered with more images, including photos of the band members, which showed through holes in the cover. The distinctive cover was based on a suggestion of
Jimmy Page
's that it should resemble an old-fashioned gardening seed chart. Designed by Richard Drew aka Zacron, the sleeve photographs were taken by fellow Leeds Polytechnic lecturer Martin Salisbury.
9 Jan 1970
During a UK tour
Led Zeppelin
appeared at The Royal Albert Hall, London, the night of
Jimmy Page
's 26th birthday. (
John Lennon
,
Eric Clapton
and
Jeff Beck
were all in the audience). The two and a quarter hour set was recorded and filmed but shelved for several decades, eventually seeing a release on a 2003 official DVD.
22 Oct 1969
Led Zeppelin II
was released on Atlantic Records in the UK. The
Jimmy Page
produced album which was recorded over six months between four European and three American tours, peaked at No.1 in both the UK and US, going on to sell over 12 million copies in the US alone, (and spending 138 weeks on the UK chart). The album is now recognised by writers and music critics as one of the greatest and most influential rock albums ever recorded.
5 Jan 1969
During the band's first North American tour,
Led Zeppelin
played the last of four nights at the Whisky A Go-Go, Los Angeles, with Alice Cooper as the opening act. Zeppelin were billed as 'Led Zeppelin featuring
Jimmy Page
, formerly of the Yardbirds'.
4 Oct 1968
On the first night of a UK club tour
Led Zeppelin
(billed as The Yardbirds featuring
Jimmy Page
) appeared at the Mayfair Ballroom, Newcastle upon Tyne, England, supported by Terry Reid's Fantasia, tickets cost 10/6. The Mayfair was a regular venue for up and coming acts,
Pink Floyd
Mott the Hoople,
Def Leppard
and
AC/DC
had all appeared at the club which was demolished in 2000.
7 Sep 1968
Jimmy Page
, Robert Plant, John Paul Jones and
John Bonham
made their live debut as
Led Zeppelin
but billed as The New Yardbirds at Teen Club in Gladsaxe (a suburb in the outskirts of Copenhagen, Denmark). Around 1,200 youngsters attended the show at Egegard School. Teen Club President Lars Abel introducing 'The New Yardbirds' on stage introduced Robert Plant as Robert Plat. A local review stated; 'Their performance and their music were absolutely flawless, and the music continued to ring nicely in the ears for some time after the curtains were drawn after their show. We can therefore conclude that the new Yardbirds are at least as good as the old ones were'.
12 Aug 1968
Jimmy Page
, Robert Plant, John Paul Jones and
John Bonham
played together for the first time when they rehearsed at a studio in Gerrard Street in London's West End. The first song they played was a version of 'The Train Kept A-Rollin.' They also played 'Smokestack Lightning' and a version of 'I'm Confused' (soon to become 'Dazed And Confused'). The first live dates they played were as The Yardbirds, and it was not until the following month when they started to use the name
Led Zeppelin
.
25 Nov 1966
The
Jimi Hendrix Experience
made their UK live debut at the Bag O'Nails Club, London, where they played using the clubs DJ booth.
Eric Clapton
,
Pete Townshend
,
The Beatles
,
Mick Jagger
,
Brian Jones
,
Jeff Beck
,
Jimmy Page
, The Hollies, and the
Small Faces
would all hang out at the club.
19 Oct 1966
The Yardbirds arrived in New York for their first US tour with
Jeff Beck
and
Jimmy Page
on lead guitars. After two dates of the tour, Beck developed acute tonsillitis and quit the group. He would go on to form The Jeff Beck Group, that gave
Rod Stewart
his first major exposure.
23 Sep 1966
The '
Rolling Stones
66' 12 date UK tour kicked off at the Royal Albert Hall London. Supported by Long John Baldry, Ike & Tina Turner and The Yardbirds, (
Jimmy Page
was playing bass, with
Jeff Beck
on guitar). Michelangelo Antonioni attended this concert and asked The Yardbirds to appear in his forthcoming film Blow Up. Also both
Keith Moon
and John Entwistle from
The Who
were in the audience.
3 Sep 1966
Donovan went to No.1 on the US singles chart with 'Sunshine Superman', a No.2 hit in the UK. The track featured then Yardbird and future
Led Zeppelin
guitarist
Jimmy Page
. The song was written for Donovan's future wife Linda Lawrence.
21 Jun 1966
20 Aug 1965
The
Rolling Stones
manager Andrew Loog Oldham and his partner Tony Calder launched Immediate records. Their first release was The McCoy's 'Hang On Sloopy',
Mick Jagger
,
Eric Clapton
and Nico (later to join Velvet Underground), all attended the launch party. The label became the home of the
Small Faces
, Nice, Amen Corner and Chris Farlowe and a young producer - guitarist
Jimmy Page
.
5 Mar 1965
The Mannish Boys released their second single 'I Pity The Fool', featuring a young
David Bowie
. Produced by Shel Talmy, (who was also producing the early singles and albums by
The Who
and
The Kinks
).
Jimmy Page
was Talmy's regular session musician and played the guitar solo on 'I Pity the Fool'.
26 Feb 1965
Jimmy Page
released a solo single called 'She Just Satisfies' in the UK. Page played all the instruments on it except for the drums, and produced the track, as well as singing lead vocals.
23 Jan 1965
'Downtown' made Petula Clark the first UK female singer to have a No.1 on the US singles chart since Vera Lynn in 1952. The song was also a No.2 hit in the UK. Recorded in three takes (with the second take ultimately chosen as the completed track), session players in the studio recording included
Jimmy Page
.
15 Jan 1965
The Who
released their first single 'I Can't Explain'. With
Jimmy Page
on guitar and The Ivy League on backing vocals, it went on to reach No.8 on the UK chart.
10 Sep 1964
The Kinks
third single 'You Really Got Me', was at No.1 on the UK singles chart. Future
Led Zeppelin
founder and guitarist
Jimmy Page
played tambourine on the track.
26 May 1964
27 Nov 1961
Neil Christian and the Crusaders, featuring a young
Jimmy Page
on guitar, played a concert at Holloway Women's Prison in London, England. The inmates were all dressed in washed out yellow, green, blue and red faded floral print dresses and wore homemade mascara, using the charcoal from burnt matches.