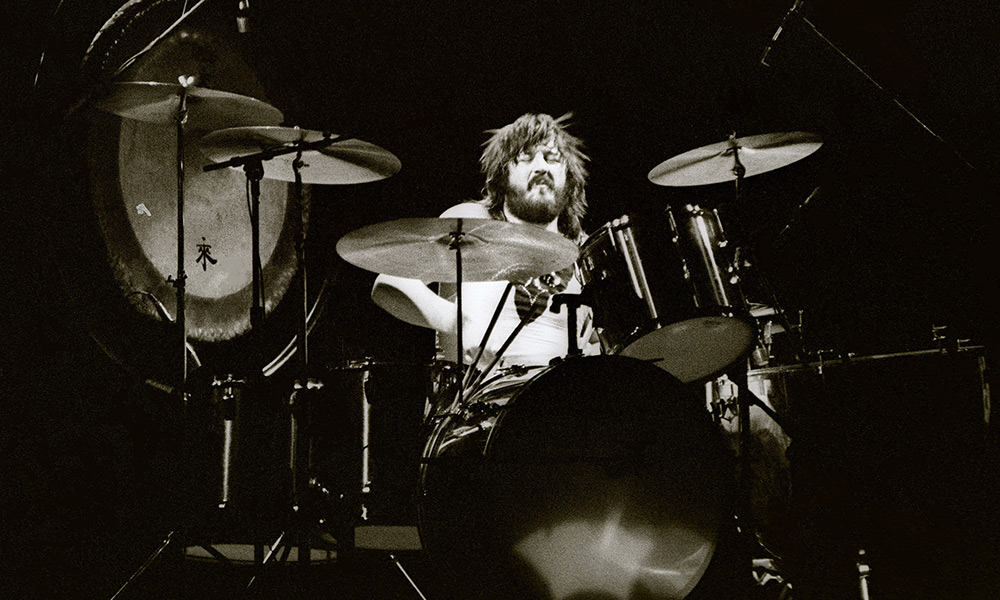 On September 25th, 1980, John Bonham, drummer with Led Zeppelin, died aged 32 after a heavy drinking session. 'Bonzo' was found dead at guitarists Jimmy Page's house of what was described as asphyxiation, after inhaling his own vomit after excessive vodka consumption, (40 shots in 4 hours). During live sets his drum solo, 'Moby Dick,' would often last for half an hour and regularly featured his use of his bare hands.
Ask any rock musician to name their favourite drummer and I'll bet you my 1975 Led Zeppelin Earls Court T-shirt they all say the same name. The man who, before joining the biggest rock group on the planet, was banned from British music venues for playing too loud; the man who once flew his group's Boeing 720 passenger jet The Starship all the way from New York to Los Angeles (he didn't have a pilot's licence); the man who would ride motorbikes down hotel corridors for something to do.
John Henry Bonham, born in Redditch, Worcestershire in 1948. Best known as the drummer of Led Zeppelin, Bonham was esteemed for his speed, power, fast right foot, distinctive sound, and "feel" for the groove (he was, in fact, a soul drummer). The swing and swagger were his alone.
John Bonham first learned to play drums at the age of five, making a drum kit out of containers and coffee tins. He received his first proper drum kit from his father when he was 15.
After leaving school in 1964 (his high school headmaster wrote in his school report card: "He will either end up a dustman or a millionaire"), he worked for his father as an apprentice carpenter in between drumming for different local bands. His first semi-professional band was Terry Webb and the Spiders, followed by other Birmingham bands such as The Nicky James Movement and The Senators, and later a blues group called Crawling King Snakes, whose lead singer was a young Robert Plant.
In 1968, ace session guitarist and Yardbird Jimmy Page was plotting to form the ultimate rock band and had already lined up Plant as the singer, who in turn recommended Bonham. The drummer was initially reluctant to join as he was also receiving lucrative offers from established artists such as Joe Cocker and Chris Farlowe. This is, of course, in the days before mobile phones and the Interweb, but, determined to get his man, Page and his manager Peter Grant bombarded Bonham's local pub with messages and 40 telegrams asking him to join the band. He did.
Fast forward to what are now considered nine classic rock albums and we have the biggest group in the world, breaking records set by The Beatles in the '60's. Led Zeppelin were unstoppable, scoring number 1 albums and selling out the biggest stadium shows in the U.S.
Bonham's now legendary drum solo "Moby Dick" (first entitled "Pat's Delight" after his wife) was a highlight of their three-hour live shows. "Moby Dick" would often last for half an hour and regularly featured the use of Bonham's bare hands to achieve different sound effects.
John, a family man, became a bit of a Jekyll and Hyde. When he was sober he was the guy to hang around with, but when drunk, watch out! No one was safe. He would become homesick, missing his wife and children (his son Jason Bonham is also a drummer who has gained success with various bands including UFO, Foreigner, and Bonham, as well as standing in for his father for the Zeppelin 2007 one-off reunion show).
On 24 September 1980, Bonham was picked up by Led Zeppelin assistant Rex King to attend rehearsals at Bray Studios for an upcoming tour of the U.S., the band's first since 1977. During the journey, Bonham had asked to stop for breakfast, where he drank four quadruple vodkas, continuing to drink heavily during rehearsals. The band retired to guitarist Page's house near Windsor, where, after midnight, Bonham had fallen asleep, having been taken to bed and placed on his side. Zeppelin bassist John Paul Jones found him dead the next afternoon (Bonham had choked on his own vomit). He was 32 years old.
He is still widely considered to be one of the greatest drummers in the history of rock music and, over 30 years since his death, Bonham continues to garner awards and praise, including a Rolling Stone 2011 readers' pick, placing him first among the magazine's "best drummers of all time".
I'll leave the last word to Foo Fighter Dave Grohl: "John played the drums like someone who didn't know what was going to happen next – like he was teetering on the edge of a cliff. No one has come close to that since, and I don't think anybody ever will. I think he will forever be the greatest drummer of all time."
We have a book Led Zeppelin – The Day I Was There available for pre order. This hardback edition is limited to 500 copies, each numbered 1-500 and signed by the author Richard Houghton.
Led Zeppelin – The Day I Was There is a collection of over 500 eyewitness accounts of seeing the band live, with fans recalling memories of the earliest Yardbirds and Zeppelin shows at UK and European clubs right through the record breaking US tours and the O2 Ahmet Ertegun Tribute Concert in 2007. With personal photographs, memorabilia, fascinating anecdotes, and fan stories that have never been published before. Published June 16 2019.