Led Zeppelin – Led Zeppelin II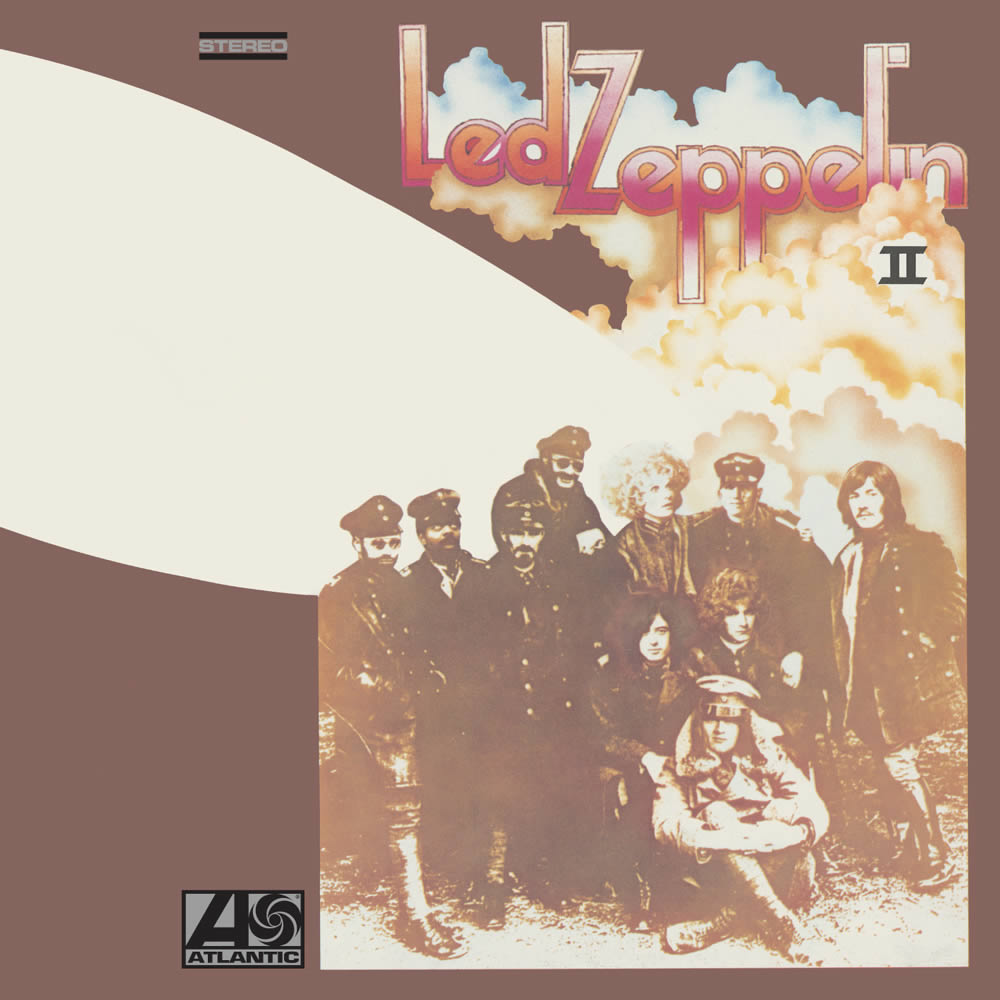 In the late 1960s, bands were expected to release more than one album a year, and they were usually happy to do so, since their income was derived more from live shows than from record sales, in the main. A new album also gave them the impetus to present new material and Zeppelin were no exception, although their debut album had been very successful.
There was pressure from all quarters to have another album ready by the end of 1969, and the band were equally motivated; their debut had shown the potential for their 4-way creative process and they had been playing a series of incendiary shows which were increasing their audiences in leaps and bounds. In America, they had started in late 1968 opening for Vanilla Fudge, but before long they were assured headliners, with extended performances that became the stuff of legend.
Similarly, in Britain, they went from playing tiny pub venues like the Fisherman's Arms in Wood Green in March to headlining the Pop Proms at London's Royal Albert Hall on June 29th. With a gruelling live schedule, there wasn't much time for recording, but studios were booked along the way and the band would dart in, lay down a track, and move on.
Often the song's inspiration would be from onstage improvisation, including the freeform section in the middle of 'Dazed And Confused'; a riff would emerge, the band would remember it, and rush to record it as soon as was practical. Led Zeppelin II was finally to contain 9 tracks, recorded in at least 6 different studios, all sonically tied together by Jimmy Page as producer, with mixing overseen by new 'Director of Engineering' Eddie Kramer, who had impressed with his work on Jimi Hendrix's recent recordings.
Album sessions took place at Olympic and Morgan Studios in London, England; Mirror Sound and Mystic Studios in Los Angeles, California; and A&R and Juggy Sound in New York City, with apparently additional sessions in LA and Vancouver. The disparate tracks were given a cohesive mix at A&R Studios in New York, messrs Page and Kramer mixing the whole album in only a few days.
Led Zeppelin II was to be the breakthrough album for Zeppelin, especially in the US, where Atlantic Records had 400,000 advance orders. The album was released on October 22, 1969 and was certified Gold in the US by November 10th. The huge success of the million-selling US single 'Whole Lotta Love' propelled the album to No. 1 in America, where it dethroned Abbey Road, twice. It took a little longer in the UK, but it climbed to Number One there as well in February 1970.
The opening track on the band's second album, 'Whole Lotta Love' was the first track to be credited to all four Zeppelin members, with the subsequent addition of Willie Dixon, recognising its superficial similarity to Dixon's 'You Need Love' as performed by Muddy Waters. In fact, although both songs have a verse section that stays on one chord, the only similar sections are a small part of the top line and the words 'way down inside' / you need love', which isn't much in a song lasting 5:33. The blasting iconic guitar riff, doubled on bass, is original, as is the arrangement – extremely so, with its long percussion and vocal middle section, closed with a double riff, guitar histrionics and a return to the main event.
Known as the 'orgasm' section, from 1:18 to 3:02 or so, you get John Bonham's hi-hat keeping time while Jimmy Page and Eddie Kramer pan psychedelic guitar sweeps and Robert Plant's vocal phrases around the spectrum, before the drums crash back in. At 4:00, the band stops and the live nature of Zeppelin's recording, done once again at Olympic Studios in London with George Chkiantz engineering is evident: Robert Plant's first vocal is still there on the tape, bleeding across the room into (we assume) the drum mics, to blend in behind the new a cappella lead vocal, to give a ghostly effect. The band return and the song crashes to its fade, featuring a harmony guitar on the main riff as we go.
All in all, an unlikely single, but it stormed its way up radio playlists in the US, though perhaps placing them unfairly in a 'riff-rock' box along the way. After radio stations started editing out the middle section to create their own short versions, Atlantic Records quickly responded and shortened their own single, cutting it down from the full-length 5'33 to a brisker 3'10.
It became Zeppelin's first hit, peaking at number 4 in the US in the summer of 1969 and selling over a million copies, as well as reaching Number 1 in Belgium and Germany.
Blocked from a UK single release by Zeppelin manager Peter Grant, 'Whole Lotta Love' was still to gain familiarity to the British public as the theme tune to BBC TV's Top Of The Pops in a version by blues singer Alexis Korner's CCS. A coincidence was that, just after The Band Of Joy and pre-Zeppelin, Robert Plant had briefly been in a version of an Alexis Korner group that included British pianist Steve Miller (not the US Space Cowboy).
We have a book Led Zeppelin – The Day I Was There.
Led Zeppelin – The Day I Was There is a collection of over 500 eyewitness accounts of seeing the band live, with fans recalling memories of the earliest Yardbirds and Zeppelin shows at UK and European clubs right through the record breaking US tours and the O2 Ahmet Ertegun Tribute Concert in 2007. With personal photographs, memorabilia, fascinating anecdotes, and fan stories that have never been published before. Published June 16 2019.