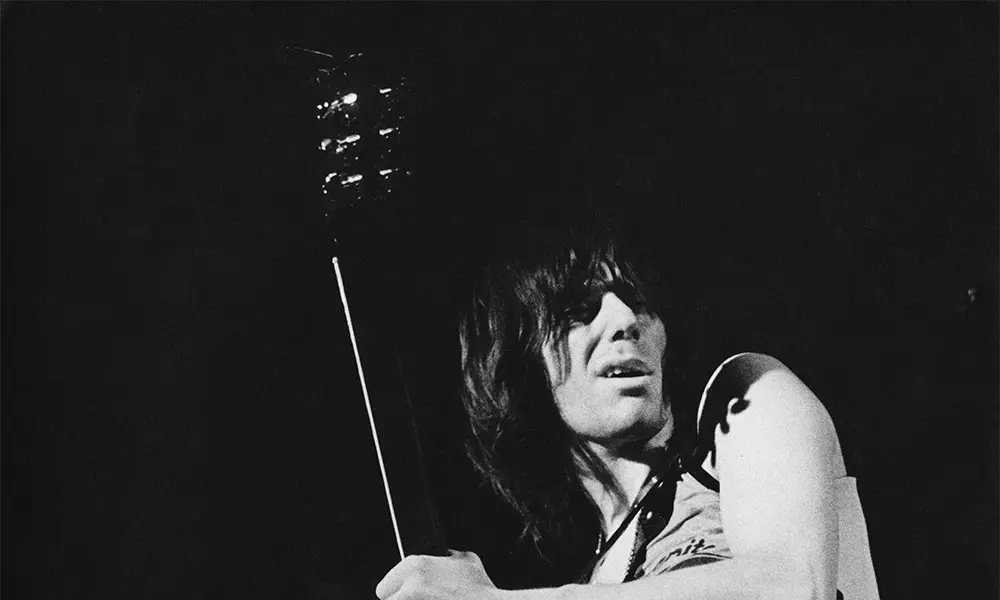 OK, here's the thing. I think anyone who tries to make their own guitar, must be mad. First, you have to cut the whole thing out from a bit of wood, somehow make the strings stay on the thing, add the knobs, wires and electric bits, paint it. And then learn how to play the thing!
This man did all that and more. He then went on to become one of the greatest rock guitarists who ever lived.
He attempted to make guitars from cigar boxes using aircraft control line wires as strings? Another attempt saw him cut a guitar-shaped body from a very thick piece of wood using memorized measurements. Unfortunately, the measurements he had remembered were those of a bass guitar.
Beck was born 24th June 1944 to Arnold and Ethel Beck in Wallington, England. On hearing Les Paul on the radio, the former choirboy fell in love with the sound of the guitar. Beck later stated; "I was interested in the electric guitar even before I knew the difference between electric and acoustic. The electric guitar seemed to be a totally fascinating plank of wood with knobs and switches on it. I just had to have one."
Along with Les Paul, Beck was blown away by the twanging of Cliff Gallup, lead guitarist with Gene Vincent and the Blue Caps and the style and songs of Chuck Berry.
Upon leaving school he attended Wimbledon Art College, then he briefly worked as a painter and decorator, a groundsman on a golf course and spray painting cars, (a love of which has stayed with Beck, as his other obsession is classic Ford hot rods).
Like many young rock musicians in the early 1960s, Jeff began his career working as a session guitarist. In 1965, when Eric Clapton left the Yardbirds for John Mayall's Bluesbreakers, Beck was recruited to replace him on the recommendation of Jimmy Page, (who had been their initial choice). It was during this his tenure with the Yardbirds that they recorded most of their hits – "For Your Love", "Shape Of Things" and "Heart Full Of Soul".
For a few months, he shared the dual-lead guitar role with Jimmy Page, who had joined the Yardbirds as a bass player but quickly moved to co-lead guitar, with Chris Dreja moving on bass. Beck left after 18 months, partly for health reasons.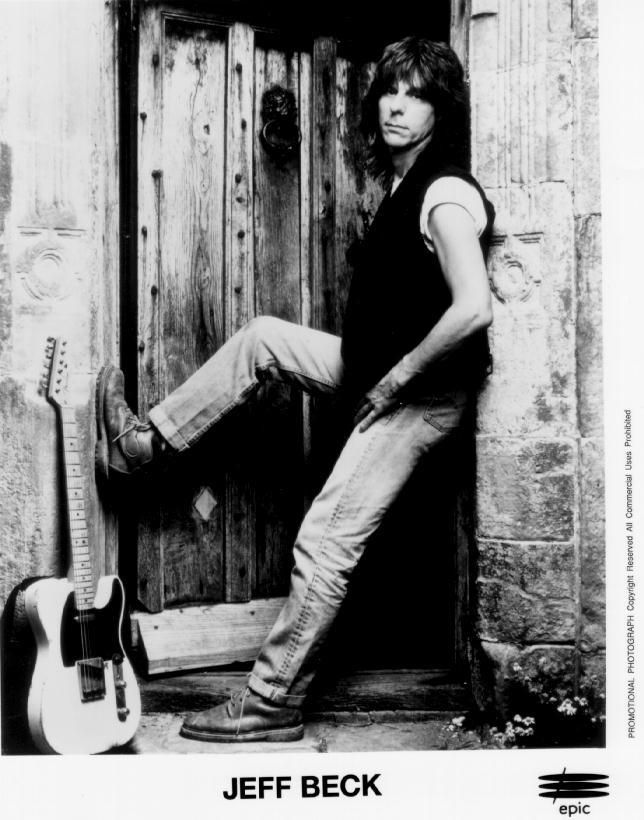 The following year, he recorded the one-off song "Beck's Bolero" (with Jimmy Page, John Paul Jones who would go on to be one half of Led Zeppelin, and Keith Moon from The Who on drums, what a group that was!), had two solo vocals hit singles in the UK – "Hi Ho Silver Lining" and "Tallyman".
Beck then formed a new band called The Jeff Beck Group, which featured a young Rod Stewart on vocals, Ronnie Wood on bass and Nicky Hopkins on piano.
The group produced two highly acclaimed albums, Truth and Beck-Ola. Truth was released five months before the first Led Zeppelin album, and featured a cover of "You Shook Me", a song first recorded by Willie Dixon, which was also covered on the Led Zeppelin debut.
Stories about Beck's volatile temper began to circulate and coupled with touring-related incidents, led the group to dissolve. (Rod and Ronnie went on to form The Faces).
Beck's next outing was the powerhouse trio of Beck, Bogert & Appice, again a short-lived project when the guitarist walked out during sessions for their second album.
In October 1974, Beck began recording instrumentals at AIR studios with George Martin producing and providing string arrangements. The resulting album, Blow by Blow displayed Beck's technical prowess in a jazz-rock format. If you're going to check out one of his albums, this is the one. The album reached #4 on the charts. It is Beck's most commercially successful release.
George Martin has said that Beck never seemed to be happy with his solos. A few days after a recording, when he'd had time to digest his own performance, he would phone Martin and say, "I think I could do a better one on this track". A couple of months went by and Martin received another phone call from Beck: "I want to do this solo again." Bemused, Martin replied: "I'm sorry, Jeff, but the record is in the shops!"
Beck's album, Emotion & Commotion, was released in April 2010 and featured a mixture of original songs and covers such as "Over the Rainbow" and "Nessun Dorma" and featured Joss Stone and Imelda May on guest vocals. Loud Hailer his eleventh studio was released in July 2016.
Beck's final album 18 was a collaborative studio album with actor and musician Johnny Depp, released on 15 July 2022 on Rhino Records. On October 5, 2022, Depp joined Beck for a joint American tour which kicked off in Washington D.C. and ended in early November.
Beck died from a bacterial meningitis infection at a hospital near Riverhall on 10 January 2023, at the age of 78
Important Dates In The Life Of Jeff Beck:
10 Jan 2023
English guitarist
Jeff Beck
died age 78 from a bacterial meningitis infection at a hospital near Riverhall, England. He rose to prominence as a member of the Yardbirds, and afterwards founded and fronted the Jeff Beck Group and Beck, Bogert & Appice. In 1975, he switched to an instrumental style with focus on an innovative sound, and his releases spanned genres and styles ranging from blues rock, hard rock, jazz fusion and a blend of guitar-rock and electronica.
8 Mar 2016
English record producer, arranger, composer, conductor, audio engineer and musician, Sir George Martin died aged 90. He worked as EMI records in-house record producer and became known as the so-called fifth Beatle. Martin produced all but one of
The Beatles
albums giving him 30 No.1 hit singles in the UK and 23 No.1 hits in the US. He also produced many other acts including: Matt Monro, Cilla Black, Gerry & The Pacemakers, Billy J. Kramer & the Dakotas, The Fourmost,
Jeff Beck
, Ultravox, Kenny Rogers, UFO, Cheap Trick,
Elton John
and
Celine Dion
. Martin received a Knighthood in 1996.
27 Oct 2009
Eric Clapton
pulled out of Rock and Roll Hall of Fame concert in New York City after he underwent an operation to remove gallstones. His place at the Madison Square Garden gig was taken by
Jeff Beck
.
10 Dec 2007
Led Zeppelin
played their first concert in 19 years, at London's 02 Arena as part of the Ahmet Ertegun Tribute Concert.
Jimmy Page
, Robert Plant and John Paul Jones were joined on stage by Jason Bonham, the son of their late drummer
John Bonham
. More than one million people had taken part in a ballot for the 20,000 tickets available for the show with all proceeds going to Ahmet's own charity. Zeppelin performed 16 songs including two encores. A number of celebrities attended the gig including
Dave Grohl
,
Jeff Beck
, Brian May, David Gilmour, The Edge, Peter Gabriel,
Mick Jagger
, Kate Moss, Naomi Campbell, Jerry Hall, Priscilla Presley and Paris Hilton.
30 May 2003
Record producer Mickie Most died aged 64. Member of The Most Brothers during late 50s, and Mickie Most and the Playboys, produced hits for The Animals, Hermans Hermits, Donovan, Kim Wilde, Lulu and
Jeff Beck
. Most ran his own record label RAK in the 1970s, having hits with Hot Chocolate, Suzi Quatro and Mud.
5 Apr 1998
British drummer Cozy Powell (Colin Flooks) was killed when his car smashed into crash barriers on the M4 motorway near Bristol, England. Powell had worked with the
Jeff Beck
Group, Whitesnake,
Black Sabbath
, Rainbow, Brian May, Peter Green and the ELP spin-off Emerson, Lake, and Powell. Powell, known as one of the most driving drummers in rock, had also had hits as a solo artist, including Dance WithThe Devil and The Man In Black, and had fronted his own band, Cozy Powell's Hammer.
6 Sep 1994
English keyboard player Nicky Hopkins died aged 50, in Nashville, Tennessee, of complications from intestinal surgery. Was a highly respected session musician, worked with The
Rolling Stones
,
Jeff Beck
,
The Beatles
,
The Who
,
The Kinks
,
Small Faces
,
Led Zeppelin
,
John Lennon
,
George Harrison
, and the
Jerry Garcia
Band.
The Kinks
song 'Session Man' from Face to Face is dedicated to (and features) Hopkins.
14 Aug 1988
Guitarist Roy Buchanan died after hanging himself with his own shirt in Fairfax County Adult Detention Center having been arrested for drunkenness. Buchanan released over 15 solo albums;
Jeff Beck
dedicated the song 'Cause We've Ended As Lovers' to Buchanan in 1975 on his Blow by Blow album.
2 Jan 1985
4 Dec 1976
American guitarist Tommy Bolin died from a heroin overdose aged 25 the day after opening a show for
Jeff Beck
in Miami, Florida. Bolin was a member of Zephyr (1969 to 1971),
The Jam
es Gang (1973 to 1974) and
Deep Purple
(1975 to 1976).
14 Apr 1975
After rumours that
Jimmy Page
, Steve Marriott,
Jeff Beck
or Chris Spedding variously would replace Mick Taylor as guitarist in The
Rolling Stones
, a press release confirmed that
Ronnie Wood
would be joining the band for their forthcoming American tour.
27 Jan 1973
'Superstition' the lead single from
Stevie Wonder
's Talking Book album became his second No.1 single in the US, 10 years after his first No.1 hit.
Jeff Beck
created the original drum beat while in the studio with Wonder. After writing the song, Wonder offered it to Beck to record, but at the insistence of
Berry Gordy
, Wonder himself recorded it first. Beck was instead offered 'Cause We've Ended As Lovers', which he recorded on his Blow by Blow album in 1975.
28 Oct 1972
Stevie Wonder
released his 15th studio album Talking Book. The album's first track, 'You Are the Sunshine of My Life', hit No.1 on the Billboard charts, and earned Wonder his first Grammy Award. The album featured a guest appearance of
Jeff Beck
on the track 'Superstition'.
9 Jan 1970
During a UK tour
Led Zeppelin
appeared at The Royal Albert Hall, London, the night of
Jimmy Page
's 26th birthday. (
John Lennon
,
Eric Clapton
and
Jeff Beck
were all in the audience). The two and a quarter hour set was recorded and filmed but shelved for several decades, eventually seeing a release on a 2003 official DVD.
28 Dec 1968
Pink Floyd
appeared at the two day festival Flight To Lowlands Paradise II, Margriethal-Jaarbeurs, Utrecht, The Netherlands, (replacing The
Jimi Hendrix Experience
). Other acts appearing included Jethro Tull,
Jeff Beck
, The Pretty Things and the Bonzo Dog Doo-Dah Band.
19 Jul 1968
Pink Floyd
played the second of three nights at the Boston Tea Party, Boston, Massachusetts. Opened in January 1967 as a psychedelic club, many many famous artists, including
Grateful Dead
,
Neil Young
, The J. Geils Band,
Frank Zappa
,
Cream
,
Fleetwood Mac
,
The Allman Brothers Band
,
Led Zeppelin
, The
Jimi Hendrix Experience
,
Jeff Beck
,
The Who
,
Santana
, Taj Mahal, Ten Years After and Sly & the Family Stone all appeared.
22 Jun 1968
26 Aug 1967
Small Faces
, Move, The Gass, Tomorrow, Denny Laine,
Jeff Beck
, Eric Burdon and Marmalade all appeared on the first day of the 3-day non-stop happening 'Festival of the Flower Children' at Woburn Abbey, England. Plus DJ's
John Peel
and Tommy Vance, day tickets cost £1.
13 Aug 1967
11 Aug 1967
Small Faces
, The Move, Marmalade, Paul Jones,
Pink Floyd
, Amen Corner, Donovan, Zoot Money,
Cream
,
Jeff Beck
, John Mayall, Peter Green's
Fleetwood Mac
and The Crazy World Of Arthur Brown all appeared at this years UK Reading festival. An advance 3 day ticket cost £2. Arthur Brown's trademark flaming helmet burnt out of control and organiser Harold Pendleton's father-in-law had to douse the flames with a pint of beer.
5 Mar 1967
Pink Floyd
,
Jeff Beck
, The Ryan Brothers and Lee Dorsey all appeared at the Saville Theatre, Shaftesbury Avenue, London, England. Brian Epstein, manager of
The Beatles
leased the theatre in 1965, presenting both plays and music shows. The venue became notorious for its Sunday night concerts.
25 Nov 1966
The
Jimi Hendrix Experience
made their UK live debut at the Bag O'Nails Club, London, where they played using the clubs DJ booth.
Eric Clapton
,
Pete Townshend
,
The Beatles
,
Mick Jagger
,
Brian Jones
,
Jeff Beck
,
Jimmy Page
, The Hollies, and the
Small Faces
would all hang out at the club.
19 Oct 1966
The Yardbirds arrived in New York for their first US tour with
Jeff Beck
and
Jimmy Page
on lead guitars. After two dates of the tour, Beck developed acute tonsillitis and quit the group. He would go on to form The Jeff Beck Group, that gave
Rod Stewart
his first major exposure.
23 Sep 1966
The '
Rolling Stones
66' 12 date UK tour kicked off at the Royal Albert Hall London. Supported by Long John Baldry, Ike & Tina Turner and The Yardbirds, (
Jimmy Page
was playing bass, with
Jeff Beck
on guitar). Michelangelo Antonioni attended this concert and asked The Yardbirds to appear in his forthcoming film Blow Up. Also both
Keith Moon
and John Entwistle from
The Who
were in the audience.
3 Mar 1965
Eric Clapton
played his last show with The Yardbirds, leaving to join John Mayall's Bluesbreakers. He was replaced by
Jeff Beck
.