Ronald David "Ronnie" Wood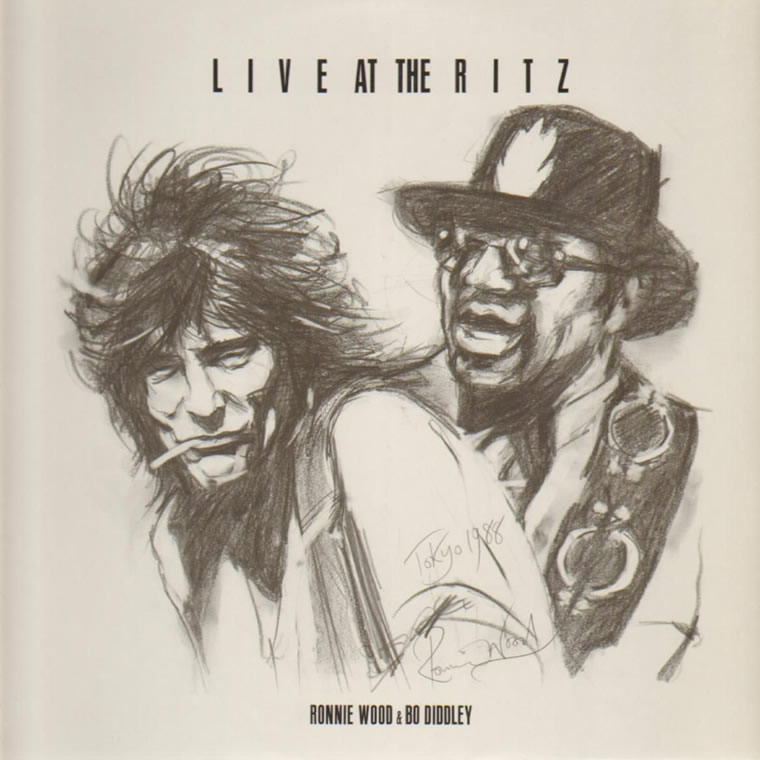 It must be great to be Ron Wood. As his day job, he's the new boy in the greatest rock n' roll group in the world, The Rolling Stones, (he's only been with them for 30 odd years); he can paint, he can sing and he's won awards as a radio DJ! Ron is one of rock's true originals.
Wood was born in Hillingdon, London, into a family of English "water gipsies" – he has said that his generation was the first in the family to be born on dry land.
When he was a child his drawings were featured on the BBC television programme Sketch Club; after winning one of the program's competitions, Ron referred to the achievement as his "awakening to art". Wood's paintings, drawings and prints frequently feature icons of popular culture and have been exhibited all over the world.
He began his musical career in 1964 when he joined The Birds on guitar, (the UK group, not The Byrds). He then joined the mod group The Creation, and then The Jeff Beck Group in 1968, playing bass after Dave Ambrose and Jet Harris both didn't work out. They released two very highly-regarded albums, Truth and Beck-Ola, before the group split in 1970, Wood departing along with lead vocalist Rod Stewart to join former Small Faces members Ronnie Lane, Ian McLagan, and Kenney Jones in a new group dubbed The Faces.
The Faces were the first group I ever saw in concert when I was 14 years old. That night changed my life forever; I wanted to be Ron Wood! The Faces fell onto the stage at The Free Trade Hall in Manchester, England, clutching bottles of wine and beer, smoking cigarettes, and proceeded to stumble their way through a shambolic set of the best rock n' roll you ever heard. (Check out their 1971 album A Nod Is as Good as a Wink… to a Blind Horse). I loved The Faces.
Ron was always the obvious choice for The Stones. He played and looked like a Rolling Stone and following guitarist Mick Taylor's departure from the group in 1974, Ron was the man and has been on the payroll ever since.
Away from his day job, Ronnie has found time to collaborate with a number of other artists, including Prince, Bob Dylan, David Bowie, Eric Clapton, Bo Diddley, Ringo Starr and Aretha Franklin.
In 1988 Wood opened "Woody's On The Beach" in Miami, a club featuring a house band headed by Bobby Keys, hosting performances by local acts, friends of Wood's and occasionally Wood himself. The defunct hotel, which housed the club, allowed Wood to set up a VIP area upstairs, displaying Wood's artwork and providing private party areas. The club was popular but was closed due to complaints from neighbours who found it too loud. What? You have some of the best musicians in the world jamming on your doorstep and you complain!
It must be great being Ron Wood.
Important Dates In The Life Of Ronnie Wood:
21 Dec 2012
5 Jul 2012
For the second year in a row,
Rolling Stones
guitarist
Ronnie Wood
was honoured in two categories at the annual Arqiva Commercial Radio Awards. The 65-year-old won the specialist programme of the year award for his Absolute Radio show, and saw his weekly guest slot named best feature. Absolute also took the station of the year award.
3 Dec 2009
Rolling Stone
Ronnie Wood
was arrested in Esher, Surrey on suspicion of assault, after a passer-by dialled 999 as a violent argument took place between Wood and his 21-year-old on-off girlfriend Ekaterina Ivanova. He was later cautioned by police.
2 Nov 2009
Ronnie Wood
was given an Outstanding Contribution award at the Classic Rock Roll of Honour ceremony in London, England. Who guitarist Pete Townshend presented the award to Wood, who had joined The
Rolling Stones
full time in 1976.
11 Oct 2009
54-year-old Jo Wood, wife of The
Rolling Stones
Ronnie Wood
was granted a divorce after 24 years of marriage on the grounds of adultery. The couple split in 2008 after the guitarist, 64, began a relationship with a 20-year-old woman.
18 Jul 2008
Rolling Stone
guitarist
Ronnie Wood
was 'seeking help' with his battle with alcohol in a rehabilitation centre. The move followed tabloid speculation over the state of his 23-year marriage to former model Jo Wood. 'Following Ronnie's continued battle with alcohol he has entered a period of rehab,' his spokeswoman said.
12 Jul 2008
Rolling Stone
Ronnie Wood
left his wife of 23 years and moved in with an 18-year-old Russian cocktail waitress. The 61 year-old dad-of-four had met the teenager while out drinking and had taken her away to his luxury pad in Ireland.
15 Jan 2008
Ronnie Wood
was recovering following an operation for a hernia after he sustained the injury during the band's recent Bigger Bang tour. The 60-year-old
Rolling Stones
guitarist was told to rest for two months after the procedure.
24 Sep 2004
The Strat Pack: Live in Concert was held at Wembley Arena in London marking the 50th Anniversary of the Fender Stratocaster guitar. The concert featured
Ronnie Wood
, Joe Walsh, Gary Moore, Brian May, David Gilmour, Albert Lee, Andy Fairweather-Low, Hank Marvin and many more.
24 Oct 2001
Kim Gardner former bassist with Ashton Gardner & Dyke died of Cancer. Had the 1971 UK No.3 single 'The Resurrection Shuffle' and Gardner formed 60s band The Birds with guitarist
Ronnie Wood
.
1 Jul 2001
Rolling Stone
Ronnie Wood
was commissioned to paint a group portrait of diners who are regulars at the West End London restaurant The Ivy.
Elton John
and Pet Shop Boy Neil Tennant were two pop stars to be included in the portrait.
18 Mar 2001
American singer, guitarist, and songwriter John Phillips of Mamas and The Papas died of heart failure aged 65. His first band, The Journeymen, were a folk trio, Mamas and The Papas had the US No.1 'Monday, Monday'. Phillips was married to Michelle Gilliam, they had one child together, Chynna Phillips, vocalist of the 1990s pop trio Wilson Phillips. His second solo album was released on
Rolling Stones
records and featured
Mick Jagger
,
Keith Richards
, Mick Taylor and
Ronnie Wood
.
8 Apr 1998
Rolling Stones
guitarist
Ronnie Wood
was rescued, along with 11 other passengers, in the nick of time, from a boat when an engine caught fire. The boat was exploring the islands near Angra Dos Reis, south of Rio De Janeiro, Brazil, when one of the boat's engines caught fire. Passengers were rescued by nearby journalists, just before the boat exploded.
16 Oct 1992
12 Nov 1990
Rolling Stone
Ronnie Wood
broke both his legs after his car crashed on the M4 motorway near Marlborough, Wiltshire, England. Wood was trying to wave other cars past his when he was run over.
29 Oct 1987
'Decades'
Rolling Stones
Ronnie Wood's
first ever British art exhibition opened in London, featuring portraits of friends and rock stars from the past 20 years.
2 Jan 1985
9 Jun 1978
The
Rolling Stones
released
Some Girls
, their first studio album recorded with
Ronnie Wood
as a full member. The album cover was designed by Peter Corriston and featured The Stones in garish drag alongside select female celebrities and lingerie ads. The cover immediately ran into trouble when Lucille Ball, Farrah Fawcett, Liza Minnelli (representing her mother Judy Garland), Raquel Welch, and the estate of Marilyn Monroe threatened legal action.
15 May 1976
The
Rolling Stones
went to No.1 on the US album chart with Black And Blue, the group's sixth US No.1 album. The band's first studio album released with
Ronnie Wood
as the replacement for Mick Taylor featured the hit 'Fool To Cry'.
27 Dec 1975
The
Faces
split became official.
Rod Stewart
had severed all connections with the group to work as a solo artist,
Ronnie Wood
was on permanent loan to the Stones, Ronnie Lane went on to form Slim Chance and drummer Kenny Jones joined
The Who
.
3 Dec 1975
Ronnie Wood's
wife Krisse was arrested for alleged possession of cannabis and cocaine after a raid on the couple's house in Richmond. Krissie's friend Audrey Burgon was also arrested, newspapers reported that the two women were found 'sleeping together.'
3 Sep 1975
An all-star jam session took place at a party in Los Angeles for actor Peter Sellers' 50th Birthday. The line-up for the group who named themselves the Trading Faces: Bill Wyman on bass,
Ronnie Wood
, Jesse Ed Davis, and Danny Kortchmar on guitars,
Keith Moon
organ and drums, Joe Cocker, vocals, Nigel Olsson, drums and
David Bowie
and Bobby Keys on sax.
1 Jun 1975
The
Rolling Stones
kicked off their biggest ever US tour at Louisiana State University. The tour would take in 45 shows in 26 cities. Guitarist
Ronnie Wood
joined The Stones on tour for the first time, replacing Mick Taylor.
14 Apr 1975
After rumours that
Jimmy Page
, Steve Marriott,
Jeff Beck
or Chris Spedding variously would replace Mick Taylor as guitarist in The
Rolling Stones
, a press release confirmed that
Ronnie Wood
would be joining the band for their forthcoming American tour.
13 Jan 1973
Eric Clapton
made his stage comeback at the Rainbow Theatre, London, with Pete Townsend,
Ronnie Wood
, Stevie Winwood, Rebop, Jim Capaldi and support from The Average White Band. The night's two shows were recorded for the 'Rainbow Concert' album. Pete Townshend from
The Who
had organised the concert to help Clapton kick his heroin addiction.
8 Mar 1969
Small Faces
split up after singer Steve Marriott announced he was leaving the band to form Humble Pie. Small Faces scored the hit songs 'Itchycoo Park', 'Lazy Sunday', 'All or Nothing', and 'Tin Soldier', as well as their concept album Ogdens' Nut Gone Flake. Members Ronnie Lane, Ian McLagan and Kenny Jones linked up with
Ronnie Wood
and
Rod Stewart
and formed the
Faces
.
19 Jun 1965
The Who
, Solomon Burke, Zoot Money, Cliff Bennett & The Rebel Rousers, John Mayall's Bluesbreakers, Spencer Davis Group, Marianne Faithful, Long John Baldry, The Birds, (featuring a young
Ronnie Wood
), Dave Witting and the Ray Martin Group all appeared at Uxbridge Blues Festival, England. Tickets cost from 7/6 to 10/6.