Ronald David "Ronnie" Wood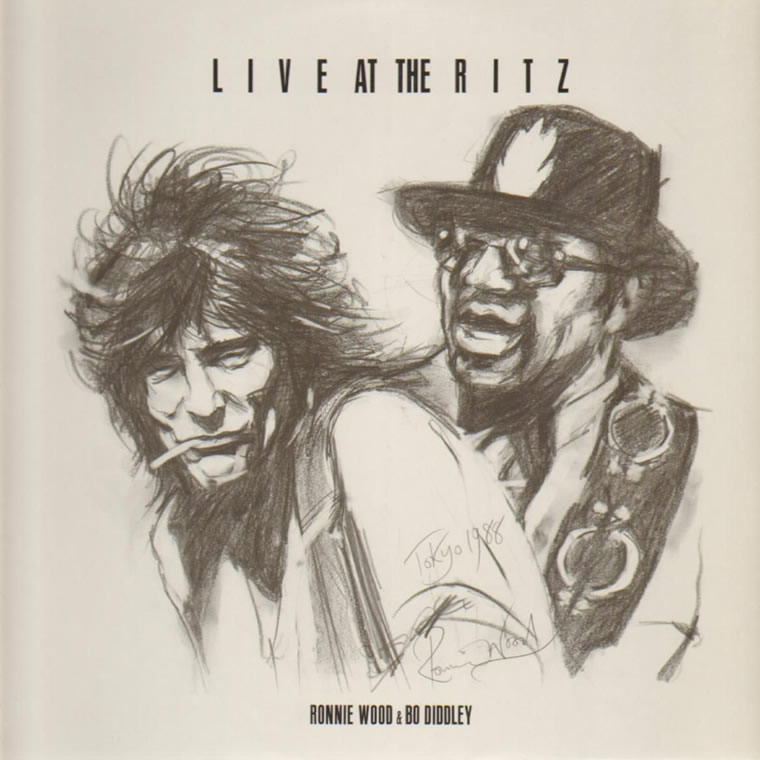 It must be great to be Ron Wood. As his day job, he's the new boy in the greatest rock n' roll group in the world, The Rolling Stones, (he's only been with them for 30 odd years); he can paint, he can sing and he's won awards as a radio DJ! Ron is one of rock's true originals.
Wood was born in Hillingdon, London, into a family of English "water gipsies" – he has said that his generation was the first in the family to be born on dry land.
When he was a child his drawings were featured on the BBC television programme Sketch Club; after winning one of the program's competitions, Ron referred to the achievement as his "awakening to art". Wood's paintings, drawings and prints frequently feature icons of popular culture and have been exhibited all over the world.
He began his musical career in 1964 when he joined The Birds on guitar, (the UK group, not The Byrds). He then joined the mod group The Creation, and then The Jeff Beck Group in 1968, playing bass after Dave Ambrose and Jet Harris both didn't work out. They released two very highly-regarded albums, Truth and Beck-Ola, before the group split in 1970, Wood departing along with lead vocalist Rod Stewart to join former Small Faces members Ronnie Lane, Ian McLagan, and Kenney Jones in a new group dubbed The Faces.
The Faces were the first group I ever saw in concert when I was 14 years old. That night changed my life forever; I wanted to be Ron Wood! The Faces fell onto the stage at The Free Trade Hall in Manchester, England, clutching bottles of wine and beer, smoking cigarettes, and proceeded to stumble their way through a shambolic set of the best rock n' roll you ever heard. (Check out their 1971 album A Nod Is as Good as a Wink… to a Blind Horse). I loved The Faces.
Ron was always the obvious choice for The Stones. He played and looked like a Rolling Stone and following guitarist Mick Taylor's departure from the group in 1974, Ron was the man and has been on the payroll ever since.
Away from his day job, Ronnie has found time to collaborate with a number of other artists, including Prince, Bob Dylan, David Bowie, Eric Clapton, Bo Diddley, Ringo Starr and Aretha Franklin.
In 1988 Wood opened "Woody's On The Beach" in Miami, a club featuring a house band headed by Bobby Keys, hosting performances by local acts, friends of Wood's and occasionally Wood himself. The defunct hotel, which housed the club, allowed Wood to set up a VIP area upstairs, displaying Wood's artwork and providing private party areas. The club was popular but was closed due to complaints from neighbours who found it too loud. What? You have some of the best musicians in the world jamming on your doorstep and you complain!
It must be great being Ron Wood.