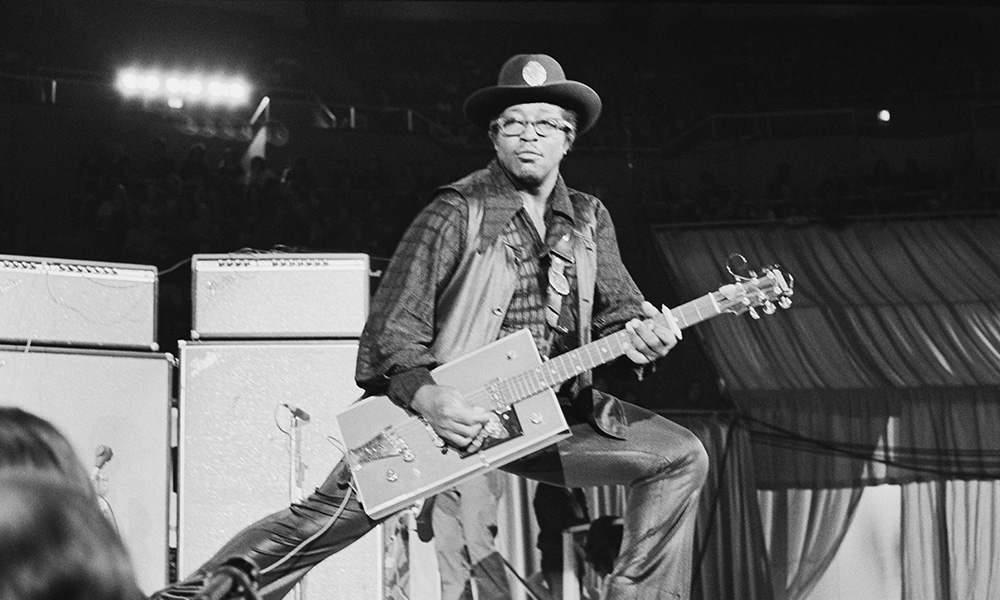 I've always liked an artist who can sing about themselves. The Stray Cats had "The Stray Cat Strut", Mott The Hoople had "The Ballad Of Mott The Hoople", Bob Dylan sang about "Bob Dylan's 115th Dream". And Bo Diddley shouted "Hey! Bo Diddley".
Mick Jagger stated: "His influence was so widespread that it is hard to imagine what rock and roll would have sounded like without him. "He was a wonderful, original musician who was an enormous force in music and was a big influence on The Rolling Stones".
Tom Petty, Buddy Holly, The Stones, The Clash, The Kinks, The Animals, The New York Dolls and even those old hippies Grateful Dead have all covered songs by Ellas Otha Bates, while he was a seminal influence on the young Syd Barrett, co-founder of Pink Floyd.
Yes, I'm talking about Bo Diddley, "The Originator", (as he was also known), who died of heart failure on 2 June 2008 aged 79. He played a key role in the transition from the blues to rock & roll, influencing a host of acts and even made a visual statement – his guitar shaped like a cigar box, (nicknamed "The Twang Machine") became a style icon.
The unusual guitar design sprang from an embarrassing moment: after jumping around on stage with a Gibson L5 guitar, Bo landed awkwardly, hurting his groin. He then went about designing a smaller, less restrictive, guitar that allowed him to keep jumping around on stage while still playing.
Born in 1928, he was adopted and raised by his mother's cousin, Gussie McDaniel, whose surname he assumed, becoming Ellas McDaniel. Bo was inspired musically after seeing John Lee Hooker and developed a career playing on Chicago street corners with friends in a band called The Hipsters.
McDaniel would adopt the stage name "Bo Diddley". The origin of the name is somewhat unclear, as several differing stories and claims exist. Some sources state that it was his nickname as a teenage Golden Gloves boxer, while others claim that it originates from the one-stringed instrument called the diddley bow. Bo Diddley himself has said that the name first belonged to a singer his adoptive mother was familiar with.
In late 1954, he recorded demos of "I'm A Man" and "Bo Diddley". They re-recorded the songs at Chess Studios. The record was released in March 1955, and the A-side, "Bo Diddley", became a number 1 R&B hit and we all heard what became the "Bo Diddley beat," also known in the US as 'shave and haircut, 2 bits'.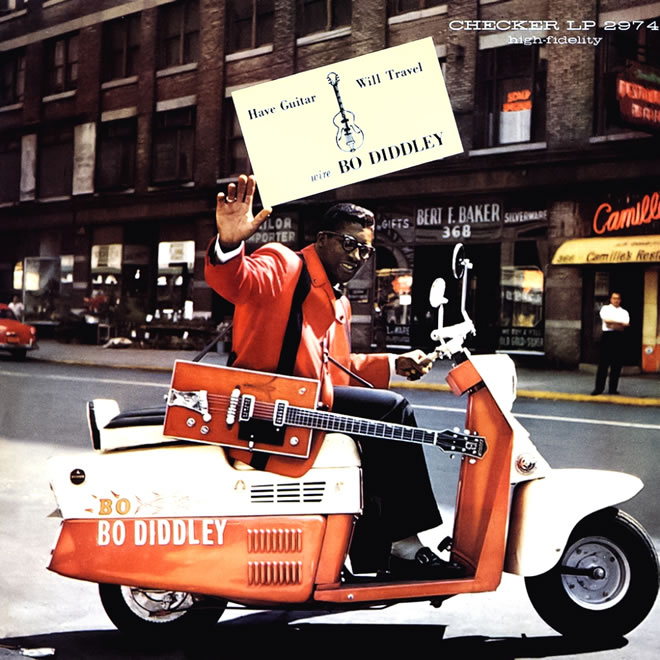 He was one of the first American male musicians to include women in his band, including Norma-Jean Wofford (aka "The Duchess," 1942-2005), Peggy Jones, Cornelia Redmond and Debby Hastings, who led his band for the final 25 years of his performing career.
Bo Diddley died of heart failure at his home in Archer, Florida. Garry Mitchell, a grandson of Diddley and one of more than 35 family members at the musician's home when he died, said: "There was a gospel song that was sung (at his bedside) and when it was done, Bo said 'wow' with a thumbs up, and in his last words he said 'I'm going to heaven.'"
On June 5, 2009, the city of Gainesville, Florida, officially renamed and dedicated its downtown plaza the "Bo Diddley Community Plaza."