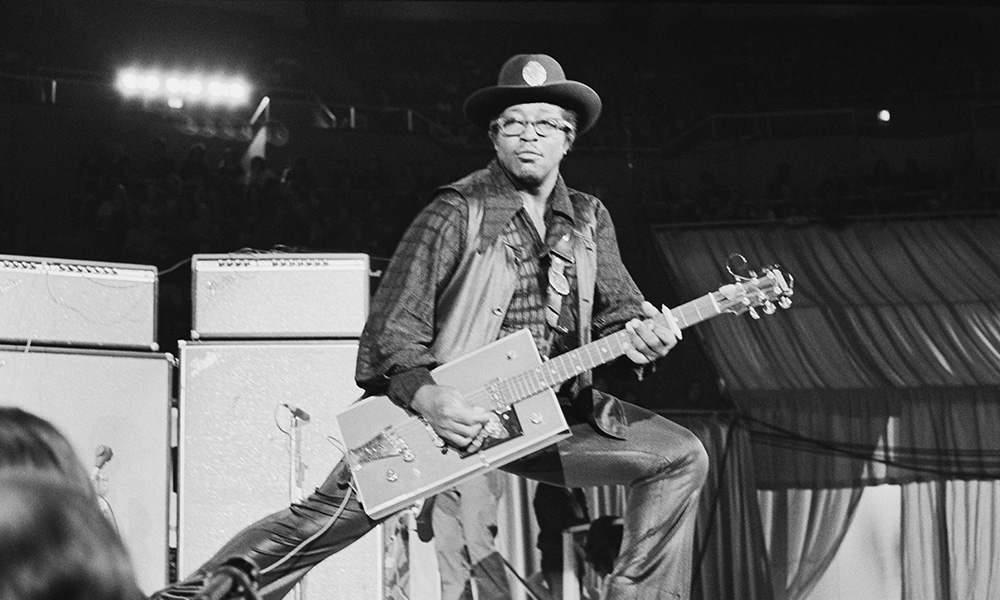 I've always liked an artist who can sing about themselves. The Stray Cats had "The Stray Cat Strut", Mott The Hoople had "The Ballad Of Mott The Hoople", Bob Dylan sang about "Bob Dylan's 115th Dream". And Bo Diddley shouted "Hey! Bo Diddley".
Mick Jagger stated: "His influence was so widespread that it is hard to imagine what rock and roll would have sounded like without him. "He was a wonderful, original musician who was an enormous force in music and was a big influence on The Rolling Stones".
Tom Petty, Buddy Holly, The Stones, The Clash, The Kinks, The Animals, The New York Dolls and even those old hippies Grateful Dead have all covered songs by Ellas Otha Bates, while he was a seminal influence on the young Syd Barrett, co-founder of Pink Floyd.
Yes, I'm talking about Bo Diddley, "The Originator", (as he was also known), who died of heart failure on 2 June 2008 aged 79. He played a key role in the transition from the blues to rock & roll, influencing a host of acts and even made a visual statement – his guitar shaped like a cigar box, (nicknamed "The Twang Machine") became a style icon.
The unusual guitar design sprang from an embarrassing moment: after jumping around on stage with a Gibson L5 guitar, Bo landed awkwardly, hurting his groin. He then went about designing a smaller, less restrictive, guitar that allowed him to keep jumping around on stage while still playing.
Born in 1928, he was adopted and raised by his mother's cousin, Gussie McDaniel, whose surname he assumed, becoming Ellas McDaniel. Bo was inspired musically after seeing John Lee Hooker and developed a career playing on Chicago street corners with friends in a band called The Hipsters.
McDaniel would adopt the stage name "Bo Diddley". The origin of the name is somewhat unclear, as several differing stories and claims exist. Some sources state that it was his nickname as a teenage Golden Gloves boxer, while others claim that it originates from the one-stringed instrument called the diddley bow. Bo Diddley himself has said that the name first belonged to a singer his adoptive mother was familiar with.
In late 1954, he recorded demos of "I'm A Man" and "Bo Diddley". They re-recorded the songs at Chess Studios. The record was released in March 1955, and the A-side, "Bo Diddley", became a number 1 R&B hit and we all heard what became the "Bo Diddley beat," also known in the US as 'shave and haircut, 2 bits'.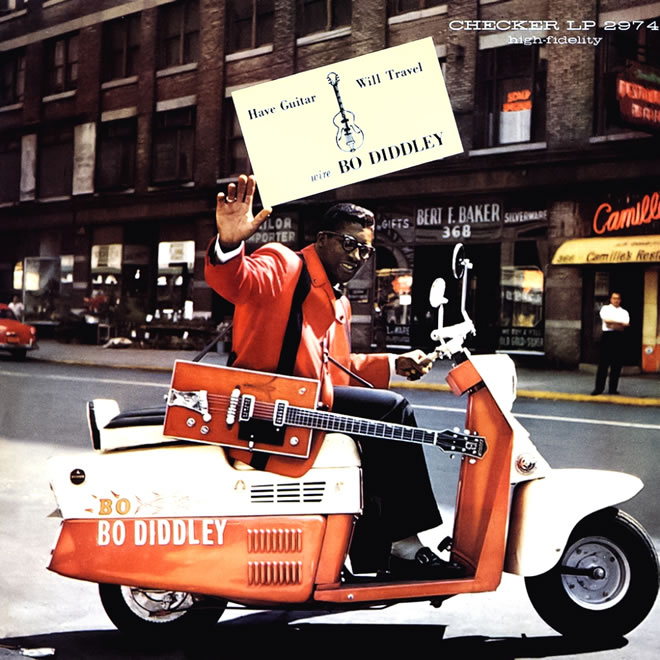 He was one of the first American male musicians to include women in his band, including Norma-Jean Wofford (aka "The Duchess," 1942-2005), Peggy Jones, Cornelia Redmond and Debby Hastings, who led his band for the final 25 years of his performing career.
Bo Diddley died of heart failure at his home in Archer, Florida. Garry Mitchell, a grandson of Diddley and one of more than 35 family members at the musician's home when he died, said: "There was a gospel song that was sung (at his bedside) and when it was done, Bo said 'wow' with a thumbs up, and in his last words he said 'I'm going to heaven.'"
On June 5, 2009, the city of Gainesville, Florida, officially renamed and dedicated its downtown plaza the "Bo Diddley Community Plaza."
Important Dates In The Life Of Bo Diddley:
2 Jun 2008
American guitarist and singer
Bo Diddley
, (Ellas Otha Bates) died of heart failure at his home in Archer, Florida aged 79. The legendary singer and performer, was known for his homemade square guitar and his 'shave and a haircut, two bits' rhythm, which influenced artists from
Buddy Holly
to
Bruce Springsteen
The
Rolling Stones
and
U2
.
7 Jun 2007
The funeral of guitarist, singer
Bo Diddley
took place in Gainesville, Florida. Many in attendance chanted "Hey
Bo Diddley
" shortly after family members had passed by his coffin as a gospel band played
Bo Diddley
's music. At the service, they presented a floral tribute in form of his trademark square guitar.
30 Apr 2005
American guitarist Norma-Jean Wofford died. Known as 'The Duchess', she worked with
Bo Diddley
as a Bo-ette from 1962 to 1966. (Diddley was one of the first artists to have female musicians in his group).
21 Nov 1995
Legendary manager of
Led Zeppelin
Peter Grant died from a heart attack aged 60. Known as being one of the shrewdest and most ruthless managers in rock history, Grant secured 90% of concert gate money and intimidated record store owners who dealt in bootlegs. The former wrestler, also worked as a film extra and bodyguard. During the early 60's Grant worked as a tour manager for
Bo Diddley
, The Everly Brothers,
Little Richard
,
Chuck Berry
, Eddie Cochran, Gene Vincent and The Animals.
27 Oct 1992
Bo Diddley
took his ex-manager to court claiming he had taken $75,000 through unauthorised personal expenses.
12 Jul 1979
American singer songwriter Minnie Riperton died of cancer aged 31. The
Stevie Wonder
produced 'Loving You' gave Minnie a US No.1 single in 1975. She worked at Chess records singing backup for various artists such as Etta James, Fontella Bass,
Bo Diddley
,
Chuck Berry
and Muddy Waters. She also sang lead for the experimental rock/soul group Rotary Connection, from 1967 to 1971. Also a member of Wonderlove in 1973, a backup group for
Stevie Wonder
.
16 Oct 1969
Record company executive and founder of the Chess record label Leonard Chess died of a heart attack aged 52. Home to John Lee Hooker,
Chuck Berry
,
Bo Diddley
Little Walter, The Moonglows, The Flamingos, Jimmy Reed and Sonny Boy Williamson.
13 Sep 1969
John Lennon
& Yoko Ono flew to Canada to perform at the Rock & Roll Revival Show in Toronto, Canada. The band members
Eric Clapton
, Klaus Voormann and drummer Alan White were put together so late that they had to rehearse on the plane from England. Also making an appearance at the concert were
Chuck Berry
, Gene Vincent,
Bo Diddley
,
The Doors
and Alice Cooper. Lennon later released his performance as the Live Peace in Toronto 1969 album.
25 Jul 1969
The Seattle Pop Festival took place at the Gold Creek Park, Woodinville, Washington. Acts who appeared over three days included,
Chuck Berry
, Tim Buckley, The Byrds, Chicago Transit Authority, Albert Collins,
Bo Diddley
,
The Doors
, The Flock, The Flying Burrito Brothers, Guess Who, It's A Beautiful Day,
Led Zeppelin
,
Santana
, Spirit, Ten Years After, Ike & Tina Turner, Vanilla Fudge, Alice Cooper and The Youngbloods.
29 Oct 1963
23 Oct 1963
14 Apr 1963
The
Rolling Stones
played at The Crawdaddy Club, Richmond. All four members of
The Beatles
were in the audience. The name of the club derived from
Bo Diddley
's 1960 song 'Doing the CrawDaddy', which The
Rolling Stones
regularly performed as part of their set. In turn the club would inspire the name of the American music magazine Crawdaddy!
26 Oct 1962
The
Rolling Stones
(known as The Rollin' Stones), and consisting of
Keith Richards
,
Mick Jagger
,
Brian Jones
pianist Ian Stewart and drummer Tony Chapman recorded their first demo tape at Curly Clayton Studios in Highbury, London. They recorded three songs, Jimmy Reed's 'Close Together',
Bo Diddley
's 'You Cant Judge A Book By The Cover' and Muddy Waters' 'Soon Forgotten.'
1 May 1962
The Beatles
started a month long residency at The Star Club, Hamburg, Germany. American musicians including Ray Charles,
Bo Diddley
, Fats Domino, Everly Brothers,
Bill Haley
,
Jimi Hendrix
and Jerry Lee Lewis also all appeared here.
22 Dec 1957
The Crickets
released the single 'Oh, Boy!' backed with 'Not Fade Away' in the UK which became their third Top 10 hit. 'Oh, Boy!' was originally recorded by Sonny West in the late 1950s but did not achieve commercial success. In 1964, the
The Rolling Stones
cover of 'Not Fade Away, with a strong
Bo Diddley
beat, was a major hit in Britain and was the A-side of the band's first US single.
20 Nov 1955
Bo Diddley
appeared on US The Ed Sullivan Show television show. The show had requested that he sang his version of 'Sixteen Tons', but, when he appeared on stage, he sang his own song '
Bo Diddley
' resulting in him being banned from further appearances on the show.
2 Mar 1955
Bo Diddley
has his first recording session at Universal Recording Studio in Chicago, where he laid down 'Bo Diddley', which went on the top the US R&B chart by the following June.