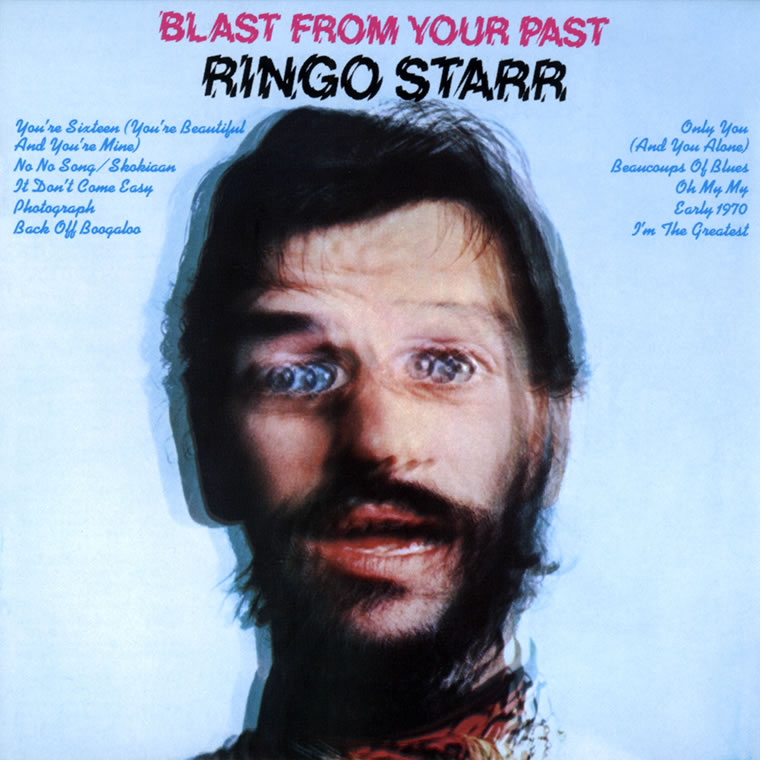 On 22nd August 1968, Ringo Starr quit The Beatles during the White Album sessions when the constant bickering and tension became too much for him. The news of Ringo's departure was kept secret, and he rejoined the sessions on September 3rd. After Ringo walked out, the remaining Beatles recorded 'Back In the USSR', with Paul on drums and John playing bass.
It must be hard being Ringo Starr. When you think, he's best remembered for his eight short years with The Beatles, he's done so much since then, but that's all anybody wants to talk about.
We all know and love his dulcet tones on The Beatles songs "With a Little Help from My Friends", "Yellow Submarine" and "Octopus's Garden". We sort of put up with knowing they're the naff tracks on the albums, but it's Ringo!
Starr has described himself as "your basic offbeat drummer with funny fills", technically limited by being a left-handed person playing a right-handed kit. He's being modest; Ringo is a great drummer, his playing was an integral ingredient that made up The Beatles' sound. From the early pop songs to the psychedelic and ground breaking period, Ringo would always inject his own personality and playing to the tracks. Listen for yourself to "Strawberry Fields" or "Rain" while the reluctant drum solo he delivered on Abbey Road is perfect.
Phil Collins, who was himself influenced by Starr, said; "Ringo is vastly underrated. The drum fills on the song "A Day in the Life" are very complex things. You could take a great drummer today and say, 'I want it like that.' He wouldn't know what to do." In 2011, Starr was picked as the fifth-best drummer of all-time by Rolling Stone readers, behind drummers such as John Bonham and Keith Moon.
After the announcement of the break-up of The Beatles on 10 April 1970, Starr released two solo albums before the end of that year. Sentimental Journey featured Starr's renditions of many pre-rock standards and included the arranger talents of Quincy Jones, Maurice Gibb, George Martin and Paul McCartney, among others. His next album, Beaucoups of Blues, put Starr in a country context. He scored hit singles with "It Don't Come Easy" (1971) (US No.4) and "Back Off Boogaloo" (1972) (US No.9), the latter of which was his biggest UK hit, peaking at No.2. He achieved two No.1 hits in the US, with "Photograph" (co-written with George Harrison) and "You're Sixteen."
Starr has also fronted his All-Starr band since 1990, touring the US to sold-out crowds. The All-Starr band have included some great players: Joe Walsh, Dr. John, Billy Preston, The Band's Levon Helm and Rick Danko, Nils Lofgren, Clarence Clemons, Peter Frampton, Edgar Winter, Todd Rundgren, Dave Edmunds, Timothy B. Schmit, (The Eagles), and Jim Keltner.
He was the voice behind the Children's TV series Thomas The Tank Engine, and he appeared in a Pizza Hut commercial. Starr also had a mad moment when in 2008, when he posted a video on his website stating that he would not be signing autographs after 20 October 2008. He stated that he was too busy and that anything after that date sent to any address will not be signed. He also upset the people of Liverpool after saying he missed nothing about his home city.
Anyway Richard Starkey, we are so pleased you decided to join John, Paul and George, all those years ago. Between you, you changed the face of popular culture as we know it, but you don't need me to tell you that. And you were the best actor in The Beatles!
Ringo we still love you.
Important Dates In The Life Of Ringo Starr:
6 Jun 2019
American singer and songwriter Dr John known for music combining blues, pop, jazz, boogie woogie and rock and roll died at the age of 77 after suffering a heart attack. Born Malcolm John Rebennack his career started in the late 1950s, when he became prominent as a pianist and singer on the New Orleans music scene. He also worked with the
Rolling Stones
, Carly Simon, James Taylor,
Neil Diamond
,
Ringo Starr
,
Eric Clapton
, Bob Seger and Joe Walsh.
12 Apr 2019
John Hutch drummer with the Liverpudlian group The Big Three died age 79. The Big Three rivalled
The Beatles
for popularity before the Mersey sound became a national and international phenomenon in the early Sixties. Hutch filled in on drums behind Lennon, McCartney and Harrison in both 1960 and 1962 and later claimed he was offered the opportunity to become Pete Best's successor before Ringo Starr was given the job in The Beatles.
30 Aug 2016
The latest edition of Guinness World Records said that
Ringo Starr
's copy of
The Beatles
'
White Album
was officially the most expensive LP ever sold at auction. Guinness confirmed that a December 2015 sale at Julien's Auction House set a new high for album prices when the first-edition copy with the catalog number 0000001, which was kept in a vault in perfect condition by Starr for more than 35 years, sold for $790,000.
9 Nov 2015
Scottish session drummer Andy White died aged 82. He was affectionately christened "the fifth Beatle" as he was best known for replacing
Ringo Starr
on drums on the
The Beatles
' first single, '
Love Me Do
'. White was featured on the American 7" single release of the song, which also appeared on the band's debut British album, Please Please Me. He also played on 'P.S. I Love You', which was the B-side of '
Love Me Do
'. White also worked with
Chuck Berry
, Billy Fury, Herman's Hermits and Tom Jones.
3 Oct 2014
30 Dec 2012
A rare copy of a Beatles LP signed by all four members sold - for the sum rejected at auction in Sussex a few weeks earlier. Chris Collins, from Eastbourne, and his sister, Liz Chambers, from Worthing, initially turned down a £12,000 bid for a copy of the album, Please Please Me. They had hoped to get £15,000 for the LP, which was given to their late father during a drinking session. But the siblings later accepted £12,000 from private buyers. The album was signed by
John Lennon
,
Paul McCartney
,
George Harrison
and
Ringo Starr
after they used it as a drinks coaster during a card game in 1963.
8 Oct 2012
Record label bosses at EMI recalled a vinyl, anniversary edition of
The Beatles
' hit single '
Love Me Do
' after discovering they had accidentally pressed a version that included session musician Andy White playing drums instead of
Ringo Starr
. Copies of the disc featuring the wrong version were reportedly selling on eBay.
28 Aug 2012
Celebrity Net Worth named
Ringo Starr
as the world's richest drummer, with an estimated fortune of $300 million.
Phil Collins
was ranked second with $250 million, former
Nirvana
drummer Dave Grohl was third with $225 million, the
Eagles
' Don Henley came in forth with $200 million and
Metallica
's Lars Ulrich was fifth with $175 million. Also making the top ten were
U2
's Larry Mullen and The
Rolling Stones
' Charlie Watts.
14 Jun 2012
Ringo Starr
's birthplace in Liverpool was saved from the threat of demolition. The house, a run-down three-bedroom Victorian terrace, was one of 400 buildings marked for demolition in the Dingle area of Liverpool, but Beatles fans and city residents had successfully lobbied to save the house, along with 15 others in the area. The Liverpool City Council has agreed to give locals the opportunity to fix up the properties.
18 Apr 2012
An original and extremely rare 1963 mono copy of
The Beatles
'Please Please Me' album, signed by the Fab Four, sold on an eBay auction for nearly $25,000.
Paul McCartney
and
John Lennon
both signed their names with "love" in royal blue ink whereas
George Harrison
and
Ringo Starr
signed their names in midnight blue ink. The autographs were signed in May of 1963.
28 Sep 2010
Souvenir hunters were being condemned for "wanton vandalism" after sections of masonry were hacked off the house of
Ringo Starr
's birthplace. Fans who were campaigning to halt town hall plans to demolish 9 Madryn Street, found that chunks of brickwork had been removed from the house.
7 Jul 2010
Paul McCartney
joined
Ringo Starr
onstage at a concert at New York's Radio City Music Hall to help celebrate the former Beatle drummer's 70th birthday. With Ringo's All Starr Band joined by Yoko Ono, Joe Walsh, Angus Young and Steven Van Zandt, Paul belted out "Birthday" and Ringo delivered "With A Little Help From My Friends".
19 Apr 2010
A week after Catholic Church officials published an article in the Vatican's L'Osservatore Romano newspaper that said they forgive
John Lennon
's remarks about
The Beatles
being "bigger than Jesus",
Ringo Starr
rejected their forgiveness. The newspaper's editors had written, "
The Beatles
said they were bigger than Jesus and put out mysterious messages, that were possibly even Satanic... (but) what would Pop music be like without the Beatles?" Ringo was unimpressed and replied "Didn't the Vatican say we were Satanic or possibly Satanic? And they've still forgiven us? I think the Vatican, they've got more to talk about than the Beatles."
13 Jan 2010
A plaque of
The Beatles
iconic yellow submarine, which was stolen six months ago from Liverpool's Albert Dock, was set to be replaced by a new creation. The 5ft (1.5m) design featured the faces of
John Lennon
,
Paul McCartney
,
Ringo Starr
and
George Harrison
peering through its portholes. The new submarine would hang outside the museum dedicated to the band,
The Beatles
Story.
9 Feb 2009
Ringo Starr
became the 2,401st person to be added to the Hollywood Walk Of Fame during a ceremony that marked the 50th anniversary of the attraction.
The Beatles
as a group were given a star in 1998.
13 Oct 2008
In a video message on his website,
Ringo Starr
announced that he no longer has time to sign autographs and asked fans not to send him any mail at all. "No more fan mail and no objects to be signed. Nothing." After finishing a tour of the US and Canada, he was dividing his time between Los Angeles, the South of France and his UK home in Surrey.
11 Jan 2008
Ringo Starr
helped launch the celebrations for Liverpool's year as European Capital of Culture. He was joined by acrobats who dangled on wires from cranes as the opening party kicked off a year-long programme of more than 350 events.Organisers hoped the Capital of Culture tag would attract an extra two million visitors to Liverpool and boost the economy by £100m.
2 Apr 2006
A
John Lennon
schoolbook containing the 12-year-old's drawing of Lewis Carroll's poem The Walrus and the Carpenter was sold at auction for £126,500, ($239,733). The poem inspired Lennon to write
The Beatles
' 1967 song
'I Am The Walrus'
. Also sold for £12,000, ($22,741) was a ship's log book written by Lennon during a stormy trip to Bermuda in 1980, and a letter from
Paul McCartney
to his bandmates Lennon,
George Harrison
and
Ringo Starr
failed to reach its £50,000, ($94,742) reserve price.
21 Dec 2005
Sir
Elton John
and his partner David Furnish became the first gay celebrities to register their relationship as a civil partnership. The 20 minute ceremony took place at The Guild Hall, Windsor, England, guest's included
Ringo Starr
, Victoria Beckham, Joss Stone, Sting, Elvis Costello, Jamie Cullum,
George Michael
and The Osbournes - Ozzy, Sharon, Jack and Kelly.
16 Dec 2005
The surviving Beatles and relatives of the band's late members began legal action against EMI to get royalties allegedly worth £30m.
Paul McCartney
,
Ringo Starr
and relations of
George Harrison
and
John Lennon
claimed EMI owed record royalties to their company Apple Corps.
9 Sep 2005
Liverpool City Council confirmed it was to demolish
Ringo Starr
's birthplace because it had "no historical significance." The house in Dingle, was one of 460 properties to be demolished for a regeneration project. The council said Madryn Street had no significance because Ringo had spent only three months of his life there.
11 Jun 2002
Sir
Paul McCartney
married Heather Mills at St Salvator Church, Ireland. Guests included
Ringo Starr
, David Gilmour, Jools Holland and Chrissie Hynde. Heather walked down the aisle clutching a bouquet of 11 'McCartney' roses. Mills had first met McCartney at the Pride of Britain Awards event in London in April 1999, which McCartney had attended to present an award to an animal rights activist. Mills and McCartney separated on 17 May 2006 and when divorced Mills was eventually awarded a lump sum of £16.5m, together with assets of £7.8m.
14 Aug 2001
A pizza-stained piece of paper signed by three of the four Beatles sold for $48,000 (£17,441) to an anonymous collector at an auction in Melbourne.
John Lennon
,
Paul McCartney
and
George Harrison
all signed the paper during their 1964 tour of Australia. Drummer
Ringo Starr
had laryngitis and was not on the tour. A fan managed to get the autographs while the band was staying in a hotel in Adelaide.
17 Oct 2000
A flat in Montagu Square London, which was once owned during the 60s by
Ringo Starr
went on the market for £575,000. The two bedrooms, two-story property was also home for
Jimi Hendrix
, John & Yoko and  
Paul McCartney
during the 60s.
26 Oct 1999
American singer, songwriter and actor Hoyt Axton died of a heart attack in Victor, Montana aged 61. He wrote songs for,
Elvis Presley
, Three Dog Night, (1971 US No.1 'Joy To The World'), John Denver,
Ringo Starr
,
Glen Campbell
. His mother Mae Boren Axton wrote '
Heartbreak Hotel
'.
20 Nov 1995
16 Apr 1993
Paul McCartney
headlined a concert at the Hollywood Bowl to celebrate 'Earth Day' along with
Ringo Starr
, Don Henley and Steve Miller. McCartney had last performed there as a member of
The Beatles
in 1965.
5 May 1990
The
John Lennon
tribute concert was held at the Pier Head Arena in Merseyside, featuring Lenny Kravitz, Al Green, Joe Cocker, The Christians,
Kylie Minogue
,
Ringo Starr
, Jeff Lynne,
Tom Petty
, Deacon Blue, Lou Reed, Joe Walsh and Wet Wet Wet.
23 Jul 1989
Ringo Starr
kicked off his first tour since the break-up of the Beatles with a show in Dallas. His backup band included guitarist Joe Walsh, organist Billy Preston and
Bruce Springsteen
's sax man Clarence Clemons.
29 Jul 1988
American record producer and pedal steel guitar player Pete Drake died of lung disease. Worked with
Elvis Presley
,
George Harrison
and
Ringo Starr
. Played on such hits as Lynn Anderson's 'Rose Garden', Charlie Rich's 'Behind Closed Doors',
Bob Dylan
's 'Lay Lady Lay' and
Tammy Wynette
's 'Stand by Your Man'.
20 Jan 1988
The Beatles
were inducted into the Rock and Roll Hall of Fame.
George Harrison
,
Ringo Starr
and Yoko, Sean, and Julian Lennon all attend.
Paul McCartney
did not attend, sending instead a letter stating that continuing business differences with the other ex-Beatles was the reason for his absence.
2 Jan 1985
28 Jan 1983
British Rock & Roll singer Billy Fury died of heart failure aged 42. An early British rock and roll (and film) star, he equalled the Beatles' record of 24 hits in the Sixties , and spent 332 weeks on the UK chart, without a chart-topping single or album. His We Want Billy (released in 1963, with The Tornados) was one of the first live albums in British rock history. Fury later played rock 'n' roller "Stormy Tempest" in the film That'll Be The Day along side David Essex and
Ringo Starr
.
18 Aug 1982
27 Apr 1981
Ringo Starr
married actress and one time 'Bond girl' Barbara Bach. The pair met while filming the movie, Caveman, with Dennis Quaid and Shelley Long. In attendance at the wedding were
George Harrison
and
Paul McCartney
.
19 May 1980
Ringo Starr
and his future wife were involved in a car crash less than half a mile from where
Marc Bolan
was killed, the car was a write-off but Starr and Bach were not seriously injured.
19 May 1979
26 Jan 1974
Ringo Starr
went to No.1 on the US singles chart with his version of the Johnny Burnette 1960 hit 'Your Sixteen', a No.3 hit in the UK.
24 Nov 1973
Ringo Starr
went to No.1 on the US singles chart with 'Photograph'. His first of two US chart toppers as a solo artist. Written by Starr and
George Harrison
, the promotional film shot for the single showed Starr walking around his new house at the time, Tittenhurst Park, which had been previously the home of
John Lennon
and Yoko Ono, (and where the '
Imagine
' promo film was shot).
14 Dec 1972
Born To Boogie the
Ringo Starr
directed movie premiered in London. The film was based around a concert at Wembley Empire Pool, London, England starring
Ringo Starr
,
Marc Bolan
and T. Rex and was released on
The Beatles
Apple Films label.
27 Sep 1972
Rory Storm singer from UK 60s group Rory Storm and the Hurricanes died aged 32 after taking an overdose of sleeping pills in a suicide pact with his mother.
Ringo Starr
played drums with Storm before joining
The Beatles
.
10 Jul 1972
Harry Nilsson's eighth album, Son of Schmilsson was released. It featured
George Harrison
under the name George Harrysong and
Ringo Starr
, listed as Richie Snare, on some of the tracks. Peter Frampton also played guitar on most of the album.
18 Mar 1972
T Rex
played the first of two sold out nights at Wembley's Empire Pool;
Ringo Starr
filmed the shows for the 'Born To Boogie' Apple documentary.
29 Jan 1972
1 Aug 1971
The
Concert For Bangladesh
organised by
George Harrison
to aid victims of famine and war in Bangladesh took place at New York's Madison Sq Garden. Featuring
Bob Dylan
,
Ringo Starr
, Billy Preston,
Eric Clapton
, Ravi Shankar and members from
Badfinger
. Harrison had to shell out his own money to maintain the fund after legal problems froze all proceeds. The triple album release (the second in a row by Harrison), hit No.1 in the UK and No.2 in the US and received the Grammy Award for Album of the Year.
12 May 1971
17 Apr 1971
25 Sep 1969
20 Sep 1969
30 Aug 1969
Two weeks after the
Woodstock
festival, the second Isle Of Wight festival took place. Over 150,000 turned up over the two days to see
Bob Dylan
, The Band, Blodwyn Pig, Blonde On Blonde, Bonzo Dog Dooh Dah Band, Edgar Broughton Band, Joe Cocker, Aynsley Dunbar, Family, Fat Mattress, Julie Felix,
Free
, Gypsy, Richie Havens, The Moody Blues, The Nice, Tom Paxton, Pentangle, The Pretty Things, Third Ear Band and
The Who
. Tickets 25 shillings, ($3.00). Celebrities who attended include
Keith Richards
, Charlie Watts, John & Yoko,
George Harrison
,
Ringo Starr
, Jane Fonder, Liz Taylor and Richard Burton.
18 Jul 1969
During sessions at Abbey Road studios, London,
Ringo Starr
recorded his vocal to 'Octopus's Garden', for the
Abbey Road
album. Starr had written the song when he 'quit'
The Beatles
the previous year and was staying on actorPeter Seller's yacht in the Mediterranean.
7 Jul 1969
8 May 1969
1 Nov 1968
George Harrison
released his first solo album, 'Wonderwall Music' on the Apple label. The songs which were mostly Harrison instrumentals, featured
Eric Clapton
,
Ringo Starr
and an unaccredited banjo contribution by Peter Tork of The
Monkees
.
3 Sep 1968
After a two week absence,
Ringo Starr
rejoined
The Beatles
. Upon Ringo's return to the studio, he found his drum kit covered with flowers to welcome him back.
28 Aug 1968
Working at Trident Studios, London,
The Beatles
started recording a new
John Lennon
song 'Dear Prudence'. They built the song instrument by instrument, utilizing the 8-track equipment at Trident. John and George played guitars, while Paul played drums to compensate for
Ringo Starr
who had quit
The Beatles
on August 22.
22 Aug 1968
Ringo Starr
quit
The Beatles
during The
White Album
sessions when the constant bickering and tension became too much for him. The news of Ringo's departure was kept secret, and he rejoined the sessions on September 3rd. After Ringo walked out, the remaining Beatles recorded 'Back In the USSR', with Paul on drums and John playing bass.
15 May 1968
George Harrison
and
Ringo Starr
attended the premiere of Wonderwall at the Cannes Film Festival. The 1968 film by first-time director Joe Massot starred Jack MacGowran and Jane Birkin, and featured cameos by Anita Pallenberg. The soundtrack was composed by then-Beatle
George Harrison
. The film provides the name for the
Oasis
track 'Wonderwall', which was inspired by
George Harrison
's score.
13 Sep 1967
The Beatles
formed an electronics company called Fiftyshapes, Ltd. appointing John Alexis Mardas (Magic Alex) to be the company's director. Alex claimed he could build a 72-track tape machine, instead of the 4-track at Abbey Road (this never materialised). One of his more outrageous plans was to replace the acoustic baffles around
Ringo Starr
's drums with an invisible sonic force field.
George Harrison
later said that employing Mardas was "the biggest disaster of all time."
13 Jan 1967
29 Apr 1965
Jimmy Nicol, the drummer who stood in for
Ringo Starr
during a Beatles Australian tour in 1964, appeared in a London Court faced with bankruptcy with debts of £4,000.
10 Oct 1964
During a UK tour
The Beatles
appeared at De Montfort Hall in Leicester.
Ringo Starr
drove himself to the venue after taking delivery of a brand new Facel Vega, apparently reaching speeds of 140 MPH on the M6 motorway.
12 Jul 1964
The Beatles
appeared at the Hippodrome Theatre in Brighton with The Fourmost and the Shubdubs (whose drummer,
Jimmy Nicol
, who had filled in for an ill
Ringo Starr
on The Beatles' world tour). Also in the US The Ed Sullivan Show re-broadcast The Beatles' first live television appearance on the Sullivan show (from February 9). On the way to tonight's gig
George Harrison
was involved in a minor crash in his brand new E-Type Jaguar in Kings Road, Fulham, London. Passing pedestrians collected bits of broken glass as souvenirs.
13 Jun 1964
The Beatles
performed another two shows at Centennial Hall, Adelaide, South Australia. For the four shows that
The Beatles
performed in Adelaide there were 12,000 tickets, for which 50,000 requests had been placed. The two shows on this day were drummer's Jimmy Nicol's last as a "temporary Beatle".
Ringo Starr
(who had been ill), re-joined
The Beatles
in Melbourne the next day.
4 Jun 1964
The Beatles
played two performances at the KB Hallen, Frederiksberg, Copenhagen, Denmark on the first date of a 27-day world tour. Drummer Jimmy Nicol replaced
Ringo Starr
who was ill in hospital.
3 Jun 1964
During a photo session
Ringo Starr
was taken ill suffering from tonsillitis and pharyngitis, days before a world tour was about to start. After a last-minute phone call from George Martin, session drummer Jimmy Nichol rushed over to EMI Studios, where he and
The Beatles
ran through six songs from their tour repertoire in a quick rehearsal. Nichol replaced Ringo and became a Beatle for eleven days.
30 May 1964
The Beatles
went to No.1 on the US singles chart with '
Love Me Do
', the group's fourth US No.1 in five months. The version released in America had Andy White playing drums while Ringo played the tambourine. The British single was a take on which
Ringo Starr
played the drums.
14 Jan 1964
The Beatles
(minus
Ringo Starr
who was fog-bound in Liverpool) departed from Liverpool for Paris, France for an 18-day run at the Olympia Theatre. Arriving in Paris, John, Paul, and George were met by 60 fans. Ringo, accompanied by roadie Neil Aspinall, arrived the next day.
11 Sep 1962
After George Martin insisted that session drummer Andy White took
Ringo Starr
's place,
The Beatles
returned to EMI Studios in London for a third attempt at recording their first single. '
Love Me Do
' was selected to be
The Beatles
' first A-side, with "P.S. I Love You" on the flip side (a reversal of the original plan). The single that was released on October 5th featured a version of '
Love Me Do
' with Ringo on drums, but the album 'Please Please Me' included a version with Andy White on drums.
18 Aug 1962
Ringo Starr
made his debut with
The Beatles
at the horticultural society Dance, Birkenhead, England, having had a two-hour rehearsal in preparation. This was the first appearance of
The Beatles
as the world would come to know them: John, Paul, George, and Ringo.
15 Aug 1962
Lennon and McCartney drove from Liverpool to Skegness, to ask
Ringo Starr
to join the Beatles, (Starr was playing a residency with Rory Storm & the Hurricanes at Butlins). Shortly before, Starr had agreed to join Kingsize Taylor in Hamburg, as Taylor was offering £20 a week, but Lennon and McCartney offered £25 a week, which Starr accepted.
14 Aug 1962
Unhappy with drummer Pete Best's role in
The Beatles
Brian Epstein and the other three members decided to sack him. Best played his last gig the following night at The Cavern, Liverpool.
Ringo Starr
who was nearing the end of a three-month engagement with Rory Storm & the Hurricanes at a Butlin's holiday camp received a telephone call from
John Lennon
, asking him to join
The Beatles
. Ringo gave Rory Storm three days notice and on August 18, appeared as a member of
The Beatles
for the first time.
5 Feb 1962
The Beatles
played two shows, one at The
Cavern Club
at lunchtime and in the evening at the Kingsway Club in Southport. This was the first time
Ringo Starr
appeared live with the group after drummer Pete Best became ill.
5 Jan 1961
The Beatles
played at Litherland Town Hall, Liverpool. In the audience are two members from Rory Storm & the Hurricanes: Johnny Guitar and
Ringo Starr
who have just returned from Hamburg, Germany.
15 Oct 1960
The Beatles
(minus Pete Best) and two members of Rory Storm's Hurricanes (
Ringo Starr
and Lou Walters) recorded a version of George Gershwin's 'Summertime' in a Hamburg recording studio. The track which was cut onto a 78-rpm disc marked the first session that included
John Lennon
,
Paul McCartney
,
George Harrison
and Ringo together.
31 Jul 1957
Richard Starkey (later known as
Ringo Starr
) is thought to have made his debut at the The Cavern playing drums with the Eddie Clayton Skiffle Group.
John Lennon
made his first appearance at the club a week later with The Quarry Men Skiffle Group.
Paul McCartney
made his first appearance in January 1958 with The Quarry Men.