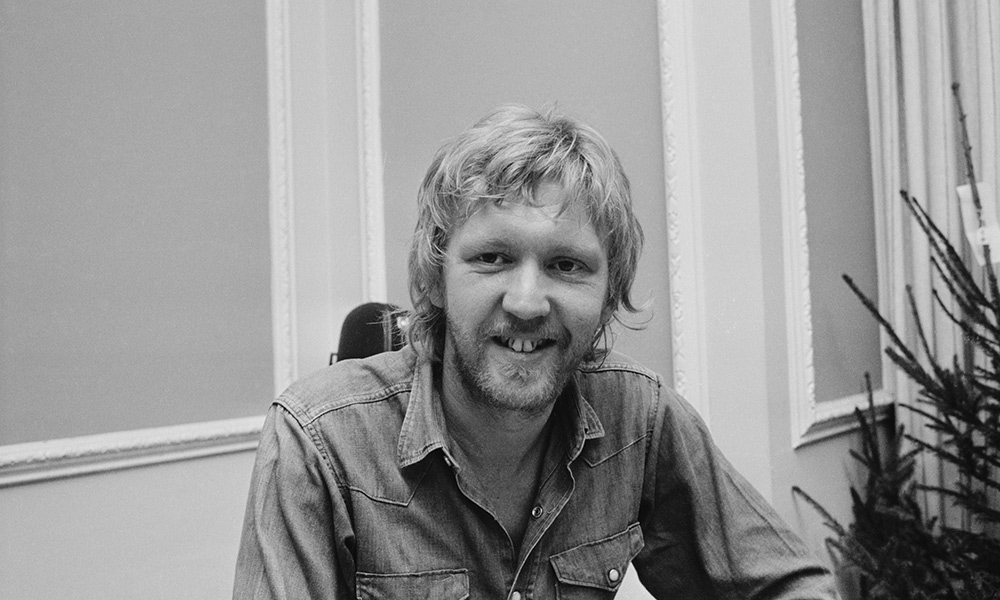 "He should be remembered as the supreme singer of his generation, or any generation." So said Harry Nilsson's record producer Richard Perry. And his songs? Ace songwriter Jimmy Webb describes them as "Unique. There's nothing like them." But how's this for an accolade to top all accolades? The Beatles named him as their favourite band.
Few singer-songwriters have a bigger fan club among other musicians than the man born Harry Edward Nilsson III. His deeply emotional connection to the songs and his extraordinarily affecting vocal delivery has encouraged new generations to turn on to his recordings that began in the sixties.
The Beatles were fans long before he hit big with two songs he didn't write: 'Everybody's Talkin'' (the theme to the movie Midnight Cowboy) and the trans-Atlantic chart-topping 'Without You' exposed him to a massive audience worldwide. Many who bought those singles and delved deeper into his growing catalogue of gems have become fans for life. Not that their devotion was an easy ride. Their fun-loving hero was unhelpfully shy when it came to promoting and touring the great albums he made in the late 60s and early 70s. Harry was the archetypal sad clown. His music could move you to tears but he was terrified of performing in front of a crowd of people. Going to a Harry Nilsson gig just wasn't an option. All this despite a reputation of being a huge party animal that could seemingly drink Hollywood dry, with the help of his great friends and neighbours like John Lennon, Alice Cooper and Micky Dolenz.
Inevitably Harry's rock n roll lifestyle impacted on his health. Vocally there came times when he just couldn't cut it anymore in the studio. It was that loss that seemed more devastating than any other setback he endured towards the end of his life.
When he died, aged just 52 in 1994, he left a stunning legacy of music. Many artists have covered his work to good effect – The Monkees, Three Dog Night, David Cassidy, Neil Diamond, the Yardbirds, Ella Fitzgerald, Sinead O'Connor and Macy Gray – but he was also a genius at picking the songs others wrote that he could really do justice to.
His album of Randy Newman covers, Nilsson Sings Newman, and the album recorded with a full orchestra in London of standards from the 1930s 40s and 50s, A Little Touch of Schmilsson in the Night, showed just how versatile he could be. Versatile and seemingly with a timeless quality. Even today it seems you are never too far away from Nilsson's music on radio, movie soundtracks and TV.
As his old friend Terry Gilliam says: "When I put on the music, Harry is alive. As long as the discs don't rot, Harry will live."
Here are 10 very different songs from the 15 or so albums Harry left behind.
We have a book Harry & Me available for pre order.
Over 200 Memories of Harry Nilsson by the fans and musicians that loved him the most.
The first 1,000 copies come with a bonus CD – Harry on Harry – rare recordings from the 60s, 70s and 80s of Harry Nilsson talking about everything from Bertrand Russell to The Beatles.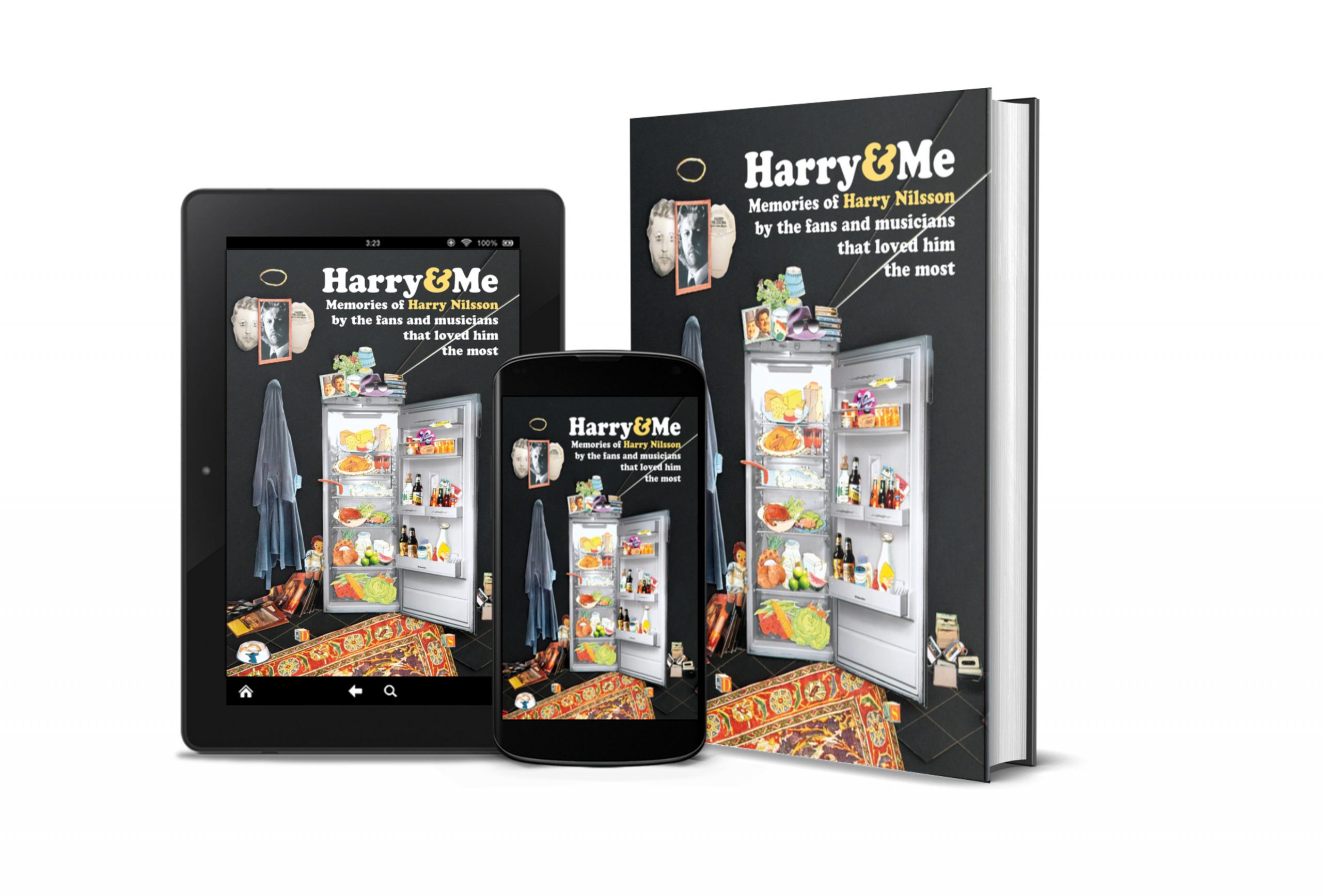 Important Dates In The Life Of Harry Nilsson:
18 Jan 2021
American composer, producer, arranger, and musician Perry Botkin Jr. died age 87. As an arranger, he worked with Bobby Darin,
Harry Nilsson
, Gary Crosby, The Lettermen and Harpers Bizarre, among others. "Nadia's Theme", composed by Botkin and Barry De Vorzon, peaked at No.8 on the Billboard chart in 1976. He was also a major contributor to Incredible Bongo Band, one of the most influential groups of all-time for its Bongo Rock album which is one of the most sampled from records, making it a major influence in the origins of Hip hop.
16 Jan 2021
American producer Phil Spector died in prison age 81. Known for his 'Spector Wall Of Sound' he was a member of Teddy Bears, who had the 1958 US No.1 single 'To Know Him Is To Love Him'. He went on to produce many classic songs including; Ben E King, 'Spanish Harlem', The Crystals, 'Da Doo Ron Ron', The Ronettes, 'Baby I Love You', The
Righteous Brothers
, 'You've Lost That Lovin' Feeling', Ike and Tina Turner, 'River Deep, Mountain High'. He also produced albums for The
Ramones
,
John Lennon
,
George Harrison
,
The Beatles
, Cher and Harry Nilsson. The 2003 shooting of actress Lana Clarkson in his Alhambra, California home led to his 2009 conviction of murder in the second degree.
2 Dec 2014
American saxophone player Bobby Keys died as a result of cirrhosis at his home in Franklin, Tennessee. Keys started touring at age fifteen with Bobby Vee and fellow Texan
Buddy Holly
and was best known as being the main saxophone player for The
Rolling Stones
. When on tour with the Stones, according to legend Keys filled a bathtub with Dom Perignon champagne and drank most of it. Keys appeared on albums by Lynyrd Skynyrd, Harry Nilsson, Delaney & Bonnie and Friends,
George Harrison
,
John Lennon
,
Eric Clapton
, Joe Cocker and other prominent musicians.
27 Apr 2013
A blue plaque was unveiled at Swansea railway station, Wales, honouring Peter Ham who co-wrote 'Without You', a hit for both Harry Nilsson and
Mariah Carey
. Ham who was a member of
Badfinger
were signed to
The Beatles
Apple Records label, (and enjoyed their biggest hit in 1970 with a
Paul McCartney
penned, 'Come And Get It'. Ham took his own life in 1975 at the age of 27.
13 Feb 2010
American rock singer, songwriter, and rhythm guitarist Dale Hawkins died from colon cancer aged 73. He is best known for his recording of his swamp-rock classic, 'Susie Q.' recorded late in the rockabilly era in 1957. Hawkins later became a record producer and executive working with many artists including Michael Nesmith, Bruce Channel and Harry Nilsson.
17 Sep 2006
American guitarist Al Casey died aged 69. Casey is noted for his work as a session musician and as a member of the Wrecking Crew and worked with
The Beach Boys
, Phil Spector,
Elvis Presley
,
Glen Campbell
, The Association, The
Monkees
,
Johnny Cash
,
Simon And Garfunkel
, 5th Dimension, Harry Nilsson, The Partridge Family,
Frank Sinatra
, and Nancy Sinatra.
15 Jan 1994
American singer songwriter Harry Nilsson died in his sleep of heart failure after spending the previous day in the recording studio. He recorded 'Everybody's Talkin' from the film Midnight Cowboy and wrote hits for Three Dog Night and The
Monkees
. Had the UK & US No.1 single with his version of the
Badfinger
Evans & Ham song 'Without You.' When
John Lennon
and
Paul McCartney
held a press conference in 1968 to announce the formation of Apple Corps, John was asked to name his favorite American artist. He replied, "Nilsson". Paul was then asked to name his favorite American group. He replied, "Nilsson".
22 Jun 1988
American session guitarist Jesse Ed Davis died of a heroin overdose after collapsing in a laundry room in Venice, California, aged 43. Worked with Conway Twitty, The
Monkees
,
John Lennon
,
Eric Clapton
, Leonard Cohen,
Keith Moon
, Jackson Browne, Steve Miller, Harry Nilsson and Taj Mahal.
19 Nov 1983
English musician and songwriter
Tom Evans
from
Badfinger
, took his own life after a bitter argument with
Badfinger
guitarist Joey Molland about the royalties for 'Without You'. (Evans co-wrote 'Without You' a hit for both Harry Nilsson and
Mariah Carey
). Family members said the singer, songwriter was never able to get over his former bandmate's Pete Ham's suicide.
29 Jun 1979
American singer-songwriter, multi-instrumentalist and producer, Lowell George died of a heart attack. The Little Feat front man was found dead at the Key Bridge Marriott Hotel in Arlington, Virginia. George joined Zappa's Mothers of Invention as rhythm guitarist in 1968, played guitar on John Cale's 1973 album Paris 1919, Harry Nilsson's Son of Schmilsson album and Jackson Browne's The Pretender.
20 Apr 1976
George Harrison
, who is good friends with Eric Idle, joined Monty Python on stage at New York's City Center. Dressed as a Canadian Mountie, Harrison joined the chorus for 'The Lumberjack Song.' No mention was made of Harrison's appearance, and few in the audience recognised him. The next night, Harry Nilsson showed up to perform the same feat, but with disastrous results, as he fell into the audience and broke his arm.
24 Apr 1975
Peter Ham, British singer, songwriter with
Badfinger
committed suicide by hanging himself in the garage of his Surrey home, aged 27. Ham co-wrote 'Without You', with band mate
Tom Evans
(who also later committed suicide). The song won an Ivor Novello award for Song Of The Year in 1973, and was a hit for Harry Nilsson and
Mariah Carey
. Ham was a founder member of The Iveys, who became
Badfinger
, were signed to the Beatles' Apple label, their first hit 'Come And Get It' was written by
Paul McCartney
.
29 Jul 1974
Mamas & the Papas singer Cass Elliot died in her sleep from a heart attack after playing a sold out show in London, England. She was staying at Harry Nilsson's London flat when she died. Her solo hits included 'Dream a Little Dream of Me,' which also featured the rest of The Mamas & the Papas and 'It's Getting Better'. Had also been a member of The Mugwumps.
12 Mar 1974
John Lennon
made the headlines after an incident at the Troubadour Club, LA. Out on a drinking binge with Harry Nilsson, Lennon hurled insults at the performing Smothers Brothers and punched their manager before being forcibly removed.
28 Oct 1973
David Cassidy was at No.1 on the UK singles chart with 'Daydreamer / The Puppy Song', the singers second No.1. 'The Puppy Song' was Cassidy's version of the Harry Nilsson song.
3 Mar 1973
Winners at this year's Grammy Awards included, Roberta Flack who won Song of the year and Record of the year with 'The First Time Ever I Saw Your Face' and Harry Nilsson won Best pop vocal performance for 'Without You.'
10 Jul 1972
Harry Nilsson's eighth album, Son of Schmilsson was released. It featured
George Harrison
under the name George Harrysong and
Ringo Starr
, listed as Richie Snare, on some of the tracks. Peter Frampton also played guitar on most of the album.
11 Mar 1972
Harry Nilsson was at No.1 on the UK singles chart with his version of The Peter Ham and
Tom Evans
song 'Without You'. First recorded by
Badfinger
in 1970, the song was also a No.1 for
Mariah Carey
in 1994.
19 Feb 1972
Harry Nilsson started a four week run at No.1 on the US singles chart with his version of the
Badfinger
song 'Without You.' His vocal was recorded in a single take and his performance was rewarded with Nilsson's second Grammy Award.
13 Dec 1962
Elvis Presley
was at No.1 on the UK singles chart with 'Return To Sender', his 13th UK No.1. Elvis performed 'Return To Sender' in the film Girls! Girls! Girls!. The opening bars and backing on baritone saxophone was performed by Bobby Keys who later went on to work with The
Rolling Stones
,
The Who
, Harry Nilsson,
George Harrison
and
Eric Clapton
.