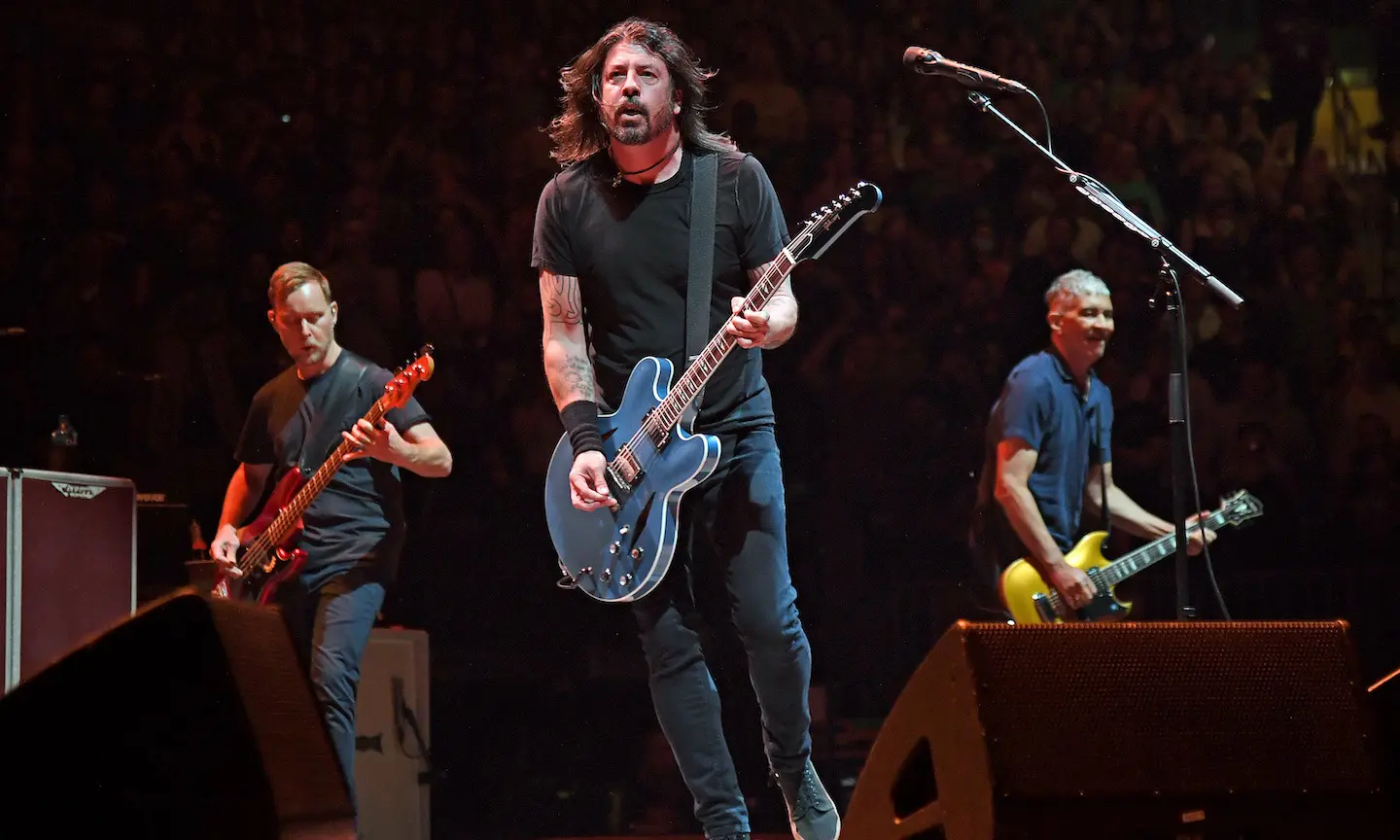 30 Foo Fighters Facts:
1. The band was founded by Nirvana drummer Dave Grohl as a one-man project following the dissolution of Nirvana after the suicide of Kurt Cobain.
2. While in high school, Grohl played in several local bands, including a stint as guitarist in Freak Baby and played drums in a group named Mission Impossible.
3. The group took its name from the UFOs and various aerial phenomena that were reported by Allied aircraft pilots in World War II, which were known collectively as foo fighters.
4. When he was 13 years old Dave Grohl went to see American punk rock Naked Raygun at The Cubby Bear in Chicago – his first ever concert.
5. Foo Fighters made its live public debut on February 23, 1995, at the Jambalaya Club in Arcata, California.
6. Guitarist Pat Smear was a founding member of punk band the Germs and the touring guitarist for Nirvana from 1993 to 1994.
7. Chart Attack voted Foos drummer Taylor Hawkins as the sexiest musician at the 2000 Summersault Festival. Dave Grohl was placed fourth.
8. The first pressing of Foos' 1999 album There Is Nothing Left To Lose came with a rub-on FF tattoo like the one on Dave's neck.
9. 'Learn to Fly' was the band's first song to enter the Billboard Hot 100, as well as their second-highest charting song on the Hot 100, peaking at number 19. The song's music video won Best Short Form Video award at the 43rd Grammy Awards in 2000.
10. Dave Grohl played drums on the soundtrack for the 1994 Beatles film, Backbeat. He was joined by Sonic Youth's Thurston Moore, R.E.M.'s Mike Mills, Gumballs' Don Fleming, The Afghan Whigs' Greg Dulli and Soul Asylum's Dave Pirner.
11. During the September 4, 1997 concert at Radio City Music Hall, right before that year's 1997 MTV Video Music Awards, Smear announced his departure and gave his instrument for the new guitarist, Franz Stahl, to finish the set. Stahl, who played with Grohl in Scream, flew from a tour he was performing in Japan after getting the invitation to join the band.
12. Before joining the band, Taylor Hawkins was Alanis Morissette's touring drummer. He appeared in Morissette's videos for 'You Oughta Know', 'All I Really Want' and 'You Learn'.
13. Dave Grohl once made a cameo appearance with his wife Jennifer on The X-Files in a 1996 episode called Pusher.
14. Taylor Hawkins overdosed on heroin in 2001, which put him in a coma for two weeks
15. Dave Grohl became friendly with the late David Bowie on the 1997 festival circuit and later played his 50th birthday party. He later contributed drums to a cover of Neil Young's I've Been Waiting For You on 2002's Heathen.
16. While the Foo Fighters were on break, Hawkins played in a three-piece cover band, Chevy Metal.
17. In 2000, while on tour with Foo Fighters in Australia, Grohl was arrested by Australian police while driving a scooter under the influence following a concert on the Gold Coast in Queensland. He was fined $400 and had his Australian driving permit revoked for three months.
18. In August 2009, Grohl was given the key to the city of his hometown Warren, Ohio. A roadway in downtown Warren named 'David Grohl Alley' was dedicated to him with murals by local artists. Later in 2012 Warren, Ohio unveiled a pair of gigantic 902 lb. (409 kg) drumsticks to honor him.
19. Dave Grohl could have joined Tom Petty and the Heartbreakers. Petty offered Dave the drummer's seat on a permanent basis after he sat in with the band on Saturday Night Live.
20. Foo Fighters second album The Colour And The Shape, was a Grammy nominee for Best Rock Album in 1998. Even though Foo Fighters are an American band, the word 'Colour' in the album title is always spelled with the British spelling. This was a nod to producer Gil Norton, who is British.
21. During the band's sold out shows at Wembley Stadium in June 2008, John Paul Jones and Jimmy Page from Led Zeppelin joined the band on stage.
22. Wasting Light released in 2011 was the first Foo Fighters album to top the United States' Billboard 200 chart as well as peaking at number one on the UK chart. The album also topped the charts in Germany, Austria, Switzerland, Sweden, Finland, Norway, New Zealand, and Singapore.
23. In 2012, Grohl was estimated to be the third wealthiest drummer in the world, behind Ringo Starr and Phil Collins, with a fortune of $260 million.
24. During the concert in Gothenburg, Sweden on June 12, 2015, Grohl, fell off the stage early in the set and fractured his leg, but he returned to finish the set in a wheelchair and on crutches and kept playing until the end of the concert. However, the remainder dates of the European leg was cancelled costing the band as much as $10 million in lost fees and travel expenses not offset by box office revenue.
25. Over the course of the band's career, four of its albums have won Grammy Awards for Best Rock Album.
26. Taylor Hawkins claimed that he once turned down an offer to join Guns N' Roses. He said that he was approached by Axl Rose to join his new line-up of the band following the exit of their original members.
27. In 2016 Dave Grohl leapt to the defence of a teenage heavy metal band from Cornwall, England, after their local council said they were too loud. The Black Leaves of Envy were told they would have to stop practising in a family garage after noise complaints from neighbours. Grohl penned an open letter to the authority after the band contacted him asking Cornwall Council to 'reconsider the restrictions'.
28. Taylor Hawkins once revealed that the worst gig they ever played was opening up for the Chili Peppers in the late 90s. They were so drunk they couldn't even play, and managed just three songs and then laid down on the stage.
29. As a Christmas gift, Grohl once recorded a song for his then-girlfriend, pressing and packaging it as a proper release. He gave the sole copy to her and then destroyed all the remaining tapes.
30. Grohl chews gum before and during their sets, which keeps his mouth from getting dry. He prefers Dentyne Ice, and says, 'Onstage, I need a minty-fresh microphone.'