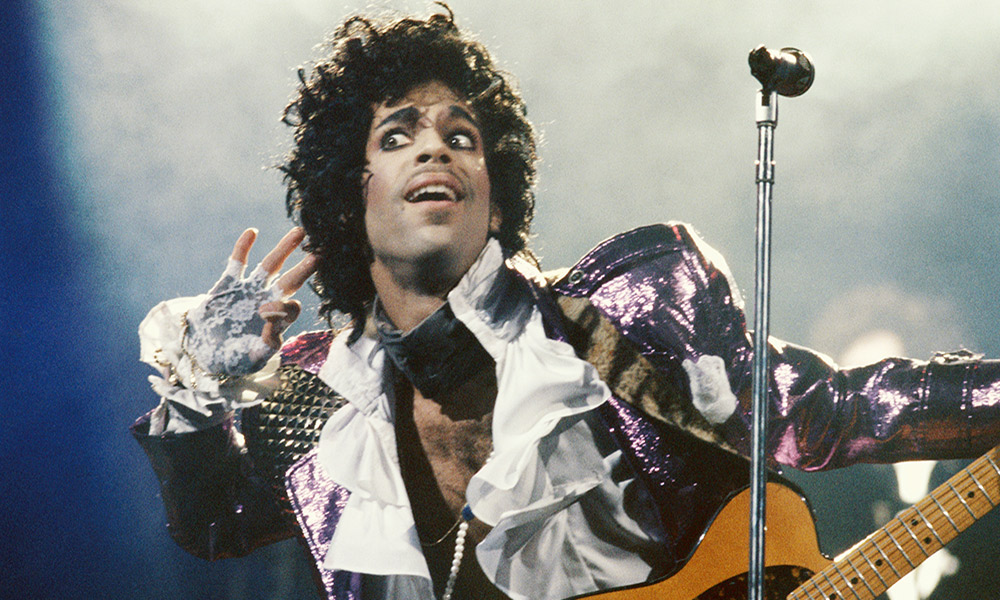 Prince was named after his father, a jazz pianist and songwriter whose stage name was Prince Rogers, and his mother, singer with the Prince Rogers Trio.
The young Prince, (whose childhood name was "Skipper") wrote his first tune, "Funk Machine" on his father's piano when he was seven. His first band was Grand Central, (later known as Champagne), who he joined with his cousin, Charles Smith, while they were attending Minneapolis's Central High School. After recording demos aged 17, Prince signed a recording contract with Warner Bros, who agreed to give the young performer creative control for his first three albums.
Prince saw some success with hits on the R&B charts and made his break-through in late 1982, with the double album, 1999, which went on to sell over three million copies. The title track was a protest against nuclear proliferation and became his first top ten hit in countries outside the US.
Prince's "Little Red Corvette" was one of the first two videos by a black artist played in heavy rotation on MTV, along with Michael Jackson's "Billie Jean".
Prince's 1984 album Purple Rain sold more than thirteen million copies in the US and spent twenty-four consecutive weeks at number 1 on the chart. The film of the same name won an Academy Award and grossed more than $80 million.
At one point in 1984, Prince simultaneously had the number one album, single, and film in the US, the first time a singer had ever achieved this feat.
Thanks to Prince we have the Parental Advisory: Explicit Lyrics sticker on album sleeves after Tipper Gore heard her 12-year-old daughter Karenna listening to Prince's song "Darling Nikki". The now-estranged wife of Al Gore went on to found the Parents Music Resource Center, which advocates the mandatory use of the warning label to advise language or lyrical content 'unsuitable for minors'.
Prince had been romantically linked with many celebrities including Kim Basinger, Madonna, Sheila E., Carmen Electra and Susanna Hoffs from The Bangles.
Prince became a member of the Jehovah's Witnesses in 2001 saying he didn't consider it a conversion, but a "realization" and occasionally knocks on people's doors to discuss his faith. He has reportedly needed double-hip-replacement surgery since 2005 but won't undergo the operation unless it is a bloodless surgery because Jehovah's Witnesses do not accept blood transfusions. The condition is rumored to be aggravated by repeated onstage dancing in high-heeled boots.
He was a vegetarian and was once voted the "world's sexiest vegetarian".
During the legal battle between Prince and Warner Bros, he appeared in public with the word "slave" written on his cheek.
"Prince" is a trademark owned by Paisley Park Enterprises, Inc.
Prince worked under many pseudonyms including Jamie Starr and The Starr, Alexander Nevermind and Christopher (used for his song writing credit of "Manic Monday" for The Bangles).
He won seven Grammy Awards, a Golden Globe, and an Academy Award. He was inducted into the Rock and Roll Hall of Fame in 2004, the first year of his eligibility.
In 1989, Prince appeared on Madonna's studio album Like a Prayer, co-writing and singing the duet "Love Song" and playing electric guitar (uncredited) on the songs "Like a Prayer", "Keep It Together", and "Act of Contrition".
In 2006, Prince received a Webby Lifetime Achievement Award in recognition of his "visionary" use of the Internet; Prince was the first major artist to release an entire album, 1997's Crystal Ball, exclusively on the Internet.
Prince died on 21 April 2016 in an elevator in Paisley Park in Carver County, Minnesota of an accidental overdose of fentanyl at the age of 57.