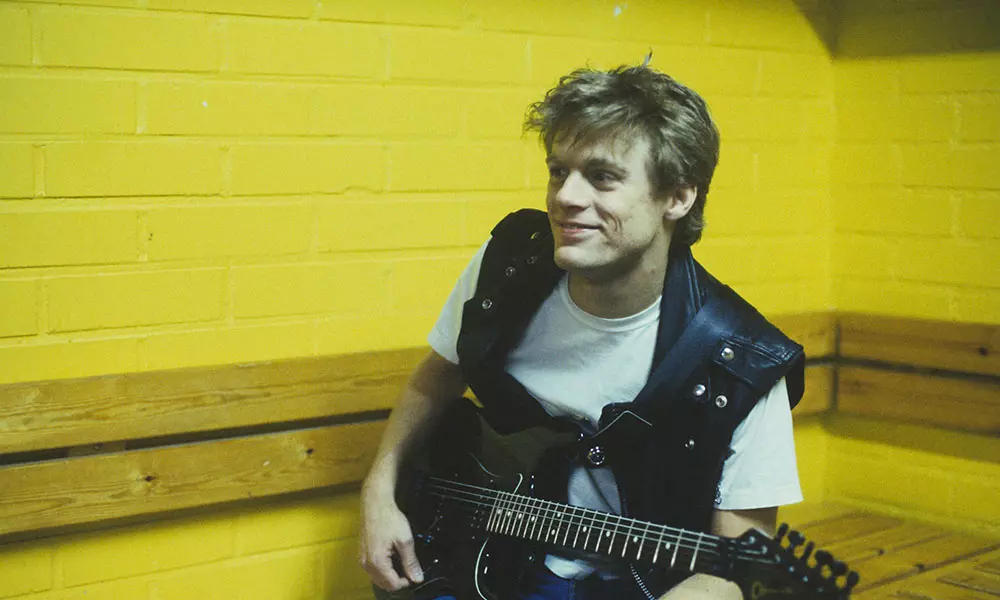 1. Bryan Adams was born to British-Canadian immigrants in Kingston, Ontario in November 1959. His father, who had spent time in both the British and Canadian armies, eventually became a Foreign Service diplomat with the UN. The Adams family lived in Portugal, Austria, Israel, and Japan during Bryan's childhood.
2. At the age of 14, Adams worked as a dishwasher to save money for a guitar.
3. In 1978 at age 18, Adams met Jim Vallance through a mutual friend in a Vancouver music store. Vallance was the former drummer and principal songwriter for Vancouver-based rock band Prism. They agreed to meet at Vallance's home studio a few days later, which proved to be the beginning of a song writing partnership, which is still in existence.
4. In 1978, Adams signed to A&M records for one dollar.
5. His fourth studio album Reckless released in 1984 was a huge international hit, selling over 5 million copies in the United States and 12 million worldwide. It was the first Canadian album to sell more than a million copies within Canada.
6. Adams's hit, "(Everything I Do) I Do It For You," was specifically written for the 1991 movie Robin Hood: Prince of Thieves. Adams and producer Mutt Lange wrote the lyrics in less than an hour and the song went on to be one of the best-selling singles of all time.
7. Adams also works as a photographer and has published a number of books to raise money for various causes. His 2013 book Wounded: The Legacy of War focused on those injured in active duty, with proceeds going to various veteran support charities; earnings from 1999's Made in Canada went to breast cancer research.
8. Based on his parents' British heritage, he has held both Canadian and British passports
9. In 2002, Adams was invited, along with other photographers from the Commonwealth, to photograph Queen Elizabeth II during her Golden Jubilee; one of the photographs from this session was used as a Canadian postage stamp.
10. In 1990, Adams voiced the evil rat henchman Hoodwink in the Canadian children's animated television special The Real Story of the Three Little Kittens.
11. He has made cameos in Baywatch and Robin Hood: Prince of Thieves, and he had a small role in the 1989 Clint Eastwood flick, Pink Cadillac. Bryan played a gas station attendant in the film.
12. Before he launched his solo career, Adams played in Vancouver glam rock band Sweeney Todd joining at age 16 to replace the band's lead singer Nick Gilder.
13. For his contributions to music, Adams has garnered many awards and nominations, including 20 Juno Awards among 56 nominations, and 15 Grammy Award nominations.
14. Adams refused to let his music be featured in the 1986 Tom Cruise movie Top Gun. The filmmakers wanted to use "Only The Strong Survive" but he said no because he thought the film glorified war.
15. He was awarded the Order of Canada and the Order of British Columbia for contributions to popular music and philanthropic work via his own foundation, which helps improve education for people around the world.
16. He was once rumoured to have had an affair with the late Princess of Wales. Adams' ex-girlfriend Cecilie Thomsen claims that he dated Diana in 1996 when she separated from Prince Charles.
17. His massive hit "(Everything I Do), I Do It For You" set a UK chart record after spending 16 consecutive weeks at number-one. It spent seven weeks at the top in the US chart and nine weeks in Canada. The single alone has sold over 15 million copies worldwide.
18. Adams has been a vegan for 30 years; he quit eating meat and dairy in 1989.
19. As a photographer, Adams has worked with many of his musical peers, including Lana Del Rey, The Who, Sting, Shania Twain, Mick Jagger, Arcade Fire, Ray Charles, Tina Turner, Rod Stewart, Robert Plant, Take That, Joss Stone, Plácido Domingo, Sarah McLachlan, Celine Dion, Billy Idol, Moby, Amy Winehouse, Annie Lennox, Peter Gabriel, Bryan Ferry, Lenny Kravitz, Boy George, Michael Buble and Morrissey.
20. Adams' 1998 hit "When You're Gone" with Spice Girl Mel C was re-recorded in 2005, with Pamela Anderson for the US release of the Anthology greatest hits album.
21. "Summer of '69," was originally going to be titled "Best Days of My Life." The phrase 'summer of '69' only appeared once in its original form, and Adams initially thought the song wasn't strong enough to be featured on an album.