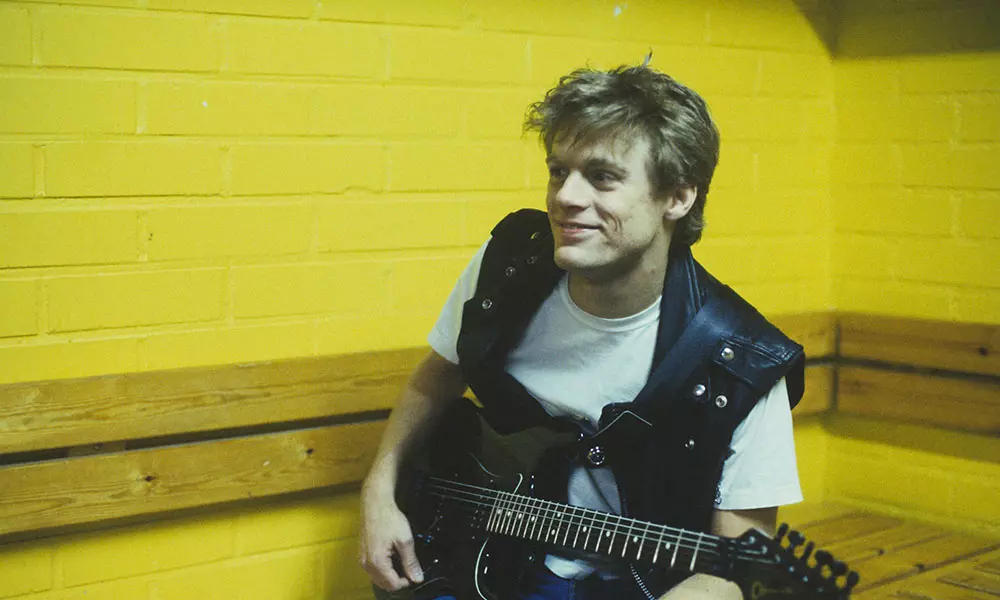 1. Bryan Adams was born to British-Canadian immigrants in Kingston, Ontario in November 1959. His father, who had spent time in both the British and Canadian armies, eventually became a Foreign Service diplomat with the UN. The Adams family lived in Portugal, Austria, Israel, and Japan during Bryan's childhood.
2. At the age of 14, Adams worked as a dishwasher to save money for a guitar.
3. In 1978 at age 18, Adams met Jim Vallance through a mutual friend in a Vancouver music store. Vallance was the former drummer and principal songwriter for Vancouver-based rock band Prism. They agreed to meet at Vallance's home studio a few days later, which proved to be the beginning of a song writing partnership, which is still in existence.
4. In 1978, Adams signed to A&M records for one dollar.
5. His fourth studio album Reckless released in 1984 was a huge international hit, selling over 5 million copies in the United States and 12 million worldwide. It was the first Canadian album to sell more than a million copies within Canada.
6. Adams's hit, "(Everything I Do) I Do It For You," was specifically written for the 1991 movie Robin Hood: Prince of Thieves. Adams and producer Mutt Lange wrote the lyrics in less than an hour and the song went on to be one of the best-selling singles of all time.
7. Adams also works as a photographer and has published a number of books to raise money for various causes. His 2013 book Wounded: The Legacy of War focused on those injured in active duty, with proceeds going to various veteran support charities; earnings from 1999's Made in Canada went to breast cancer research.
8. Based on his parents' British heritage, he has held both Canadian and British passports
9. In 2002, Adams was invited, along with other photographers from the Commonwealth, to photograph Queen Elizabeth II during her Golden Jubilee; one of the photographs from this session was used as a Canadian postage stamp.
10. In 1990, Adams voiced the evil rat henchman Hoodwink in the Canadian children's animated television special The Real Story of the Three Little Kittens.
11. He has made cameos in Baywatch and Robin Hood: Prince of Thieves, and he had a small role in the 1989 Clint Eastwood flick, Pink Cadillac. Bryan played a gas station attendant in the film.
12. Before he launched his solo career, Adams played in Vancouver glam rock band Sweeney Todd joining at age 16 to replace the band's lead singer Nick Gilder.
13. For his contributions to music, Adams has garnered many awards and nominations, including 20 Juno Awards among 56 nominations, and 15 Grammy Award nominations.
14. Adams refused to let his music be featured in the 1986 Tom Cruise movie Top Gun. The filmmakers wanted to use "Only The Strong Survive" but he said no because he thought the film glorified war.
15. He was awarded the Order of Canada and the Order of British Columbia for contributions to popular music and philanthropic work via his own foundation, which helps improve education for people around the world.
16. He was once rumoured to have had an affair with the late Princess of Wales. Adams' ex-girlfriend Cecilie Thomsen claims that he dated Diana in 1996 when she separated from Prince Charles.
17. His massive hit "(Everything I Do), I Do It For You" set a UK chart record after spending 16 consecutive weeks at number-one. It spent seven weeks at the top in the US chart and nine weeks in Canada. The single alone has sold over 15 million copies worldwide.
18. Adams has been a vegan for 30 years; he quit eating meat and dairy in 1989.
19. As a photographer, Adams has worked with many of his musical peers, including Lana Del Rey, The Who, Sting, Shania Twain, Mick Jagger, Arcade Fire, Ray Charles, Tina Turner, Rod Stewart, Robert Plant, Take That, Joss Stone, Plácido Domingo, Sarah McLachlan, Celine Dion, Billy Idol, Moby, Amy Winehouse, Annie Lennox, Peter Gabriel, Bryan Ferry, Lenny Kravitz, Boy George, Michael Buble and Morrissey.
20. Adams' 1998 hit "When You're Gone" with Spice Girl Mel C was re-recorded in 2005, with Pamela Anderson for the US release of the Anthology greatest hits album.
21. "Summer of '69," was originally going to be titled "Best Days of My Life." The phrase 'summer of '69' only appeared once in its original form, and Adams initially thought the song wasn't strong enough to be featured on an album.
Important Dates In The Life Of Bryan Adams:
15 Aug 2012
American musician Bob Birch died from an self-inflicted gunshot wound in his Los Angeles home, aged 56. Birch was badly injured in a car accident in 1995 and since then struggled with constant headaches, dizziness, vertigo, and severe pain throughout his body. He worked with Doobie Brothers,
Bryan Adams
, Lionel Richie,
George Michael
,
Eric Clapton
, B.B. King,
Phil Collins
, Keith Emerson,Barry Manilow and
Elton John
.
30 Dec 2009
Singer, songwriter
Neil Young
was made an Officer of the Order of Canada. Other Canadian musicians who have been given the award include
Bryan Adams
, Leonard Cohen and the members of Rush.
13 Apr 2009
Procol Harum's
'A Whiter Shade Of Pale'
was the most played song in public places in the past 75 years, according to a chart compiled for BBC Radio 2.
Queen
's
Bohemian Rhapsody
was at number two followed by 'All I Have To Do Is Dream' by the Everly Brothers. Wet Wet Wet's 1994 hit, 'Love Is All Around', was at number four followed by
Bryan Adams
's 1991 hit '(Everything I Do), I Do It For You.'
26 May 2007
Contemporary musicians recorded their own versions of songs from the Beatles'
Sgt. Pepper
album to mark 40 years since it was released. Acts including
Oasis
, Travis, The Fray, Kaiser Chiefs, Razorlight,
Bryan Adams
and The Magic Numbers all worked with Geoff Emerick - the engineer in charge of the original 1967 sessions, using the original analogue 4-track equipment to demonstrates the techniques employed for the recording at Abbey Road studios in 1967.
2 Jul 2005
The world's biggest music stars united in concerts around the world to put pressure on political leaders ahead of the G8 summit to tackle poverty in Africa. Concerts in 10 cities, including London, Philadelphia, Paris, Berlin, Johannesburg, Rome and Moscow played to hundreds of thousands of people. A TV audience of several hundred million watched the gigs. In London
Pink Floyd
,
The Who
,
Madonna
,
U2
,
Coldplay
, Sting, The Scissor Sisters, Keane, and
Paul McCartney
performed. Philadelphia saw, Destiny's Child, Jay-Z and
Bon Jovi
, Canada,
Bryan Adams
and
Neil Young
headlined, Bjork headlined in Tokyo and
Green Day
played in Berlin.
20 Aug 2004
A man from Stoke-on-Trent, England, named
Bryan Adams
as the 'other man' in his divorce papers after years spent trying to cope with his wife's obsession with the singer. Rob Tinsley said he had to live with a 6ft cut-out of Adams which stood at the foot of the bed and posters on the bedroom walls.
18 Nov 2003
American composer and orchestral arranger Michael Kamen died of a heart attack in London aged 55. Worked with
Pink Floyd
,
Queen
,
Eric Clapton
, Roger Daltrey,
Aerosmith
,
Tom Petty
,
David Bowie
, Eurythmics,
Queen
sryche, Rush,
Metallica
, Herbie Hancock, The Cranberries,
Bryan Adams
, Jim Croce, Sting, and
Kate Bush
. Kamen co-wrote the
Bryan Adams
' ballad '(Everything I Do), I Do It for You.'
22 Dec 2000
Madonna
married film director Guy Ritchie at Skibo Castle, Scotland. Celebrities attending the wedding included Jon
Bon Jovi
,
Bryan Adams
, Sting and fashion designers Donatella Versace, Jean Paul Gaultier and Stellla McCartney. The couple divorced in Nov 2008.
6 Apr 2000
An all-star tribute to
Joni Mitchell
was held at the Hammerstein Ballroom in New York City featuring performances by
Elton John
,
Bryan Adams
, Shawn Colvin, James Taylor, Cyndi Lauper, Richard Thompson, k.d. Lang, and Mary Chapin Carpenter.
27 Jun 1998
Anne Murray, Gordon Lightfoot and
Bryan Adams
each officially received a granite star on Canada's Walk of Fame, on King Street in Toronto. They were the first three pop artists to be honoured into the newly recognized group of Canadian stars.
23 Jun 1996
Bryan Adams
went to No.1 on the UK album chart with '18-Till I Die'.
Metallica
went to No.1 on the US album chart with their sixth studio album 'Load'. The album has now sold over five million copies in America alone.
3 Jun 1995
Bryan Adams
started a five week run at No.1 on the US singles chart with 'Have You Ever Really Loved A Woman' Taken from the film 'Don Juan De Marco' it became Adams third US solo No.1, a No.4 hit in the UK.
18 Jun 1993
A&M Records chairman Jerry Moss and vice-chairman Herb Alpert announced they were leaving the company they founded more than 30 years earlier. They had sold A&M in 1990 to Polygram for $500 million. Moss and Alpert started the label in the garage of Alpert's Los Angeles home in 1962. The label was the home to such acts as
The Police
,
Bryan Adams
, Joan Baez, Flying Burrito Brothers, The
Carpenters
, Joe Cocker, Supertramp and Herb Alpert & the Tijuana Brass.
28 Sep 1991
Bryan Adams
was awarded the Order of Canada and the Order of British Columbia. Other Canadian musicians who have been given the award include
Bryan Adams
, Leonard Cohen and the members of Rush.
22 Sep 1991
Bryan Adams
made chart history when '(Everything I Do), I Do It For You', had its twelfth consecutive week as the UK No.1 single.
24 Aug 1991
Lenny Kravitz was at No.2 in the US singles chart with 'It Ain't Over Till It's Over', held off the No.1 position by
Bryan Adams
'(Everything I Do), I Do It for You'.
27 Jul 1991
Jesus Jones went to No. 2 on the US chart with 'Right Here, Right Now', unable to shift
Bryan Adams
'(Everything I Do), I Do It for You', from a seven week stay at the No.1 position.
13 Jul 1991
Bryan Adams
went to No.1 on the UK singles chart with "(Everything I Do) I Do It For You," which featured on the soundtrack for the film "Robin Hood: Prince of Thieves."
21 Jul 1990
Roger Waters'
The Wall
took place at the Berlin Wall in Potzdamer Platz, Berlin to commemorate the fall of the Berlin Wall eight months earlier. Over 350,000 people attended and the event was broadcast live throughout the world, Van Morrison,
Bryan Adams
,
Joni Mitchell
, The Scorpions, Cyndi Lauper,
Sinead O'Connor
and others took part.
4 Jun 1986
The first of a six date Conspiracy of Hope tour was held at Cow Palace, San Francisco, California. The benefit concerts on behalf of Amnesty International were held to increase awareness of Amnesty on the 25th anniversary of its work for human rights. The shows were headlined by
U2
and Sting, and also featured
Bryan Adams
, Peter Gabriel, Lou Reed, Joan Baez, and The Neville Brothers.
10 Aug 1985
Canadian singer, guitarist
Bryan Adams
scored his first US No.1 album with 'Reckless.'
13 Jul 1985
At 12.01 Status Quo started the
Live Aid
extravaganza, held between Wembley Stadium, London and The JFK Stadium, Philadelphia. The cream of the world's biggest rock stars took part in the worldwide event, raising over £40million. TV pictures beamed to over 1.5bn people in 160 countries made it the biggest live broadcast ever known. Artists who appeared included
Paul McCartney
,
Phil Collins
,
The Who
,
U2
,
David Bowie
and
Mick Jagger
,
Queen
, Tina Turner, The Cars,
Neil Young
,
Tom Petty
,
Bob Dylan
,
Bryan Adams
,
Hall and Oates
, Lionel Richie and
Led Zeppelin
.
22 Jun 1985
Bryan Adams
started a two week run at No.1 on the US singles chart with 'Heaven', his first No.1 single, it made No.35 in the UK. The song had been featured in the film 'Night In Heaven'.
19 Apr 1985
Bryan Adams
was on the UK album chart with Reckelss. His fourth studio album was the first Canadian album to sell more than one million units within Canada. Six singles were released from the album: 'Run to You,' 'Somebody,' 'Heaven,' 'Summer of '69,' 'One Night Love Affair,' and 'It's Only Love.' All six singles made the top 15 on the US Billboard Hot 100, a feat that at the time had been accomplished previously only by
Michael Jackson
's
Thriller
.
27 Mar 1984
Bryan Adams
went into Little Mountain Sound, Vancouver, Canada to record 'Run To You' for his fourth studio album, Reckless. It was the first single released from the album and gave Adam's his first UK hit peaking at No.11. The music video shot in London and Los Angeles was nominated for the 1985
MTV
Video Music Awards in five different categories.