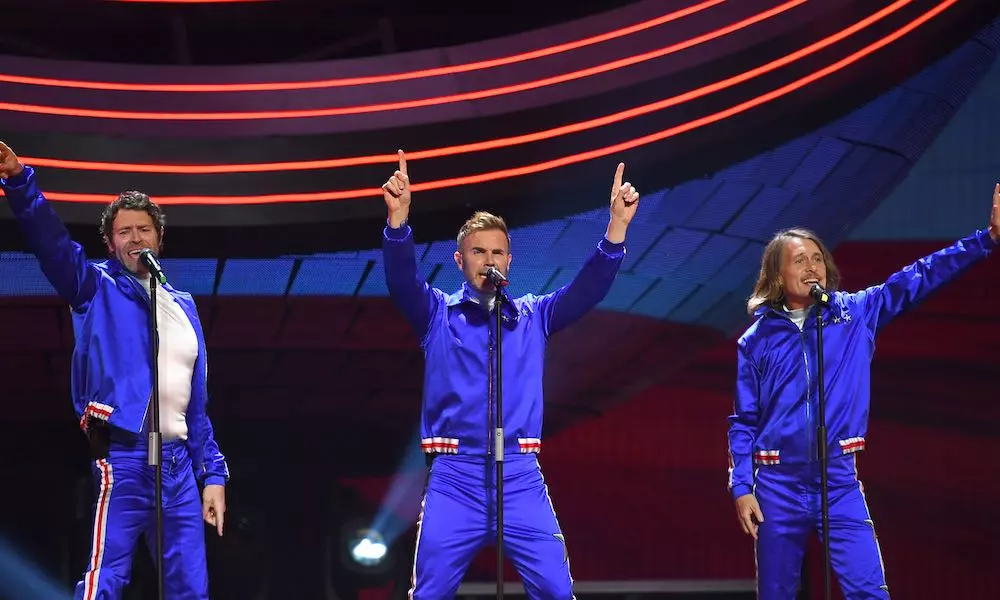 The group have scored 28 top 40 singles, 12 of which have reached number 1, as well as having seven number 1 albums. Internationally the band have had 56 number 1 singles and 37 number 1 albums. Take That have received eight Brit Awards, winning awards for Best British Group and Best British Live Act.
Important Dates In The Life Of Take That:
19 Mar 2015
Ed Sheeran
sold the two millionth copy of his second album, X, (pronounced multiply), in the UK, nine months after it was released. He became only the fifth artist to achieve the feat this decade, following in the footsteps of
Adele
, Emeli Sande,
Take That
and Michael Buble.
12 Aug 2012
The London 2012 Olympics ended with a spectacular musical closing ceremony. The three-hour show featured some of the biggest names of British music from decades past, including the
Spice Girls
,
George Michael
,
The Who
,
Take That
, Muse, Jessie J, Emeli Sande, Elbow, Madness, The Pet Shop Boys, One Direction, Ray Davies,
Liam Gallagher
, and Brian May and Roger Taylor from
Queen
.
26 Jun 2012
Hundreds of fans were set to miss The Stone Roses' reunion concerts in Manchester this weekend, after websites took their money, but failed to deliver tickets. Two sites, Aossatickets.com and theticketwebsite.net, who had sold tickets had since disappeared. Several major tours had been targeted by ticket fraudsters in recent years, with fans of
Take That
,
Bruce Springsteen
,
Rihanna
and Michael Buble among those who found themselves out of pocket.
14 Feb 2010
Everybody Hurts, recorded to help Haiti's earthquake victims went to No.1 on the UK singles chart. The REM cover featured Leona Lewis,
Kylie Minogue
, Robbie Williams and
Take That
sold over 453,000 copies in its first week.
1 Jan 2009
According to official UK sales figures Duffy's debut album Rockferry came top of the year-end chart, with 1.685 million copies sold.
Take That
had the second biggest seller with The Circus, Kings of Leon, Only By The Night was third, Spirit by Leona Lewis was fourth and
Coldplay
had the fifth biggest seller with Viva La Vida.
X Factor
winner Alexandra Burke had the UK's top-selling single after her version of Hallelujah sold 888,000 copies in the last two weeks of the year.
7 Dec 2008
Leona Lewis went to No.1 on the UK singles chart with 'Run' which became the fastest-selling digital-only track.
Take That
went to No.1 on the UK album after selling over 432,000 copies of their new album The Circus.
Britney Spears
album Circus, released on the same day as
Take That
's album entered the chart at number four.
20 Feb 2008
Winners at this year's Brit Awards in London, included
Take That
who won the trophies for best British live act and British single, The Arctic Monkeys won best British group and album - both for the second year in a row and
Foo Fighters
won best international group and album. Kate Nash won best British female and Mark Ronson was named best British male.
Kylie Minogue
won best international female and Mika was named best British breakthrough act. Sir
Paul McCartney
performed a medley of hits, including 'Live and Let Die',
'Hey Jude'
and 'Lady 'Madonna' after he was honoured with an outstanding contribution award. The show was presented by Sharon Osbourne.
11 Jan 2008
Robbie Williams' manager told The Times newspaper that the singer would refuse to make another album for his record label EMI, saying he was unhappy after the label was taken over by Terra Firma. Tim Clark told the paper Williams would not deliver a new album because he had no idea how the label would handle it. Williams had sold 47 million albums around the world since leaving
Take That
in 1995, making him one of EMI's most successful artists.
5 Dec 2007
Robbie Williams apologised to Nigel Martin-Smith the ex-manager of
Take That
and agreed to pay undisclosed damages over an allegation he made about him in a song. In the lyrics of 'The 90s' Williams had suggested that Nigel Martin-Smith had stolen funds from the band.
28 Oct 2007
X Factor
winner Leona Lewis went to No.1 on the UK singles chart with the first track from her debut album 'Bleeding Love.' Lewis had the biggest week one sales so far in 2007 this year outselling the rest of the top five put together, with 218,000 copies. She beat
Take That
's 'Rule The World' into second place.
4 Mar 2007
Take That
went to No.1 on the UK singles chart with 'Shine', their 10th UK No.1 single. The song was featured in several commercials for the re-launched Morrisons supermarkets in the UK, and went on to win the British single of the year award at the 2008 Brit Awards.
14 Feb 2007
Winners at the 27th annual Brit Awards at London's Earls Court included Muse who won Best British Live Act, British Breakthrough Act went to The Fratellis. Winner of the Best International Breakthrough Act was Orson.
Take That
won the first-ever live vote, when they took home the Best British Single for 'Patience.' Arctic Monkeys were named Best British Group, James Morrison was named Best British Male and
Amy Winehouse
won Best British Female. Justin Timberlake won Best International Male and Nelly Furtado won Best International female. The Killers won Best International Group and Best International Album for Sam's Town and
Oasis
won the Outstanding Contribution to Music Award.
2 Jan 2007
Gnarls Barkley's song 'Crazy' was confirmed as the biggest selling UK single of 2006 selling over 700,000 copies. The track, which was the first to reach number one on downloads alone, held off the challenge of X-factor winner Leone. Snow Patrol's album 'Eyes Open' topped the album chart with estimated sales of 1.5m while
Take That
's comeback release 'Beautiful World' came in just behind. Singles sales had doubled to over 65m since the download chart was launched in September 2004.
1 Jan 2007
Queen
beat
The Beatles
to be crowned greatest British band of all time by BBC Radio 2 listeners in the UK.They pipped the Fab Four in a live contest, trouncing other finalists The
Rolling Stones
,
Oasis
and
Take That
.The bands were judged on song-writing, lyrics, live performances, originality and showmanship.More than 20,000 listeners voted by email, text and phone.
3 Dec 2006
The reformed
Take That
topped the UK singles and album charts simultaneously for the first time ever in their career. The single 'Patience' remained at number for the second week, and Beautiful World the group's new album entered the chart at No.1.
15 Nov 2005
Robbie Williams snubbed a
Take That
reunion when he decided to stay at his Los Angeles home. A behind the scenes TV documentary had arranged for all five members to reunite to coincide with the release of a greatest hits CD and DVD.
27 May 2005
31 Jan 2003
Robbie Williams topped a chart based on UK album sales from the past 5 years. The former
Take That
singer had sold 9.7 million albums in Britain, an average of more than 5,000 every day. The Corrs were in second place with 5.8m sales, Westlife in third with 5.1,
Madonna
in fourth with 5m and
The Beatles
in fifth with 4.7m.
16 Jul 2001
Robbie Williams started a two week run at No.1 on the UK singles chart with 'Eternity / The Road To Mandalay.' The 4th No.1 for the former
Take That
singer.
14 Nov 1999
Robbie Williams went to No.1 on the UK singles chart with 'She's The One / It's Only Us', his second UK No.1. 'She's The One' was written by World Party leader Karl Wallinger. Williams scored six other chart toppers as a member of
Take That
.
20 Jul 1996
Gary Barlow scored his first UK No.1 single with 'Forever Love' taken from his debut album Open Road. Barlow became the first member of
Take That
to top the charts with a solo record.
4 Apr 1996
Take That
made their final performance on The Ivo Niehe Show on Dutch TV, playing two songs in front of a 250 strong studio audience.
9 Mar 1996
Take That
scored their eighth and last UK No.1 single (until re-forming in 2006) with their version of The
Bee Gees
1977 song 'How Deep Is Your Love', (originally intended for US singer Yvonne Elliman), and used as part of the soundtrack to the film Saturday Night Fever.
13 Feb 1996
Take That
split up, the biggest band of the 90s announced their demise in front of the world's press at The Hilton in Manchester, the band had achieved 7 No.1 singles & 2 No.1 albums. They released one more single and a Greatest Hits album. (
Take That
reformed in 1996 and have now scored another 5 No.1 albums in the UK).
5 Aug 1995
Take That
played the first of ten sold out nights at The Nynex Arena, Manchester, (the shows were without Robbie Williams who had quit the group on 17th July 1995). The group were also at No.1 on the UK singles chart with 'Never Forget', their 7th UK No.1 and last with Robbie Williams.
17 Jul 1995
Robbie Williams left
Take That
. The group had scored six UK No.1 singles and two No.1 albums with Robbie in the group.
23 Jun 1995
Drummer Alan White made his live debut with
Oasis
at Glastonbury Festival. Also former
Take That
member Robbie Williams appeared on stage with the band during the show.
8 Apr 1995
Take That
had their sixth UK No.1 single when the Gary Barlow penned 'Back For Good' went to the top of the UK charts. The song sold over 300,000 copies in its first week and was also a US Top 10 hit. The song won Best British Single at the 1996 Brit Awards.
9 Apr 1994
Take That
scored their fourth UK No.1 single with the Gary Barlow penned single 'Everything Changes' the fifth single from the band's second album Everything Changes.
22 Mar 1994
American musician, singer, songwriter and record producer Dan Hartman died aged 43 of a brain tumor in Westport, Connecticut. He was a member of the Edgar Winter Group and wrote the band's hit 'Free Ride.' As a solo artists he had the 1978 No.1 dance hit 'Instant Replay,' and wrote 'Relight My Fire' a UK No.1 for
Take That
and Lulu and also co-wrote The
James Brown
song 'Living in America.' Hartman collaborated with Tina Turner, Dusty Springfield, Joe Cocker, Bonnie Tyler, Paul Young, Living In A Box, Holly Johnson and Steve Winwood.
23 Oct 1993
Take That
scored their first UK No.1 album with their second release 'Everything Changes.' The album which was nominated for the 1994 Mercury Prize became the third best selling album of 1993 in the UK.
9 Oct 1993
Take That
had their second UK No.1 single with 'Relight My Fire'. The song which was written and released by Dan Hartman in 1979, where it topped the US dance charts for six weeks. The
Take That
version featured Scottish singer Lulu and gave her a No.1 hit nearly 30 years after her first hit in 1964.
17 Jul 1993
Take That
had their first UK No.1 single with 'Pray'. Their first of 8 No.1's, they went on to be the most successful British boy band of the 1990s.
12 Jul 1991
Take That
released their debut single 'Do What U Like' which was a commercial failure, peaking at No. 82 on the UK Singles Chart. The low-budget video for the track featured the band getting naked, showing their bare buttocks and smearing jelly over themselves, resulting in the video being banned from daytime television.