Their first managers placed the following ad in Stage Magazine: "WANTED: R.U. 18–23 with the ability to sing/dance? R.U. streetwise, outgoing, ambitious, and dedicated? Heart Management Ltd. are a widely successful music industry management consortium currently forming a choreographed, singing/dancing, all-female pop act for a recording deal. Open Audition. Danceworks, 16 Balderton Street. Friday 4 March. 11 am-5:30 pm. Please bring sheet music or backing cassette". About 400 women answered the ad.
Geri Halliwell had seen the ad but went skiing in Spain and missed the audition because her face got sunburnt.
Before becoming The Spice Girls, the group was given the name Touch. They later recorded a track called "Sugar and Spice", the source of their final band name.
Victoria Beckham was called Posh Spice because of her more upper-middle-class background.
Before starting her music career, Geri Halliwell had worked as a nightclub dancer in Majorca, a presenter on the Turkish version of Let's Make a Deal, and as a glamour model. Following her rise to fame with the Spice Girls, nude photos of Halliwell were republished in a number of magazines in 1992 and 1996 including Playboy and Penthouse.
They were signed to Virgin Records and released their debut single "Wannabe" in 1996, which hit No.1 in 37 countries.
Their debut album Spice sold more than 30 million copies worldwide, becoming the best-selling album by a female group in history.
The Spice Girls have sold over 80 million records worldwide, making them the best-selling female group of all time, one of the best-selling pop groups of all time, and the biggest British pop phenomenon since Beatlemania.
"Scary, Baby, Ginger, Posh and Sporty were the most widely recognised group of individuals since John, Paul, George, and Ringo."
In 1997, Jack in the Box, an American fast-food chain restaurant, sought to capitalise on Spice Girl Mania in America, by launching a major advertising campaign using a fictional musical group called the 'Spicy Crispy Chicks'
Their debut album sold over 3 million copies in Britain and is the biggest-selling album of all time in the UK by a female group.
Released in December 1997, Spiceworld: The Movie proved to be a hit at the box office, breaking the record for the highest-ever weekend debut for Super Bowl Weekend (25 January 1998) in the US, with box office sales of $10,527,222.
The group performed "Who Do You Think You Are" to open the 1997 BRIT Awards with Geri Halliwell wearing a Union Jack mini-dress, causing it to become one of pop history's most famed outfits. The dress was sold at a charity auction to Hard Rock Cafe in Las Vegas for a record £41,320, giving Halliwell the Guinness World Record for the most expensive piece of pop star clothing ever sold.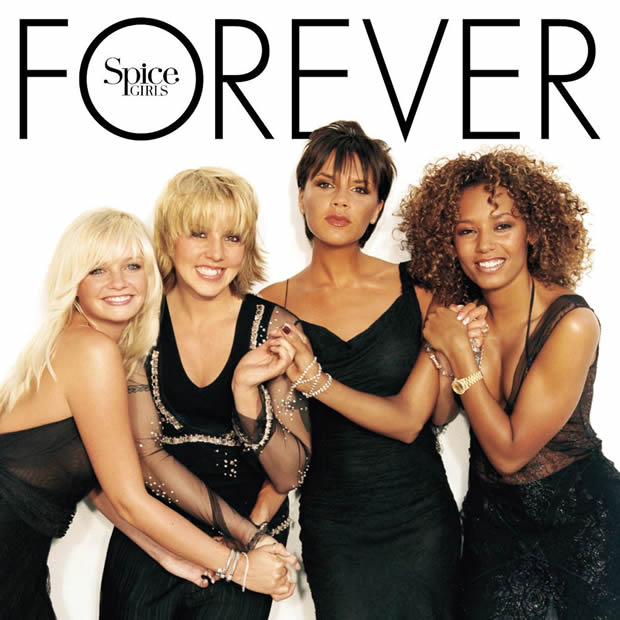 The Spice Girls' first book sold 200,000 copies within a day, and was eventually translated into more than 20 languages.
1997 saw the Spice Girls capitalising on their fame through a multi-million dollar phenomenon of merchandise, with hundreds of official products, including Chupa Chups, Walkers Crisps, Cadbury Chocolate, Polaroid, Impulse Deodorant, Aprilia Scooters, Domino Sugar, Spice Girls Dolls, a PlayStation video game, Sponsorship with ASDA Supermarket chain Channel 5, and signed contract with Pepsi earned the group over £5 million (US$10 million).
Their second album, Spiceworld was a global best seller. It set a new record for the fastest-selling album when it shipped seven million copies over the course of two weeks.
On 31 May 1998, Halliwell announced her departure from the Spice Girls, claiming that she was suffering from exhaustion and wanted to take a break. The news of Halliwell's departure was covered as a major news story by media around the world.
Victoria Beckham married footballer David Beckham and they have four children. As of September 2015, the couple's joint wealth is estimated at £508 million.
In 2006 Mel Brown became the subject of tabloid stories because of her relationship with Hollywood actor Eddie Murphy, who would eventually acknowledge he was the father of Brown's then unborn second child.
Emma Bunton works as a radio presenter on the Heart Radio Network in the UK and television appearances include being a judge on the ITV skating show Dancing on Ice.
With 11 number one singles (seven as part of the Spice Girls and four as a solo artist) Geri Halliwell is the female singer with the third most No.1 singles in UK Singles Chart history.
In January 2015, Melanie Chisholm joined the judging panel for Asia's Got Talent and has now released five solo albums.